Social Media Design Services From WebFX
Good social media marketing is all about high-quality content and consistent branding. Neither is possible without proper design work, simply because social media is a visual platform for your company. WebFX can help – pricing for your social media design services is 100% transparent – you always know exactly where your money goes. Scroll down for more details or fill out the form for an exact quote!
Explore our social media design services
We provide our social media design services as an add-on to our social media management or advertising plans. Check out our pricing below.
Social Media Management Services
Starting at $3,000 / month
10 social posts / month

1 social media network

Stunning FuelFX design assets
Social Media Advertising Services
Starting at 15% of ad spend / month
8 advertising campaigns

2 social media networks

Stunning FuelFX design assets
Social Media Design Services That Make Your Brand Stand Out
Your customers are meeting each other, sharing ideas, and talking about your brand online. Give them a great first impression. With social media design from WebFX, you can mimic the look and feel of your website on all of your social media profiles.
As a leading social media advertising agency, WebFX offers:
Custom social media design plans for companies looking to enhance their presence on Facebook, Instagram, Twitter, LinkedIn, Pinterest, and more
Professional social media design services with attention-to-detail that meets your social media profile needs
Custom social media profiles, pages, and applications consistent with your website and brand standards
Upgrade the look of your social media with our social media design services. We offer our social media design services as an add-on to our social media management or advertising plans.
As a result, you'll receive access to revenue-driving social media ad campaigns, attention-grabbing designs that engage your audience, and an award-winning team of social media specialists that can help you manage and optimize every aspect of your campaign.
Get started by contacting us online or giving us a ring at 888-601-5359 today!
"I would highly recommend WebFX for social media management and content creation. The team at WebFX is very professional and thorough in the work that they do."
Category Development Associate
PET PRODUCT PROVIDER
WebFX Social Media Design Services
As one of the nation's leading social media marketing agencies, WebFX knows the importance of a well-designed Facebook Page, Instagram profile, Twitter profile, LinkedIn Company Page, Pinterest profile, and more. Whether you need a complete profile with new cover and profile photos or a specific graphic to represent yourself on a social media site, our talented social media designers can put together something professional and eye-catching — all while ensuring your brand standards are met.
What does WebFX's social media design cost?
Unlike many other social media marketing firms and design companies, we make our pricing public. We want to be one of the most transparent media design companies. That way you'll know exactly what you're getting with your plan.
We provide our social media design services as an add-on to clients on our social media management or advertising plans. Check out our pricing and deliverables below!
View Social Media Management Plans and Pricing
View Social Media Advertising Plans and Pricing
74% of people use social media when making a purchasing decision.
Make their decision easy with a stellar social media presence. See how your brand can level up by requesting a no-obligation proposal today.
One of our experts will be in touch within 24 hours!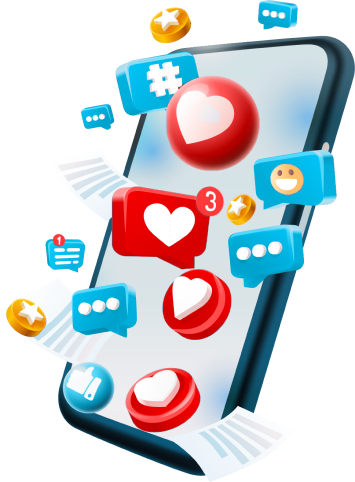 What social media design services are offered?
As one of the top media design companies in the industry, WebFX currently offers the following social media design options for those purchasing one of the two plans in the table above.
Consistent social media page design to match your branding
In a digital world, an active and responsive social media page is an important part of a business' overall marketing efforts. Users seek out brands on social and an active page conveys trust, reliability, and engagement with many audiences.
It's important that a company's social account reflects their brand personality and shows how users can become a part of their community.
If your social media accounts don't match your website branding and aren't very active, people are unlikely to engage with you and want to tune into what you have to say.
For every custom social media graphic, we follow these rules:
Color scheme that matches the company's website
Social media design best practices
When needed, text layout that encourages engagement or action
It's important that you promote your social profiles from your site so your visitors know they're reaching the right accounts and these icons are displayed in a visible place on your site.
Profile design
Users like to get in touch with companies through social media By creating an attractive page with a custom header image, icon, and other graphical elements (like custom images in tabs or applications), you're sure to make a great first impression.
We'll help you keep your profile updated every time you have an event, hire an employee, win an award, or land a big contract. It keeps your followers engaged and interested and also keeps your company at the forefront of their minds.
Instagram story designs
58% of users say they are more interested in a brand after viewing their Instagram story. With our Instagram story designs, we'll help you create several slides to showcase in your story that grab your audience's attention and keep your brand at the forefront of their minds.
Cover photo design
Need a stunning cover photo that reflects your brand? We've got you covered. Our social media design plans also provide you with a beautiful custom cover photo design that enables your audience to recognize your brand as soon as they land on your profile.
Custom post designs
When you want your posts to stand out and grab your audience's attention, you need an engaging design that reflects your brand. WebFX's social design services can help you do exactly that. Our designers will help you craft designs that fit into your posts, so you can ensure they drive the highest possible engagement.
Custom ad designs
Want more engagement and conversions from your social media ads? We'll design attention-grabbing advertisements that fit into your ad campaign, helping you gain more clicks, shares, and conversions for your business.
Social media gif
People love to view, share, and comment on their favorite gifs. With our social media design services, we'll help you create buzzworthy gifs that get your audience talking and sharing.
Custom social media video
Did you know that brand association increases by 139% after watching a video? When you partner with WebFX, we'll help you design a custom video up to 30 seconds long that engages your audience and enables them to learn more about your products or services.
Vertical-focused social video
Short-form videos are becoming increasingly popular, with people watching and sharing their favorites all over social media platforms, like TikTok. Our social media designers will also help you craft social videos that enable you to share vertical videos up to 30 seconds long on your social media page, particularly for Reels and TikTok.
Custom video thumbnail designs
Need video thumbnail designs for your YouTube channel? We can help with that. Our designers can help you create custom video thumbnails that informs your audience about the topic of your video and encourages them to watch.
Pinterest images
Want to promote your brand on Pinterest? Our social media design plans come equipped with engaging custom Pinterest images that enable you to showcase your brand, products, and services to your audience on Pinterest.
Meet WebFX:
Your world-class, tech-enabled marketing agency with over 1.6 million hours of combined expertise.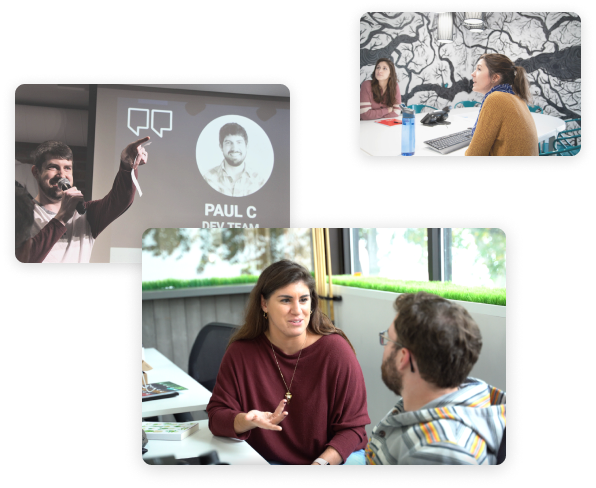 Looking for custom social media page or profile design?
WebFX is always open to new ideas and custom requests! Simply contact one of our social media experts using the form below to ask about our other social design options and pricing. We'll be happy to work up a custom quote for you.