Social Media Design Services From WebFX
Good social media marketing is all about high-quality content and consistent branding. Neither is possible without proper design work, simply because social media is a visual platform for your company. WebFX can help – pricing for your design services is 100% transparent – you always know exactly where your money goes. Scroll down for more details or fill out the form for an exact quote!
Social Media Design That Makes Your Brand Stand Out
Your customers are meeting each other, sharing ideas, and talking about your brand online. Give them a great first impression. With social media design from WebFX, you can mimic the look and feel of your website on all of your social media profiles.
As a leading social media advertising agency, WebFX offers:
Custom social media design plans for companies looking to enhance their presence on Facebook, Twitter, YouTube, company blog, and more
Professional social media design services with attention-to-detail that meets your social media profile needs
Custom social media profiles, pages, and applications consistent with your website and brand standards
Upgrade the look of your social media with our social media design services. Get started by contacting us online or giving us a ring at 888-601-5359 today!
"I would highly recommend WebFX for social media management and content creation. The team at WebFX is very professional and thorough in the work that they do."
Category Development Associate
PET PRODUCT PROVIDER
WebFX Social Media Design Services
As one of the nation's leading social media marketing agencies, WebFX knows the importance of a well-designed Facebook Page, Twitter profile, Google+ header, and more. Whether you need an attractive and fully integrated company blog or a simple icon to represent yourself on a social media site, our talented social media designers can put together something professional and eye-catching — all while ensuring your brand standards are met.
What does WebFX's social media design cost?
Unlike many other social media marketing firms and design companies, we make our pricing public. We want to be one of the most transparent media design companies. That way you'll know exactly what you're getting with your plan.
If you are looking for social media management services, we offer those, too — and our pricing is just as competitive.
74% of people use social media when making a purchasing decision.
Make their decision easy with a stellar social media presence. See how your brand can level up by requesting a no-obligation proposal today.
One of our experts will be in touch within 24 hours!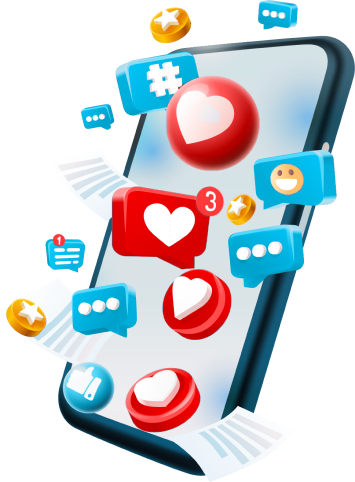 What social media design services are offered?
As one of the top media design companies in the industry, WebFX currently offers the following social media design options for those purchasing one of the three plans in the table above.
Twitter background and header design
Some companies' tweets get more views than their websites. And more and more people are looking to Twitter to find companies to partner with, follow, or purchase from.

If your Twitter background doesn't match your website branding, people can lose the connection when they go from one to the other.
For every custom Twitter graphic, we follow these rules:
Color scheme that matches the company's website
Flashy, catchy background image or pattern
Occasional information section on left side of background or within header (if using the new layout)
It's also a good idea to have a Twitter page on your website to direct visitors to your Twitter profile. You have more control that way. So for example, instead of sending people to twitter.com/yourcompany, make a page on your site that's named yourcompany.com/twitter.
You can add other relevant information about your company on that page too, much more so than a Twitter profile.
Facebook profile design
Facebook users like to get in touch with companies through Facebook. By creating an attractive Facebook page with a custom header image, icon, and other graphical elements (like custom images in tabs or applications), you're sure to make a great first impression.

So what's the best way to reach Facebook's millions of users? Translate the information on your website into Facebook form. This means:
Creating a Facebook profile for your business
Encouraging your existing fans and followers to join you on Facebook
Providing timely, relevant content
Your Facebook profile should be updated very frequently. Every time you have an event, hire an employee, win an award, or land a big contract, you should put that on Facebook. It keeps your followers engaged and interested and also keeps your company at the forefront of their minds.
Company blog design
A company blog allows your team to show off their expertise, offer interesting content and spread that content through your social media channels. But if your blog is ugly, you're going to have a hard time getting the right kind of attention!
A blog design from WebFX looks different from your main site. Blogs primarily speak to other people working in your industry and your best prospects, so showing off a little is OK. That's why we go above and beyond with our blog designs, integrating special effects and new graphical elements that will set you apart and make visitors say "wow!"
Blog design involves designing a layout that you like, then building that layout into your blogging platform. It takes a professional to do this right.
Looking for custom social media page or profile design?
WebFX is always open to new ideas and custom requests! Simply contact one of our social media experts using the form below to ask about our other social design options and pricing. We'll be happy to work up a custom quote for you.