Salesforce Marketing Consultants
Did you know sales professionals today spend only 34% of their time selling? If you want to automate time-consuming sales tasks so that you can spend more time connecting with leads, customer relationship management (CRM) software like Salesforce can help. And Salesforce allows you to harness customer data to make smarter marketing decisions that lead to more sales. Need help optimizing your setup and integrating your marketing campaigns with Salesforce? Our Salesforce marketing consultants can help! Keep reading to find out how Salesforce marketing services from WebFX can help you streamline data to drive results!
Salesforce Marketing Services From WebFX
Wondering how our Salesforce marketing consultants can streamline your customer data?
When you make WebFX your Salesforce partner, we'll help you:
Optimize your Salesforce setup
Integrate your marketing campaigns with Salesforce
Drive more leads to fill up your sales pipeline
Are you ready to dive head-first into Salesforce marketing? Contact us online to chat with an experienced strategist from our Salesforce team!
Looking for custom plans and pricing? Request a proposal to receive yours.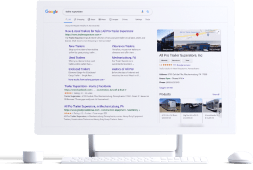 Request a Proposal
"Our WebFX marketer has personally undertaken to learn our business and our goals and it shows in the quality of service and they provide to us. Each member of the team that we have had interaction with has been eager to help make our website, and consequentially our business, the best it can be. WebFX is truly an extension of our team, providing expertise in areas where we do not specialize."
Financial Planner
FINANCIAL CONSULTING FIRM
What is Salesforce?
An integrated CRM platform, Salesforce gives your marketing, sales, commerce, and service departments a shared view of every customer.
Salesforce allows you to:
Understand customers' needs and concerns
Deliver personalized shopping experiences
Close more sales with personalized marketing
Offer faster customer support
Automate time-consuming sales processes

In addition to its CRM software, Salesforce offers a suite of enterprise applications focused on customer service, marketing automation, analytics, and application development.
5 Salesforce benefits for businesses
Wondering how Salesforce integration can benefit your business? Take a look at these five benefits.
Salesforce allows you to:
1. Streamline data to create organized customer profiles
Tracking and organizing customer data takes a lot of work — but Salesforce makes it easy.
With the Salesforce CRM, you can collect and organize customer data across numerous channels.
And with Salesforce, every department from sales to service have access to the same, unified customer profiles.
This allows you to provide personalized customer experiences that lead to more conversions, sales, and repeat purchases.
2. Personalize marketing campaigns and communication
Using your actionable Salesforce data, you can personalize communication and marketing materials to individual customers.
Research shows that 77% of people choose, recommend, and pay more for brands that offer personalized experiences. So, it's extremely important to tailor your campaigns to the needs and interests of customers.
With Salesforce, you can easily leverage customer data to create personalized, conversion-inducing experiences.
3. Improve customer service
You can also harness your Salesforce data to better understand customers and provide superior customer service.
CRM software from Salesforce allows you to quickly respond to customers and use data to provide solutions that best meet their needs.
If you want to inspire customer loyalty, you need to provide great service — and CRM software streamlines the customer service process, so you can provide top-notch experiences.
4. Automate tasks for greater efficiency and time savings
Manually collecting and organizing customer data for actionable marketing is a daunting task.
With Salesforce, you can boost efficiency by automating sales tasks like reporting, filling out forms, and managing legal issues.
CRM software allows you to easily share data across teams, too, so you can maximize time savings and focus on connecting with valuable leads.
5. Access robust data and reporting
Since CRM systems store data in one place, you can easily access and analyze customer data.
Salesforce allows you to customize your dashboard views to easily locate customer information, sales goals, and performance reports.
This allows you to streamline your reporting and allocate more resources to channels and campaigns that drive the best results for your business.
What do Salesforce consulting services from WebFX include?
When you make WebFX your Salesforce partner, we'll help you set up your Salesforce account and integrate your marketing campaigns with Salesforce data. In addition, WebFX clients have access to MarketingCloudFX — our proprietary lead tracking software, powered by IBM Watson. MarketingCloudFX integrates directly with Salesforce to give you more comprehensive sales and marketing data. Our MarketingCloudFX features include:
LeadManagerFX
With LeadManagerFX, you can supplement Salesforce data with real-time lead reporting and key information about their interactions on your site.
LeadManagerFX allows you to instantly view information about:
CallTrackerFX
With CallTrackerFX, you can more accurately track return on investment (ROI) by assigning specific phone numbers to marketing campaigns.
CallTrackerFX gives you the power to:
LeadNurtureFX
With LeadNurtureFX, you can seamlessly lead customers through your funnel to drive more conversions and sales.
Combine Salesforce data with LeadNurtureFX to:
PersonalizeFX
With PersonalizeFX, you combine additional insights with Salesforce data to provide the best possible user experience on your website.
PersonalizeFX allows you to harness data to personalize your website experience according to a visitor's:
VisitorRecorderFX
With VisitorRecorderFX, you can directly impact revenue and business growth by better understanding the actions people take on your site. When you understand customer actions, you'll be able to better influence them, too.
Syncing Salesforce and MarketingCloudFX gives you access to billions of data points to power strategic recommendations. And our mobile app gives you instant access to lead intel on the go.
VisitorRecorderFX gives you real-time insight into user behavior on your site, so you can:
Why make WebFX your Salesforce marketing consultant?
With 25+ years of experience, WebFX can seamlessly sync your marketing campaigns with Salesforce.
In addition to advanced CRM solutions, we offer a full suite of digital marketing services, including:
We'll bring our expertise as a full-service marketing agency to help you get the most from your online presence.
Working with the dedicated Salesforce marketing specialists at WebFX, you can easily funnel marketing spend into the channels that earn you the most phone calls, leads, and revenue. And we'll help you leverage your Salesforce data to create custom marketing campaigns that convert.
You'll also have access to MarketingCloudFX, so you can easily monitor your ROI and know exactly where your budget is going at all times.
Measuring the metrics that affect your bottom line.
Are you interested in custom reporting that is specific to your unique business needs? Powered by MarketingCloudFX, WebFX creates custom reports based on the metrics that matter most to your company.
Leads

Transactions

Calls

Revenue
Learn More

Connect with our Salesforce marketing consultants at WebFX!
Ready to drive better marketing results with your Salesforce data? WebFX can help!
Contact WebFX or give us a call at 888-601-5359 to learn how our Salesforce marketing consults can take your business to new heights!