Facebook provides real estate businesses like yours with the opportunity to connect with home buyers and sellers in your target market.
With over two billion monthly active users, Facebook is one of the best places to showcase your listings. With advanced targeting options, real estate Facebook advertising is the perfect method to find buyers in your area.
Want to get on top of advertising on social media platforms like Facebook? Check out our newsletter, Revenue Weekly!
Don't miss our Marketing Manager Insider emails!
Join 200,000 smart marketers and get the month's hottest marketing news and insights delivered straight to your inbox!
Enter your email below:
Inline Subscription Form – CTA 72
"*" indicates required fields
(Don't worry, we'll never share your information!)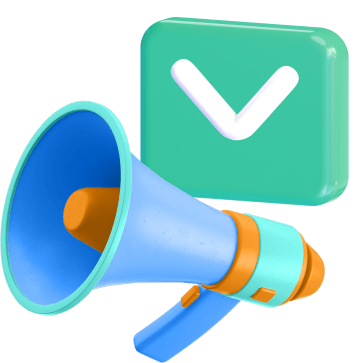 Do Facebook ads for real estate work?
Facebook is one of the best platforms to use for real estate ads because:
It lets you target local people: As a real estate agent, you work locally. Facebook Ads Manager allows you to target local buyers and sellers with relevant information that gets them to contact your office.
It lets your company get visual: People like to see the products before they buy, especially with expensive purchases like homes. Facebook provides realtors with the opportunity to showcase homes using detailed visuals.
It lets you build connections with buyers and sellers: Buyers and sellers want to partner with a trustworthy real estate agent. Facebook is the perfect platform to build relationships with your clients and earn their trust, so they'll choose you as their realtor.
Hear What It's Like to Work With WebFX!

"We were referred to WebFX and have been wowed with their company culture, professionalism and attention to our business needs. It has been a great few months working with them and we look forward to continuing our relationship with them and enhancing our seo!"
Real Estate Agency
Best practices for real estate Facebook ads
Ready to get started with your real estate Facebook advertising campaign? Here are the eight tips you need to know:
1. Use the Special Ad Category
Facebook, as a recent change, has added a new advertising campaign category called the Special Ad Category.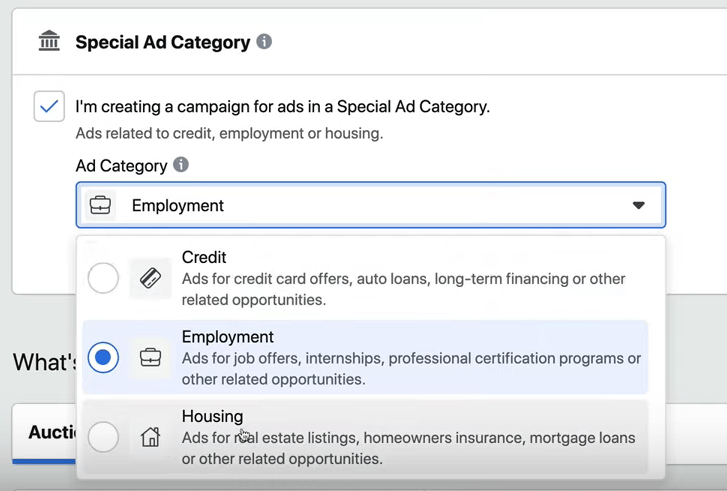 With this category, real estate agents can no longer target by age, gender, or zip code, or any other demographic relating to protected characteristics.
Here are some of the differences between the targeting options of the Special Ad Category and your normal ad categories:
Locations
Geographic location is still available for targeting with the Special Ad Category, but there are two changes to the way you target.
1. You can no longer target specific zip codes. Instead, you target your region or city by pin-drop, which sets a radius around the location you select.
2. The pin-drop sets a minimum of a 15-mile radius, instead of the previous 10.
The ads you create will then target the people who are within the radius you set. Facebook also gives you the option of targeting people within the area based on different criteria, such as living within or visiting.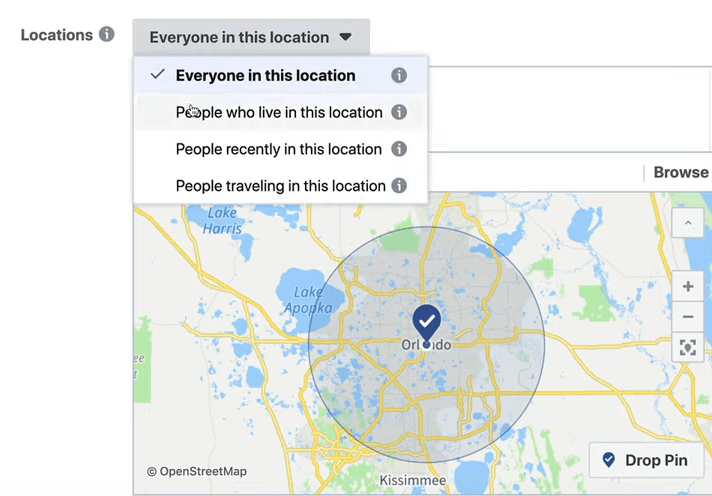 Age
Targeting different age ranges is no longer available for ad campaigns created with the Special Ad Category. Facebook now sets audiences at 18 through 65+.
Gender
You also can't edit this option in the Special Ad Category. Your ad audience is set to include all genders.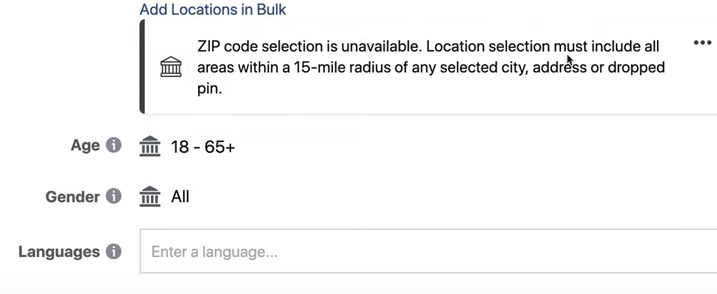 Excluding interests
You can still target your audience based on the interests they indicate. For instance, if you target "Buying a home," Facebook will show your ad to anyone that has that interest on their profile. However, you're no longer able to exclude any interests, like with the normal ad category.
These changes help prevent discrimination in ads. As a result, some of the targeting options that are available for other marketers are unavailable for real estate agents.
2. Identify your buyers and sellers
Successful realtors know who they want to work with when buying and selling homes. Use this knowledge to help you build your ideal target audience.
Create marketing personas of your ideal client to help you target the right people. Marketing personas are fictional profiles that highlight the traits of your typical client. When you create marketing personas, you identify key components of your audience, including demographics, socioeconomic status, and interests.
Some information to identify with your personas include:
What homes sell in your area
What homes do you typically work with (bilevel, ranches, etc.)
What kind of people look to buy or sell these homes
Once you have your marketing personas, you'll use that information to set your target audience in Facebook Ads Manager, so you can reach the right people interested in your ads.
Facebook custom audiences
Facebook gives you the option to create a custom audience in the Facebook Ads Manager to help you target specific audiences.
With custom audiences, you target people who engaged with your real estate business previously. It can be a list of users who visit your page, signed up for an email list, or subscribed to text message notifications.
Creating a custom audience allows you to reach people with similar online behavior based on existing information about current clients. Facebook will deliver your ad to people who fit your parameters.
Since identifying audiences in the Special Ad Category is more restrictive than with regular ads, the way you specify your custom audience is a little different.
You can't use a previously saved audience when you create a new campaign with the Special Ad Category. You'll have to create a new custom audience if you want to use any existing information you have.
3. Create local ads that reach buyers and sellers in your area
As a real estate agent, you want to create real estate ads on Facebook that drive local buyers and sellers. With real estate Facebook ads, you can target locations (just not zip codes) to reach more clients looking to buy and sell homes in your area.
For example, you can advertise a home listing and target homebuyers looking for a house in that area. You can create a locally-focused ad that advertises your real estate business.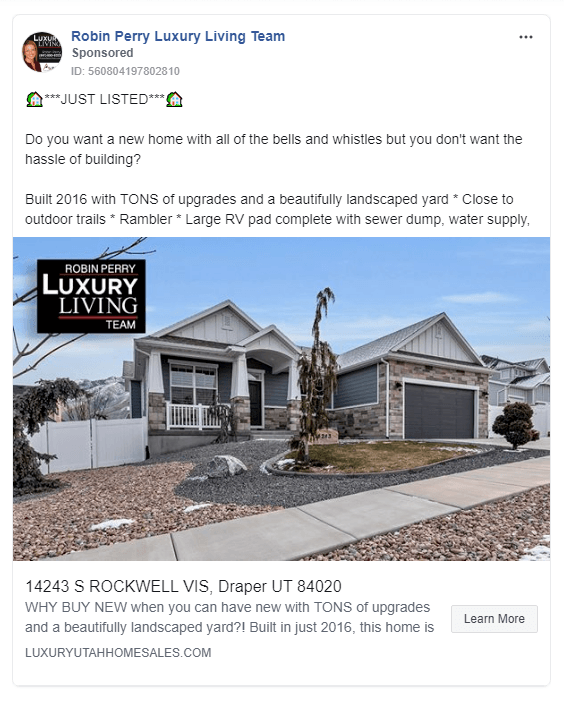 4. Use photos and videos to showcase your listings
Visuals help you create engaging ads that draw in clients and get them to check out your listings. To help you create successful ads, incorporate high-quality visuals into your ad campaign.
Your photos should match the purpose of your ad. Whether you're advertising a home listing or your real estate business, choose visuals that help enhance your ad and catch your audience's attention.
Pictures and videos help you show off what you're advertising, so focus on adding visuals that showcase selling points of your houses. Whether it's vaulted ceilings or a three-car garage, you'll want to visually highlight features that will draw in homebuyers.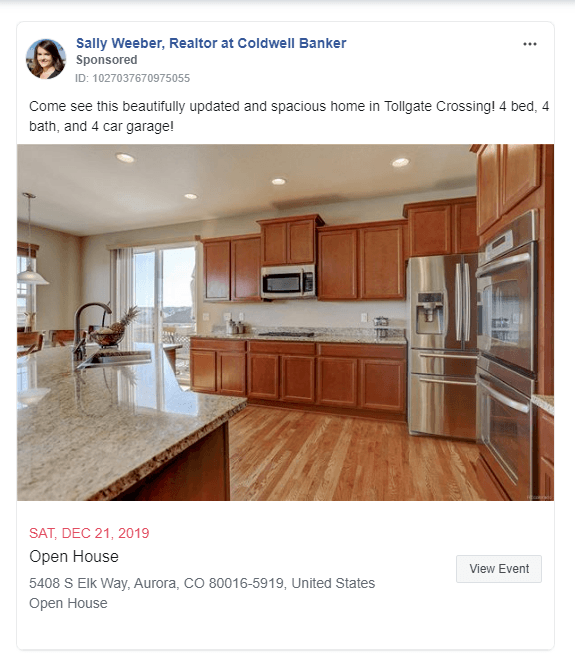 5. Keep it short
Get directly to the point when you write your ad copy. You'll want to make your ad content compelling but also remain honest and transparent.
When you write ad copy, make your offer clear. Whether you're listing a house or advertising your services, your audience should know exactly what you're offering. Show your audience how you can help them or how your listing fits what they need in a home.
Additionally, create a compelling call to action (CTA) for your ad. You can encourage people to fill out a contact form or to head over to your landing page for more listing information and pictures.
To create a successful ad, align CTAs with your campaign goals.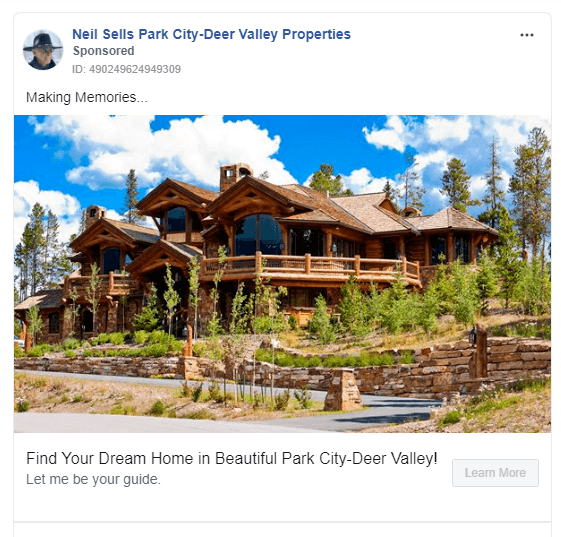 6. Create compelling landing pages
It depends on your real estate advertising campaign goals, but landing pages are a popular way to encourage conversions. Many of your real estate Facebook ads will convert better with compelling landing pages associated with them.
Landing pages are one of the best ways to direct clients to specific offers and services you offer. Landing pages should be simple and straight forward to encourage your clients to take action. They should also have a clean web design and engaging graphics.
For example, if you are showcasing a listing with your Facebook ads for real estate, then your landing page should contain the in-depth information for that listing.
On the other hand, if you're offering access to a free home evaluation tool online, then your landing page should contain an easy-to-fill-out form for your client.
The less that your client has to search for the information that they need to convert on your landing page, the more compelling it will be.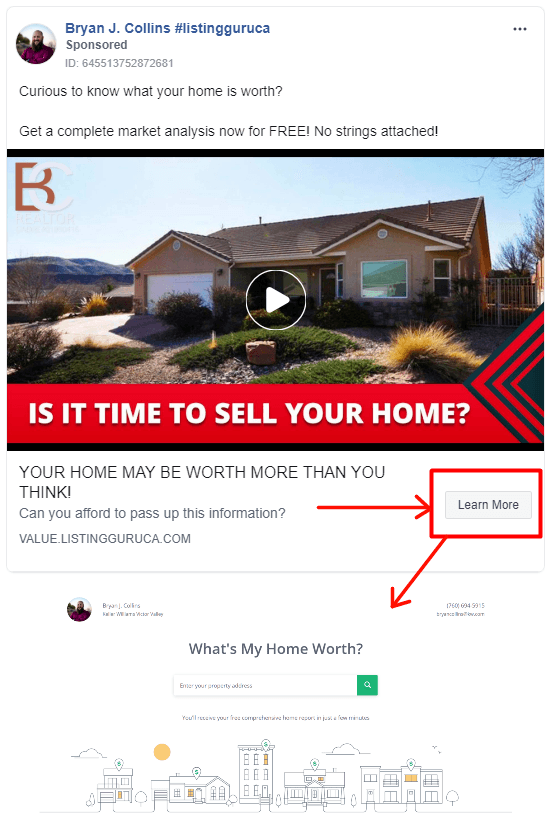 7. Try different ad formats to see what engages clients
Don't forget to try different Facebook ad formats. You never know what could hit it off with your audience. Popular Facebook ads for real estate include:
Image ads: Real estate Facebook ads that contain a single image to appeal to audiences.
Video ads: Videos are a great way of showing off all the unique aspects of your listings and engaging with audiences.
Carousel ads: Want to showcase multiple images or videos? Try Carousel ads, which can contain up to 10 images or videos per Facebook ad.
Story ads: Story ads are full-screen videos set in a vertical format. They provide an added dimension to the already engaging Video ad system.
Instant Experience ads: These ads used to be known as Facebook Canvas. Like Story ads, Instant Experience ads are full-screen ads that connect viewers straight to landing pages integrated on the Facebook platform.
Not happy with your social media engagement?
We've got just the blog post for you.
Read the Blog Post & Watch the Video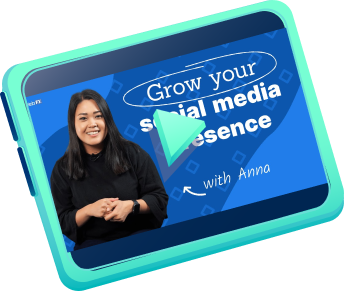 Boost your real estate Facebook advertising campaign with WebFX!
Looking for someone to help you manage your real estate Facebook advertising campaign? Our team at WebFX can help.
We're great at generating leads for real estate! In the last five years, we generated 4.6 million leads for our clients. If you want to reach more buyers and sellers with compelling ad copy, it's time to partner with WebFX for your real estate advertising campaign.
We'll make sure that your real estate Facebook advertising campaign is a resounding success.
Contact us online or call us at 888-601-5359 to learn more!
Ready to speak with a strategist now? We're happy to chat! Give us a ring at:
888-601-5359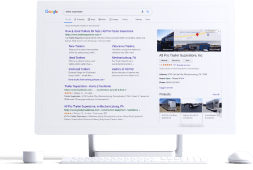 Earn a 20% greater ROI with WebFX