As a real estate agent, you've probably spent endless hours trying to convince homeowners to trust you with the sale of their home or purchase of their next one. Thanks to the Internet, you can get those hours back by leaving the process to your online marketing channels. The secret is a marketing method known as inbound marketing.
One of the most significant changes to marketing is how much control consumers have. They rarely bother with cold calls and mail—instead, they go online and search for what they want. If you know how to reach these people, you can generate a host of qualified leads without ever picking up the phone.
On this page, you'll learn exactly what inbound marketing is, and why your real estate business needs it. You'll also get some helpful tips on inbound marketing for real estate agents.
How is inbound marketing different from traditional marketing?
Before the Internet went mainstream, Realtors had to buy ad space on TV, radio stations and newspapers in order to raise awareness and reach potential clients. However, they couldn't know for sure they were reaching the right audience. Those channels were segmented based on geography, not the buying cycle, so Realtors could only hope that they were reaching people in the market for a new home or office.
That's not the case with inbound marketing. Potential home buyers now actively start searching for new homes or real estate agents online, and they tend to ignore traditional sales pitches delivered through other mediums. As a result, your website, social media pages, and directory listings have to be optimized for their searches. Plus, your business has to offer more to prospective buyers than just a chance to buy from you.
Essentially, inbound marketing relies on the Internet to bring people who are interested in buying a home right to you—thus the "inbound" in its name. This is in direct contrast to the previous "outbound" methods, which had you selling to people who may not have even been interested. So while the reach may be reduced, the level of interest is guaranteed to be there with inbound methods.
This level of engagement takes time and experience. However, once you've put the right strategies in place, you can be sure you'll get the leads—and sales—you want.

Hear What It's Like to Work With WebFX!

"We were referred to WebFX and have been wowed with their company culture, professionalism and attention to our business needs. It has been a great few months working with them and we look forward to continuing our relationship with them and enhancing our seo!"
Real Estate Agency
Why do realtors need inbound marketing strategies?
A new home, office, or store is a big investment, so buyers are going to want a longer, more personal relationship with the people helping them buy. This relationship starts with real estate inbound marketing.
An effective inbound marketing strategy provides benefits for both your and your clients, including:
More qualified leads
When it comes to leads, quality trumps quantity every time. Traditional campaigns might reach thousands of prospects, but you don't know how they'll respond.
With inbound marketing for real estate agents, the qualified prospects make themselves known when they click a link on a blog, email, or contact form. The number of views and clicks may be smaller, but a much larger number are likely to turn into paying clients, because they're seeking you out—not the other way around.
Better accountability
It's always been next to impossible to generate ROI from radio, television, and newspaper advertising. Direct marketing is only slightly better, thanks to marketing keycodes. On digital channels, though, you can get an exact measurement of how effective your marketing strategy is.
This information allows you to spend more wisely with each subsequent campaigns. It also allows you to better answer questions about your ROI, and make better decisions about where you should be spending your marketing dollars.
Greater trust
Because inbound marketing focuses more on educating and entertaining than on selling, prospects feel more comfortable reaching out. The "soft sell" allows them to get to know your business and expertise without the pressure of buying.
Lower costs
The cost per lead on inbound marketing channels is 62 percent lower than traditional channels. One reason for the difference is the lower cost for social media and other channels than banner ads or paid search. The other is the higher conversion rate among inbound channels.
The bottom line: you pay less and get more from inbound marketing.
Our digital marketing campaigns impact the metrics that improve your bottom line.
See More Results

WebFX has driven the following results for clients:

$3 billion
In client revenue

7.8 million
Leads for our clients

5.2 million
Client phone calls
What are some effective real estate inbound marketing tips?
As you can see, inbound marketing has a lot of financial and customer relationship benefits—but only if it's done right. Inbound marketing is an ongoing, multichannel strategy, so you need to stay on top of it to get the best returns possible.
Inbound marketing strategies vary from one industry to another, and even from one Realtor to another. However, every strategy includes a set of basic rules. If your inbound marketing plan is going to grow your firm, you need to follow these tips to start with.
Create relevant content
People are drawn to things that entertain and inform them. When it comes to those browsing the Internet, they're drawn to the sites that provide them something relevant, informative, and unique.
Create content that will interest prospective buyers, such as news on interest rates or how to apply for a mortgage. Use a variety of shareable formats, including videos, blog posts, and infographics. Focus on relevant topics, and make sure you have methods in mind to distribute your content, like email marketing or social media.
This content won't just engage your visitors—it will also help you rank higher in search engines, as you'll learn about next.
Optimize your website for search engines
One study shows that 93 percent of all online experiences begin with a search engine. That means your website has to be found by those who are using Google, Bing, and other engines.
Add relevant keywords to every piece of content you create, whether it's a blog post on market trends or an interactive home refinancing calculator. Keywords—the words and phrases that people search for to find answers or content to read—are a big part of search engine optimization, or SEO, for your website.
The good news is that by creating content, you'll likely be naturally using the words and phrases that people are looking for. Also, the more content you create, the better you stand to rank in search engines like Google.
You can learn more about how SEO works, and get some other ways to optimize your real estate website for searches, by reading this page on SEO for real estate agents.
Stay active on social media
While Facebook, Twitter, LinkedIn and other channels are great for sharing content, they're also great for strengthening your brand position and increasing engagement with prospective buyers.
Sharing content on social media can generate more clicks to your website and the content you are creating. But being active on these platforms also gives you a chance to answer questions, provide advice, and address concerns that potential buyers may have.
The public aspect of social media also shows those who are considering choosing you as their Realtor that you are quick to respond and eager to please—two fantastic qualities!
Track, monitor, and refine
No matter how sound your strategy may seem, you don't know for sure it's working unless you're taking a look at the way people are responding. That's why you need a tracking and analytics program to measure click-through rates, newsletter sign-ups and other metrics. Google Analytics is a free way to monitor your website's activities, including traffic from social media and other websites.
When you know what's working, you can refine subsequent efforts for even better results. And when you do that, you may find that you have more time to experiment with new marketing ideas or methods!
Inbound marketing is perfect for real estate agents
Inbound marketing is a terrific way to reach new prospects without having to constantly sell to them. It brings in new leads and higher sales, and over time, it can even improve the reputation of your business.
If you want to know more about inbound marketing and how you can use it, check out our beginner's guide to inbound marketing. This detailed guide is free to read online, and it provides a ton of helpful tips and ideas that will give you the power to start your own online marketing programs.
Not sure you're going to have the time to implement inbound marketing for your real estate firm or business? Let us know—WebFX has helped more than 1000+ clients find success with online marketing, and we're ready and willing to help you, too. Give us a call or contact us online today for a custom inbound marketing service plan!
Ready to speak with a strategist now? We're happy to chat! Give us a ring at:
888-601-5359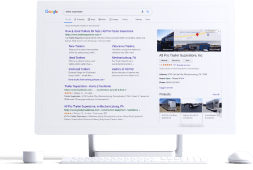 Earn a 20% greater ROI with WebFX