Every real estate agent needs a steady flow of new clients to grow their business. And although prospective home buyers are always out there, attracting them to your business is challenging.
Your potential clients have many options, and it's easier than ever to research all of them online. This means that the best way to bring them to your business is by being visible where they're looking — Search engines.
Many home buyers rely on search engines like Google to find real estate agents and properties in their areas. Thankfully, the results they see aren't a product of chance – and you can make your website show up with them using search engine optimization, or SEO.
However, in a competitive industry like real estate, you can be sure that other agents in your area are also using SEO to reach local clients. This means that in order to succeed, you need to create a unique strategy and make your business stand out.
The best way to do this is by identifying and creating content around long tail keywords related to real estate.
On this page, we'll explore why long tail keywords are so important and how you can choose the best ones to reach new clients.
Learn here all about SEO marketing
What are long tail keywords?
Before we discuss what long tail keywords are, it's important to understand keywords in general. Essentially, these are the words and phrases users type into search engines when they're looking for information online.
When you include those keywords on your site pages, you improve the chances that the pages will show in search engine results.
Long tail keywords are keywords with three or more words. They're much more specific than one or two word phrases, and they typically demonstrate much clearer search intent.
37% of marketers say that generating high-quality leads was one of their biggest challenges.
We want to decrease that percentage.
WebFX can help you generate high-quality leads with a customized marketing strategy.
Learn More About Lead Generation Services
Hear What It's Like to Work With WebFX!

"We were referred to WebFX and have been wowed with their company culture, professionalism and attention to our business needs. It has been a great few months working with them and we look forward to continuing our relationship with them and enhancing our seo!"
Real Estate Agency
Why do long tail keywords matter for real estate?
Long tail keywords should be a part of every business's SEO strategy to attract customers online.
However, there are a few reasons why they're particularly valuable within the real estate industry.
1. More qualified traffic
Searchers using short, general keywords could be looking for all kinds of information.
For example, a user who searches "real estate agent" could be looking for a local realtor to help them buy a home, but they could also be looking for information on how to become a real estate agent, real estate jobs, or general information on the industry.
Many of these searchers won't be interested in your services, so targeting short, broad keywords just isn't worth your time.
Long tail keywords, on the other hand, give a much clearer picture of what a searcher wants. If a user types "home for sale Harrisburg PA" into Google, they're probably a prospective home buyer in the city.
As a result, searchers who find your site with long tail keywords are much more likely to be potential clients. These visitors are considered qualified traffic, unlike visitors who have no intention of utilizing your services.
2. Less competition
Because short keywords are so broad, there could be millions of pages online with information related to them. Each of these pages then competes for a spot in search results – but only 10 of them make it onto the first page, and few searchers look beyond that.
This means that even if a user performing a broad search were trying to find a real estate agent in your city, it would be extremely difficult for them to find you among the millions of other pages relevant to their search.
The longer and more specific a keyword is, the fewer relevant pages there will be online.
This means that when you target long tail keywords, you not only target searchers looking for your services, but you also increase the chances that they'll find your site in search results.
3. New content ideas
Original content is essential for any online marketing strategy. You need to provide your visitors with helpful information and show them that you're a trustworthy resource.
But coming up with new ideas can be challenging once you've exhausted your original list of topics.
When you research long tail keywords for your real estate agency, you're bound to find a few you haven't covered on your site. While it'll require a little more work to make new content instead of incorporating them into existing pages, these keywords present great opportunities for your real estate office.
When you publish pages based on long tail keywords, you can be confident that they'll drive results for your business.
4. More conversions
Users searching long tail keywords know what they want. This means they also tend to be further along in the buying process.
They've already completed their general research, and they're ready (or close to ready) to contact an agent. As a result, visitors who arrive at your site as a result of a long tail search have a much higher conversion rate than those searching general keywords.
Considering that your website's ultimate purpose is to generate clients for your business, targeting long tail keywords is essential. After all, no matter how high your traffic is, it doesn't translate into revenue unless those visitors convert.
Time to Level Up Your Sales
Our long list of services helps you grow every aspect of your business with marketing strategies that are proven to increase bottom-line metrics like revenue and conversions.
In the past 5 years, we've managed more than 12.9 MILLION transactions across our client base.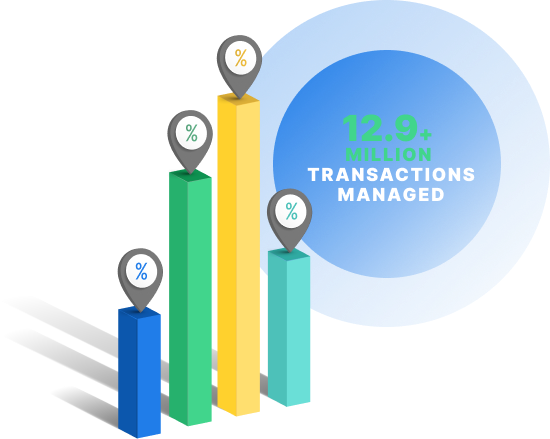 How to find long tail keywords for real estate
It's easy to see why long tail keywords are so important to the real estate industry – but choosing the right ones for your business is a little more challenging.
These three steps will help you get started.
1. Create a list of possible keywords
The best way to identify long tail keywords is to make a list of keywords you think your potential clients search.
In the real estate industry, many of the most valuable keywords are location-related. If you're a real estate agent in Harrisburg, for example, "real estate agent Harrisburg" is an important keyword to include.
You'll also want to consider other ways your potential clients may describe your location like region or county, like "Central PA" or "Dauphin County."
From there, you can branch out into the questions home buyers often ask. If there are certain questions or concerns you often hear from your clients, you can be sure that there are other people looking for the same information online.
This also helps educate your potential clients, so you don't have to answer the same set of questions every time you meet with someone new.
2. Build out your list with keyword research tools
If you've ever done any sort of SEO work before, you're probably familiar with keyword research. It can be a time-intensive process, but it's essential to uncover valuable keywords for your business.
There are many free tools online that can help you with the process, and most of them pull search data to show you the words and phrases people search.
For example, let's say you want to create site content targeted to first time home buyers. Type that keyword into KeywordsFX, and you'll see a long list of commonly-searched keywords containing that phrase.
There are many other tools that perform similar functions, and all of them can help you expand your list into hundreds (if not thousands) of possible keywords – all of which are searched on a regular basis.
3. Narrow your list using Keyword Planner
Once you have a list of about 50 keywords, you can narrow it down to the best options for your site using tools like Google's Keyword Planner.
Enter each of your possible keywords, and you'll be able to see the average number of searches it receives per month, as well as how competitive it is.
The average monthly searches metric is straightforward, but it's important to remember that keywords with low search volumes can still be valuable to your site.
In the example above, 170 searches per month may seem low (especially when compared to 90,500 for "real estate agent"), but that's more than 2,000 searches per year. If you're able to rank well for that keyword and attract those searchers to your site, that's a lot of qualified traffic.
The competition metric is a little more complicated. In Keyword Planner, these estimates are based on data from Google Ads and reflect how many people currently try to rank for it. Basically, the higher the competition level, the more advertisers are targeting a keyword.
Technically, the competition levels listed in Keyword Planner aren't based on organic search results. But it's safe to assume that if lots of advertisers are bidding on a keyword, it's also difficult to rank for it organically.
Why else would so many people have ads for it?
As you look through your possible keywords, identify ones with low competition but a decent number of monthly searches. These are the best long tail keywords to target to attract qualified traffic to your site.
Ready to find long tail keywords for your real estate business?
Finding the right keywords is the first step to creating a successful SEO strategy. They help you understand what users want to know, answer their questions, and convert them into clients for your business.
This is especially challenging within competitive industries like real estate, but at WebFX, we have years of experience doing just that. We've worked with hundreds of clients in many industries, and we know what it takes to create an effective digital marketing strategy.
If you'd like some assistance finding long tail keywords, incorporating them throughout your site, and attracting new clients, we'd love to help. We'll get to know your business and goals and use that information to create a strategy tailored to helping you reach them.
Contact us today for more information and a free quote!
Earn a 20% greater ROI with WebFX