With billions of people on social media, it's safe to say that your real estate agency is missing out if it's not using social media as a marketing platform.
As a real estate agency, social media can drive traffic to your agency's website and have the potential to turn that traffic into satisfied customers.
On this page, we'll talk about social media marketing for real estate agencies, which channels work best, and how to market on each.
Not happy with your social media engagement?
We've got just the blog post for you.
Read the Blog Post & Watch the Video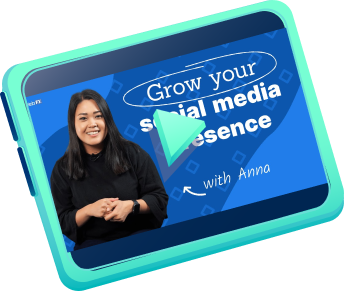 Why does my real estate agency need social media marketing?
With the information above, the answer is pretty straightforward. If you're not marketing your real estate agency on social media, you are missing out on hundreds of possible customers.
Social media is something that many Internet users check daily – and your agency could be using it to reach valuable customers each and every day if done correctly.

Hear What It's Like to Work With WebFX!

"We were referred to WebFX and have been wowed with their company culture, professionalism and attention to our business needs. It has been a great few months working with them and we look forward to continuing our relationship with them and enhancing our seo!"
Real Estate Agency
What channels should I market on?
Three of the best channels for marketing your real estate agency are Facebook, Instagram, and Twitter. These three channels have huge opportunity to drive targeted traffic to your real estate website and create happy home-buyers.
Facebook is great for connecting with friends and family members, but if you create a page for your agency, you can use it to interact with potential home-buyers too. You can post virtually anything on Facebook, including photos, videos, links, and more.
Instagram is a photo-based app that allows users to scroll through their friends' posts and comment along the way. This channel is great for real-estate, because selling houses depends heavily on the appearance of the house.
Twitter is another great channel to market your real estate agency. Although it only allows for 140-character posts, you can also share photos, videos, and links with your followers.
How should I market on social media?
There are a few rules that you should follow across each social media channel to get the most interaction and attention from potential home-buyers.
Post photos daily
Facebook, Instagram, and Twitter
Users are known to interact the most with visual elements. In fact, 74% of social media marketers say that they use visual assets in their social media marketing to engage viewers more effectively.
When you post photos of new houses that are on the market to your friends and followers, you're giving them a glimpse of what's available, instead of telling. A potential home buyer is much more likely to contact you about a house they've seen rather than a house that they've heard about.
Link to your website's blog
Facebook and Twitter
Your real estate agency's website should have a blog that keeps customers updated on the industry, agency news, and more.
When you have a blog on your website, you can easily share links to posts on Facebook and Twitter. When users see the link, one click is all it takes to get them to your website, where they can find more information about your agency.
Post about the neighborhoods that you work in
Facebook, Instagram, and Twitter
To get potential home-buyers interested in the area that you sell the most houses, post weekly pictures of the neighborhood. If it's a gated neighborhood, show off its assets like a pool or community space, or if it's a neighborhood that is close to the area's best elementary school, highlight that with a picture and a post on Facebook, Instagram, or Twitter.
When you post about the neighborhood, house hunters will be more likely to be interested in the specific houses that you post, since they already have a feel for what it would be like to live in the area.
Posting about neighborhoods can also spark general interest in an area and cause home-buyers to contact you directly to see if there are any houses available there.
Post about clients to show that you care
Facebook, Instagram, and Twitter
Is it moving day for a couple that you just helped find their perfect home?
Post a picture of them holding the "sold" sign, or their house keys, with your well-wishes. This will show that your agency is personable and cares for their customers' well-being.
Hold contests
Facebook and Instagram
Don't be afraid to hold contests on your social media pages. You can use other home-buyers to essentially advertise your agency by prompting them to post pictures of their new home to be entered in a drawing for a gift card or other incentive.
Not only do your customers get something in return, but they're advertising your real estate agency as well.
Post your listings
Facebook, Instagram, and Twitter
Since social media platforms like Facebook and Twitter have such large user bases, you should post homes that you currently have on the market.
When one friend or follower likes your post, it has the potential to spread to their friends and followers as well, which gets your posts more exposure than traditional listing sites.
Utilize geo-targeted ads
Facebook and Twitter
Geo-targeted ads are borderline genius for marketing homes that you have for sale on social media.
The majority of potential home-buyers already know the general area in which they want to live, and begin their searches with location-based keywords and criteria.
That means that you should take advantage of geo-targeting PPC ads to only show up to users wanting to buy in your area. So if you have a brand-new home for sale in California, those ads will show up to home-buyers that could realistically end up in one of your homes.
Share house-hunting tips
Facebook, Instagram and Twitter
It's always great to share knowledge on social media. It can also help you become a trusted real-estate agency, since it shows that you care about your customers enough to share valuable information for free.
You could post a tip once a week on how to stay within a budget, how many square feet a buyer might need based on their family size, and what characteristics a house might need for pet owners.
74% of people use social media when making a purchasing decision.
Make their decision easy with a stellar social media presence. See how your brand can level up by requesting a no-obligation proposal today.
One of our experts will be in touch within 24 hours!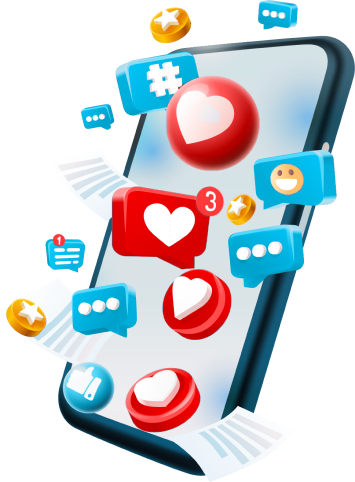 Need help with your social media marketing?
WebFX knows real estate, and we know that you might not have the time to manage your own social media marketing campaign.
But we can help. We have a dedicated team of in-house social media marketers that are dedicated to creating and managing effective social campaigns, and they'll work to get your real estate agency the most attention possible on platforms like Facebook, Instagram, Twitter, and more.
Contact us today for a free quote!
Earn a 20% greater ROI with WebFX