Whether you're making bread or sweet treats, you've got mouth-watering recipes that you know people will love. But if they can't find your business when they search for bakeries online, you're missing an excellent opportunity to drive baked good lovers to your store.
With a search engine optimization (SEO) plan, though, you can get your bakery in front of people looking for your baked goods.
Keep reading to learn four ways you can create a successful SEO campaign!
If you're busy running your bakery, you don't have to do SEO alone. At WebFX, we have a team of over 500 SEO experts that can help you run your campaign. Give us a call at 888-601-5359 or contact us online to speak with a strategist about our SEO services!
Independent research from Clutch has named WebFX the
top SEO company

in the United States.

Clutch has personally interviewed more than 250 WebFX clients to discuss their experience partnering with us.

Read More Clutch Reviews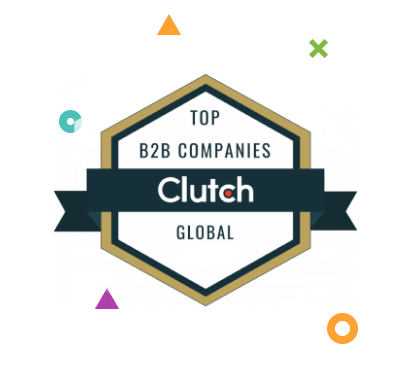 1. Optimize your site for relevant keywords to drive qualified traffic
A large part of SEO is keyword selection.
If you want your bakery to appear in relevant search results, you need to choose the right key terms so you can rank in relevant search results. Users search using specific terms, so you want to optimize your site for related keywords to help them find you when they search.
To find keywords, you need to conduct keyword research. You can use numerous keyword research tools, like KeywordsFX, to generate relevant terms for your pages.
Let's say you want to rank in local searches, so you want to find keywords related to the phrase "bakery in Baltimore." When you plug this keyword into a keyword research tool, you'll get keyword suggestions like "bakery in Baltimore, MD" and "Bakery in Baltimore County."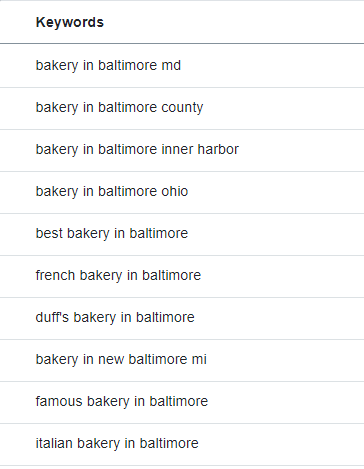 You can find dozens of relevant keywords you can integrate into your site to help you rank in search results.
As you look at your list of keyword options, focus on long-tail keywords. These keywords contain three or more words, like "bakery in Baltimore, MD."
Long-tail keywords are best for your campaign because they have a specific search intent, so you know people who search your long-tail keywords are interested in your business.
If someone searches "bakery in Baltimore, Maryland," you know they're looking for a bakery in that area. On the other hand, if someone searches "bakery," the search intent is less clear. Do they want to find a bakery in their area? Are they just looking for a definition of the word?
Long-tail keywords have a more precise search intent, which means you drive more relevant traffic for your business.
Once you have your long-tail keywords selected, you'll want to integrate them into the page. As you add keywords, make sure you don't overuse the keywords, as it will lead to keyword stuffing. Use keywords where they fit naturally.

Hear What It's Like to Work With WebFX!

"I am an avid fan of WebFX because they have really helped to take our search optimization to the next level. Thanks to their help, I know that our hard work with creating a great content is really set up for success. Thanks, WebFX!"
Food Service
2. Optimize the backend of your site to ensure it runs smoothly for your audience
Having a visually appealing site is fundamental to attracting leads to your site, but it's just as crucial that your site functions well, too. Having a beautifully designed site won't matter if your site doesn't load properly.
So, if you want to do SEO for bakeries, you need to optimize your site's backend.
Here are two key components you'll want to focus on to provide a smooth experience for your audience:
Improve your site's load time
Having a slow-loading website won't bode well for your bakery. Slow loading sites cause $2.6 billion in revenue loss annually. So, if your site doesn't load quickly, you risk losing customers for your business.
So, how quickly does your site load now? You can find out by using Google PageSpeed Insights. This tool will help you see how fast your site currently loads and provide suggestions for improving site load time.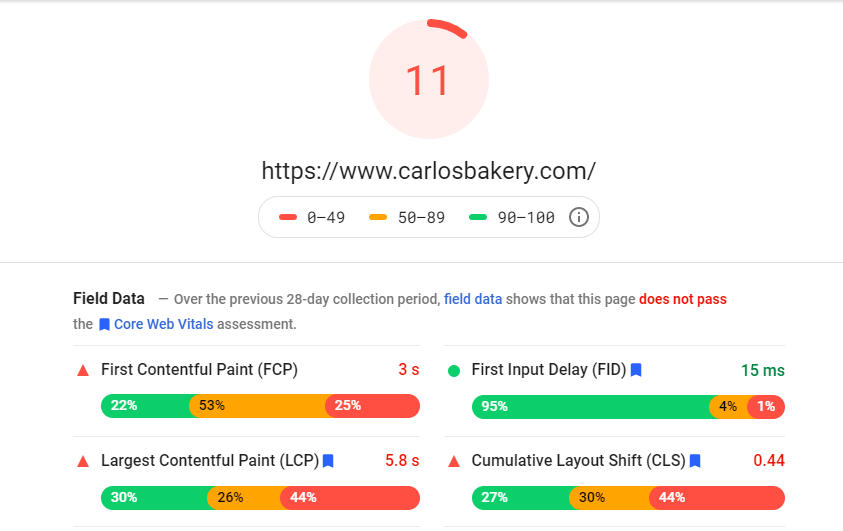 Here are a few ways you can improve your site's load time:
Minify JavaScript and CSS
Compress image file sizes
Host videos on third-party sites
Use browser caching
Limit redirects
Not sure how to put these changes into effect? WebFX offers page speed optimization services that can help your site load faster, so people can quickly check out your baked goods! Contact us today to learn more!
Make your site mobile-friendly
Mobile-friendliness is a critical aspect of bakery SEO.
Since Google moved to a mobile-first index, having a mobile-friendly site plays a significant role in determining your site's ranking. So, if your site isn't functional on mobile, you're not going to rank well in search results.
To create a mobile-friendly site, use responsive design. Responsive design ensures that your website adapts to whatever device a user uses, whether it's a smartphone, tablet, or desktop.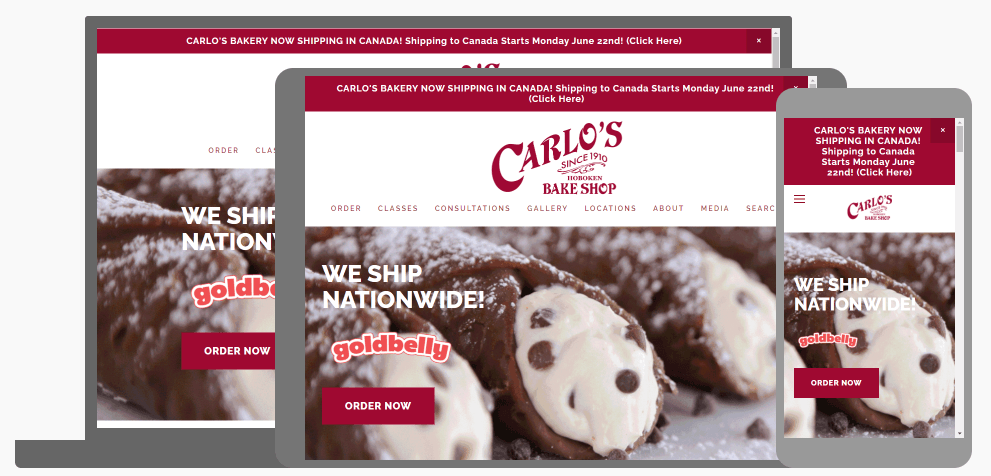 Think of it this way: Would you want to access your site's desktop version on a mobile device? If you had to access the desktop version on mobile, you'd frequently have to zoom in and out to read information and click buttons. Sounds like more frustration than it's worth, right?
That's exactly how your audience will feel, too, if you don't have a mobile-friendly site. So, make sure you integrate responsive design to provide your audience with a positive experience and get your site to rank in search results!
3. Create compelling title tags and header tags to entice people to click
The next component of SEO for bakeries involves creating engaging title tags and header tags.
Title tags
Title tags are what your audience sees in the search results when they come across your business's listing.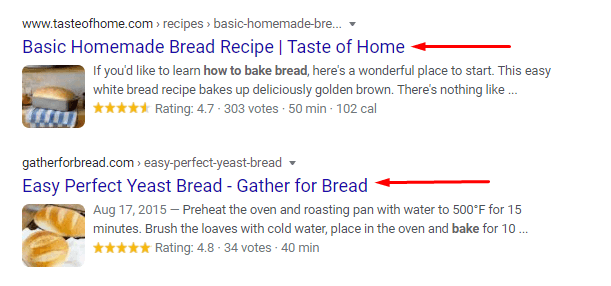 Your audience and search engines use your title tag to determine your page's relevancy to the search query. So, if you want your pages to rank in specific search results, you need to create a robust title tag that indicates relevancy while also enticing users to click on your listing.
So, how can you create high-quality title tags?
Put your keyword towards the beginning to show relevancy
Stay within the 60-character limit, so your tag doesn't get cut off
Use power words, like superb, ultimate, and shocking, to drive curiosity
When you create click-worthy title tags, you'll drive more traffic to your page. But your work doesn't end there! Now it's time to write compelling header tags.
Header tags
Once you create a compelling title tag that convinces people to click, you need to create exciting header tags to keep people on the page.
The first header tag people will see on your page is your H1 tag. This tag appears at the top of the page.

You may also have H2 tags on your page to help organize your content, especially if you have a listicle page, steps on a page, or you're covering multiple topics of a subject.
In this example from Carlo's Bakery, you can see they break up their "About Us" page into H2s to tell their story.

So, when you create header tags for your page, follow these best practices:
Use your core keywords in your header tags to help your pages rank in relevant results
Make your headings descriptive, so readers know what to expect
Stick to one H1 tag per page
4. Optimize for local searches to drive more customers to your bakery
Your bakery serves local customers in your area. If you want them to discover your bakery online, you need to optimize for local SEO.
There are numerous ways you can optimize for local searches:
Integrate local keywords into your site
If you want to appear in local searches, start by optimizing your site for local keywords. Local keywords typically include a location in them, like "Bakery in Atlanta, Georgia" or "Portland bakery."
Integrating these location-based keywords can also help you appear in "near me" searches — another form of local search.
Claim your Google Business Profile listing
Another way to appear in local searches is to claim your Google Business Profile listing. Google Business Profile listings appear at the top of the search results in a box known as the local SEO 3-pack.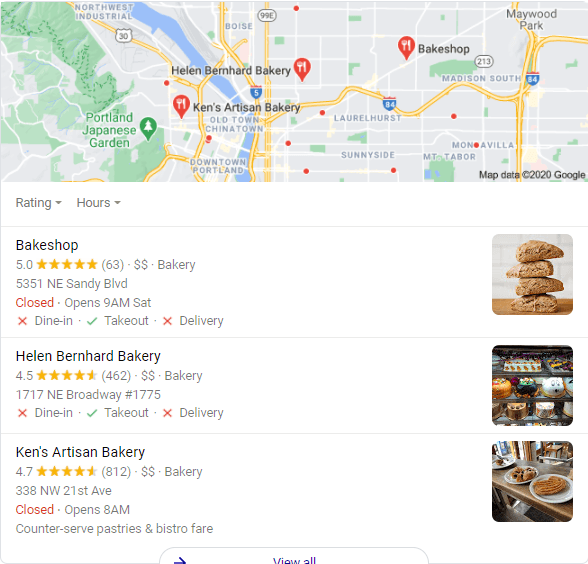 To get your listing in this box, start by claiming it through Google's Google Business Profile page.
Once you claim your listing, you'll want to:
Verify your name, address, and phone number are correct
Add any additional contact information
Link your website to your listing
Add a short blurb about your bakery
Input your hours of operation
Include photos on your listing to give customers insight
Having a complete listing will increase your chances of appearing in the local SEO 3-pack. Not only that, but a complete listing provides your audience with valuable information they need, which can make them more likely to visit your bakery.
Verify your name, address, and phone number (NAP) across platforms
The last component of local SEO for bakeries involves verifying your name, address, and phone number across the web. Your bakery will appear on multiple platforms, from Yelp to YellowPages. You need to ensure your information is accurate and up to date on each of these platforms.
Consistent information ensures that they get the most correct and up-to-date information no matter how leads find you.
Additionally, having conflicting information on different listings can lead to a Google Business Profile listing suspension.
If this seems like a significant process to visit every single website your business is on, don't worry! You can use a tool like LocalFX to help you manage all your local listings and ensure your information is correct on every website.
Our digital marketing campaigns impact the metrics that improve your bottom line.
See More Results

WebFX has driven the following results for clients:

$3 billion
In client revenue

7.8 million
Leads for our clients

5.2 million
Client phone calls
Bake up a fresh SEO plan with WebFX
Bakery SEO is a great strategy to help your business reach more people looking for your baked goods. You can help your bakery appear in more relevant search results, which will help drive more customers through your door.
When you partner with WebFX, we manage your campaigns while you worry about getting your sweet treats and delicious loaves of bread to your customers.
With over 25 years of experience and a team of 500 experts, you can feel confident we've got the magic touch to create an SEO campaign that drives results.
Not to mention, we've driven over $3 billion in sales and over 7.8 million leads for our clients in the past five years. Pretty sweet, huh?
Ready to help your listings rise to the top page of results? Contact us online or call us today at 888-601-5359 to speak with a strategist about our SEO services!
Earn a 20% greater ROI with WebFX