3 Reasons Your Restaurant Needs Digital Marketing
A restaurant's reputation is based on its food, but a good marketing strategy comes as close as possible to recreating the total dining experience. Since digital marketing has become a necessity for restaurants, your online marketing strategy needs to do the same as your offline one.
What can we do for your restaurant?
Click (or tap) the play button to find out!
.
When people want to try a new place for dinner, they may go online to look for recommendations or read reviews of local spots. Your restaurant has to use the Internet to promise a great meal and a pleasing environment. If you don't have an online presence, you may be missing out on many opportunities to reach new customers.
By reading this article, you'll get a comparison between traditional and online marketing for restaurants. You'll also learn just why digital marketing for restaurants is so important, and get a few ideas for marketing your location online. If you'd like to speak with an digital marketing specialist, you can reach us at 888-601-5359.
Attract more clients
with online marketing for restaurants.
How does digital marketing for restaurants work?
Internet marketing is exactly what it sounds like: the process of promoting your restaurant on the Internet. Like traditional marketing, there are many channels you can use. But unlike print, TV and radio, digital marketing relies heavily on audience participation and two-way conversations.
Some digital marketing channels are deceptively similar to traditional channels, including banner and display ads, videos, and and local directories. Others are completely different, like blog posts and infographics.
No matter the channel, though, these methods are all designed to encourage further engagement with your brand—or, at least, they should be. That's because their success is measured by how many people actually respond, not how many people might.
Many online marketing channels don't work at all unless audiences are responding. Social media is the best example. If your followers aren't mentioning you, posting on your pages, or responding to your content, it quickly becomes a one-sided conversation. Plus, no one comes across your messages like they would a TV or radio spot.
People have to actively sign up for email or join your social media channels before they receive your messages.
Thanks to the web, marketing has become more focused on two-way dialogue than ever before, and one of your goals is to foster this dialogue. Keep reading to find out why.
Why is digital marketing so important?
The web completely changed the way people communicate with each other and with businesses. By now, everyone should be marketing online—and if they aren't, they should start ASAP. Without a solid online presence, you are missing out on ample opportunities to connect with potential customers.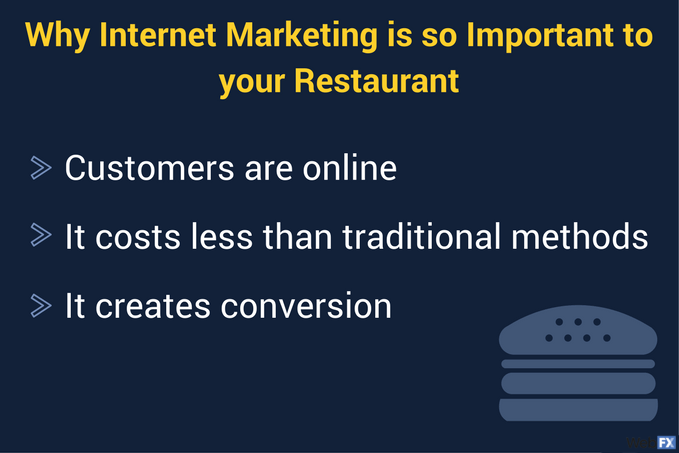 Here are a few reasons you either need to begin or ramp up your online marketing efforts.
Your customers are online
Right now, 3 billion people around the world are using the Internet. That's 42 percent of the population. As of 2014, they're doing 5 billion searches a day for products and services—including your restaurant.
If your marketing plan doesn't include the web, you are missing out on new customers and new revenue. What's worse, you are unable to have any influence on your reputation, because you can't can't "own" the content written about you on other websites like you can your own site.
It costs less
Traditional marketing is expensive. An ad in the newspaper can cost a few hundred dollars, and a menu or coupon sent through the mail can cost thousands. digital marketing costs far less per lead than other methods, even if you utilize channels like pay-per-click (PPC) advertising.
It creates conversations
The main difference between traditional and digital marketing is the conversation. Traditional marketing is one-sided, with your restaurant sending a message that may never receive a response.
With digital marketing, customers can communicate as well. There are ample opportunities to respond to your marketing messages. Potential customers may talk to or about you on social media, send emails with questions or complaints, or respond to the content on your site in the form of a comment. The feedback may not always be positive, but it's worth hearing, especially if you want to make your restaurant better.
Now that you know why Internet marketing is so important, what can you do to market your restaurant online? Keep reading to find out what you can do to boost your marketing efforts.
See how we can help you GROW YOUR BUSINESS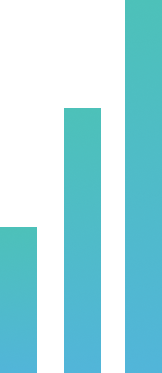 How can restaurants attract new business on the web?
These days, you have a far better chance of reaching your target audience online than in print, TV, or radio. But that doesn't mean that new customers will automatically come to you.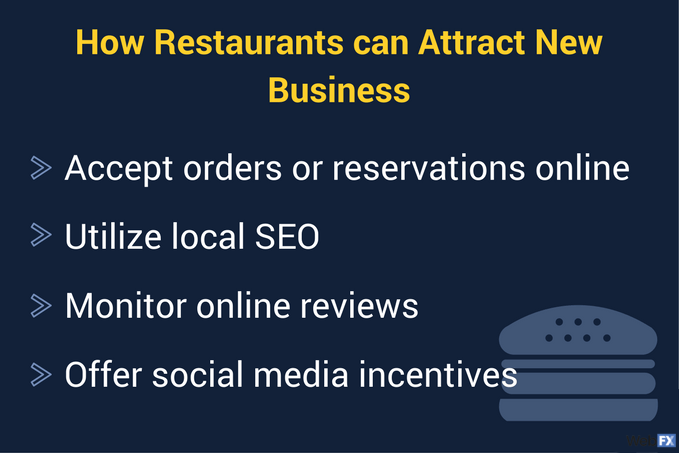 Digital marketing for restaurants requires a mix of creativity, availability and constant outreach. Your plan depends on your specific goals and target diners, but these ideas provide a good starting point.
Accept orders or reservations online
The ultimate goal of online marketing is to attract more diners, but many people will check you out online before ever entering your restaurant. They might even use your site to order a meal.
Utilize online feature that takes orders for take-out or delivery if you run a casual restaurant, or reservations for fine dining. You can even try both if you like! No matter which option you add, your informational website can now become a sales channel.
Utilize local SEO
While choosing keywords to describe your restaurant's environment or cuisine, remember to optimize the content you write for location as well. Most people prefer to dine out close to home, so they'll almost always search for a restaurant in their towns or neighborhoods.
Include location-based keywords in the text on your website, from the copywriting on your homepage to the title tags of each page. Also, make sure that your restaurant's site is listed in the location-based results that appear on search engines—for example, when someone searches for "sushi restaurant in Queens."
You can learn more about local SEO and how to implement it on your website by visiting this resource from Moz.
WebFX helps clients in the food and beverage industry thrive.
We have had so much success with WebFX, we have partnered with them on a whole other website and project. We could not be happier or luckier to partner and work with WebFX.
– S. Clyde Weaver
See the Case Study
Monitor online reviews
Your ads tout your delicious dishes and superior service, but what do diners think? To new diners, reviews or feedback they receive from other people means more than what you tell them. Online reviews let new customers know what your current customers think, and they can be hugely beneficial to your business.
Get listed on review sites like Yelp, Urbanspoon, and Zagat, and monitor each website for new reviews. If someone posts something positive, make sure you thank them. If there's a negative review left, publicly acknowledge it, and try to reach out to the customer to make the situation right. You can learn more about why you should respond to negative reviews here.

Finally, you can also post positive reviews or awards on your website. Testimonials and "social proof" like this can make a potential patron much more likely to visit your establishment.
Offer social media incentives
Social media is a great way to stay engaged with current customers and the community at large. It also helps you reward them for their support, and perhaps entice potential new diners to visit your restaurant.
Create discounts, special offers, and other incentives on social pages like Facebook and Twitter. You could create a simple reward for liking or following you, or perhaps give out individual rewards for those who are loyal followers. No matter the incentive, these actions are bound to be appreciated by those who are considering dining with you.
Reach more customers online
When you partner with WebFX, we'll help you earn visibility for the keywords your target audience is searching, and earn more customers for your restaurant.
Start marketing your restaurant online today
Your restaurant was created to provide a dining experience that engages all the senses. A good marketing campaign should strive to do the same. Create an digital marketing plan that evokes the sights, sounds, smells, and tastes of your restaurant, and you'll have a full house every night.
Need help creating a successful digital marketing plan for your restaurant? Don't have time to market? Let WebFX know. As a proven online marketing firm, we've helped more than 500 companies reach more customers and increase their profits. Contact us online today for a customized, no-obligation quote for making your restaurant's marketing campaigns more successful than ever.
Find out how WebFX can help you create an effective marketing strategy for your herbal product store.
Call 888-449-3239 or contact us online today for a free evaluation.