Your customers are using social media — so you should be, too. People spend a lot of time surfing social media platforms like Instagram or TikTok, making it an excellent way to keep in touch with your audience or find new customers.
If you run a bakery and want to learn all the benefits of using social media to reach your audience, keep reading! You can also start your social media strategy today by contacting one of our WebFX specialists now.
74% of people use social media when making a purchasing decision.
Make their decision easy with a stellar social media presence. See how your brand can level up by requesting a no-obligation proposal today.
One of our experts will be in touch within 24 hours!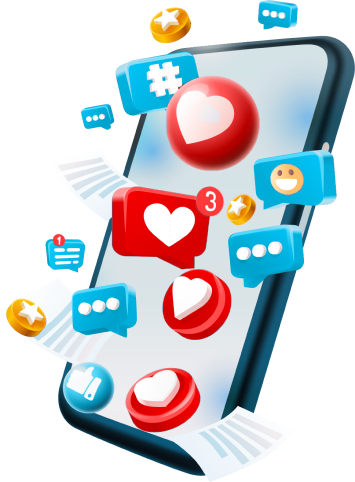 How can I use social media for my bakery?
Social media is a relatively easy tool for promoting and advertising your bakery. Check out how you can use these four major social media platforms for your business.
1. Facebook
Facebook has long been one of the most popular social media sites, especially for businesses. If you don't have a Facebook account for your bakery yet, you'll want to set up a business page as soon as possible.
Give the page the same name as your business and pick the "bakery" category — if your business fits into additional categories, you can add more.
You'll want to write a short, succinct description explaining your business. For example, you could say you run a bakery specializing in personalized cupcakes and cookies in a variety of unique flavors. Give readers a general idea of your business and any special services that make you stand out.
Choose a profile picture that has your bakery's name and logo. Your cover photo options are slightly more flexible but should still represent your business. Going back to the cupcakes and cookies example, a high-quality image of your products would suffice.
Finally, you'll want to include your business hours, contact information, address, and location so anyone who lands on your page has everything they need in one area.
2. Instagram
Instagram is another well-known social media site where users interact with each other. You should create a professional account instead of a personal one.
A professional account provides more insights than a personal one, including:
The ability to add more contact information to your profile.

An increased insight into your followers' engagement and who they are.

The option to create promotions and engage with followers.
Set your account to the business type, not the creator option, and choose a category term that encapsulates your business.
3. Twitter
Twitter is a great option for quick and short interactions. Creating a Twitter account is simple on both the app or the website.
While you can use Twitter for several things, polls are one of the easiest and most effective communication methods. Come up with a question — like "What's your favorite cookie flavor?" and provide some options. After your followers answer the poll, you have additional insight into what customers want to buy and what content they enjoy.
Thanks to the direct messaging feature, Twitter also works well for customer service and handling interactions quickly.
4. TikTok
TikTok has become especially popular among younger users. You can take advantage of this video-sharing platform by sharing a unique behind-the-scenes look into your business.
For example, many people enjoy watching videos of bakery items being made. If you bake cookies and put intricate designs on them with icing, record a video of your process and show your audience. You'll gain followers who are eager to see more and try your products for themselves.
Creating a compelling post
Once your different social media accounts are set up, it's time to start creating posts. Even if you already have existing accounts and content, now's an excellent time to refresh your strategy.
To create compelling social media posts, you need to understand what your audience wants to see. Videos and pictures are top options for food services, including bakeries. Why just tell your audience you sell cupcakes when you can show them?
Example posts you could create include:
A video of you or your team preparing the dough and baking cookies with unique visuals that show your audience an inside look into your process.

An infographic or visual calendar for your upcoming events or product launches for the next month.

An Instagram carousel of your featured bakery products for the week or month.

A group photo of people on your team, whether that's other bakers, front-end service members, or a delivery crew.

A poll on Twitter or Instagram that helps you get to know your audience.

A "guess the flavor" or another guessing-game style post where the first person to guess correctly gets a discount code.

A post about your upcoming event, classes, or virtual tutorials.

A live stream demonstrating your baking techniques in real-time.
Posting on your feed isn't the only way to engage with your audience. You can request user-generated content, too. Ask your audience to post a review or share feedback on your pages. Encourage them to post about their experience on their pages and tag you.
While you can outright ask users to post about you, creating a "post-worthy" spot is another option to encourage posts organically. You can paint a mural on one of the walls inside your bakery or feature a neon sign with your store's name or logo. Commission a local artist to create a spot for people to pose outside your bakery. Angel or butterfly wings are common, but any unique backdrop can do the trick.
When people share user-generated content, repost it on your page if possible. Share it on your Instagram or Facebook stories or repost it on your page when appropriate.
Growing your social presence with WebFX is a walk in the park.
"WebFX allows growing your social media platforms to be stress-free! They are knowledgeable and adapt to your company needs!"
Learn More About Our Social Media Services

Trust WebFX to help you stand out on social
Are you ready to start maximizing your social media presence to increase brand awareness and connect with customers? WebFX is prepared to help. We offer social media services that help you customize and manage your accounts, create posts, and monitor results.
Contact our team online or call 888-601-5359 to improve your social media accounts today!
Increase your leads, sales, and revenue with digital marketing
Find Us Driving Revenue Nationwide