Web Development Statistics
Web development is a constantly evolving field. Best practices, techniques, and the results we get from them are always changing. In order to stay on top of our competition and develop websites that users want to go to and stay on, we must stay up to date with current industry trends.
In addition, we must keep an eye on user data and statistics. Historical data is necessary to monitor because, frequently, it can help forecast future events. From this data, we can generate statistics that may indicate how our page is performing or give us insights on whether the page fulfills the user intent.
It is vital to understand precisely how we can use these statistics to generate a web development and marketing strategy that maximizes the potential of your business. These stats can help us better comprehend what users are looking for on a page and give us ideas for new page features and improvements.
Below are some exciting web development stats for you to think about for 2023.
Basic web stats
Before we get started with any in-depth web development statistics, here are some simple stats to give you an idea of the current state of the web in 2023:
General website development stats
These are some general stats about web design and development, as well as some other available stats about how users interact and think about design or development.
48% of people credit a website's design as the top factor in deciding a business's credibility. (Blue Corona)
8 of 10 consumers would stop engaging with content that doesn't display well on their device. (Ironpaper)
85% of customers trust online reviews as much as personal recommendations. (Web Alive)
73% of companies are investing in web design to differentiate their brands. (Blue Corona)
94% of people say bad design is the main reason they don't trust certain websites. (Social Media Today)
36% of website visitors click on your logo to reach your homepage from other pages. (Web Alive)
82% of customers trust a company after reading customer content. (SAG ipl)
WordPress accounts for 42.2% of all websites. (W3Techs)
61.8% of websites are in English. (W3Techs)
Over 380 new websites are created every minute. (Siteefy)
It typically takes users about 0.05 seconds to form an opinion on a website. (CXL)
Usability score is 47% higher if the text on your website is scannable. (Social Media Today)
Video background on a website can boost conversion rates by nearly 140%. (Website Builder Expert)
88% of online customers will not return to a website following a bad experience. (SWEOR)
Website development industry statistics
Now, we will go over some popular statistics relating specifically to the web development industry. Some of these statistics reinforce the marketing idea that it is a combination of content and user experience that sways users' actions. The other stats help give insights into the current web development landscape.
Do-it-yourself platforms for web development in the cloud are currently worth $24 billion in the US. They also experience a 4.9% annual growth rate. (IBIS World)
The web design services market size in the US is 40.8 billion. (IBIS World)
68% of consumers say they have higher expectations for businesses' digital capabilities since COVID-19. (Salesforce)
On average, users spend a total of 5.94 seconds looking at a website's main image and 5.59 seconds on average on a website's written content. (SWEOR)
Pages with videos keep users on them for 88% longer than pages without.
54% of users prefer a personal online experience. (Social Media Today)
Just under 33% of web designers need between 11 and 20 hours to design a website. (HubSpot)
By 2030, we can project the total number of web developers and designers in the United States to be over 205,000 people. That number is currently around 179,000. (Statista)
Coming in at 8%, the employment of web developers and designers is expected to grow faster than the average for all occupations. (US Bureau of Labor Statistics).
Page speed statistics
Page speed is a crucial part of website development and often has a significant impact on the site's effectiveness. Here are some statistics to back this claim up!
47% of people expect websites to load in 2 seconds or less. (Blue Corona)
Websites that load slowly lead to a $2.6 billion loss in revenue every year.
Cutting down your website load speed from 8 to 2 seconds can boost your conversion rate by up to 74%. (SAG ipl)
38% of users will not revisit your website if it takes too much time to load. (Web Alive)
39% of users will stop engaging with a website if it takes too long to load. (Blue Corona)
53% of mobile users will leave a website if it doesn't load within three seconds. (Web Alive)
Web development trends for 2023
While reviewing historical data in the form of statistics is one way to make informed web development decisions for your business, keeping an eye on major industry trends should also play a role in determining your web development strategy.
New trends are indicators of the future norm, so we wanted to highlight a few key web development trends that you should start incorporating now to get a leg up on your competition!
Mobile-first development
Mobile-first development is a process in which you plan and develop a website based on the mobile version first. This differs from the typical process of planning for the desktop version but makes sense given that over half of traffic comes from mobile devices. Here are some statistics that support the idea of mobile-first development:
In 2022, 55% of website traffic came from mobile devices. (Statista)
73% of ecommerce sales will take place on a mobile device. (TDA)
50% of smartphone users are more likely to use a company or brand's mobile site to browse or shop on a smartphone because they don't want to download the app. (Google/Ipsos)
68% of the companies that developed a mobile-first website saw a rise in sales. (SAG ipl)
Responsive web design
Responsive website design is the idea of developing website pages so they display correctly on all devices. While you probably don't need much explanation as to why this is a good idea, here are a few statistics to convince you to incorporate responsive design into your web development strategy:
62% of companies increased their sales by designing responsive mobile platforms for their websites. (SAG ipl)
40% of users will leave non-responsive websites (BitRebels)
73.1% of web designers believe that a non-responsive design is a top reason visitors leave a website. (GoodFirms)
53.8% of web developers cite "not being responsive on all devices" as a top reason for a website redesign.
Using AI in voice search
Another noteworthy trend is the emergence of voice search into the digital landscape. Voice search utilizes artificial intelligence to recognize what a person is saying and conduct a search for them. How people talk is sometimes different from how people text, so with this comes voice search optimization — optimizing sites for voice search queries.
In the future, we can expect more voice optimization techniques to develop rapidly with the growth of voice search and more voice-activated devices. This may be closer than you think, seeing that, back in 2017, more than 60% of businesses had begun incorporating AI into their business plans.
Time to Level Up Your Sales
Our long list of services helps you grow every aspect of your business with marketing strategies that are proven to increase bottom-line metrics like revenue and conversions.
In the past 5 years, we've managed more than 12.9 MILLION transactions across our client base.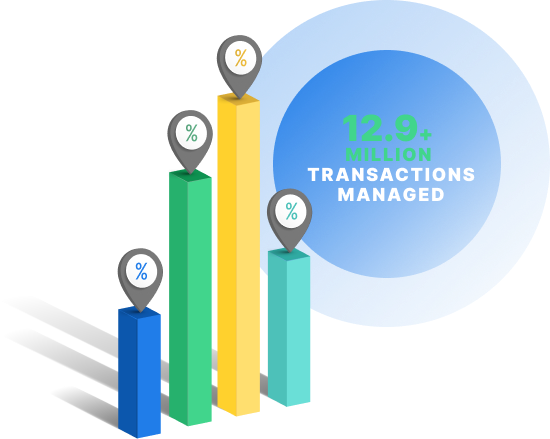 Learn how to drive revenue with web development
Want to learn more about web development and its future? Then sign up to receive emails from WebFX containing information on a multitude of digital marketing topics!
We're a full-service digital marketing agency with over 25 years of experience driving results for our clients. We specialize in a wide range of services, from web development and web design to search engine optimization.
To learn more about us and our services, contact us online today or give us a call at 888-601-5359!