8 Mobile Marketing Statistics That Prove Mobile Matters
As technology evolves, your digital marketing plan needs to evolve with it. Within the past few years, the use of mobile phones increased dramatically. In fact, 77 percent of Americans now use smartphones.
Mobile usage is rapidly growing, so you need a digital marketing plan that focuses on enhancing the mobile experience. Investing in mobile marketing is crucial to your business' digital success and will help you improve your campaign online.
On this page, we'll provide you with eight mobile marketing statistics that prove why you need mobile marketing. If you need help transforming your digital marketing plan to be more mobile-forward, call us today at 888-601-5359 to speak with a strategist.
Want to market your business online?
8 mobile marketing statistics to consider
There are numerous reasons why mobile marketing matters to your digital marketing plan. Here are a few statistics that prove mobile marketing is important to your online success.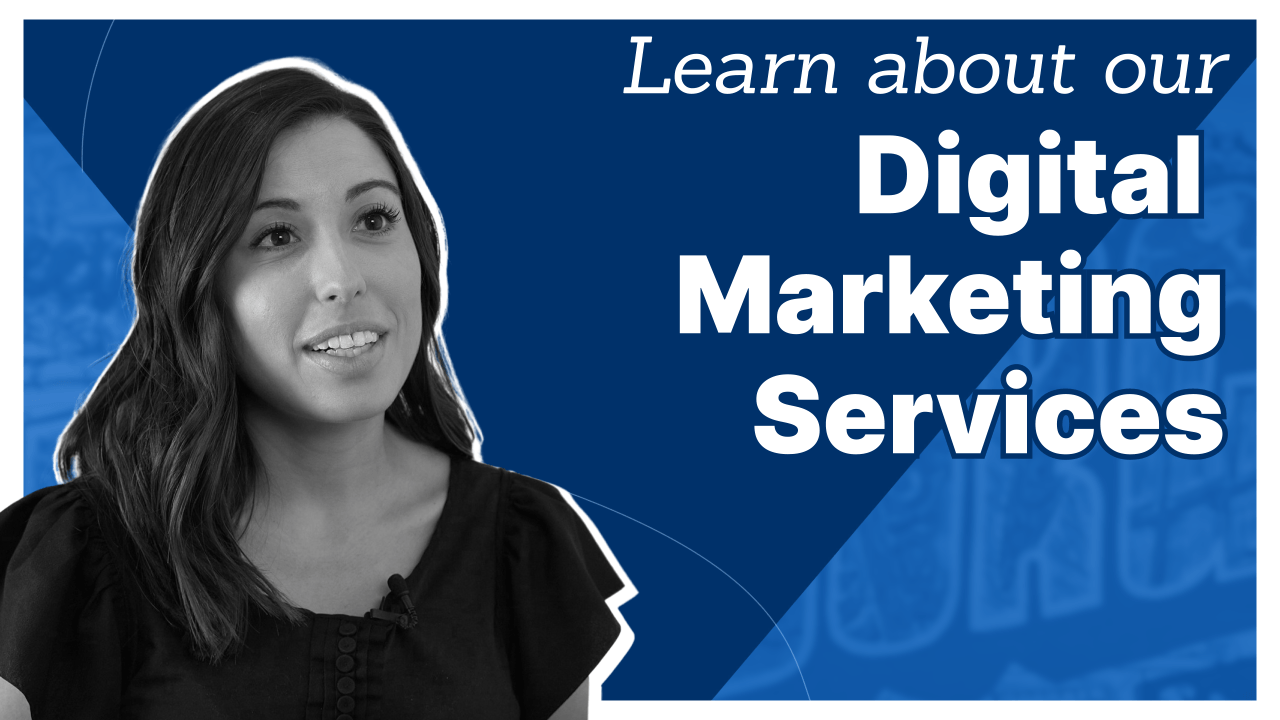 The use of mobile phones rapidly increases each year, and people use mobile phones for numerous reasons. One of the most common is to visit websites to find information.
In fact, over half of all website traffic comes from people using mobile phones. This puts it ahead of desktop users. You may optimize your website for those desktop users, but if it's not optimized for mobile, you're missing out on a lot of leads.
It is crucial that you focus on being mobile-first so you can capture more leads. If your site is mobile-friendly, leads are more likely to engage with it. That means that you can engage more users that conduct searches and visit websites on mobile.
So, if you want to see success with your online presence, invest in mobile marketing. It will help you optimize your site so it's more mobile-friendly for those users. This will help you capture more valuable leads for your business.
If you want to create your own campaign, make your life easier with these mobile marketing apps. If you need additional assistance, feel free to voice your concerns to one of our 500+ marketing experts!
When you create your digital marketing campaign, the goal is to earn conversions. Every action you take and campaign you run is centered around earning mobile conversions from your leads. Mobile-friendliness plays a large part in helping your business earn conversions.
Many people buy products on their mobile device. Companies like Walmart, Target, and Amazon recognize that people tend to purchase things on-the-go or want to purchase products quickly. These companies created mobile-friendly sites that make the checkout process quick and efficient.
If your site isn't optimized for mobile, you're missing out on a great opportunity to earn leads. Consumers want to buy your products, but you need to have a site that makes it easy for them to purchase those products from their phone. If your site is too difficult to use on mobile, you will lose leads to your competition.
Consumers want to see mobile-friendly sites to purchase their products. Invest in mobile marketing so you can have a website that is designed to enhance the mobile user's experience.
Explore Inbound Marketing Statistics
When mobile users conduct searches on their phone, 96 percent use Google to find answers. If you want to reach these mobile users, invest in methods that help you reach these leads on Google.
Google is an integral part of the mobile experience because users rely on Google when they conduct searches. When they perform searches for businesses, you want to ensure that your business appears in the applicable results.
That's why it is important that you invest in your search engine optimization (SEO) plan. SEO is the process of boosting your website's ranking in the search results. Optimizing your site for the search engines your leads use will allow you to reach more mobile users for your business.
If you're a local business, optimizing on Google is even more important. People are using Google to find local places to visit while they are out and about on their mobile devices. It is crucial that you invest in mobile marketing to provide your mobile users with a positive experience when they visit your site.
You may think that mobile users are only prominent with social media marketing or email marketing, but these users impact all types of marketing methods. Pay-per-click (PPC) advertising is another kind of marketing that these mobile users can affect.
Over half of PPC clicks come from mobile users, which is a significant amount for your business. If half of your PPC leads are coming from mobile, you need to ensure that you capture these leads by providing them with a positive experience. If your landing pages aren't optimized for mobile, you'll miss out on a significant number of leads.
PPC ads drive in leads that are more likely to convert. In fact, PPC visitors are 50 percent more likely to purchase than organic visitors. If you aren't optimizing for the mobile experiencing, you are neglecting potential conversions for your business.
If you are using PPC to reach leads, you need to optimize your landing pages to work for mobile users. This ensures that you capture as many leads as possible for your business.
Email marketing is another method that is heavily impacted by mobile users. More users read their email on their mobile devices than on their desktops. In fact, 75 percent of Gmail users access their account on their smartphone.
When people are constantly busy and on-the-go, they don't have time to sit down at a desktop computer and check their email. Many users check their email on their phone when they have some downtime or are waiting to receive an email from someone. It is crucial that you consider mobile users if you are running email marketing campaigns.
Many users will open your emails on their mobile devices. If your email isn't optimized for the mobile experience, it will negatively impact your campaign. The mobile experience is different than the desktop experience, so it is important that you create a positive mobile experience for your email subscribers.
When you provide your audience with a positive mobile experience, they are more likely to interact with your emails. They will engage with the content in your email, which leads to more conversions for your business.
If you want to help your business grow through email marketing, you need to invest in mobile marketing to ensure that your mobile users have a positive experience with your email campaigns.
Videos are rapidly rising in popularity. YouTube is the top video hosting platform with over a billion users. Whether it's on desktop, tablet, or mobile, millions of users watch videos on this platform every day.
With the rise in popularity of YouTube, video marketing becomes even more valuable to your digital marketing plan. Users love videos, and it's an opportunity for your business to engage your audience. If you decide to use video marketing, you have an opportunity to appeal to many mobile users.
Video is easier for your audience to digest than reading. This is especially true on mobile devices. It is easier for a mobile user to click on a video and watch it then to scroll through a page of text.
If you want to engage your mobile users, video is a great way to do that. It provides you with the opportunity to catch your audience's interest and get them engaged with your business.
When you invest in mobile marketing, you will produce content that is better for engaging your audience. At WebFX, we're dedicated to producing quality content for our clients. Check out our client testimonials to see how our mobile content has brought $1 billion in sales and growth for our clients.
Social media blossomed with the growth of mobile devices. Many people use their mobile devices to connect with their friends and family on social media. Social media is a very mobile-forward marketing tool that can help you connect with more leads.
Mobile usage of social media is so popular that millions of Facebook users exclusively access Facebook on mobile. Other users engage on mobile devices and desktop devices. This means that there is a large portion of social media users that engage through mobile devices.
Since social media is so popular on mobile devices, it is crucial that you create social media pages that engage mobile users. Create compelling content that engages your audience and gets them interested in your business.
This refers to the point about video marketing. Videos perform well on social media because they engage your audience. It's a great tool to use for mobile marketing.
In the case of Facebook, optimize your posts for mobile users. This means that you should keep them short and sweet so your audience can easily read your posts. It is also important that any links you post lead to mobile-optimized pages.
This ensures that if you have users who only engage on Facebook through mobile, you will appeal to them and provide them with a positive experience. Mobile marketing will help your business provide a better mobile experience for your social media users.
When people are using their mobile devices, they aren't just logging on and immediately logging off. You may think that users only spend a few minutes on their phone, but the truth is that users spend an average of 40 minutes engaging on their mobile devices.
When you look at the bigger picture, it isn't just an average of 40 minutes a day; it's an average of 40 minutes each time someone starts a session. It's also just an average, so your users may spend more than 40 minutes per session.
This creates an abundance of opportunities for your business to engage your followers. That's a long time for your audience to be looking for and engaging with content!
This means that your audience is engaging on mobile multiple times a day for a good chunk of time. If the average mobile session is 40 minutes, you have a large window of time to create content that engages your audience and takes up time in that 40-minute session.
Mobile marketing can help you engage your audience and get them interested in your content. If you don't believe us, look at our portfolio to see our results-driven mobile marketing plans for our clients! We guarantee that investing in a mobile-friendly website will help you grow your business and obtain quality leads.
Our digital marketing campaigns impact the metrics that improve your bottom line.
See More Results

WebFX has driven the following results for clients:

$3 billion
In client revenue

7.8 million
Leads for our clients

5.2 million
Client phone calls
WebFX is a top mobile marketing company
Mobile marketing is a crucial part of your digital marketing plan. You need to ensure that when you implement different strategies, you keep the mobile-friendly aspect in mind. At WebFX, we know how to create mobile marketing plans that enhance the mobile experience for your audience.
We're a full-service digital marketing company that specializes in mobile marketing plans. We have a team of 500+ experts that are dedicated to your campaign. Our award-winning team of experts will help you create a great mobile marketing campaign that drives in more leads.
If you're looking for a company that drives results, look no further. To date, we've driven over $3 billion in sales and over 7.8 million leads for our clients. We focus on bringing results for our clients first.
Our clients love the work we do, too. We have over 1020 client testimonials from a variety of industries. Check them out to see what it's like to partner with a top mobile marketing company like WebFX!
Get started today
If you're ready to start taking advantage of mobile marketing, contact us online or call us today at 888-601-5359 to speak with a strategist.
Earn a 20% greater ROI with WebFX