Amazon recorded a 43% increase in net sales in the first quarter of 2024, a major achievement for ecommerce. With more people buying from the platform, it's a great opportunity for your enterprise business to sell more products to customers who want them.
To get your products in front of the right people, you need to invest in Amazon marketing for enterprises. Amazon marketing focuses on increasing sales and growing revenue using customer-centric strategies to achieve a higher market share. Keep reading to learn about the enterprise Amazon marketing tactics you can use to boost more sales!
If you need help setting up an Amazon marketing plan, WebFX has a team of over 500+ marketing experts ready to help. Contact us online or call us today at 888-601-5359 to speak with a strategist about our Amazon marketing services!
The first step to increasing your SMB's Amazon sales is getting a FREE proposal.
One of our experts will be in touch within 24 hours!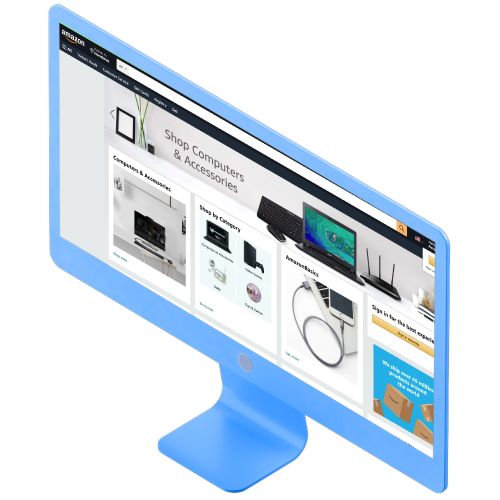 Amazon marketing tactics for enterprises: 4 tactics to use
Amazon functions similarly to Google, where you need to optimize your marketing strategies more to improve your brand's visibility.
There are a few Amazon marketing tactics for enterprise businesses that will help you drive more sales and revenue:
Search engine optimization (SEO)
If you're selling your products on Amazon, you need your products to rank high in search results for people to find what you offer. To rank in searches, you need to find the right keywords and optimize them. You can help your product listings rank by conducting keyword research to find relevant terms.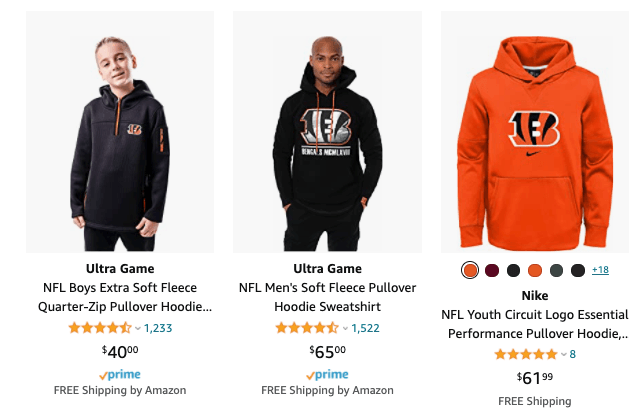 You can optimize your product listings by integrating these keywords into your listing, so you rank for those terms. You can also improve your product listing by adding high-quality photos, descriptive product information, and more.
All of this optimization will help your product listings perform better in search results.
Pay-per-click (PPC) advertising
Amazon ads are a great way to gain market share and grow your online sales. Selling your products using Amazon ads can increase your market share and boost your brand visibility when people search for products like yours.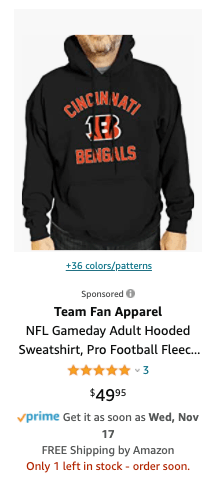 Monitoring competitors and finding the right keywords to bid on is only a small part of the process. You also need to determine the type of ads you want to run, create your ad content, and manage promotions.
Review management
Five-star reviews can go a long way. The more reviews uploaded on your product listings, especially with photo and video content, the better the chance of more customers. Shoppers turn to reviews to help them make decisions, so having reviews on your product listings is key to earning more sales.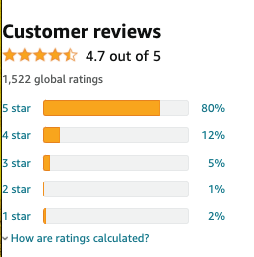 Video marketing
Video is a great way to advertise your product, showcase benefits, uses, designs and more. Product videos can help tell a story, which assists in improved engagement from shoppers. You can add videos to your product images or in your product descriptions.
Amazon marketing services for enterprises
To achieve Amazon success, you need to invest in marketing strategies that help you grow your business. At WebFX, we have years of experience implementing Amazon marketing strategies that help our clients sell more through the platform.
Here are some of the Amazon marketing services for enterprises that we offer:
Marketplace services for enterprises
Advertising on Amazon starts with creating your store and optimizing the content to drive sales, generate brand awareness and build customer loyalty. To do this, we compile an in-depth competitor analysis that provides us with useful information to determine an even better strategy.
Our marketplace services include:
Opening an Amazon storefront and optimizing it
Launching your products
Review frameworks
Copywriting for your store
Design of storefront
Dedicated support
And more
Getting these fundamentals in place will help successfully establish your business on Amazon.
Amazon SEO services for boosted product listings
SEO for Amazon works similarly to Google or Bing. Amazon SEO involves doing keyword research and optimizing your listings for keywords to help shoppers find your products.
With our Amazon SEO services, we'll help you optimize your product listings to appear in more relevant search results. Our services include:
Product analysis
User engagement analysis
Keyword research and mapping for product listings
Product title optimization
Key features optimization
Product listing copywriting
And much more
Our enterprise SEO services for Amazon will help your products rank better in search, so you can drive more qualified traffic that turns into sales.
PPC services for Amazon
To generate revenue from Amazon ads, it's important to have optimized ads and copy to entice your audience to click. With our Amazon ad management services, enterprise businesses can expect expert ad creation for all campaigns created.
This includes in-depth keyword research for each product listing for more reach, suggestions for which products to advertise, and ad creation and optimization. Our team will develop a custom Amazon PPC strategy that puts your ads in front of people most likely to buy.
Consulting services for Amazon
If you decide to manage your Amazon marketing on your own, you may find you still need a little help. That's where Amazon consulting services can provide you the assistance you need.
WebFX offers consulting services for multiple enterprise Amazon marketing services, including SEO, PPC, content and product optimization. Our team will help advise you on the best moves for improving your strategies and driving more sales.
Our Amazon consultants will consult you on your ads, product listings, brand and design, and more. We take you through an in-depth analysis of your competitors and find monthly opportunities to gain a higher market share.
Having an Amazon expert on your side will help you understand what your audience wants and how to convert them into sales.
Review management for Amazon
Reviews play a factor in the consideration phase of someone buying a product. Over 92% of people trust recommendations from others over the brand.
Investing in review management will help drive more sales. More reviews provide your audience with more insight on the quality and functionality of your products.
Not to mention, if shoppers can see that you actively respond to reviews, it can build trust with shoppers, leading to more sales.
WebFX has driven more than $3 billion in revenue for clients, and for enterprise businesses, we cover all aspects of review management. We offer a variety of features with our Amazon review management services:
Amazon Vine management
The Early Reviewer Program
Negative review responses
Email responses on sales
Product Q&A management
A dedicated Amazon specialist on your side
Why choose WebFX for marketing for enterprises?
If you want to make more sales through Amazon, consider partnering with a marketing company for Amazon that can help you optimize your marketing tactics. At WebFX, we know how to create marketing campaigns for Amazon that help enterprise businesses sell more
Here are three reasons you'll want to partner with us:
We have over 500+ dedicated specialists for Amazon
We have over 500+ specialists who have worked on campaigns on Amazon for over a decade. If you want results, our team has the combined experience to provide the recommendations that enhance your product listings' presence and drive more revenue.
We drive revenue for our clients
Our team knows how to use marketing for Amazon to achieve business goals, like increasing sales and driving revenue. In fact, we've driven over $3 billion in sales and over 12.9 million transactions for our clients in the past five years.
We help accelerate strategies to drive the top-notch results you desire.
We customize your strategies for Amazon
Our services for Amazon are tailored to your business goals, audience and industry. We take the time to get to know your business, products and audience. We have over 500+ subject-matter experts in a variety of industries to help create the best plan.
Grow your enterprise with marketing services for Amazon
Amazon marketing can help enterprise ecommerce companies sell more products. If your goal is to increase your market share and beat competitors online, you need to invest in Amazon marketing for enterprises to help boost your sales.
A lot goes into a successful strategy and our Amazon team can make that process smooth. We work with you to understand your business and your goals and can help you navigate the platform.
Increase brand visibility and grow your sales with Amazon, request a FREE proposal to find out how WebFX can help you achieve Amazon success.