Facebook advertising is a great way to meet your target audience where they are — a 3.51 billion-user-strong platform that provides a great way to connect with other users and learn about new products and services. It's safe to say that no matter your industry, it's likely that a portion of your audience is on Facebook. That makes Facebook a fantastic environment to craft an advertising strategy for your business — but there are far more benefits to a Facebook advertising strategy than just the huge pool of potential customers.
In this article, we'll take a look at a Facebook marketing strategy that will help you stand out to target customers and see more sales than ever before. Read on to learn more about the only social media advertising strategy you'll ever need!
Paid or Organic Facebook Advertising? See What Our Experts Say
3 basic Facebook marketing ideas for any industry
Before we get started, it's important to talk about a few Facebook marketing strategies that work well with any campaign.
After going over a few marketing ideas, we'll jump right into our Facebook advertising strategy. Read on for more ways you can market your business with Facebook.
1. Post content that your audience will enjoy:
The primary goal of Facebook advertising is that you provide your target audience with information they'll enjoy — and that means the content they'll remember. Whether it's a post featuring an image, a video, or a link to your website, make sure you post content that resonates with your audience.
2. Use Facebook ads:
When you join Facebook, you'll have access to the platform's ad software for your products and services. Facebook ads play a critical part in your social media advertising strategy.
3. Use Facebook Messenger for customer service:
When you become a part of the Facebook community, you'll also have the option to use their proprietary messaging system, Facebook Messenger. This adds a competitive edge to your Facebook advertising strategy because it allows you to personally connect with users. The Messenger app allows you to talk with customers, acting as a built-in customer service feature!
These Facebook marketing ideas cover three main areas — posted content, ads, and customer service — all of which are extremely important to any marketing strategy. Now how can you implement these marketing ideas into an effective Facebook strategy plan? Read on to find out!
An effective Facebook marketing plan for every industry
Even though every industry has a different set of customers with different needs, the basic rules of Facebook advertising apply to every market.
Whether you work in healthcare or heavy equipment, our Facebook marketing plan template will work for you. Let's get started!
Step 1: Determine your target audience demographics
If you plan on advertising with Facebook, the first step is to determine exactly who you're advertising to. Whether you plan to target them with your posts, your videos, or ads, you need to decide on what demographics to target.
In doing so, you'll be able to create a target persona to give you an idea of exactly what kind of person you're targeting. Overall, this step will help ensure that your marketing efforts (and budget) aren't wasted on the wrong audience. Come up with your perfect target persona by asking yourself the following questions:
Who do you make your products for?
Who do you hope will purchase your products?
Is your product gender-specific?
Is your product only available in certain areas?
These are a few basic questions that can help you decide on exactly who you're targeting. After creating your target persona, you should nail down a tone and style for your posts and interactions. For example, if you market to twenty-somethings and have a super quirky style, you might talk as though you are the product that you're selling.
This is fine, as long as you have a rhyme and reason for talking this way. It should all come back to your target persona. Once you decide on your style and tone, you should stick with it across all social platforms that you decide to advertise on, and especially, all communications and efforts through Facebook.
Step 2: Create a content strategy
It's essential that you create your target persona first so that you can accomplish step two easily.
Next, you'll want to create a content strategy for your Facebook advertising campaign. Content is critical, and it refers to anything you post, including images, videos, graphics, content, and links. No matter what you want to post, it'll benefit you and your overall strategy to have everything outlined ahead of time. Now that you know who you're marketing to, decide what kind of content is best suited to them.
Here are some typical best practices when it comes to the types of posts your audience would like, based on your industry:
If you sell a product based on aesthetics, photos and videos are beneficial.
If you sell a product based on research, content to back up that research is beneficial.

Example: A pharmaceutical company

If you sell a product that gets a job done, videos are helpful.

Example: A home improvement store that sells different tools.
Although every industry will benefit from posting a mixture of content, you'll want to use common sense when it comes to choosing what kinds of content you should post most often. For example, if you create custom cupcakes, share photos of previous work and some sketches of what's coming. In sharing these photos, you'll interest potential customers and show them what you're capable of creating.
However, you don't want to only post photos. To show followers that you're a leader in the industry, you should also post links to your website and share beneficial information that users would enjoy. You should also create video content for users to interact with.
As you post a variety of posts, you'll be able to tell what users prefer. Engagement information will simply give you an idea of what is working and what isn't.
Step 3: Decide if ads will be part of your strategy
If you're looking for the best Facebook advertising strategy out there, it's likely going to include Facebook ads. If you're new to the platform, ads might seem overwhelming, but Facebook Ads Manager is extremely effective and easy to use.
Though you can still have some success marketing your business on Facebook without the use of ads, you'd be hard-pressed to have equal success without using Facebook ads. The Facebook ad platform allows you to choose exactly how much you want to spend on your campaign and ensures that you don't go over that amount. Sounds great already, doesn't it? It gets better, though.
Unlike newspapers or billboards, you don't pay for ad space on Facebook; rather you pay for clicks. However, the only way for you to get those clicks is to beat your competitors in a keyword bidding war.
Here's how it works:
Decide on the keywords that you want your ads to target. These keywords could be products, services, or any variety of long-form phrases. Keep in mind, the more general your keyword targeting, the more competition you'll have for that keyword.
Decide on your demographic so that Facebook can serve up your ads to your target audience.
Decide how you want your ad to look, your headline, and your copy to feature.
Set your bidding to "manual" and make a bid on that keyword. This number is how much you're willing to pay Facebook every time someone clicks on your ad.
Set your bidding to "automatic" and let Facebook do all the work. If you want to get the most from your Facebook advertising budget, the platform will disperse of your money in the best way possible to get you the highest number of engagements possible.
This simple process allows you to place ads on Facebook platforms. It enables you to gain more site traffic and more purchases from customers interested in what you have to offer. One of the best things?
You'll start to see an uptick in site traffic as soon as your ad goes live — you don't have to wait for the strategy to show results like other marketing strategies like search engine optimization (SEO).
Step 4: Monitor your Facebook marketing strategy
Just because you have your target persona figured out, your content planned, and your ads set up doesn't mean that your Facebook advertising strategy is complete. In fact, Facebook marketing is an ongoing task that will only be successful with continuous care. You'll want to keep an eye on your posts to determine what kind of content is getting the most engagement.
Take notes on engagement numbers and take it into consideration for the following month's posts. You'll also want to keep an eye on the analytics and success of your Facebook ads. Are you getting more leads?
Are you getting more site traffic? And most importantly — are you getting leads from the right audience? The answers to these questions can help you gain insight into what you might need to change about your ad campaign to make it more successful.
Consistently check the effectiveness of your campaign and make necessary changes to ensure that it's as effective as possible.
Step 5: Don't forget to use Messenger
The Facebook Messenger app is an extremely useful tool that you should use to connect with your target audience on a deeper level. When businesses fail to reply to messages sent to them on Messenger, it will turn an interested client away. Potential customers use Messenger to ask questions about products or your brand.
This app is a great way to connect with your audience and show that you're there to help.
Not happy with your social media engagement?
We've got just the blog post for you.
Read the Blog Post & Watch the Video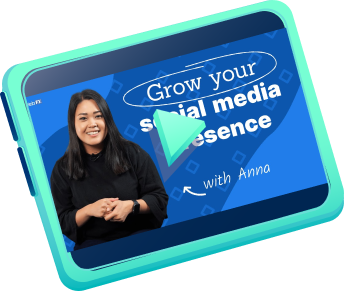 Are you interested in a Facebook marketing strategy?
If you can't wait to get started on an advertising strategy for your company's Facebook account but aren't quite sure how WebFX can help. We're a successful Facebook advertising agency that's been in the industry for over a decade and have helped tons of businesses just like you implement successful Facebook SEO and advertising strategies. If you're interested in learning more about how we can help your campaign take shape, feel free to contact us online or give us a call at 888-601-5359!
WebFX Careers
Join our mission to provide industry-leading digital marketing services to businesses around the globe - all while building your personal knowledge and growing as an individual.