With the new year comes a new challenge for your business: setting your social advertising budget. Whether you're continuing your social media campaign or starting it for the first time, you have several questions to answer, from how much you should spend to where you should spend it. Want to learn more about creating your social media advertising budget for 2023?
Keep reading!
Have questions about your marketing budget? Need some advice on how to manage your marketing spend? We have just the thing! Download your
FREE

guide to managing your marketing budget today! Show Me the Guide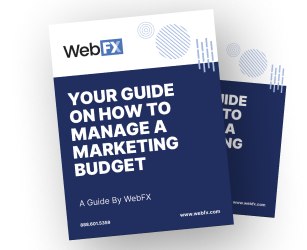 How much should you budget for social media advertising?
While every company's social media ad strategy varies, most businesses spend $200 to $350 per day on social media advertisements. That translates to $6000 to $10,500 per month and $72,000 to $126,000 per year. A more accurate number for your company's social advertising budget comes from your annual revenue.
Average social advertising budget
On average, businesses spend around 10 to 13 percent of their annual revenue on marketing.
About 25 percent of this budget gets invested in paid media, which can include several advertising channels, like search and social media. When your company begins budgeting for social media advertising, use these percentages as a benchmark. Depending on your past return on investment (ROI) from social media, as well as your digital marketing goals, you may invest more or less into social media, versus other advertising channels.
What does a social media advertising budget include?
A social media advertising budget should consider the following costs:
Learn more about each of these costs:
1. Ad spend
Your ad spend refers to how much your company wants to spend on advertisements. It's what you directly pay to the social media platforms delivering your ads, like Facebook, Instagram, Twitter, or LinkedIn. For example, a business may have a social advertising budget of $500 per month.
That $500 monthly budget includes a $350 ad spend, as well as $100 for creative materials and $50 to cover digital marketing software.
2. Technology
Your technology encompasses several tools your business can use to launch, manage, and optimize your social media advertising campaign. For instance, your company may invest in photo editing software, proofreading tools, or analytical platforms. A few tools (both free and paid) that businesses use for social media marketing and advertising include:
Facebook Ads Compass: Free tool for analyzing ad campaign performance
Canva: Free tool with paid features for creating social media images
Quuu: Paid tool for promoting your content to influencers
For the best results, it's helpful to experiment with free tools first, before investing in a paid one. Even if you don't plan to spend money on technology, it's worth setting aside some of your social media advertising budget for unexpected costs, like tools or labor.
3. Talent
You also need to think about labor when considering your company's social media advertising costs. Whether you're maintaining an in-house team for overseeing your campaign, hiring freelance designers to build ad creatives, or collaborating with an influencer, these are all costs that fall under your social media advertising campaign.
Depending on your company, your in-house team may have other responsibilities, in addition to your social media advertising efforts. If that's the case for your business, the labor costs of your internal team may not apply to your social advertising budget. Check with your organization's decision-makers to see how they view in-house talent expenses.
4. Services
If your company partners with a digital marketing agency, like WebFX, to manage your social media, then you need to consider management and service costs.
The price of your services depends on the agency, as well as the number of social media platforms managed. When building a social advertising budget that includes agency services, it's critical to mention that pricing is often related to service quality. It's not uncommon for agencies to promote "low" or "cheap" social media advertising services and then fail to deliver a strategy that drives results.
For your team, that can mean a decreased social media advertising budget, due to the low performance of your initial campaign. If you want the support of your team, as well as company decision-makers, you need to invest in a smart, performance-driven campaign that drives results your business can see.
Where can you spend your social media advertising budget?
In most cases, companies focus their social media advertising campaign on the following platforms:
While your business can target each of these platforms, it's often beneficial to invest your time, resources, and money into a select few. For example, your company may focus on Facebook, Instagram, and YouTube. Determine the best social media networks for your business by researching your audience.
You want to advertise your company on the platforms frequented by your target market. If you focus on sites nobody in your audience visits, you won't see the kind of results, like purchases, that you want.
5 tips for maximizing your social media advertising budget
If you need to get more from your social media advertising budget, try these five tips:
1. Set trackable goals
A lot of companies start their social media strategy without goals. If you want to show the value of your social media ad campaign, as well as provide your team with direction, then you need to set specific, measurable, attainable, and timely goals.
These are also known as S.M.A.R.T. goals. For example, maybe your business wants to earn additional likes on your Facebook page.
If you use this statement as your goal, however, it's incredibly vague. You don't have a deadline or a specific number of likes you want to earn. A better goal is, "We want to earn 500 likes on our business Facebook page, for a total of 1500, by December 2023." This goal comes with a deadline and details how many likes you want to earn.
All you need to do now is develop and launch your strategy for achieving that goal.
2. Create ads that stand out
On social media, your company can't afford to blend into the background. When you advertise on social media, you want to create an ad that forces users to stop and interact with your ad, whether it's a video, image, or text ad. That doesn't mean your business needs to abandon its branding and adopt a new persona.
Instead, you need to think of creative ways to capture your audience's attention. If you know your audience, like what they enjoy seeing on social media, you can use this information to inspire your ad content. For the best results, your team should brainstorm several options for each ad.
3. Know your target market
When you start your social media marketing or advertising campaign, research your target audience.
If you focus on social media platforms that seem popular, instead of confirming that your target audience uses these platforms, it can result in a wasted ad spend and budget. Audience demographics can help your team narrow your list of potential social media networks. For example, if your audience consists of females between the ages of 18 and 29, then Instagram is a viable option.
Almost 65 percent of people in that age group use the platform. Not to mention, 39 percent of women use Instagram, making it the second-most popular platform for women. If you don't have up-to-date data on your audience demographics, you can also survey clients.
4. Run A/B tests
It's not uncommon for businesses to launch and leave a social media advertising campaign.
While this strategy may save your team time, it doesn't benefit your ad strategy. If you have a low-performing ad, it will continue to underperform if you do nothing. Get the most from your social advertising budget by experimenting with your ads on social media.
You can use A/B testing to try different headlines, descriptions, images, and more. This feature is available on several social media platforms, including Facebook. With A/B testing, your team can gain insight into what clicks with your target audience.
When you understand what motivates your target market to not only click on your ad, but also act on it, you can create even better ads.
5. Make unique ads for every platform
Whether to save money or time, companies will copy-and-paste their ad strategy across social media networks. This strategy does not work. People use different social media platforms for different experiences.
For example, Instagram provides a visual experience while Twitter provides a text-based one. While it may increase your social media advertising costs, creating one-of-a-kind ads for every platform in your campaign can improve your strategy's results. That doesn't mean your ads can't feature similar messages or visuals.
They should, however, be 100 percent original and distinct from one another.
74% of people use social media when making a purchasing decision.
Make their decision easy with a stellar social media presence. See how your brand can level up by requesting a no-obligation proposal today.
One of our experts will be in touch within 24 hours!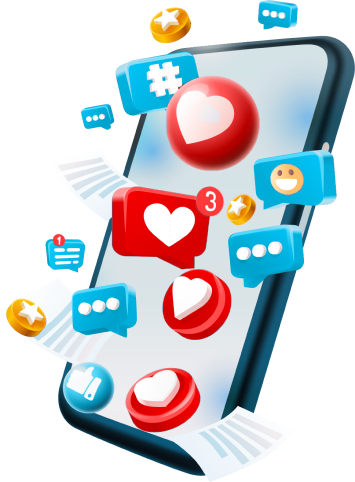 Need better results from your social media advertising budget?
If you're looking for tips, strategies, and advice on how to create better social media ads, our newsletter can help. When you sign up, you get access to exclusive content on digital marketing and advertising, which can help you create better ads and results, helping you get ahead of the competition.
Start receiving your content by joining our newsletter today! For professional help with starting and managing your social media marketing and advertising strategies, browse our social media marketing and social media advertising services. With a talented team of more than 500, plus more than 25 years of experience, WebFX is a trusted choice and reliable partner.
Get posts by email
Join 200,000 marketing managers and subscribe to Revenue Weekly!
"*" indicates required fields
WebFX Careers
Join our mission to provide industry-leading digital marketing services to businesses around the globe - all while building your personal knowledge and growing as an individual.