How Much Does Facebook Advertising Cost in 2023?
The average cost of Facebook ads in 2023 is approximately $0.94 per click and $12.07 per 1000 impressions. However, costs can vary due to factors such as industry, campaign objectives, and bidding models like cost-per-click (CPC) or cost-per-thousand-impressions (CPM).
What determines Facebook advertising costs?
Like pay-per-click (PPC) advertising costs on Google Ads, a variety of factors impact your Facebook advertising costs. If you want to build a realistic budget for your business, then you need to understand how these factors influence the cost of Facebook ads.
The eight factors that determine how much Facebook ads cost include:
Learn more about each of these factors now:
1. Audience
An in-depth study by AdEspresso on Facebook advertising costs revealed that your target audience has a significant impact on the prices of your Facebook ads. Whether you're focusing on a specific age, gender, or interest, you can expect a shift in your ad expenses.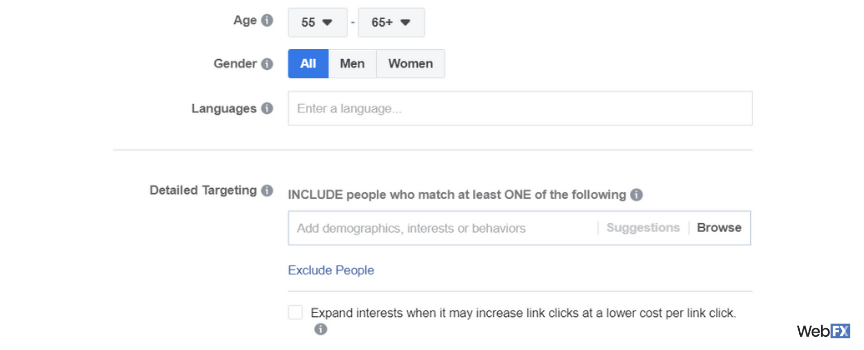 For example, if your ad campaign targets women, your CPC may increase by $0.55. That's $0.15 more than if your ad campaign targeted men. When you look at age, ads that target individuals 55-65 years or older tend to have substantially higher costs than campaigns focusing on users 25-34 years old.
That's because Facebook only has 26 million users between the ages of 55 and 64. While that may seem like a high number, it doesn't come close to the more than 58 million people (between the ages of 25 and 34) that use Facebook.
When you advertise on Facebook, you can also target specific interests or audience attributes, including:
Outdoor recreation
Meditation
Philanthropy
College football
Commuters
And more
This useful feature can impact how much it costs your business to advertise on Facebook, as you may target high-value attributes or broad interests. For example, if you target frequent travelers, versus frequent international travelers, you have a broad audience that may incur additional expenses.

While high-value attributes can help you reach your specific market, broad interests can inflate your target audience with low-value users. Since these users often click on your ads, but don't act on your calls-to-action (CTAs), targeting them can result in a low-performing campaign.
Focus your campaign on the people that matter and offer the most value to your business. You don't want to pay for clicks or views that offer zero value when it comes to your long-term goals, like driving a sale or generating a lead.
2. Ad budget
When you launch an ad campaign on Facebook, you set an advertising budget.
No matter your budget, whether it's $200 or $800 per month, it will impact how much Facebook advertising costs your business. If you set a budget of $200, that affects your ad bids, ad performance, and the overall results of your social media advertising campaign.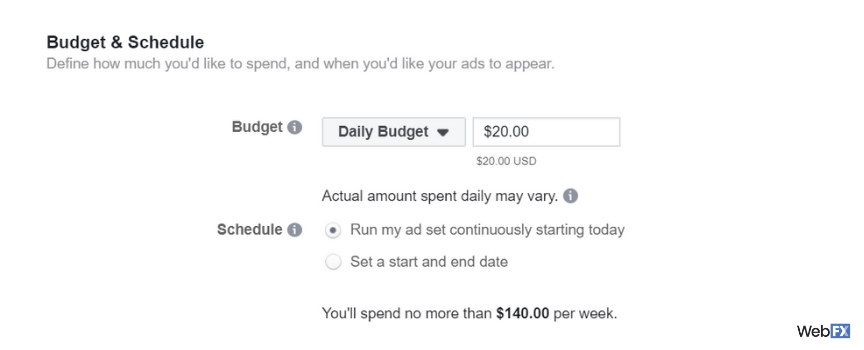 As an example, if your company launches an ad campaign with a $100 monthly budget, you may set a maximum bid of $1 per click. As the average CPC for Facebook ads is $0.94, it's easy to see that your bid isn't competitive and will probably result in a low number of impressions and clicks.
Not to mention, social media strategists recommend a daily budget of at least $5 for businesses. If you're spending $5 a day on your campaign, however, you'll use up your $100 budget by day 20. With this amount of funding, you don't have the money to even run your ad campaign for the month.
While a large ad spend provides your business with additional flexibility, you can still make a small budget work for your company. Your company decision-makers need to realize, however, that a low ad budget provides fewer conversions because of its performance limitations.
3. Ad bid
Your ad bid also impacts the cost of Facebook ads. Facebook offers a few bidding strategies, including:
Lowest cost bid strategy: This option, also known as automatic bidding, helps your business achieve the lowest possible cost per click or action. It also aims to make efficient use of your budget, which is why companies tend to start with this strategy.
Target cost bid strategy: This option, also known as manual bidding, works to reach your desired cost per click or action. You can only use this strategy for app install, conversion, lead generation, or product catalog sale campaigns.
Depending on your bid strategy, as well as bid amount, you may have higher or lower Facebook advertising costs. In most cases, manual bidding comes with higher advertising costs, while automatic bidding tends to make the most of your budget.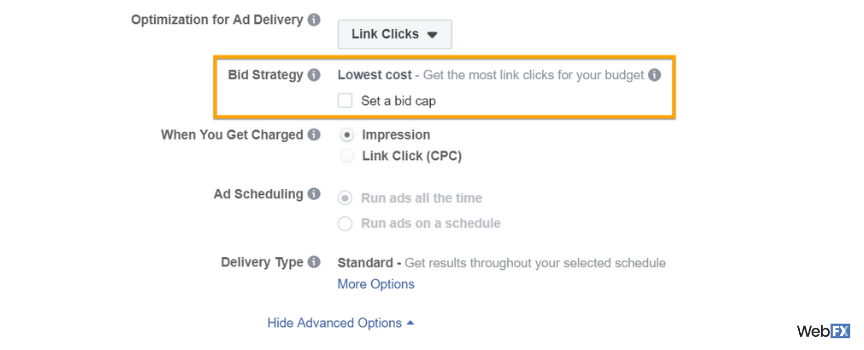 Before you decide on a bidding strategy, it's vital that you understand how the ad auction works on Facebook. When you understand the algorithm behind the company's advertising services, you can build a better ad strategy and advertising budget.
In an ad auction, Facebook rates each bidder (and their ad) with these three factors:
Bid: A bid is how much you're willing to pay for a user to interact with your ad. For example, you may bid $1.50 for every click. According to Facebook, your bid is one of the most powerful tools for improving your ad's performance.
Estimated action rates: Your estimated action rates demonstrates the likelihood of users to interact with your ads, like by clicking on your ad or downloading your app. For a competitive ad, you need a high estimated action rate, which means creating a relevant ad for your audience.
Ad quality and relevance: The positive and negative interactions of users with your ad determine its quality and relevance. A high ad quality and relevance score can improve the success of your ad in auctions.
If your ad comes away with the highest total value (based on the above three factors), you win the auction. In response, Facebook shows your ad, rather than a competitor's, to the person in your target audience.
While an aggressive bid can increase your total value, it also raises your Facebook advertising costs. That's why your business wants to focus on creating a relevant, high-quality ad first. Then, you can assess your bidding strategy and bid investment.
4. Ad objective
When you create an ad on Facebook, you need to choose one of the following main ad objectives:
Awareness
Consideration
Conversions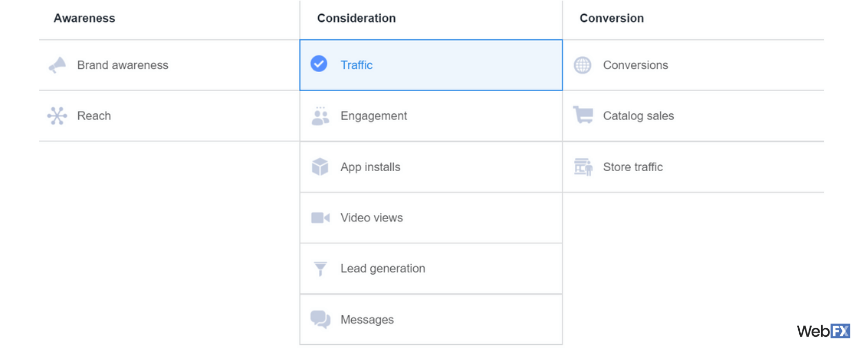 Once you pick your main objective, you need to select a specific goal:
Awareness
Consideration

Traffic
App installs
Engagement
Video views
Lead generation
Messages
Product catalog sales

Conversions
In most cases, more valuable ad goals, like a store visit or product purchase, lead to higher ad costs. That's because these actions, like a product purchase, have immediate value for businesses. A product catalog sale, for example, generates immediate revenue for your company.
As you build your ad campaign, however, it's important to remember the value of brand awareness and consideration. When you reach and connect with users in the early stages of the buying funnel, you can grow their interest in your brand and move them further down the sales funnel, resulting in a purchase.
Even though this action occurs later, it offers your business real and tangible value. It can also decrease your Facebook advertising costs, as most companies pay less for awareness- and consideration-related goals than for conversion-related goals.
The only difference is the turnaround time for a conversion. With a conversation-related goal, you connect immediately with a user looking to buy. In comparison, users in the awareness and consideration stage need a little more time before converting.
5. Ad placement
Ad placement also shapes the cost of Facebook ads. With Facebook, your ads can appear in six spots:
Instagram
Instagram Stories
Facebook desktop newsfeed
Facebook right column
Facebook Messenger
Audience Network
When it comes to social media advertising, Facebook offers a competitive advantage with its ownership of Instagram. Via Facebook, you can create Facebook and Instagram ads with ease, which saves your team time.
Instagram
Instagram maintains the highest CPC when it comes to Facebook advertising costs. On average, companies spend an additional $0.80 per click to appear on Instagram. For Instagram Stories, the CPC increase is around $0.78.
Facebook
The average CPC for ads on Facebook is around $0.30 less than Instagram. It offers a versatile platform for advertising your business. Your ads can appear not only on Facebook, but also Facebook Messenger, a popular messaging app for the social media network.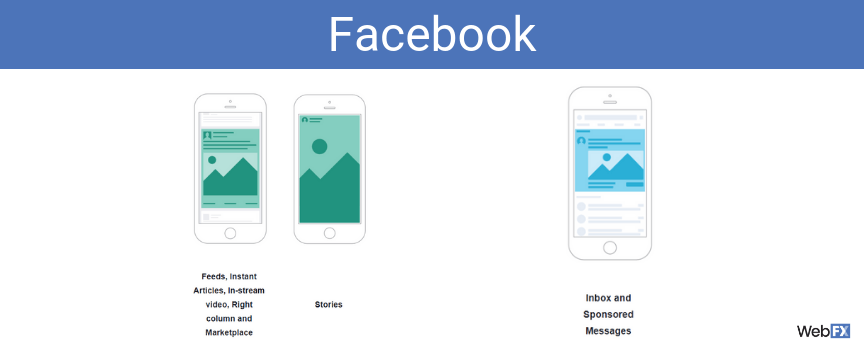 Audience Network
The Audience Network, which allows your ads to appear on websites and mobile apps, maintains an even lower CPC than Facebook and Instagram. In most cases, companies spend an additional $0.20 (based on the average advertising cost for Facebook) per click.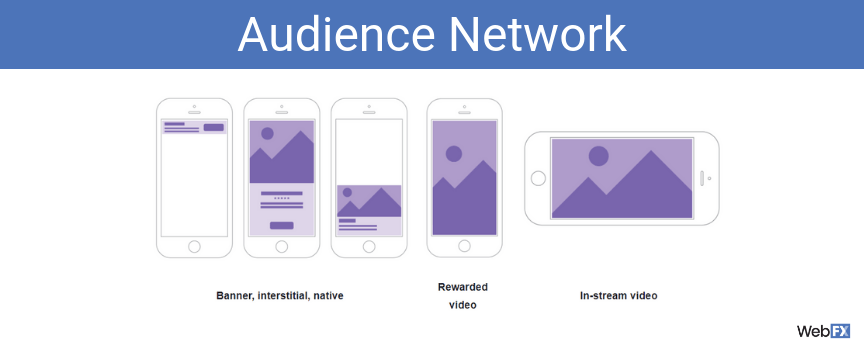 While you can modify where your Facebook ad appears, Facebook recommends Automatic Placements. This tool allows the social media platform's delivery system to make the most of your ad spend by placing your advertisements on platforms that offer the most potential for results.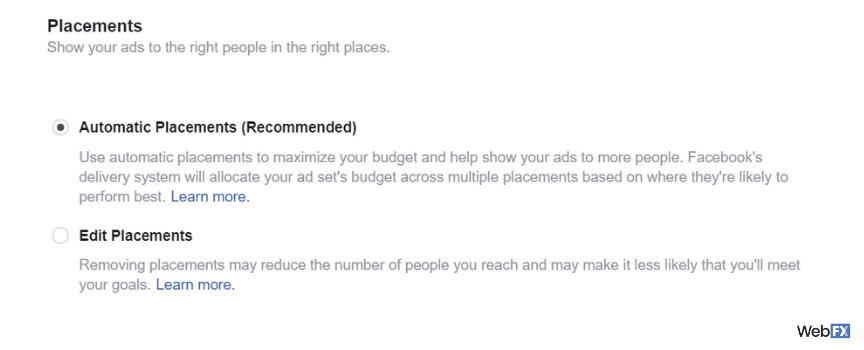 If you want to reduce your Facebook advertising costs, however, you can turn off this feature. When you turn Automatic Placements off, you enable your team to select where you want your ad to appear, whether on Facebook, Instagram, or the Audience Network.
6. Ad quality
The quality and relevance of your ads (as rated by Facebook) also affects how much Facebook advertising costs your business. If you create ads with a high relevance and engagement score, you will see lower ad costs.
Hootsuite demonstrated the power of an ad's quality or relevance score in a recent study. The company created two versions of the same ad: one with a relevance and engagement score of 2.9 and another with a relevance and engagement score of 8.
The low-scoring ad had an average CPC of $0.14, while the high-scoring ad's CPC was $0.03.
When it comes to your relevance and engagement score, your ads can receive a rating between 1 and 10. Ten is the best possible score, while one is the worst possible score. Facebook assigns a relevance and engagement score based on positive and negative ad feedback.
If you want to make the most of your ad spend on Facebook, it's critical for your team to create ads with high relevance and engagement scores. For the best results, monitor your relevance and engagement score on a routine basis.
Access your relevance and engagement scores with the following steps:
Go to Ads Manager
Select the ad you want to view
Choose the Columns dropdown menu
Click Customize Columns
Select Relevance Score
Hit Apply
View your Relevance and Engagement Score
Keep in mind that Facebook requires around 500 ad impressions or views before assigning a score.
As long as your ad is live, Facebook will continue to monitor user interactions, determining if it's relevant. That's why you need to check-in and adjust your ad to feedback regularly. With this proactive approach, you can improve the performance, results, and costs of your Facebook advertising campaign.
7. Season
The time of year can also impact how much Facebook ads are.
In peak shopping seasons, businesses tend to spend more on advertising. The increased demand for ad space results in a competitive marketplace, which can lead to aggressive bids and bigger campaign budgets that inflate the cost of advertising on Facebook.
A few of the most expensive days to advertise on Facebook include:
Thanksgiving
Black Friday
Cyber Monday
Christmas
Boxing Day
New Year's Eve
New Year's Day
While seasonal factors can increase your Facebook ad costs, your business probably wants to take advantage of increased demand from consumers. In response, you may increase your budget for those high-demand months or audit your ad strategy to improve the quality of your ads.
8. Industry
While the average cost of Facebook ads is $0.94, you can gain more insight into your expected Facebook advertising costs by looking at the average price of Facebook ads for your industry. This data offers a more accurate estimate, which can help your team build your social media marketing budget.
Find out how much Facebook ads cost in your industry below: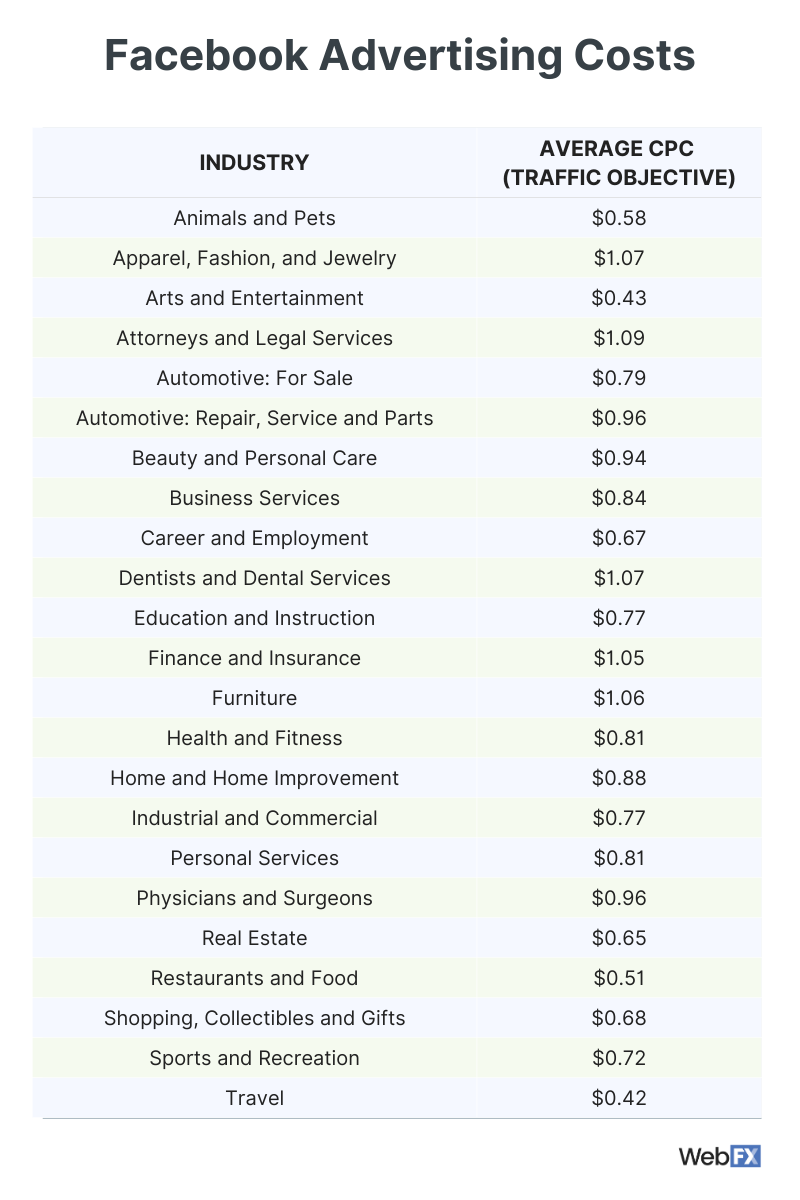 Depending on your industry, Facebook advertising can offer a cost-effective option for building brand awareness, generating leads, driving conversions, and more. Even if you're in a competitive market, like consumer services, you can benefit from a social media strategy.
Competitors in your industry advertise on the social media platform because they get results from it, whether it's more followers on their social media page, purchases from their online store, or calls to their physical location.
It's also helpful to mention that these prices for Facebook advertising are averages.
| INDUSTRY | AVERAGE CPC |
| --- | --- |
| Apparel | $0.45 |
| Auto | $2.24 |
| B2B | $2.52 |
| Beauty | $1.81 |
| Consumer Services | $3.08 |
| Education | $1.06 |
| Employment and Job Training | $2.72 |
| Finance and Insurance | $3.77 |
| Fitness | $1.90 |
| Home Improvement | $2.93 |
| Healthcare | $1.32 |
| Industrial services | $2.14 |
| Legal | $1.32 |
| Real Estate | $1.81 |
| Retail | $0.70 |
| Technology | $1.27 |
| Travel and Hospitality | $0.63 |
That's why you should only use these numbers as benchmarks for your business. When you adopt this perspective, your team and company's decision makers can approach your campaign with realistic expectations.
Are Facebook advertising costs worth the price?
That answer depends on your business, goals, and ad campaign optimization. For companies that can generate a return on investment from Facebook ads (which can take trial and error), Facebook advertising is worth the price.
Tools that can improve your ad campaign targeting, like AdTechFX via MarketingCloudFX, can help your business improve its paid advertising performance by reaching the audience members closest to your ideal client.
FAQs for Facebook advertising costs
Do you still have questions about how much Facebook advertising costs? Check out this FAQ:
How much does Facebook advertising cost for impressions?
If your ad campaign focuses on impressions, the average cost of Facebook advertising is $12.07. This amount refers to the cost per thousand impressions (CPM), which is what your company pays when 1000 users see your ad on Facebook.
How much does Facebook advertising cost for likes?
If your company's ad campaign focuses on earning likes for your page, the average cost of Facebook advertising is $1.07 per like. This amount is what your company pays, on average, for a single like on your Facebook page.
How much does Facebook advertising cost for app installs?
If your ad campaign focuses on downloads or app installs, the average cost of Facebook advertising is $5.47 per download. That means your company pays, on average, $5.47 when a user installs your app.
What factors influence Facebook advertising costs?
Several different factors determine how much your business pays to advertise on Facebook, including:
Audience: Audiences shape your Facebook advertising costs in a few ways. They can increase or decrease your costs, depending on their features. For the best results from your ad budget, you should create a specific audience, rather than a broad one.
Ad budget: Your monthly advertising budget also impacts your Facebook advertising costs. While a big ad budget offers flexibility in your ad strategy, your business can also accomplish its advertising goals with a smaller monthly ad spend.
Ad bid: An ad bid can directly increase your advertising costs on Facebook. You can lower your ad bid costs, however, by choosing an automatic bidding strategy and maintaining a high ad quality score.
Ad objective: The goals of your ad campaign, which range from Awareness to Consideration to Conversion, also impact your Facebook advertising costs. A conversion-related goal tends to have higher prices than an awareness-related goal.
Ad placement: The placement of your ads across Facebook properties, which include Instagram, Facebook, and the Audience Network, can also influence your advertising costs. Your business can automate the placement of your ads or select where you want your ads to appear.
Ad quality: The relevance score of your ads plays a massive role in your Facebook advertising costs. You need to design ads that engage and deliver on user expectations. When you do, you can lower your ad costs substantially.
Season: During popular shopping seasons, like Christmas, your business can expect higher Facebook advertising costs due to increased competition in the ad auction. While unavoidable, your team can combat this feature by modifying your ad budget and bid.
Industry: Your industry can also shape your Facebook advertising costs. Markets with the highest advertising costs include finance, insurance, and consumer services. If you're in a competitive sector, focus on creating top-notch ads and setting competitive bids.
For an in-depth analysis of Facebook advertising costs, check out our earlier breakdown.
How much does it cost to advertise on Facebook per month?
Companies spend an average of $300 to $1000 on Facebook ads per month. Depending on the size of your business, as well as investment in social media advertising, you may spend more than $1000 or less than $300. For example, an enterprise may invest $5000 per month on Facebook ads.
How much you spend on Facebook ads depends on your business and decision makers. While you don't have to spend the average amount that other companies do, this range offers a competitive advantage that can help your organization earn more from social media.
That doesn't mean price determines the success of your campaign. It does provide a benefit, however. With a larger budget, your company can pay for more ad clicks, which can result in more conversions and revenue.
To put this concept in perspective, imagine the following scenario.
Business A creates a $100 monthly budget for Facebook, while Company A invests $200. They both pay the average CPC, $0.94, which means Business A can afford 103 clicks. In comparison, Company A can pay for twice as many.
A bigger ad budget doesn't equal a successful ad campaign, though. That's why many businesses partner with a professional social media advertising agency, like WebFX. With our team's expertise, you don't have to second-guess your bid, ad copy, or audience targeting.
Instead, you can focus on the impressive results we're creating for your business.
How much does it cost to advertise on Facebook per year?
Businesses spend $2400 to $9600 on Facebook ads each year. The size of your company, plus social media marketing strategy, can influence how much you invest in Facebook advertising annually. Even if you're a small-to-midsized business (SMB), you may spend more than $9600 on Facebook ads.
For example, an ecommerce store with an active following on Facebook may invest more in Facebook advertising because their campaigns drive product orders. In comparison, a well-known business may spend less due to their already remarkable brand awareness.
When it comes to your company's annual advertising costs, it's essential to consider which channels offer the most value. If social media, specifically Facebook, provides a tremendous return on investment (ROI), then it makes sense to direct more of your advertising budget to Facebook.
If you've never advertised on social media before, you want to think about your audience and your goals. For companies that have an active audience on Facebook and objectives that align with the platform's strengths, like building brand awareness, it makes sense to invest in Facebook advertising.