LeadNurtureFX: A MarketingCloudFX Feature
People do business with companies they know and trust. LeadNurtureFX email marketing is an email campaign made up of subscribers that have filled out a contact form on the website.
The advantage is that LeadNurtureFX allows you to show prospective buyers that you're an expert in your field. With LeadNurtureFX, you have the opportunity to "nurture" your website visitors that may have not converted on their first visit back to your website using personalized email messages written specifically for each user based off the actions they completed on your website and firmographic data.
Meet MarketingCloudFX:
One platform tracking countless metrics and driving stellar results.
Learn More About Our Proprietary Software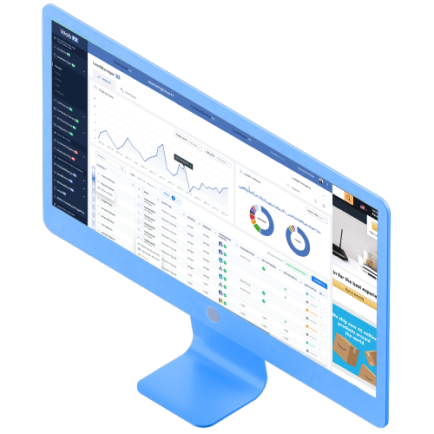 How does the LeadNurtureFX process work?
Hypothetically, let's say a visitor browses your site for the first time, views some general information and then fills out a contact form or signs up for your email newsletter. The visitor is then added to a subscriber list.
Right away, they'll receive a thank-you email, as well as links to important information on your site. A few days later, they make another visit to your site, this time focusing on a specific industry page or product page.
Two days later, they'll receive another email from you with information about your products relating to that industry or more information on the products they previously looked at. The sequence of emails sent are based on where the visitor is predicted to be in the buying funnel.
These emails help move your potential customer through the sales funnel, narrowing their focus and individualizing the process, so the user feels as though they're making an educated and informed decision.
LeadNurtureFX also allows you to personalize the emails you send based on what you want that specific user to do. If they don't return, you can choose to send a broader email hoping to draw them back in. You can decide to continue to narrow the funnel as well.
Why LeadNurtureFX is more effective than traditional lead nurturing
Traditional lead nurturing strategies place the subscriber on a list and automatically send weekly or monthly newsletters or promotional emails. Every subscriber receives the same email and most of the time, the email is overlooked or deleted.
Nothing about the email is customized, and the information tends to be more general in nature. In other words, subscribers don't always find the content to be helpful, informative, or interesting to them themselves personally.
MarketingCloudFX has streamlined the process. Instead of deciding the frequency and content or how much time has elapsed since a visitor signed up, LeadNurtureFX allows us to adjust our emails. The adjustments can be based on the actions visitors took on our website as well as firmographic data. Firmographic data refers to characteristics of organizations that correlate to the likelihood of a purchase.
We base engagement and interest levels off of actions completed by the user and different traits they may have.
Opening the first email, returning to your site, the industry they work in, and certain products they're interested in all signal different levels of engagement and interest. These signals also help us decide what message to send next to nurture a lead.
Using data like the pages they view, forms they fill out, and the resources they download allow us to further personalize our email content. These actions are all indicators of interest. Using this information, LeadNurtureFX allows us to provide the right messages to the right customers in order to best serve them.
With LeadNurtureFX, we can automate this process so all of your leads receive relevant, targeted content without you having to lift a finger.
This is an extremely valuable attribute of LeadNurtureFX, as it keeps you in the forefront of potential customers' minds throughout the sales cycle. You're more likely to close sales because they're not able to simply forget about your product or services.
What interaction starts the process?
There are various interactions that can occur for you to implement LeadNurtureFX. Below is a list of triggers that initiate the process.
Smart Trigger Features:
New lead
Lead marked as sale
Length of visit
How the lead found your website (search, social, etc.)
Firmographics
Personalized content
Emails the lead has received and opened
Return visits – days since last visit
LeadNurtureFX best practices to follow
When you're writing your emails, do your best to keep the content within 150-300 words.
The idea is to provide information that's relevant and has substance, but not to overwhelm the subscriber. If a potential customer opens your emails and continuously sees blocks of paragraphs, they're likely to delete it.
Leave out unnecessary content and keep them short and to the point. Another best practice is to include calls to action in order to tell subscribers what you want them to do. Your calls to action can say things like, "Visit our website," "Shop now," View the details here," or "Learn more." Each call to action should directly tell subscribers exactly what the next action they should take is. Consider using buttons in order to make your calls to action even more attention grabbing!
Keep your subject lines between 20-50 characters. When you post longer subject lines, they have a tendency to be cut off. You should also focus on keeping at least one part of the subject line consistent across all emails.
This allows subscribers to recognize your email when it comes through and not confuse it with spam. Another important thing to note is the use of capitalization. Avoid using all caps or multiple exclamation points in your subject lines, as these trigger spam filters.
Each of these tips should help put you on the fast track to success!
Measuring the metrics that affect your bottom line.
Are you interested in custom reporting that is specific to your unique business needs? Powered by MarketingCloudFX, WebFX creates custom reports based on the metrics that matter most to your company.
Leads

Transactions

Calls

Revenue
Learn More

What results can LeadNurtureFX show?
On the MarketingCloudFX interface, the results of each individual email sent, and your overall campaign are provided. Our on-demand reporting allows you to view opens, click-through rates, and bounce rates as they happen. You can also see when a visitor unsubscribes. Based on these results, you can edit existing emails and add additional stages to your process to boost your success.
Start using LeadNurtureFX today to boost your email campaign
Lead nurturing campaigns have the second-highest ROI for a business, the first being SEO. For every dollar spent on email campaigns, the average ROI is $44.25.
Not only can you expect to increase sales, but you can also anticipate doing so in a shorter time span. Market2Lead found that nurtured leads have a 23% shorter sales cycle.
If you're ready to get started with a successful email campaign, we can help! Our Internet marketing experts have driven more than 3m leads and over $700m in sales. We'll work with you to achieve your goals and create an impactful email campaign through LeadNurtureFX.