Microsoft SharePoint Consultants at WebFX
Microsoft SharePoint is the next-generation content management and document management system from Microsoft. It brings together a variety of Microsoft products, which you can see below.
Upgrade your processes with SharePoint
SharePoint brings together Microsoft products, including:
Windows SharePoint Services 3.0 (WSS)
SharePoint Search Server 2008 and Express
SharePoint Forms Server 2007
Microsoft Office SharePoint Server 2007 MOSS Standard and Enterprise
Microsoft Office Groove Server 2007
Microsoft Office Project Server 2007
A multi-user interface called Microsoft Office SharePoint Designer controls all the features.
The Microsoft SharePoint system can help medium to large businesses streamline work flow and document management processes at an enterprise level.
Sometimes it takes the help of an expert Microsoft SharePoint Consultant to put together all the pieces to a full-scale solution of such an advanced system. Here is the process we use to customize the product to your needs.
If you like to skip ahead and chat with our team, contact us online or give us a ring at 888-601-5359 today!
"As a company we have had a great experience with all of our projects with WebFX. We first started with one SEO and now we have 4 SEO projects and 3 CMS Projects!"
DIRECTOR OF SALES
POOL ENCLOSURE BUSINESS
Consulting for SharePoint: Identifying the problem
Occasionally some existing business processes will have redeeming qualities that are worth keeping. Perhaps your document management system is not in need of a complete overhaul, and the need instead becomes to mimic your existing functionality in a more streamlined and accountable way.
Other times, your current configuration is inefficient and needs major change. In this case, our SharePoint consultants would need to not only change the way those business processes are completed at a technology level, but also redesign the work flow for your team by training them in the best use of your new SharePoint technology.
After we decide on the exact deliverables, you will need to get your customized version of Microsoft SharePoint up and running. After that, one of our knowledgeable Microsoft SharePoint consultants will sit down with you to develop a detailed action plan that will accomplish your business goals.
Time to Level Up Your Sales
Our long list of services helps you grow every aspect of your business with marketing strategies that are proven to increase bottom-line metrics like revenue and conversions.
In the past 5 years, we've managed more than 12.9 MILLION transactions across our client base.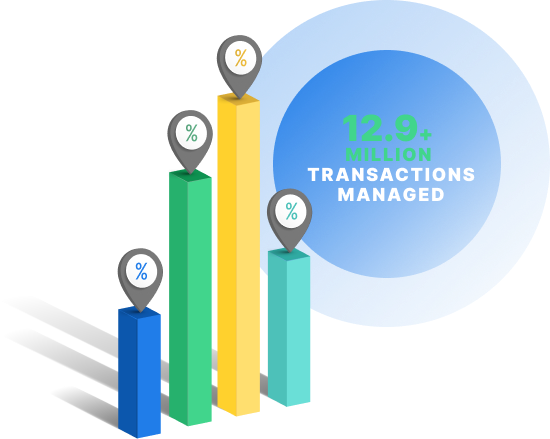 Developing custom web parts for SharePoint
After you sit down with a Microsoft SharePoint consultant, we'll move onto the next step: programming.
Sometimes, custom applications of Microsoft SharePoint will require development of unique web applications, which Microsoft refers to as "web parts." These web parts are web applications written in ASP.NET and served using Microsoft IIS, which pulls data from a SQL Server database. Essentially, that means they're apps that you can program to help improve your experience with SharePoint.
Depending on your needs, development of these web parts can last anywhere from a couple of weeks to several months. In order to ensure everything is working correctly, our SharePoint development team will write, test, and install your customized web parts on your enterprise-class Microsoft SharePoint server. When you choose us for Microsoft SharePoint consulting, we'll make sure you get the SharePoint web parts that you need to achieve the results that you want.
Launching your custom SharePoint application
After your custom web parts are developed, our Microsoft SharePoint consultants thoroughly test the whole application to make sure it runs smoothly. As a result of this testing, we eliminate any bugs to make sure your new application framework functions correctly. Once we are happy with the finished product, your application will be ready to use.
After launch, we are available for training and support questions from your team for a duration of 60 days, so you can still contact your Microsoft SharePoint consultant for information on the app and further advice. We want to be sure you're getting what you want from your business's software.
The cost of a SharePoint consultant
The cost of a custom SharePoint development project varies based on your requirements. To get a quote, we encourage you to contact one of our experts via the telephone number or contact form below. They will be able to provide you with a custom quote, extra information about our approach to Microsoft SharePoint consulting, and detailed information about the cost of a SharePoint consultant or custom project.