The B2B PPC Agency Behind $3 Billion in Revenue
One of the most valuable digital marketing strategies for B2B companies is pay–per–click (PPC) advertising, where you display paid ads through Google. Running a lead-generating PPC campaign requires a robust setup and continual optimization, but when you partner with a B2B PPC agency like WebFX, we'll manage your campaigns for you. With over 25 years of experience, we know how to craft ads that catch your audience's attention and draw them to click through and convert.
A B2B PPC agency that's driven 7.8 million leads for our clients
If you're looking to capture qualified leads for your B2B business, PPC is the way to go. PPC advertising enables you to put your business at the top of search results to reach qualified leads looking for your products or services. By partnering with a B2B PPC company like WebFX, you'll get a custom PPC strategy that helps your business grow online.
With over 450 digital marketing experts on our team, WebFX knows what it takes to drive a top-tier paid advertising campaign for B2B businesses. When you partner with us, you'll get help optimizing every facet of your PPC to boost your revenue.
With over 7.8 million leads driven for our clients in the past five years, you can feel confident we'll drive revenue for your business with B2B digital advertising.
Just give us a call at 888-601-5359 or request a free proposal online to get started with us today!
WebFX is a partner businesses trust.
Hear from HydroWorx, who saw a 236% increase in organic sessions with WebFX services.
Watch the Video Testimonial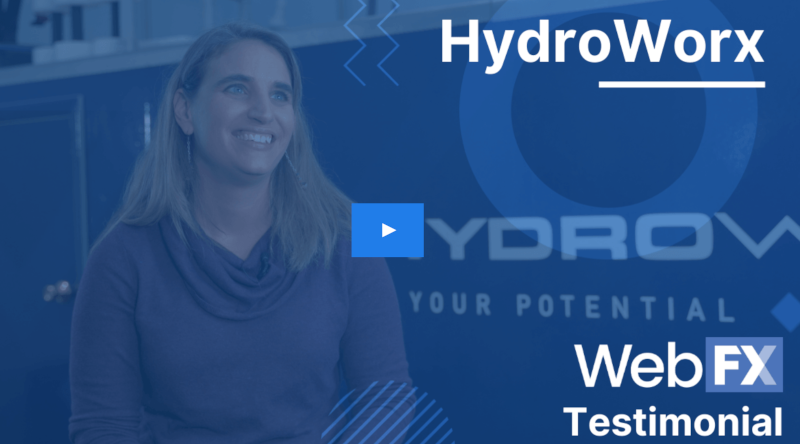 Comprehensive B2B PPC services from WebFX
With $120+ million in annual ad spend managed, our B2B paid advertising agency knows how to create custom PPC campaigns that drive a high ROI for your company. So, what can you expect from partnering with our agency?
Here's what you'll get with our PPC services:
Keyword research and selection
One of the most critical components of a PPC campaign is the keyword selection process. You want to target your search ads toward specific queries, meaning you need to start by determining which keywords to target.
Our team at WebFX will dive headfirst into the keyword research process to help you find the most marketable searches in Google. We'll focus on finding keywords that match the industries you're targeting and sort them into their ideal ad groups.
From there, we'll develop a separate set of ads for each ad group to ensure that your campaigns are as relevant as possible to their target audiences.
Bidding strategy optimization
Once you know the keywords you're trying to target, the next step is to bid on them — our team will help you optimize your bids to maximize your budget.
Looking at your PPC budget with you, we'll help you determine the optimal bid for each keyword you want to target. We'll work hard to figure out the most effective bidding strategy for you to use so you can earn the maximum return on ad spend (ROAS).
We'll also monitor your ads and adjust your bids to help you get the most from every dollar you spend.
Ad design and development
One of the main ways WebFX can improve your PPC is by helping design your ads. For paid search ads, we'll work to come up with compelling ad copy that's informative and helpful. For display ads, we'll develop custom graphics that entice prospects to click.
Our ad design services also include creating custom landing pages. We'll strive to make each of your landing pages visually appealing and informative. We'll also keep them focused and simple, guiding users toward a single call to action (CTA) where they can convert.
Through a combination of visual and textual elements, your ads are optimized to draw in users.
Campaign monitoring and management
When we have your campaign up and running, we won't leave you hanging. Setting up your campaign is just the start. From there, we can begin monitoring the progress of your ads and improve them based on the results.
We'll track critical metrics like click-through rate (CTR) and conversion rate to understand how your ads perform. Based on this information, we adjust your PPC campaign to ensure you're putting your budget towards ads that work.
WebFX specializes in B2B client success.
Wheeler Machinery Co., saw 82% higher average time on site after partnering with WebFX for SEO, CRO, web design and development, and website content services.
See Case Study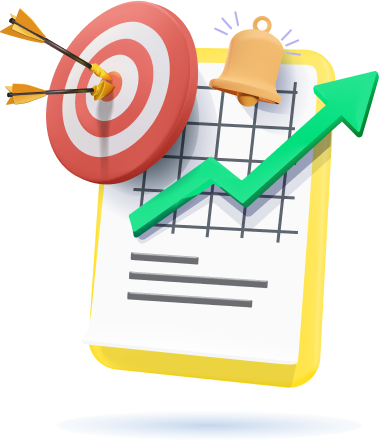 Choose the revenue-driving B2B PPC agency that puts you first
Partnering with a B2B PPC agency can work wonders for your company's marketing. But why partner with WebFX specifically? What sets us apart from other PPC agencies?
Here are a few reasons you'll want to choose us as your B2B PPC company:
1. Our B2B PPC agency has decades of experience
When you invest in PPC services, you want to get them from an agency that's experienced. At WebFX, we have over 25 years of experience creating, running, and managing PPC campaigns for our clients.
With years of experience perfecting our paid advertising skills, you can rest assured that we know how to craft successful B2B PPC advertisements that help you attract qualified leads. No matter what you're selling or whom you're trying to reach, we have all the necessary expertise to make your campaigns succeed.
2. Our B2B PPC agency has a history of driving stellar results
WebFX has a rich history of driving top-of-the-line results for our clients.
In the past five years alone, we've generated over 7.8 million leads and $3 billion in revenue for our clients.
You'll have a hard time finding another agency that can match those numbers. If you want to generate more leads and drive revenue through your campaign, we're the B2B PPC company for you.
3. Our B2B PPC agency communicates regularly with our clients
You want to stay in the loop with what your B2B paid advertising company does with your campaigns. At WebFX, we communicate with every business that partners with us.
When we say "communicate," we don't mean we send an occasional check-in email to remind you that we're there. We mean we'll maintain an ongoing thread of contact and incorporate your feedback into every move we make.
From the moment you partner with us, you're assigned a dedicated account representative. That representative will work one-on-one with you throughout the entire partnership, answering questions and consulting you about everything we do.
Additionally, your dedicated account representative will provide you with monthly reporting on your PPC campaign progress.
Overall, you'll have the opportunity to be as involved as you want in the details of your PPC, and we'll never leave you in the dark about what we're doing.
4. Our B2B PPC agency makes our clients happy
When you choose a B2B paid advertising agency, you want to partner with one that delivers a campaign you'll love. Your company should take the time to get to know your business and deliver a campaign tailored to help you succeed.
At WebFX, we have a history of making our clients happy with our client-first approach to marketing.
In fact, we've earned more than 1,020 testimonials from the many businesses we've worked with, which testify to our dedication to help our clients succeed with their campaigns. Your company will be no exception — we'll put in the work to generate the results you want for your paid advertising.
5. Our B2B PPC agency is Google Ads certified
When it comes to PPC, the main place you run your ads is through Google Ads. That's why it's essential to partner with an agency that knows exactly how Google Ads works.
At WebFX, our team is Google Ads Certified, meaning we've demonstrated such expertise in using Google Ads that Google has acknowledged us as an expert on the platform. As a result, you can feel confident you're working with a partner that knows the ins and outs of Google and can help you deliver a top-notch campaign!
Why do you need a B2B paid advertising agency?
PPC advertising is one of the best strategies for helping your B2B business capture more qualified leads. But if you're on the fence about whether you should handle it on your own or partner with a B2B PPC agency, you're not alone.
So, why should you hire a B2B PPC company?
Here are four advantages:
1. A B2B PPC company has more experience
Most PPC agencies have been working with paid advertising for years — a few even for decades. In that time, they've amassed plenty of in-depth experience with PPC. And no matter how proficient with PPC you are, it's hard to match that level of expertise.
Partnering with a B2B paid advertising agency is an excellent way to gain access to expert knowledge. Agency marketers know all the ins and outs of PPC, and they can apply that expertise to your campaigns to boost them to new heights.
2. A B2B PPC company has a larger team
Another significant advantage of partnering with an agency is that it gives you access to a sizeable team of marketers. If you do your PPC in-house, you can only afford to hire so many people to handle your marketing — but at an agency, everyone there is a marketing specialist.
Having access to so many marketers can be a huge boost to your PPC. For one thing, there are more people working on your campaigns at once, so they're able to accomplish more than if you only had one or two in-house marketers.
Additionally, large teams typically include many different specialists, each of whom brings their own perspective to your marketing and can help you optimize your strategy effectively.
3. A B2B PPC company has better resources
Since agencies specialize solely in marketing, they tend to have access to some valuable marketing resources. That's good, because you don't want to try creating a PPC campaign without some tools to help you.
On top of gaining access to tools with your services — meaning you don't have to pay for them separately — agencies bring an in-depth knowledge of each resource they use. When using a keyword research tool, for example, they know how to identify keywords that work.
Partnering with an agency gives you access to both experts and tools that helps you maximize your PPC campaign results
4. A B2B PPC company has more time
B2B paid advertising agencies offer something extremely valuable to your business: Time. You have a business to run, so you can't spend all your time on your PPC — but a PPC agency can.
With an agency handling your PPC, your campaign will receive the attention it deserves to drive maximum results. Furthermore, since an agency is handling your PPC, you can spend more time managing other aspects of your business.
As a result, you reap the benefits PPC offers without lifting a finger.
Questioning the quality of your SMB's PPC performance?
Get your FREE PPC audit from WebFX today!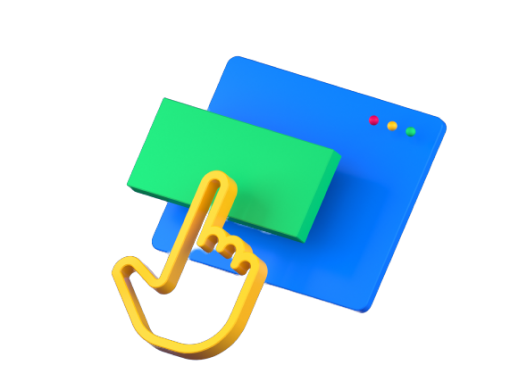 WebFX will drive superior results from your PPC
If you're looking for a B2B paid advertising company to partner with, you won't find better than WebFX. Our 150+ certified Google Ads experts can't wait to dig into your custom PPC strategy to skyrocket your campaign performance.
As a Google Ads Certified agency with more than two decades of experience, we're uniquely qualified to handle your paid advertising. When you partner with us, you'll benefit from our up-to-date knowledge of what it takes to drive conversion-optimized PPC results.
With our PPC services, you'll get help optimizing every facet of your campaigns. You'll also be assigned a dedicated account representative who will work one-on-one with you every step of the way, keeping you updated on everything we do for you.
To get started with us, just give us a call at 888-601-5359 or request a free proposal online today!