Affordable PPC Management Services from WebFX
Are you searching for a company to provide reliable Pay-Per-Click management at a reasonable price? If your searches so far have come up short, look no further: WebFX, a leading Internet marketing company, offers affordable PPC management for businesses seeking out ad creation, placement, monitoring, and marketing, all at a price you can actually afford.
As a nationally recognized PPC company with multiple Google Ads certified experts on staff, WebFX's PPC management services are as reliable and professional as they are affordable. We even offer PPC auditing! View the pricing for our services below, or read on to learn more about the affordable PPC management plans we offer. You can also speak to a PPC specialist by calling 888-601-5359.
No matter where you need PPC services, in Philadelphia or Harrisburg, WebFX is here for you.
PPC pricing explained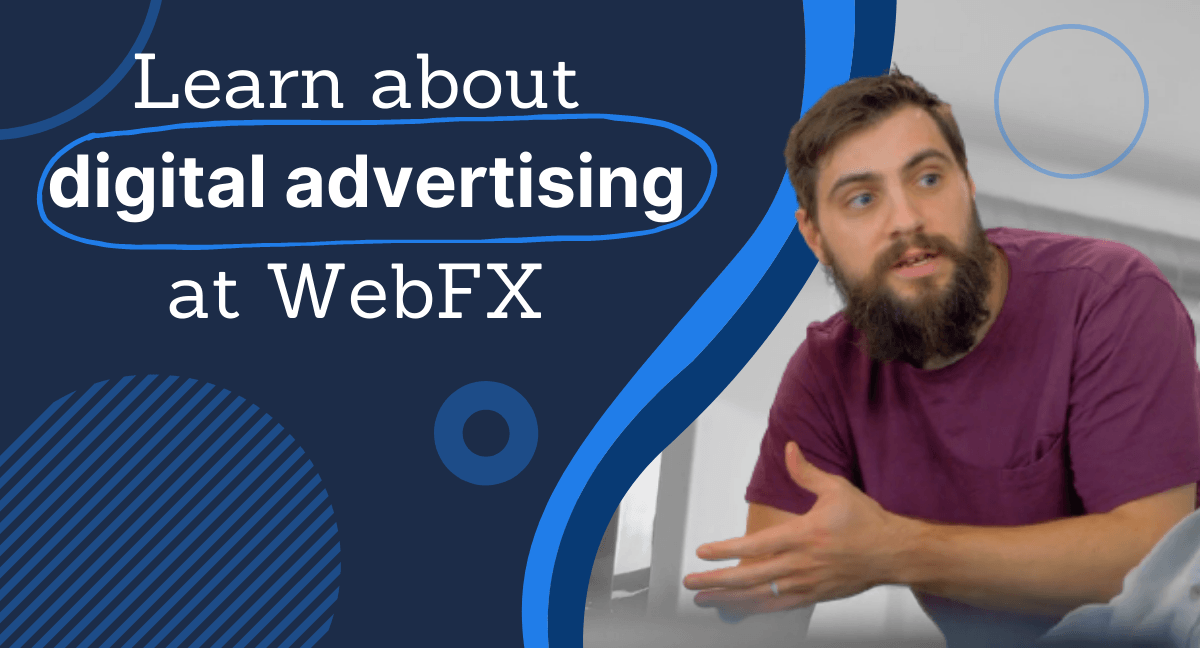 What kind of basic PPC management does WebFX provide?
WebFX currently offers three levels of affordable PPC management pricing: basic, aggressive, and market leader. We'll start by looking at the basic level.
For companies who are new to pay-per-click campaigns, or who are seeking a minimal investment in their PPC management, WebFX's basic plan is the ideal solution. This plan provides businesses with many benefits, including:
Monthly spend in Google Ads
Keyword targeting
Development, keyword research, competitive analysis, and ad copywriting
Strategic bid management
Monthly personal consultations
Monthly performance reporting
This basic plan includes both initial keyword research and ongoing development, ensuring that we are always targeting your ads to the correct words and phrases used to describe your products or services. Additionally, WebFX's basic PPC management services include initial competitive analysis, something that other companies may not offer. This allows us to look at what your competitors are doing with their ads, and find ways to not only outbid them, but also outshine them. That's a lot of benefits for affordable PPC management.
If you are searching for low budget PPC management, our plan is hard to beat. We not only research and develop your initial ads, but also monitor them, make necessary tweaks, and provide monthly reporting ensuring you are happy with the outcome. That's because we have one goal in mind with our PPC management: positive ROI.
Looking for medium to high budget PPC management?
Over time, you may outgrow your low budget PPC management plan, or want to experiment with PPC networks other than Google Ads. Our aggressive and market leader packages are ideal for this situation.
With an aggressive plan, you will receive all the perks of our affordable PPC plan as highlighted above, as well as additional benefits that include the following:
Google Ads & Bing Networks
Strategic bid management
Tracking web lead phone calls
Transcription for lead phone calls
With a higher budget, you can choose our market leader plan.
The monthly pricing for these packages remains affordable, but is quoted at a percentage-based system as opposed to a flat fee.
Does WebFX have affordable mobile PPC plans?
We also offer mobile PPC packages designed specifically for companies who are looking to target those using mobile devices like smartphones and tablets. These low-cost mobile PPC plans include the following benefits:
Geo-fencing (location-based) ad targeting
Design of mobile ads
Google, Bing, and Yahoo! mobile search ads
Ads in iPhone and Android apps
Higher level plans, which are offered to businesses spending more than $2,000 per month on mobile advertising, may also include the following:
Mobile coupons
Facebook mobile ads
FourSquare mobile ads
SMS messages (delivery fees not included)
To learn more about all the offered levels of our PPC plans and to receive a free quote, please visit our PPC campaign management page.
What sets WebFX apart from other low-cost PPC management companies?
There are a great many factors that set us apart from other Google Ads management agencies or PPC marketing firms you may have already considered. As a full-service Internet marketing company with many years of experience, WebFX has well-trained, expert staff on hand to help not only with every aspect of your PPC program, but also with all of your other online marketing challenges.
Read on to learn more about the factors that set us and our affordable PPC program apart from other companies that may also offer their own Google Ads management services.
Experience
For more than 25 years, WebFX has been offering its services—including PPC management—to both companies near its central Pennsylvania location and halfway across the world. Our staff is experienced in creating, managing, and optimizing PPC campaigns to perform their very best, thanks to not only hands-on training, but also exposure to dozens of accounts with different needs and budgets.
Thanks to our experience, we're confident that we can create a custom, yet affordable, PPC package that's right for you. We'll identify the keywords you should be targeting, create ads around them, and monitor the results and make changes until you're satisfied with the ROI. Affordable PPC management that yields results — that's our promise to our clients.
PPC certifications
Our team both gains and maintains their PPC certifications in Google Ads and Bing Ads. These certifications prove that they know what they're talking about, and can successfully apply their knowledge of PPC advertising to the management of accounts just like yours.
If you're evaluating several PPC firms, it's important to ask: will the person managing my ads be PPC certified? Don't settle for anything less than a confident "yes!"
Results
Experience and certifications mean nothing, though, without real results. Passing a test and saying you have PPC experience may not be very impressive until you can produce some real data showing just how effective your PPC management is, right? Well… we have plenty of real data to satisfy your curiosity.
Our PPC clients have experienced dramatic increases in click-through rates, including:
Environmental Equipment & Supply – 55% over 90 days
Cadd Words – 1,000% over 90 days
TUV – 436% over 30 days
Switchname – 300% over 14 days
Of course, we know that click-through rate on its own doesn't tell the whole story. That's why we'd like to share the story of Ceramcor, one of our ecommerce clients. After a PPC campaign overhaul, Ceramcor's PPC ROI increased by—are you ready for this?—38,293%. WOW!
Finally, we've delivered amazing results on even temporary PPC campaigns. Dover Downs experienced 1,003% ROI for the duration of a campaign… meaning they earned back more than 1,000 times what they spent.
A full range of services
Finally, WebFX offers more than low-cost PPC advertising setup and monitoring. As a full-service Internet marketing agency, we provide a wide range of services, including search engine optimization, website design and redesign, copywriting, conversion rate optimization, and more.

Instead of working with two or three different agencies, why not work with just one? WebFX can offer every service you need to succeed online, combining separate packages to create a custom marketing solution just right for your business.
How can I get started with PPC?
When you're ready to take the next step—or if you would just like a quote for PPC management from WebFX—contact us via the phone number, email address, or form below. One of our PPC specialists will get back to you right away to ask a few questions about your business, what you're looking for, and how much you are looking to spend.
If your goal is to find affordable PPC management for your business website, WebFX can help. We encourage you to visit our PPC services page to learn more about what we have to offer, or to contact us at any time with any questions you may have. We can't wait to hear from you!
Earn a 20% greater ROI with WebFX