Hey Alexa, How Do I Do Keyword Research for Voice Search Optimization?
There's a wave of voice searches on the horizon. By 2023, voice search sales will have reached $40 billion. Right now, around one billion voice searches are conducted each month and voice searches are causing keyword research to change.
Businesses are starting to see the value of optimizing their sites and crafting their keyword research around voice search.
Contact us or call us at 888-601-5359 to speak with an SEO specialist on how to do keyword research for voice search SEO in 2023!
Optimize for voice by targeting longer keywords
When people conduct voice searches, they don't use the kind of language that they type in a search bar. The format for voice searches is more like how people speak, with 65% of all voice search queries being conversational.
For example, in a voice search, instead of saying "waffle recipe," people are more likely to ask, "How do you make waffles?"
So what does optimizing for voice search SEO in 2023 mean for keyword research: Target question-based, long-tail keywords. These include queries starting with:
Who, what, when, where, why, and how
Can, could, should, and would
Which
Is, are, was, and will
Do, does, and have
Where to start with keyword research for voice search optimization?
As a company, you've probably conducted keyword research for your business website. The best place to start with voice search keywords is to look at the previous research you've done for similar terms.
You've likely already targeted some long-tail keywords in previous keyword optimization, but you can optimize your content for voice search by including more question-based keywords or other keywords like queries that begin with, "Hey Siri," "Hey Alexa" and "Hey Google" that are likely to be voice searches.
You can find additional long-tail keywords suitable for voice searches by taking your target keyword, we'll say as an example "fluffy waffles," and utilizing Google's search suggestions. Just entering "fluffy waffles" into the search bar, I find two question-based keywords that people might use in a voice search:
How to make fluffy waffles with pancake mix
How to make fluffy waffles with Bisquick
We can make Google suggest even better voice-based keywords, though, simply by adding a question word like "how" to our target keyword. This time, when I enter "how fluffy waffles," I get ten different question keyword suggestions.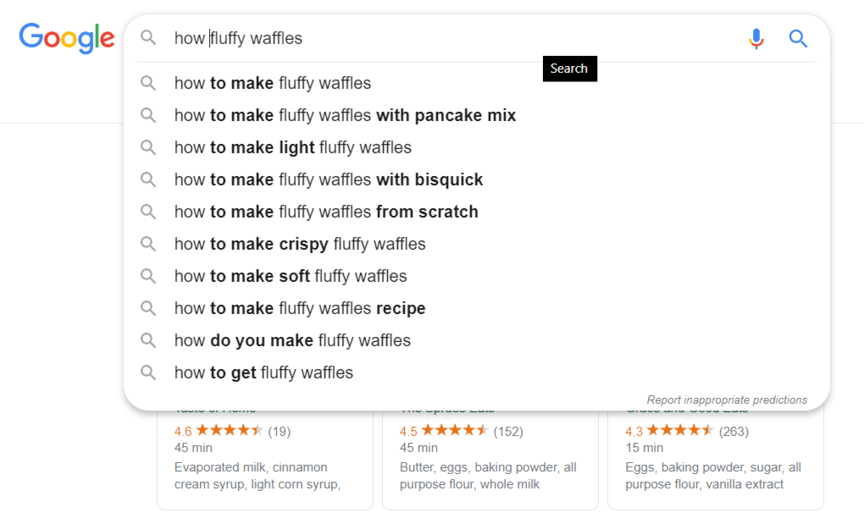 Better yet, there are voice search keyword research tools like AnswerThePublic that will help you map out long-tail question keywords that are relevant to your target keyword for voice search. And look how pretty it looks!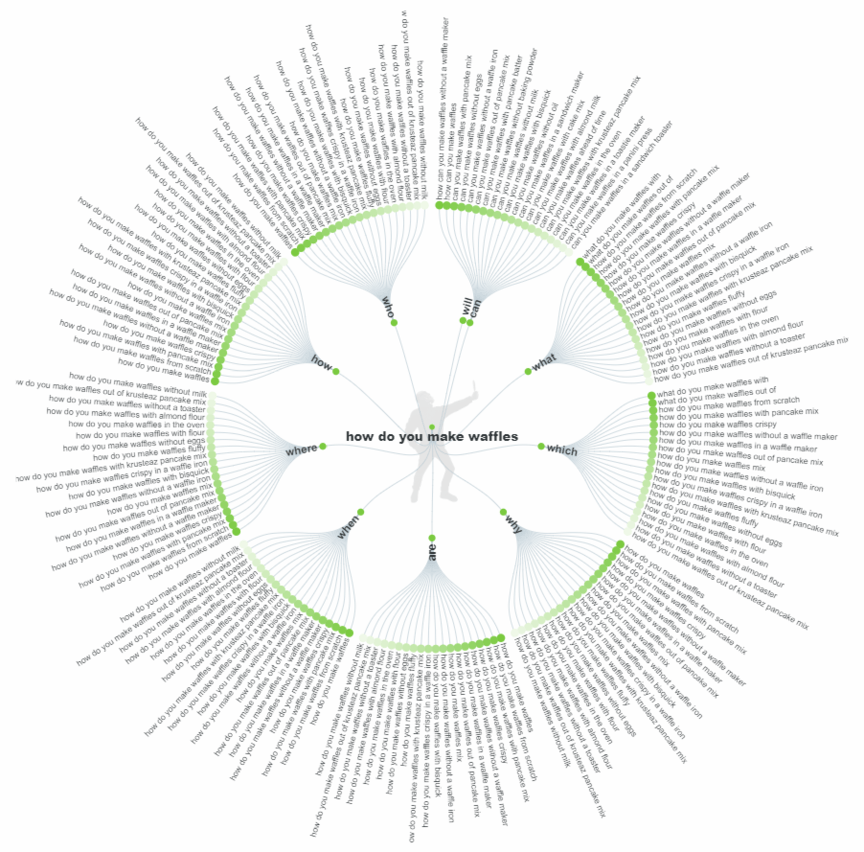 Once you've found additional relevant long-tails to your target keyword, you can update your content to include those long-tails or generate new content that matches those voice search keywords.
Use conversational content
When generating new content, use content that's:
Conversational
Easy-to-read
Around an 8th-grade reading level
This conversational style of writing content is a staple of content marketing, but it's worth mentioning. This is the type of content that voice search results pull up. It's also the type of content that the average adult feels most comfortable reading.
In other words, to show up as a result of a voice search, you need to be writing how your audience talks. Match the language they use when conducting voice searches. If you're using a higher level of vocabulary in your content, you may benefit from lowering it down a notch or two. It depends on your industry, but you'll likely hit those voice searches for 2023 better.
Create FAQ pages
In addition to creating content, create a FAQ page. Voice search on Google pulls 2.68% of its results from FAQ pages.
The frequently asked questions you answer in your FAQ page are precisely the type of questions that users ask in voice searches, and the concise answers you offer in your FAQ page are the type of result that Google looks for to provide to voice searches.
Having at least one FAQ page on your site will increase your chance of showing up in voice searches in 2023, and it will enhance your site's user experience and customer service.
If your site doesn't already have a FAQ page, and you don't know what questions to answer, start by asking your customer service department what questions they often get.
You can also turn to Quora, forums, or the People Also Ask sections that show up in search results.

Optimize for Featured Snippets search results
Ever since Google first introduced Featured Snippets, position zero (P0) has been prime real estate to rank for. With often more than one Featured Snippet appearing in a search result, P0 is the new #1 rank.
Take a look here.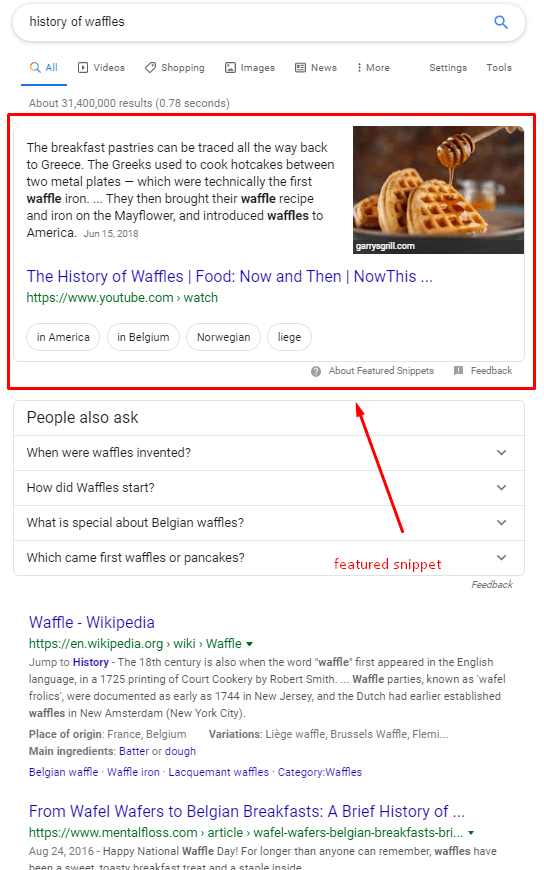 Featured snippets appear at the top of a SERP and are well sought after by SEOs. To earn a featured snippet, you have to have content that is user-friendly, mobile-responsive, informative, and well-targeted. Not to mention, optimized for voice search.
That makes those P0 spots highly competitive. But with voice search, get ready for competition for P0 spots to skyrocket.
If you want to rank for P0 voice search spots, you do something similar to what you would do for a FAQ page. That is, answer commonly asked questions.
Here's a method that ranks:
Research FAQs that people have
Use them as headings in your content
Answer the question in 30 to 40 words
Keep the rest of your content relevant to the FAQs
Optimize for voice search assistants
When you optimize for voice search, optimize for voice assistants, too. Unlike traditional searches using search engines, voice search using a voice assistant (such as Siri, Alexa, and Cortana) only provides the user with one result.
It's estimated that 3.25 billion digital voice assistants are used in devices around the world. That number is projected to grow to 8 billion by 2023. Combine that with 50% of voice search results pulling information from Featured Snippets.
In the coming years, you'll see that more and more often, that one result will be a P0.
This means a large part of optimizing for voice search is optimizing for P0, so you need to include P0 keywords in your keyword research for voice search optimization in 2023.
It's a good thing then that P0 keywords and voice search keywords are so similar. They both use long-tail, conversational, question-based keywords that answer questions.
Another way to optimize for voice search and P0 is to place numbered lists that provide succinct answer questions in your content. As always, your answers need to be:
Optimize for local voice searches
Local voice search is on the rise: more than 55% of people use voice search to find local businesses.
When researching keywords for voice search, include "near me" and other local searches on your list. Optimizing for local searches will help you rank better for voice searches in 2023.
Also, if you don't have a Google Business Profile (GBP) listing, create one. They're free to make, and they help Google know where your business is located. Creating your GBP listing will boost your company's visibility in local searches.
You'll be more likely to show up in the local 3-pack, which is one of the main results that shows up whenever anyone performs a voice search.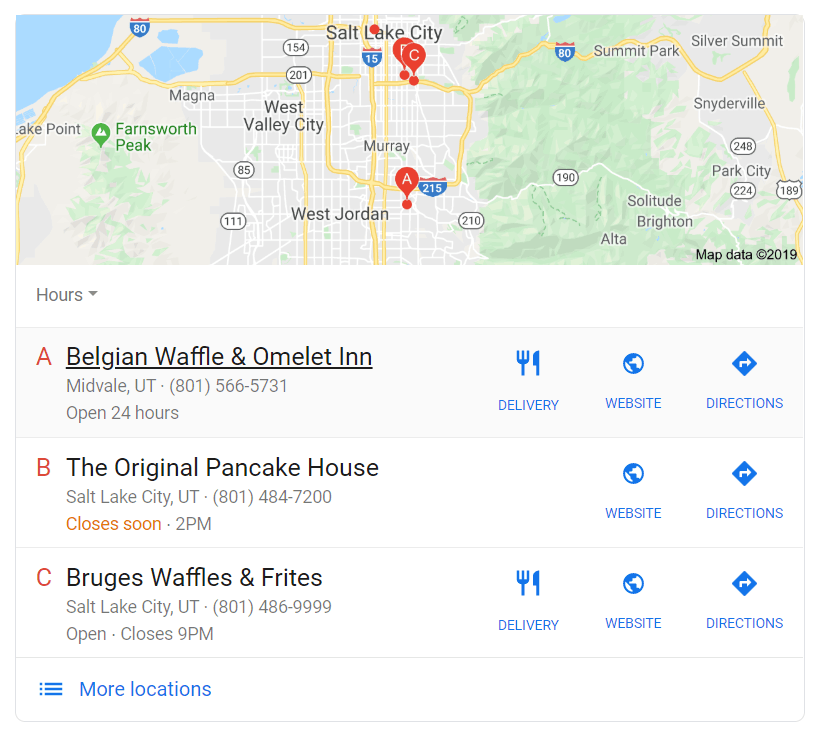 Optimize for mobile
Considering that 31% of smartphone owners worldwide use voice search at least once a week, make sure that your site is responsive.
A mobile-friendly site is a must-have in today's competitive business world. If your site isn't mobile-compatible, you'll fall behind in ranking for voice searches, and you could lose out on more than 50% of your potential online customer base.
When optimizing for mobile, make sure to keep your page load speed up. Over half of all mobile site visits are abandoned if pages take longer than three seconds to load.
Voice search SEO 2023 is all about getting quick answers, and if your site doesn't load fast enough, users are even more likely to abandon their search.
WebFX, your premier voice search optimization agency for 2023!
What can WebFX do for your voice search optimization strategy? We're a full-service digital marketing company, and we know featured snippet and voice search optimization in and out.
And with the #1 ROI Tracking Technology Platform in the industry, our exclusive MarketingCloudFX, you can see exactly how your investments into voice search optimization perform from your desktop, or even on the go with the mobile app.
Looking for help on how to better optimize your keyword research for voice search? Check out WebFX's featured snippet creation & optimization services and contact us today to see what we can do for you!
How Is Your Website's SEO?
Use our free tool to get your score calculated in under 60 seconds.