LinkedIn Ads for Lead Generation [6 Tips for Successful Ads]
Did you know that 62% of marketers say LinkedIn is the most effective social media platform for businesses? If you haven't started advertising on LinkedIn, you're missing an excellent opportunity to reach people interested in your company.
With LinkedIn ads for lead generation, you'll obtain more valuable leads and help your business grow online.
On this page, we'll discuss why LinkedIn lead gen ads matter, how to set them up, and six tips for running successful LinkedIn ads for lead generation.
If you're ready to get started, call us today at 888-601-5359. (or contact us online) to speak with a strategist about our LinkedIn advertising services!
We foster and form long-term partnerships so that your business has long-term results.
Over 90% of WebFX clients continue partnering with us into year 2 of their campaign.
Hear from Our Happy Customers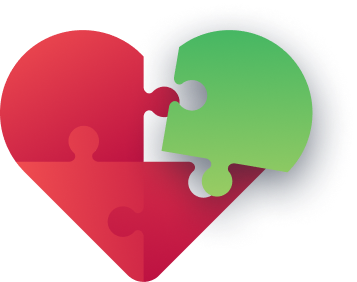 Why should I use LinkedIn lead gen ads?
If you haven't used lead gen forms on LinkedIn, you may wonder if it's worth the investment.
Before exploring how to set up LinkedIn lead gen ads, let's look at three reasons to use this ad format:
1. LinkedIn allows you to capture high-quality leads
LinkedIn lead gen ads attract more high-quality leads to your business. You can target people based on specific parameters, like their occupation, age, or gender. This ability to target particular people and niches allows you to reach more high-quality leads.
Additionally, you're getting real information from leads. On other social media platforms, like Facebook or Twitter, people may not use their real names. Given the professional networking focus of LinkedIn, people are more likely to provide their real information, which means more authentic leads for you.
One of the best reasons to invest in LinkedIn ads for lead generation is the high-quality leads you'll obtain.
2. LinkedIn lets you customize your ads
LinkedIn lead gen ads are a great addition to your advertising campaign because you can customize your ads. You can build a lead submission form that's unique to your business.
For example, let's say Company A wants to obtain emails, while Company B wants to get phone numbers. Company A can put form fields for email address, first name, and last name on the form. Company B, on the other hand, can put a phone number, email address, first name, and last name.
The ability to customize your forms to your campaign's specific needs makes LinkedIn lead gen ads the perfect solution for your business.
3. LinkedIn makes lead generation forms easy
Lead gen forms on LinkedIn are easy to fill out. Users don't need to leave the page to complete the form. They can easily click on the ad, fill out the form, and go back to browsing their feed. It's easy to obtain leads because it's easy for them to complete these forms.
How to create LinkedIn ads for lead generation
Are you ready to create your LinkedIn lead gen ads? Check out these 10 steps for setting up your ad.
Go to your Linkedin Campaign manager page
Click "Create a Campaign" on the top, left-hand side
Select "Sponsored Content" as your ad type
Pick "Collect leads using LinkedIn Gen Forms" as your ad objective
Choose article image or link, carousel, or video as your ad format
Upload your ad content
Choose your call to action (CTA). CTA recommendations for lead generation include "Sign up," "Subscribe," "Register," and "Download"
Determine your target audience through filters like industry, position, and location (Focus on niches in your target audience so you can create more targeted ads)
Set your bid amount, either a daily budget or bid (you'll pay per click)
Launch your ad
By following these steps, you can set up your LinkedIn lead gen ads and start driving valuable leads for your business.
6 tips for running successful LinkedIn ads for lead generation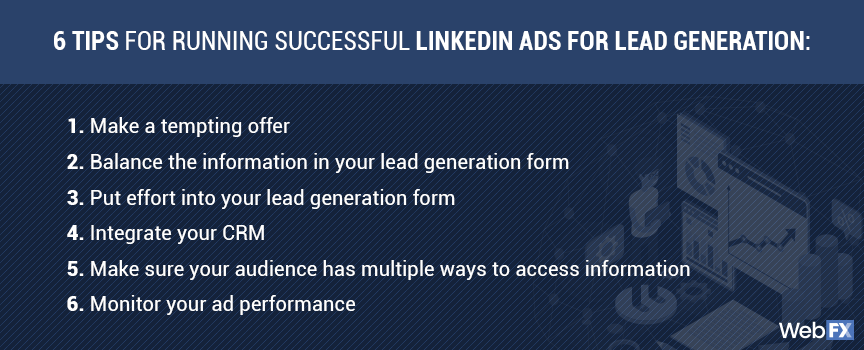 If you want to use lead gen forms on LinkedIn, you need to follow best practices to maximize your success.
Check out these six tips for creating top-notch LinkedIn ads for lead generation:
1. Make a tempting offer
The first step to driving success with your lead generation ads is to make an attractive offer. If you want leads to input their information, you need to get them to click on your ad first.
So, what kind of offer should you make?
First, determine what matters to your target audience. What do they want to see from your business? You need to think about whether your audience wants to get an ebook from you, attend an event by your company, or sign up for a newsletter.
Once you determine what your audience wants from you, you can start brainstorming ways to make the offer tempting. You want to think of what information will catch people's attention and get them to click on your ad and submit their information.
For example, let's say you're a company that provides finance maintenance services for your clients. You help small businesses manage and optimize their budgets to get more with their money.
As you research your audience, you find that a big pain point is managing invoices and payments. To help meet their needs and garner their interest, you create an ebook about how to better manage invoices and create a payment cycle that helps companies become more efficient.
To market this ebook on LinkedIn, you may use a catchy headline like "Feeling overwhelmed with invoices?" followed by a line like "Your free guide to invoice and payment management."
In this example, the headline catches the audience's attention and appeals to a pain point. Then, you hook them with a tempting offer by offering a free guide that will tell them how to solve that problem.
By making an attractive offer, you'll get more leads from your LinkedIn lead gen forms.
2. Balance the information in your lead generation form
The biggest mistake companies make with LinkedIn lead gen ads is making forms too long. Even if you have an excellent offer for your audience, you can discourage them from completing the form by asking for too much information.
People don't want to spend a lot of time filling out forms.
They like to fill out forms quickly and move on.
You must find a balance with your forms. You don't want to ask for too much information, as it will deter people. If you ask for too little information, however, you may not have enough to build a customer profile.
It may take some experimenting, but you'll want to test your ads to see which amount of form fields generate the most responses. In general, lead generation forms with fewer fields tend to get more replies, but it will depend on your audience and campaign goals.
By finding the right balance for your forms, you'll generate more leads for your business.
3. Put effort into your lead generation form
When you use LinkedIn ads for lead generation, your landing page becomes your form submission page. While there isn't a ton of room for customization, you'll still want to add as much value as you can to your form page.
If someone clicks on your ad and visits your form page, you want to make sure you have a title and small blurb detailing your event, ebook, or whatever you're advertising. Think of this as your last moment to sell your audience on why they should act.
Keep your form to-the-point, but make sure you give enough detail to convert your audience.
4. Integrate your CRM
Are you currently using a customer relationship management (CRM) program? If so, check and see if you can integrate it into your LinkedIn advertising campaign.
Integrating your CRM saves you from having to export leads manually. Instead, hooking up your CRM to your account allows you to immediately transfer leads to your CRM so you can manage them better.
For example, if you typically send a follow-up email after someone submits a form, you can do it on time if you have your CRM and LinkedIn account linked. If not, you may not send a follow-up email until a few days later, after you've manually exported your list of leads.
You'll also save time from having to manually input every new lead you get from your LinkedIn lead gen ads.
LinkedIn provides information on their site for how to integrate your CRM platform into LinkedIn.
5. Make sure your audience has multiple ways to access information
Whether you're offering an ebook or registering for an event, you need to make it easy for your audience to obtain information about your offer after they sign-up. Some people may have the time to visit your site or immediately download your ebook, but others may not.
It's always good to create multiple ways for people to access information.
For offers like ebooks, for instance, you can let leads download it straight from the ad sign-up, get it via email, or receive a text with a code to download it later.
For something like an event sign-up, you may include the sign-up information on the ad once they complete the form and send them a follow-up email with the invite and more details.
By sending your audience more ways to access their offer, you set a positive impression with these leads. They'll build a positive brand association with you and be more likely to interact with your company in the future or even become a client!
6. Monitor your ad performance
Generate the best results with your LinkedIn ads for lead generation by monitoring your ad's performance. Follow and analyze your ad's performance so you can make changes to help you drive better results.
When you monitor your ad, you'll want to look at:
How many leads you're getting
Who clicks on the ad compared to the ratio of those who submit
And more
As you watch your ad, you can see where your ad underdelivers. For example, you may find that you're getting a ton of impressions but few clicks. If you see this, it may mean that your ad copy isn't catching your audience's attention or you're not targeting the right people.
You may find that people click on your ad, but don't submit their information. In this case, you may need to revise your lead gen form and ask for less information.
Overall, monitoring your LinkedIn ads for lead generation will help you drive better results and obtain more valuable leads for your business.
WebFX is a partner businesses trust.
Hear from HydroWorx, who saw a 236% increase in organic sessions with WebFX services.
Watch the Video Testimonial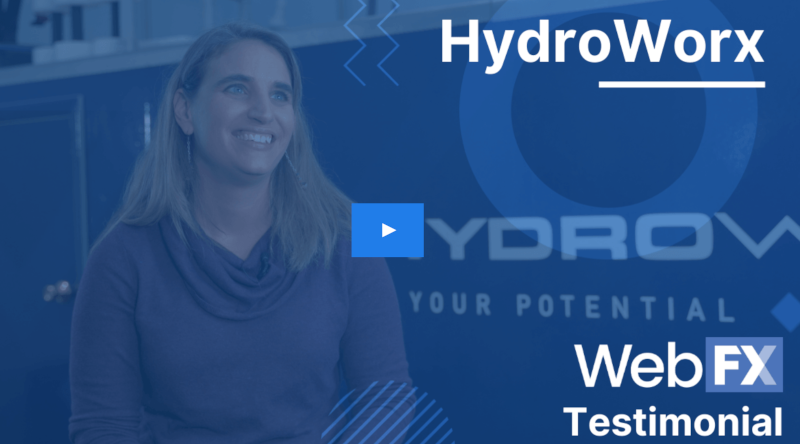 Get started with LinkedIn ads for lead generation today
If you're ready to generate more valuable leads for your business, it's time to use lead gen forms on LinkedIn.
At WebFX, we have a team of over 500 experts that can handle your LinkedIn lead gen ads for you.
If you're busy running your business, you don't need to worry about running your LinkedIn campaign. We have years of experience running social media campaigns, so we can help you manage your LinkedIn ads.
Ready to get started with LinkedIn ads?
Contact us online or call us today at 888-601-5359. to speak with a strategist about our LinkedIn advertising services!