3 Ways to Determine the Cost of Social Media Marketing
Social media is one of the fastest-growing parts of the Internet marketing world right now. It used to be about connecting users to one another, but recently, the face of social media has transformed into a tool that can work wonders for any business. It keeps you in contact with your customer base and gives you a free chance to promote your business all in one convenient location.
But nothing that good is free. So how much does it cost?
Unfortunately, there's no straight answer. Like most other marketing strategies, it depends on what you want.
Free Guide from Our Experts
Are You Spending Your Marketing Budget Wisely?
Download our guide to learn how to plan your budget, set goals, track performance, and more!
Get My Free Guide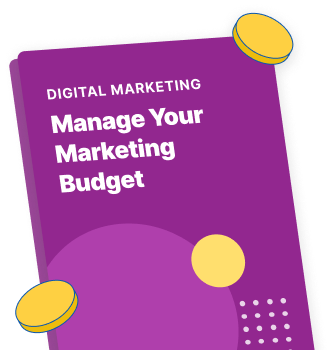 Before you continue reading, take a few minutes to watch our video on the cost of social media marketing and social media advertising
If you'd like to speak with a specialist before reading on, you can reach us at 888-601-5359.
Option #1: DIY
Estimated total: $20-$100 per month
While there's a definite learning curve to social media marketing, you can certainly do it on your own. It requires a lot of research, and you'll have to carve out some time in your schedule to make sure you keep at it. Basically, when you're doing it yourself, your biggest obstacle is just sticking with it.
But that doesn't mean it has to be difficult. You can find affordable, subscription-based services to automate social media marketing so you hardly have to think about it.
Buffer is one of the best options. Buffer allows you to log into all of your social media accounts and control them from one convenient location. It also has a built-in scheduler so you can plan your tweets and status updates far in advance.
This ability to plan, create, and schedule content means managing social media doesn't need to be a daily task. So if you have a great idea for a Thanksgiving blog post, you can write it in August. If you want to write about the winter holiday season, you can do it in spring. And once you have it scheduled, you never have to think about it again.
Alternatively, you can use Hootsuite to track all of your social media feeds at once. Hootsuite is similar to Buffer in that you log into all of your accounts in one location for convenient access.
However, unlike Buffer, Hootsuite also gives you the ability to track the feeds on your Twitter, LinkedIn, Facebook, and other profiles. It pulls them from your account and places all of them next to one another on the same page so you don't have to keep each site open on a different browser tab.
However, just because you're using these tools on your own doesn't mean they're completely free of charge. While they have free options available, you'll have to pay a monthly fee to use their full services. And if you want to fully utilize social media marketing on your own, we recommend those services.
Option #2: Outsourcing on a small budget
Estimated total: $500-$1,000 per month
Working on a small marketing budget is hard, but small businesses have to do it all the time. If you have enough money to outsource your social media marketing, there are many affordable options at your fingertips.
First, you need to find an agency. Agencies have a lot of different packages and pricing models that are based only on their estimates, as opposed to industry standards. The reason that happens is because, unfortunately, there are no established pricing standards for social media.
That means you'll have to shop around and do some research to find an agency in your price range that also has a good reputation. That can be a hard combination of qualities to find, but finding the perfect agency for your business is entirely worth the time spent.
Sometimes, you might just find an agency that you like, but their prices are too high. If that's the case, it couldn't hurt to contact them anyway to figure out if they can work with you on prices, alternative packages, or deals that they may not publish online. All it takes is a phone call, and the results could be a huge benefit to your company.
Option #3: Outsourcing on a larger budget
Estimated total: $1,500 to $5,000+ per month
If you work for a company with a bigger budget, you have all the options in the world. If you want to take a chance on a higher-priced agency on the chance that they turn out superior results, you can definitely do that. And if you want to make every dollar count with a smaller, less expensive agency, you can do that, too.
The most important thing to remember when you have a limitless budget is that you need to do your research. Disreputable agencies will get dollar signs in their eyes when they hear you don't have a budget cap, and they'll recommend you take on everything they offer so they can get as much money out of you as possible.
A sensible agency, on the other hand, will hear that you have a large budget and still ask you about your goals. They'll ask about your company history, what you've tried, what your niche is, your past marketing successes, your past marketing failures, and more. Basically, the fact that you have a big budget won't make a difference to a good agency — they'll be focused on getting you the best results possible.
So, what is the cost of social media marketing?
Let's review the cost of social media marketing for each of the three methods.
How much does DIY social media marketing cost?
DIY social media marketing costs $20-$100 per month, but requires much more time and expertise than outsourcing your social media marketing.
How much does it cost to outsource social media marketing on a small budget?
On a small budget, you can outsource social media marketing for approximately $500-$1000 per month.
How much does it cost to outsource social media marketing on a large budget?
On a larger budget, you can outsource social media marketing for approximately $1500 to over $5000 per month.
WebFX is an experienced social media marketing agency
WebFX is a full-service Internet marketing agency with a team that specializes in social media marketing. Our social media experts stay up-to-date on the most recent strategies and techniques, so we can be sure that we're getting the best results for your dollar. And we don't use cookie-cutter plans — when you partner with us, you get a unique social media strategy that's specific to your company's needs and goals.
Are you ready to make social media work for your business? Contact us today to start planning your social media strategy!
Earn a 20% greater ROI with WebFX