LinkedIn Ads for Recruiting: Your Guide to LinkedIn Recruiting
Are you looking for new ways to recruit candidates for your job openings? If so, it's time to take advantage of LinkedIn ads for recruiting, so you can reach viable candidates interested in your positions and company.
With LinkedIn advertising, you can run different types of ads to reach candidates looking for positions like yours.
On this page, we'll discuss why you should use LinkedIn ads for recruiting, how to set up LinkedIn job ads, and other recruitment advertising options. Keep reading to learn more and call us today at 888-601-5359. (or contact us online) to speak with a strategist about our LinkedIn advertising services!
Why use LinkedIn ads for recruiting?
LinkedIn ads for recruiting are an excellent way for you to reach potential candidates for your job openings.
Let's look at four reasons to invest in LinkedIn recruiting ads:
1. You increase application rates
Recruiting solutions from LinkedIn will help you improve application rates. As a professional network, you have more reach and can get your job postings in front of more qualified candidates.
When you run LinkedIn recruiting ads, you have more precise targeting than traditional advertising options. You can set parameters to reach the exact candidates you want to apply.
Whether you're looking for people with a specific job title or traits, you can establish those requirements with your ad to help you reach the right people.
If you get your job listing in front of more qualified eyes, you'll get more applications for your job posting.
2. You get attention from passive candidates
This reason is one of the most important reasons to run LinkedIn ads for recruiting. LinkedIn ads help you reach passive candidates and get them to notice your business.
Passive candidates are people who aren't actively seeking a job. They're of the mindset that if the right job comes along, they'll check it out and even apply.
With LinkedIn job ads, you can reach these highly qualified candidates and get them to consider your opening before another company catches their interest.
3. You increase your brand awareness
LinkedIn job ads allow you to increase brand awareness with the candidates that you want to apply. If someone hasn't heard of your company before, advertising your job openings to them gets them familiar with your business.
It's good to build brand awareness with potential candidates so they'll get to know your company and potentially apply to your job opening.
4. You decrease time-to-hire rates
The hiring process can take a long time if you aren't reaching candidates and if the ones you do reach aren't as qualified for the position. Instead of waiting for the right candidate, you can run LinkedIn ads for recruiting and obtain qualified leads faster.
When you have more qualified leads, you can vet through them faster and hire a new employee quicker. It saves you time, money, and resources.
How to create LinkedIn job ads
Ready to try LinkedIn ads for recruiting? Follow these steps to get started!
1. Create your LinkedIn company page
If you already have a LinkedIn company page, skip to the second step.
For companies that don't, you need to create a company page before launching an ad campaign.
Like any other social media page, you'll want to include information like:
Highlight your business's story
Describe your products
Share your mission
Showcase your values
And more
You'll want to have a complete profile, so if potential employees see your job listing, they can check out your business's profile and learn everything about your company without having to leave LinkedIn.
2. Post your job
Once you have your company profile set up, you'll post your job.
You'll see a briefcase at the top and can click on that to get to the place to post your available position.
On the first page, you'll enter your:
Company name
Job title
Location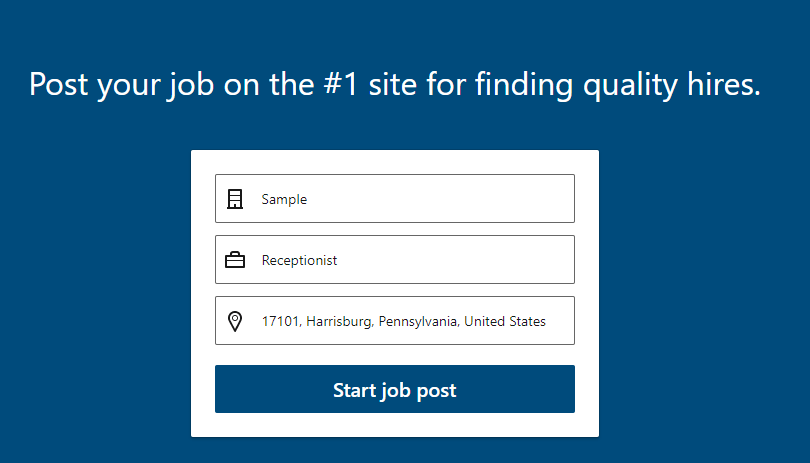 After clicking "Start Job Post," you'll see a page where you can provide more information.
On this page, you'll add information like the job function and industry. You can select up to three options for each of these categories.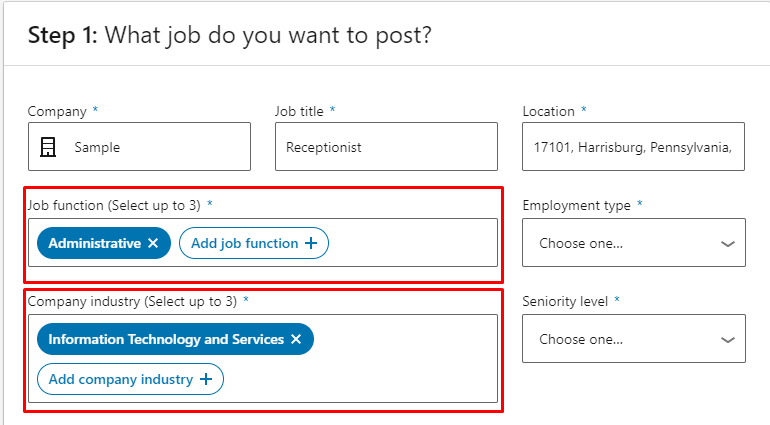 You'll also select the employment type (full-time, part-time, etc.) and the seniority level for the position.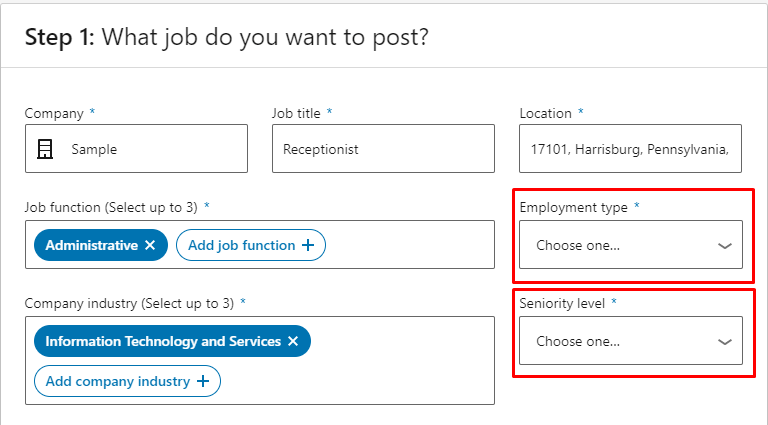 Once you fill out that information, scroll down to the job description.
Here you'll input all the information about the position and your company.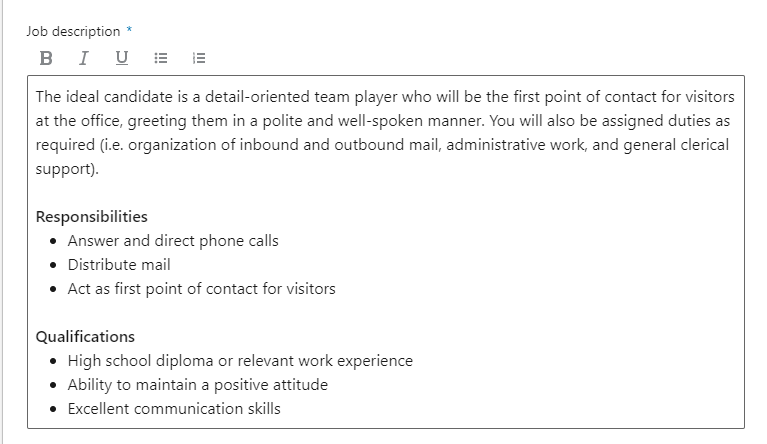 LinkedIn offers a template of information to include based on the job you choose. You can use a template if you don't have a pre-made description. You can tweak this template to your liking or input your pre-written job description.
Once you insert your description, you'll choose how you want to receive applicants. LinkedIn allows candidates to either apply with their LinkedIn profile or directly on your website. You can pick which one works best for you.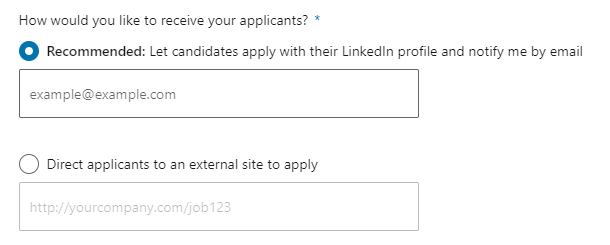 3. Set your budget
Once you set up your ad, you'll visit the next page where you'll set your budget.
On this page, LinkedIn allows you to set a daily advertising budget that works best for your business.
One of the great things about LinkedIn job ads is that they give you a recommended budget based on your ad. They'll also show you the range of budgets people set for a job posting like yours.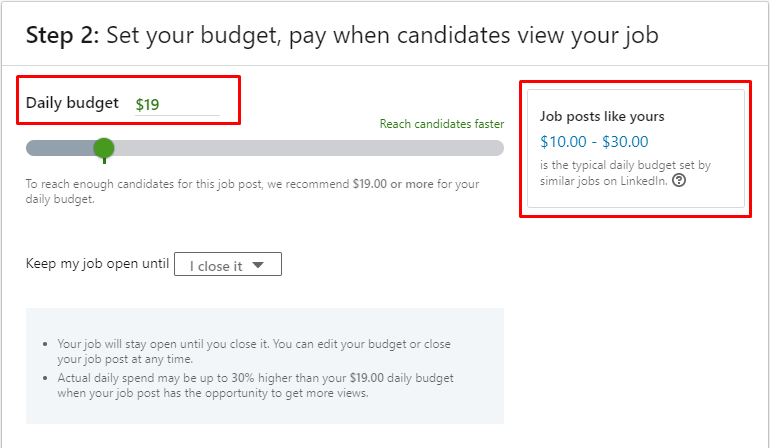 You'll also get to choose how long you want to keep your job open.
The two options are: Until you close your opening or until your budget runs out.
When you set your budget, keep LinkedIn's average advertising costs in mind:
For cost-per-click (CPC) model: $5.26 per click
For cost-per-impressions (CPM) model: $6.59 per 1000 impressions
For cost-per-send (CPS) model: $0.80 per sent InMail
4. Checkout
After you set your budget, you'll get directed to a confirmation page where you'll input your payment method and review your order.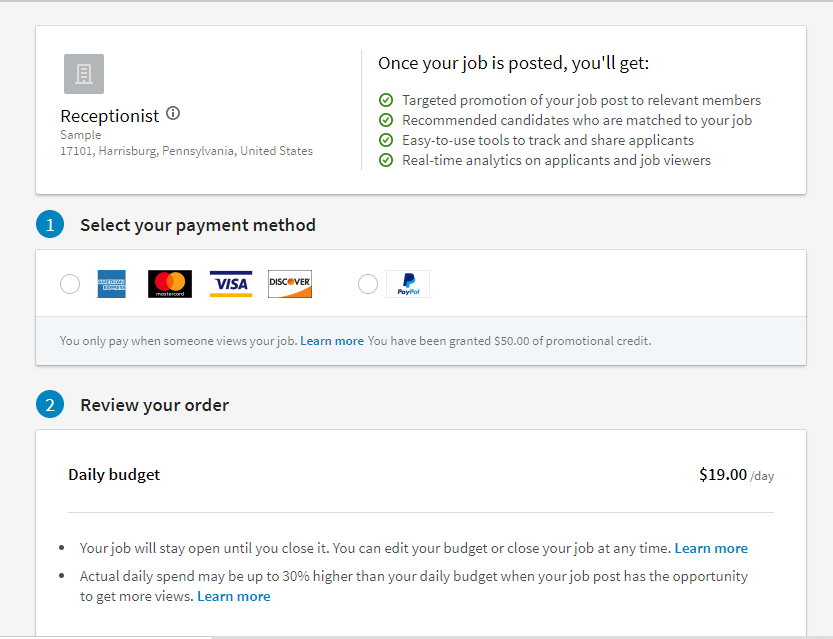 Once you hit "Post Job" at the bottom of the page, it will go live, and you'll start reaching recruits.
Going beyond LinkedIn job ads: Other recruiting solutions on LinkedIn
LinkedIn job ads are just the beginning of recruiting candidates.
You can also run additional types of ads to reach more candidates.
Let's look at three additional recruiting solutions on LinkedIn that will help you reach candidates:
1. Dynamic ads
Dynamic ads allow you to create personalized ads for recruits. These ads typically appear on the sidebar of a user's newsfeed and will include the targeted person's profile picture alongside your company's picture with a message.

With this LinkedIn recruitment ad, you can create an ad that advertises your job posting and catches your audiences' attention due to the personalization. It's a great way to motivate people to learn about your job opening.
2. Single image ads
Another option for advertising your job openings is a single image ad.
These ads appear in LinkedIn users' feeds like any other post.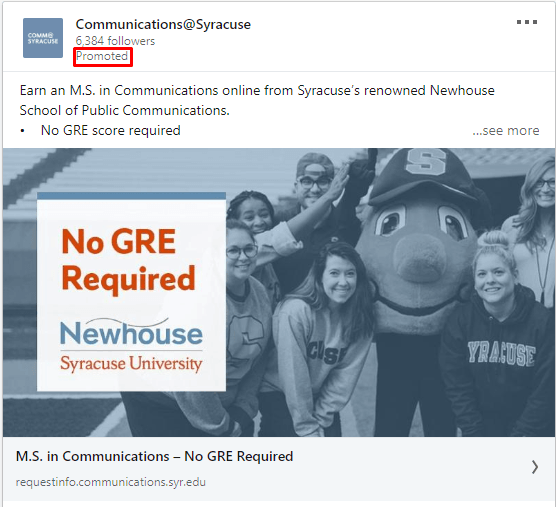 You can advertise your job openings with this type of ad and reach more qualified candidates looking for positions like yours. It's a great way to get your job posting in front of people and grab their interest.
By using single image ads, in addition to your job ads, you'll reach more qualified candidates for your open position.
3. InMail
Linkedin InMail is an excellent opportunity for you to reach candidates you think would be a good fit for your open position. It's also an opportunity for you to connect with both passive and active job seekers.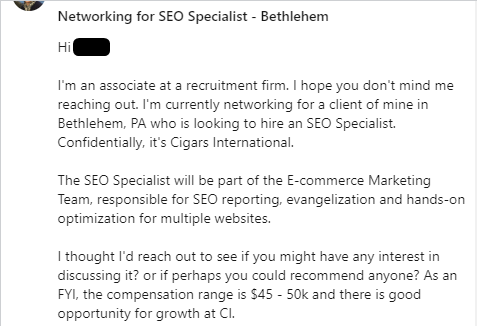 With these messages, you can deliver your job opening information directly into a candidate's inbox. It's an excellent way for you to reach out directly to people who fit your criteria.
To use InMail, you need to have a Premium subscription so you can send messages to people you're not connected to on the platform. Each subscription option offers a different amount of InMail credits that you can use to message candidates.
You'll have a 200-character limit on the subject line and 1900 characters in the body text, so make sure you're concise but informative.
InMail is one of the best recruiting solutions on LinkedIn because it allows you to deliver a personalized invitation to apply to your job opening.
WebFX is a partner businesses trust.
Hear from HydroWorx, who saw a 236% increase in organic sessions with WebFX services.
Watch the Video Testimonial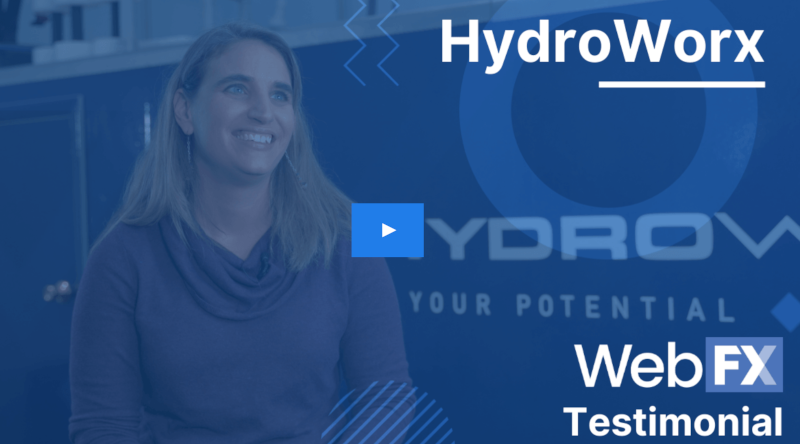 3 tips for creating effective LinkedIn ads for recruiting
Are you ready to start recruiting candidates through LinkedIn?
Check out these three quick tips for getting started!
1. Hit the most critical points candidates care about
When creating your job listing, it's good to dive into the details about what candidates will get from the position.
The three most important aspects are:
Culture: People want to work in a friendly, productive environment, and you need to show them that your company has a fantastic work culture.
Mission: Candidates want to work for a business whose mission and values align with theirs, so you'll want to share it with them.
Perks: People want to know if they're getting insurance, 401k contributions, days off, and more.
The perks and culture portions are significant to candidates. By highlighting those features in your job ads, you take the guesswork out. Not to mention, more people will apply if they know that what you offer fits with what they want.
One contested "perk" companies consider listing is the salary. Some companies don't like to post the pay because they think it will attract candidates only in it for the money or that it doesn't leave room for negotiation.
But, at the same time, a candidate may not apply to the job because there is no compensation listed, and they don't want to waste their time. Considering 70% of candidates want to hear about salary first, it can be harmful if you don't include it in your listing.
You can always input a pay range for the position, which will leave room for negotiating, but still attract valuable candidates looking for that type of job.
2. Spotlight employees on your LinkedIn page
When people look at your LinkedIn ads for recruiting, they may want to explore your company page more, especially if they aren't familiar with your business. Help show these candidates how great it is to work for your company by spotlighting employees on your page.
These spotlights should highlight what your team loves about working for your company. It can provide potential candidates with insight and help them see how they would fit in with the company culture and employees.
3. Personalize your InMail ads
If you choose to use InMail ads, make sure you personalize them. When you send a direct message to a candidate, you want them to feel like you handpicked them for the position.
You can personalize your InMail ads by adding the candidate's name to the message. You can also look at their accomplishments, previous experience, or something similar from their profile to show that you took the time to check them out. Little details of personalization can go a long way!
Start using LinkedIn ads for recruiting today
Are you ready to start reaching more top-tier candidates? If so, it's time to investigate recruiting solutions on LinkedIn to help you reach more job seekers and get them to apply to your openings!
At WebFX, we have a team of over 500 experts that can help you get your recruitment ads up and running. We have years of experience running LinkedIn ads for recruiting and can help you manage your campaigns.
We'll run your campaigns while you focus on vetting job applicants and conducting interviews!
Learn more about our LinkedIn advertising services by contacting us online or calling us today at 888-601-5359. to speak with a strategist.