Social Media

Why LinkedIn Matters to Marketing [INFOGRAPHIC]
Why LinkedIn Matters to Marketing [INFOGRAPHIC]
9 minute read
The WebFX team is made up of more than 450 subject matter experts in digital marketing, SEO, web design and web development, social media, and more. Together, they've helped WebFX's clients earn more than $3 billion in revenue from the web — and that's just in the past five years. @webfx
LinkedIn is the single largest professional social network in the world.
As a result, it has millions of users — thousands of which are CEOs — from small businesses, regional companies, and worldwide enterprises.
LinkedIn is a goldmine for marketers, especially B2B companies. On LinkedIn, you can find high-level decision-makers who have the authority to pull the trigger on a new purchase. Even if you sell consumer products, you can still reach an audience of wealthy, career-minded individuals who are ready to buy.
This is why — and how — you should reach them.

LinkedIn stats
First, let's take a look at some of the stats behind LinkedIn.

Believe it or not, LinkedIn is one of the oldest social networks in the world at 14.
Its age shows, but in a good way.
The site has a total of 106 million visitors every month and 450 million users total. That may sound like a big gap in usership, but having 25% of your users come back every month is pretty impressive.
Many websites work with far smaller margins of success. LinkedIn is especially popular in the United States as well, where it has 128 million users nationwide.
With that in mind, any business is sure to have an audience in LinkedIn's extensive network of professionals.
But what if LinkedIn isn't around forever? Social networks have come and gone with the tides in the past. After all, MySpace was the biggest network in the world before Facebook showed up.
Thankfully, you probably don't have to worry about that. LinkedIn is doing quite well.
LinkedIn recent growth
In 14 years, LinkedIn has become a revenue giant.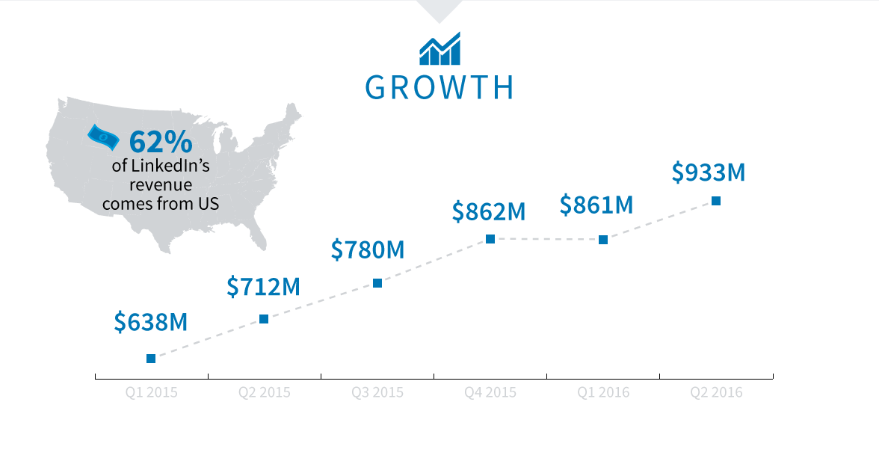 The company is nearing billion-dollar quarters, which is an incredible step for any company.
In 2015 alone, they made nearly $3 billion in revenue, and their numbers keep going up with every quarter (except Q1 2016).
If LinkedIn grows by the same margins this year as it did in 2015, the company is on track to earn $1.77 billion in Q3 2016, $3.38 billion in Q4 2016, and $6.95 billion for all of 2016. With revenue like that, LinkedIn isn't going anywhere.
62% of that revenue — $1.85 billion in 2015 — comes from the United States. So even though US users only make up 28% of LinkedIn's user base, they spend more than their fair share on job postings and advertising. That's how LinkedIn earns its cash.
Unlike other social networks where ads are the only revenue source, LinkedIn sells job listings.
Clearly, they're good at it. It's obviously giving their buyers lots of value, too — otherwise, they'd spend their money somewhere else.
LinkedIn user stats
Now that we've looked at the company, let's check out its users.

Every second,
two new users
sign up for LinkedIn.
Each of them is worth about $84, and if they're a CEO, they can expect to quickly grow to an average of 930 connections.
13% of LinkedIn's users sign into their accounts every day, while 8% of users sign in to their accounts from work. That means 36 million users are on their LinkedIn accounts every day while they're working.
On top of that, 41% of LinkedIn users earn $75,000 or more. So even if they're not representing their company, they still have a nice pool of spending cash.
44% of users are female as well, while 56% are male.
That makes LinkedIn one of the more evenly split social networks in terms of sexes, especially when you consider Pinterest's 80%+ female users.
45% of users hold upper management positions — those sweet spots that make them decision-makers. In sales, these are the key people to engage. They make purchases for the company, and they're probably in that $75,000+ salary range.
Finally, 71% of UK professionals say LinkedIn is trustworthy.
That stat echoes throughout the professional world in general, proving that LinkedIn is valuable to anyone who wants to engage a business and its representatives. But the most important part of LinkedIn's users is that they're so unique. They probably only have one other social account, and it's probably Facebook.
That's because 83% of LinkedIn users don't use Pinterest, 59% don't use Twitter, and 13% don't use Facebook.
So if you want to reach career-oriented individuals in positions of power with extra spending money, LinkedIn is the best — and maybe only — a choice you have.
LinkedIn B2B advantages
LinkedIn provides a huge opportunity for B2B companies that want to reach new customers. Lots of marketers have already embraced that. In fact, most of them have.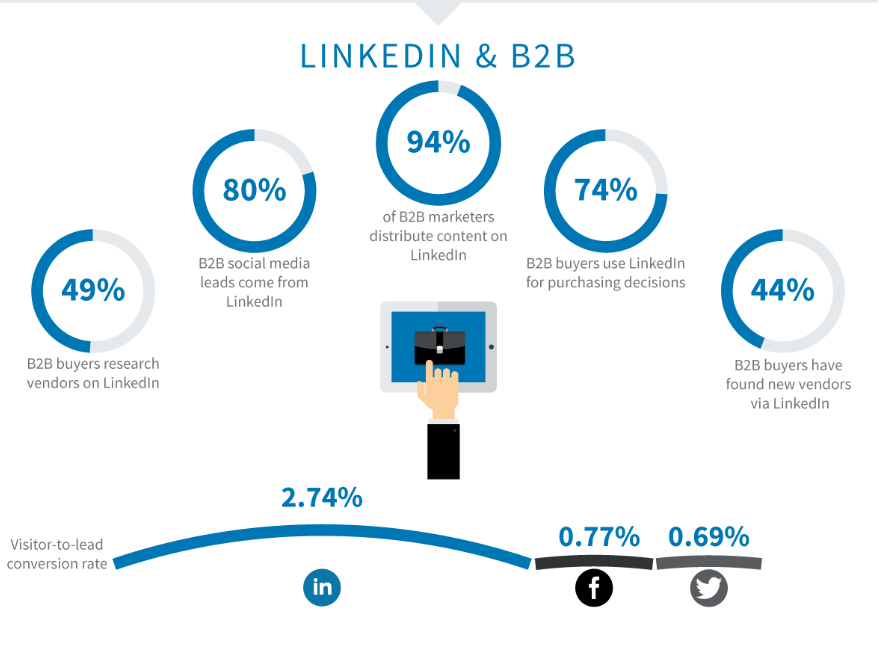 94% of B2B marketers
publish content on LinkedIn, where some marketers get as many as
80% of their social media leads
. It's no wonder they get leads on LinkedIn, too.
74% of B2B buyers
use LinkedIn to inform their purchasing decisions.
49% of them look at vendors in-depth, and 44% of them have bought from vendors that they found. LinkedIn is also the best for getting new leads on your site.
LinkedIn has a 2.74% conversion rate for site visitors. That may sound low, but Facebook is 0.77%, and Twitter is only 0.69%. So if you want to generate more leads, it's time to promote your business on LinkedIn.
LinkedIn B2C advantages
B2B companies aren't the only ones who benefit from LinkedIn.
B2C companies can also use LinkedIn to boost their revenue and get more customers. But for them, it's a little tricky.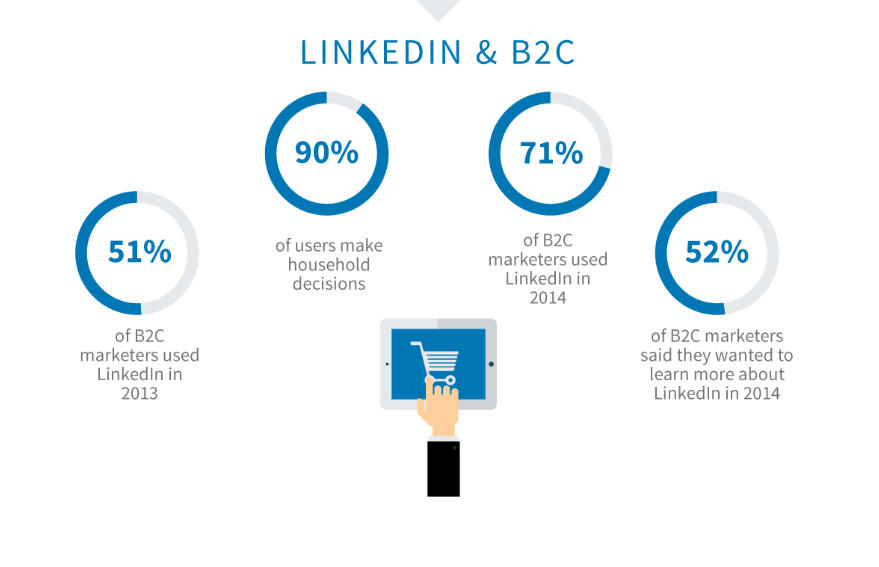 90% of LinkedIn users
say they make household decisions.
That's huge for any home goods company, regardless of whether they're homeowners or renters.
On top of that, 71% of B2C marketers used LinkedIn in 2014, up from 51% in 2013. More importantly, the B2C sector is due to grow since 52% of B2C marketers wanted to learn more about LinkedIn in 2014. So B2C still has a place on LinkedIn, even though the network is oriented toward professionals. But career-oriented materials and other consumer goods are viable options for LinkedIn promotions.
Bonus Read: B2C Marketing Strategies
LinkedIn marketing opportunities
With B2B and B2C marketers both using LinkedIn for marketing, it may sound like there's not much left to do. But surprisingly, LinkedIn has plenty of opportunities for marketing in general.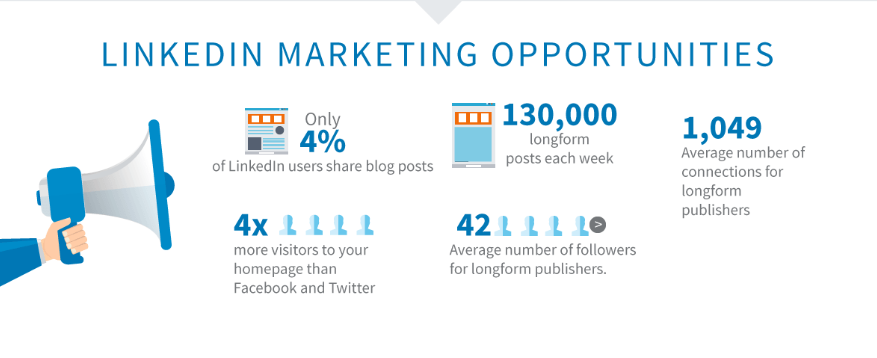 Only 4% of LinkedIn users share blog posts
. That means there's a huge content void on LinkedIn, which explains why users publish
130,000 pieces of longform
content every week. That content pays off, too.
On average, 42 people follow each long-form publisher, and 1,049 people connect.
All of that effort pays off. LinkedIn has the power to send four times as many visitors to your site as Facebook and Twitter, making it one the best ways to get brand exposure and start potential clients down the sales funnel. But there's an obstacle to that success — attracting readers in the first place.
LinkedIn posting best practices
Like other social networks, LinkedIn has a few tried-and-true ways to best appeal to users.
Following these practices, you can maximize the chances that you'll get new connections, followers, and even customers.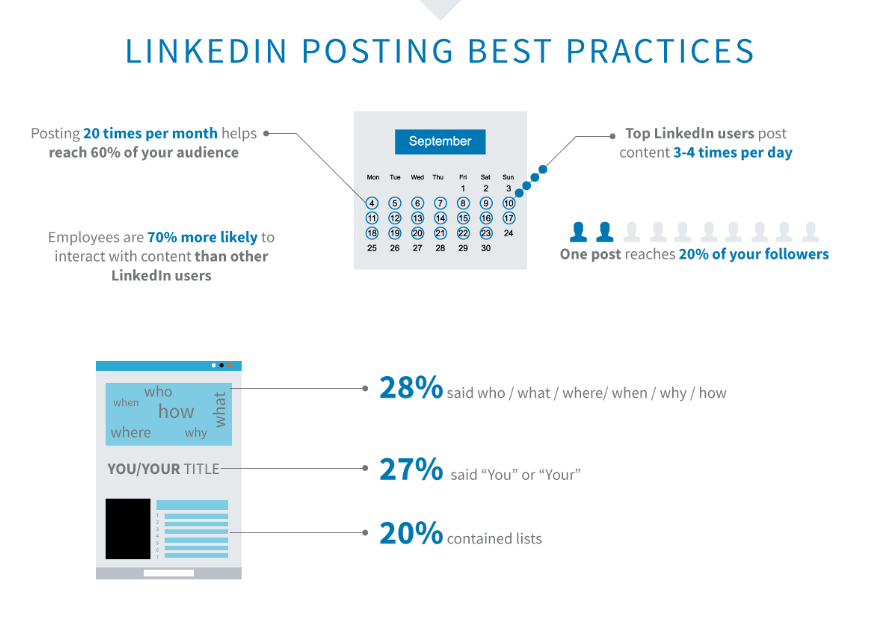 First, it's smart to post about
20 times per month
. That helps you reach
60% of your audience overall
, including the people who follow or connect with you.
Posting once reaches about 20% of your followers at a time.
The best LinkedIn users post far more than that — about three to four times per day. That's a tall order for someone who doesn't have a full-time writing staff, so don't worry about hitting that quota. At least until you can afford your own writing staff.
LinkedIn also lets you use your employees to promote your business as well.
Employees are 70% more likely to interact with the content you publish than other LinkedIn users. That means free publicity, more potential followers, and more potential clients. To draw initial attention, you can learn from some of the most successful posts on LinkedIn.
28% of the top 250 posts said who, what, where, when, why, or how in the titles. 27% said "you" or "your." Finally, 20% contained lists.
Altogether, these titling techniques give you an excellent starting point for reaching as many new customers as possible.
What to post on LinkedIn
Now that you know the best ways to post content, it's important to look at what to post.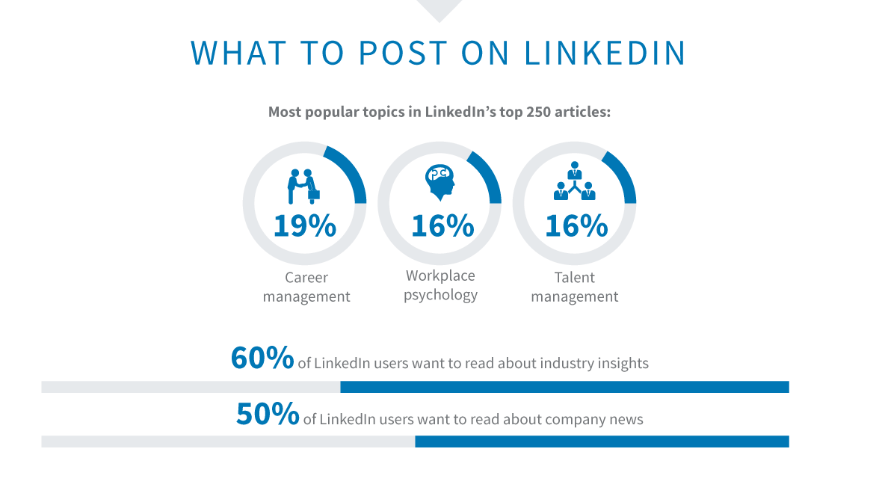 Career management is the most common topic in LinkedIn's top 250 articles, making up nearly
one out of five posts
.
16%
relate to workplace psychology, and
16%
of them refer to talent management
as well
.
Altogether, 51% of LinkedIn's most popular articles — or 128 articles — fall into one of those three categories.
But that's not necessarily what LinkedIn users want to see now. 60% want to read about industry insights, and 50% of users want to read about company news. Those are two major niches that any company can enter.
If you want to build your LinkedIn following, start with those topics and build from there.
When to post on LinkedIn
Last, we need to look at when to post to LinkedIn. Thankfully, this is a no-brainer. LinkedIn is a network of professionals, and a lot of them work 9-5 day jobs.
With that in mind, the best time to reach LinkedIn users tends to be…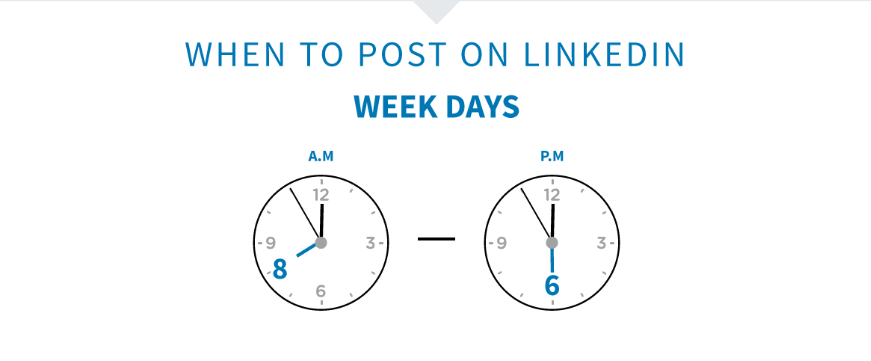 … between 8:00 a.m. and 6:00 p.m. every weekday.
Simple enough, right?
Want to market on LinkedIn?
At WebFX, we have a whole team of social media marketers who know how to profit from LinkedIn. Whether you run a B2B or B2C, we're a LinkedIn marketing agency that can help you earn more revenue. Contact us today to talk about a LinkedIn marketing plan that'll grow your business!
The WebFX team is made up of more than 450 subject matter experts in digital marketing, SEO, web design and web development, social media, and more. Together, they've helped WebFX's clients earn more than $3 billion in revenue from the web — and that's just in the past five years.

@webfx

WebFX is a full-service marketing agency with 1000+ client reviews and a 4.9-star rating on Clutch! Find out how our expert team and revenue-accelerating tech can drive results for you! Learn more
Twitter and Facebook Status Generator
Finding engaging social media content for your business can be difficult. Use our tool to quickly find ideas and post directly to your page.
Give Me an Idea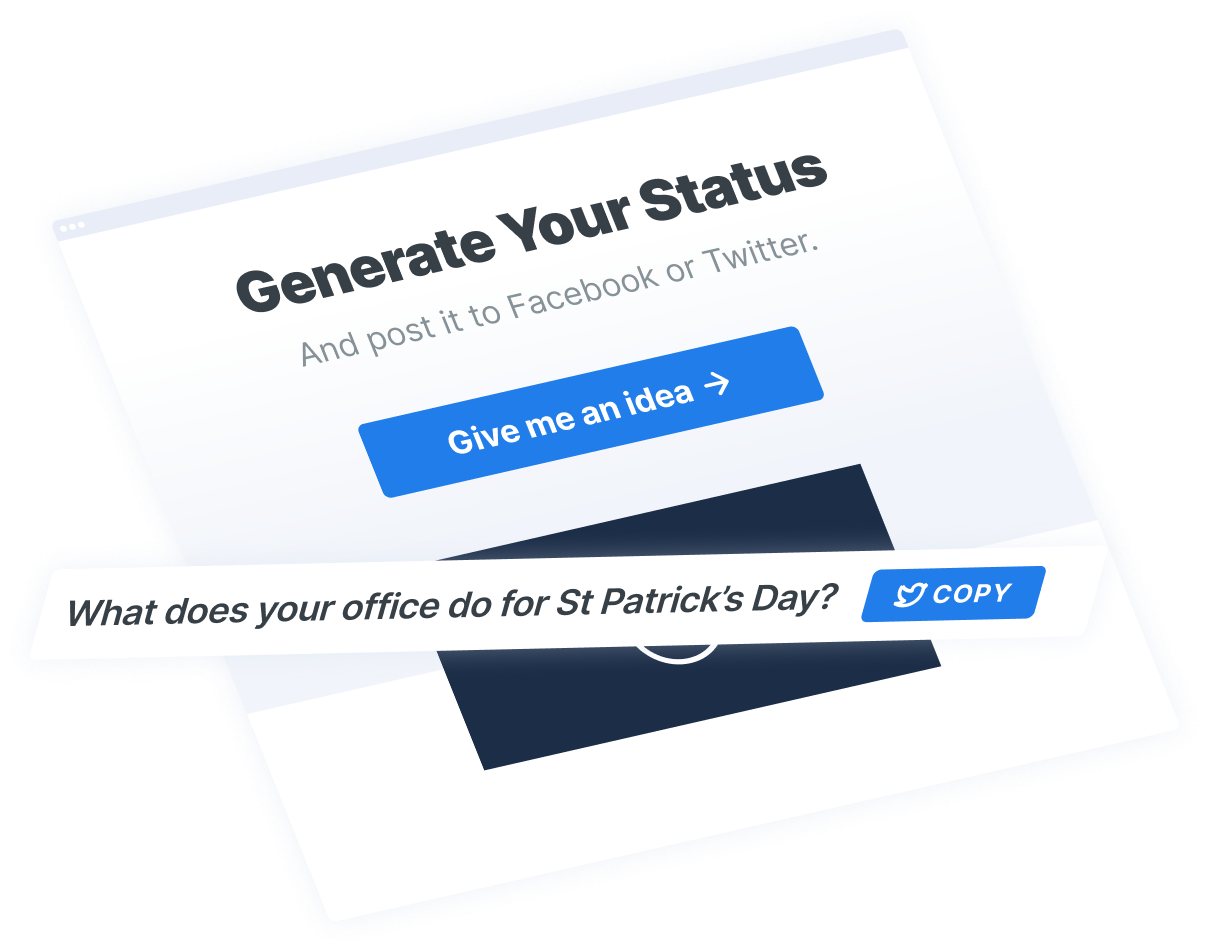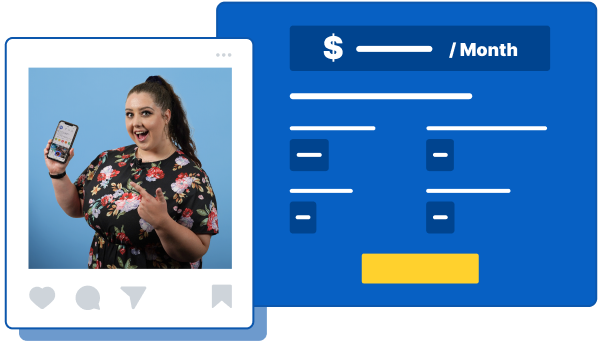 Twitter and Facebook Status Generator
Finding engaging social media content for your business can be difficult. Use our tool to quickly find ideas and post directly to your page.
Give Me an Idea