As a physician, you understand that a patient's first impression of your practice is critical. Years ago, a patient's first impression was developed either over the phone or in person, but today potential patients can and do form opinions your practice before you or anyone on your staff ever even has a chance to say hello. The key to making a good first impression today lies in physicians website design.
Visiting your website is now most often a potential patient's first interaction with your practice. And if your site isn't well designed and maintained, it could also be their last.
Call 888-601-5359 to speak with a strategist about web design services from WebFX, or keep reading to learn more about why web design is so important for physicians.
Why Web Design for Physicians Is Important
As a physician, you're always busy, so it's easy to overlook or under prioritize the importance your practice's website. However, at WebFX we can speak from experience: we know just how crucial it is to have a beautiful, highly functional website.
We've done web design projects for many physicians who have seen great results, so we thought we'd put together this resource on physician website design best practices. This resource should be used as a guide to evaluate if your website is up to par, or if it could use a redesign.
One thing to keep in mind as you read this resource: it is most important that a physician's website is designed with the purpose. This purpose should be to educate patients and enhance the overall experience of being a patient of your practice.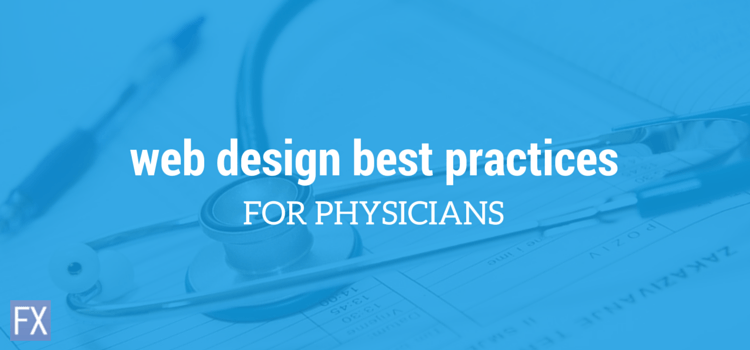 A Physician's Website Design Should...
Be Informative
Your website should make basic information very easy to obtain. Your phone number, physical address, and hours of operation are likely the most popular reason patients will visit your website, so this information should be conveniently located on every page.
Another reason new patients or potentially new patients will access your website is to learn more about your practice. Be sure to have a bio on each doctor on your website, what makes your medical practice different, what insurance you take, your cancellation policies, and tips for how to prepare for appointments.
Consist of Multiple, Topic-Specific Pages
If you have a website for your medical practice that is less than five pages, you probably aren't doing a good job of making a first impression. There are a number of things that make your practice special, and a website is a golden opportunity to explain just what those things are.
Do not make the mistake of listing numerous topics on one page. That's not good for either search engine optimization or usability! Make sure you have a separate page for each doctor in the practice, insurance information, appointment preparation, and so on.
Be Easy to Navigate
Having multiple pages for each individual topic that you want to discuss on your website is best practice. However, this will do you little to no good if you have poor navigation.
Remember that the goal of your website is to enhance the experience of being a patient in your practice. If the website is difficult to navigate, your patients will not see the value in your website or your practice.
Just because you know how to navigate your website easily doesn't mean others will. Consider the primary demographic of your patient base and ask friends and family that fit that demographic to visit your website and locate specific pages. Ask them for honest feedback on how easy or difficult they felt it was to navigate to the pages you requested they find. This can help you make impactful changes that improve the experience of each visitor.
Some of our client Successes
Have a Clean Design
Would you invite patients into your office if things were cluttered, unorganized, and scattered about randomly? You shouldn't feel any differently about your website.
Your site is an extension of your practice. Make sure you are sending the right message to your visitors by ensuring the way it looks is clean and organized, not cluttered!
Have Clear Calls to Action
Each page of the website should have a desired next step. After a user is done reading the about us section, what would be the ideal next step? Is it to learn more about your doctors, view insurance policies you accept, or to schedule an appointment?
Whatever that next logical step is, create a clear call to action on the page that makes navigation from that page to the next page you'd like them to see simple. For example, if you have the functionality to schedule an appointment via your website, it might be a good idea if the confirmation page where they are delivered after successfully scheduling an appointment features a link to the "how to prepare for your appointment" page.
Have a Contact Form
This is a very simple best practice, but one that is overlooked more frequently than you might think. You should undoubtedly have a contact form on your website.
It's not enough to simply provide an email address where you can be reached. That just adds more work for the user, which greatly decreases the odds they will contact you. Having a contact form on the website so the user doesn't have to leave the website to send you a message is important!
Ready to improve your practice's website?
WebFX can help. We have years of experience building award-winning sites for our clients, and we'll do the same for you.
Be Responsive
This isn't a reminder that you should respond to web inquiries quickly, that's a given! Responsive is a type of web design that allows your website to respond appropriately to the device that a user is on while viewing your website. If your site uses responsive design, it will allow visitors to see the same content whether they are on a smartphone or desktop, all without scrolling or zooming.
Responsive design is important because as you might expect, the number of people using smartphones and tablets to view websites continues to rise. Without responsive design, you may see a large number of your visitors from mobile devices get frustrated and go elsewhere.
Be Consistent
Not only should you make sure your website is sending a consistent message throughout all of your pages, but you also want to make sure the design elements are consistent. Each page should not be using a different size or style font. Inconsistent styling is confusing to a user and makes it seem as if the website is not cohesive.
Accurately Represent Your Practice
One final tip for your website design is to ensure that the website accurately represents your practice. Avoid using stock photos or free online graphics. Whenever possible, use high quality pictures of the office so that visitors do not have unrealistic expectations or feel misled when they come in for an appointment.
Is it Time for a Redesign?
WebFX can help! Our team of talented designers and developers are here to make sure the website for your practice is attractive, easy to navigate, and fully functional. We know how important a great design is for your physician's office, and we can help you create that.
With a redesign from WebFX, you can rank better in search engines, reach more potential patients, and schedule more appointments online. We know all of the ins and outs of physicians website design, and we can earn results. Contact one of our web design experts today to learn more about our services. We can't wait to hear from you!
Ready to make more appointments with new patients? Call 888.449.3239 or contact us online to find out how a website designed by WebFX can help you attract more potential patients.