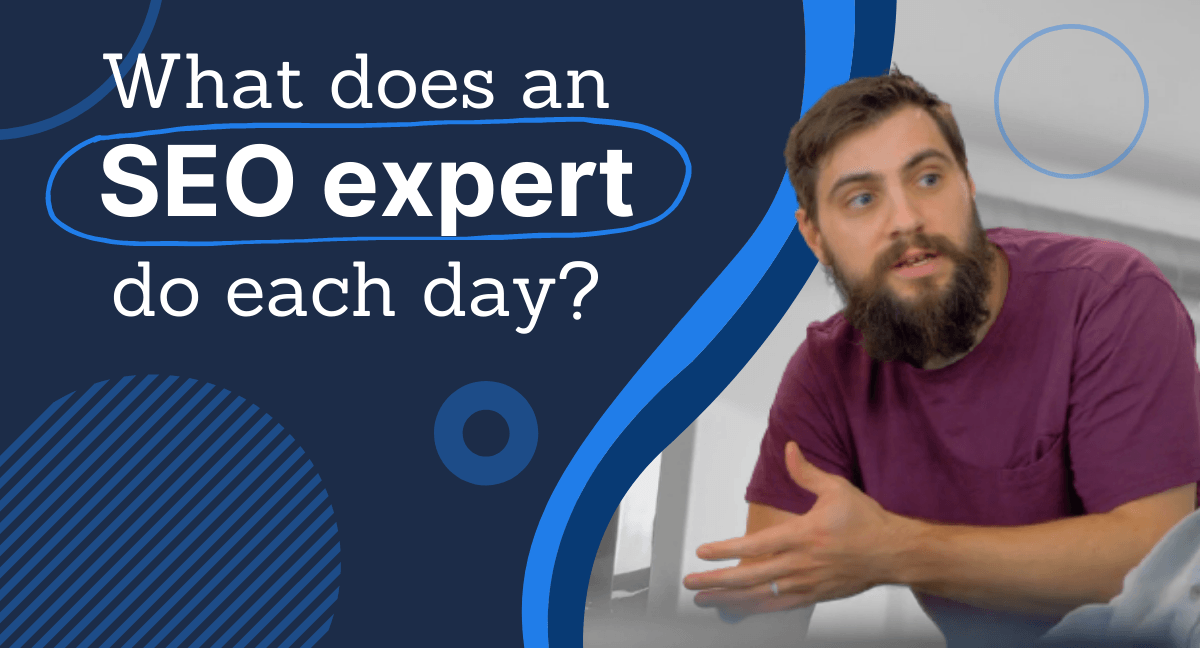 Teresa owns a business, and to keep her office space up to code, she needs to order some new fire protection equipment. To find some, she turns to Google.
For your fire protection company, this is a prime opportunity. If you can get your website to show up in those search results, you have a shot at earning a sale from clients like Teresa.
Without ranking in Google, you'll miss out on countless potential customers who are looking for what you have to offer. To avoid losing all those leads, you need to employ search engine optimization (SEO) in your marketing plan.
SEO is unquestionably one of the most valuable marketing strategies out there, which is why WebFX offers a variety of service features aimed at helping you optimize it. But what is SEO for fire protection companies, and how can WebFX improve it for your business?
Read on to learn more, and then partner with WebFX's team of over 500 experts for our stellar SEO services. Just call 888-601-5359 or contact us online to get started today!
Our digital marketing campaigns impact the metrics that improve your bottom line.
See More Results

WebFX has driven the following results for clients:

$3 billion
In client revenue

7.8 million
Leads for our clients

5.2 million
Client phone calls
What is SEO for fire protection services?
SEO is a digital marketing strategy that centers around optimizing your web content to rank in relevant Google search results. When people search for topics related to fire protection, you want your business to be at the forefront of the results.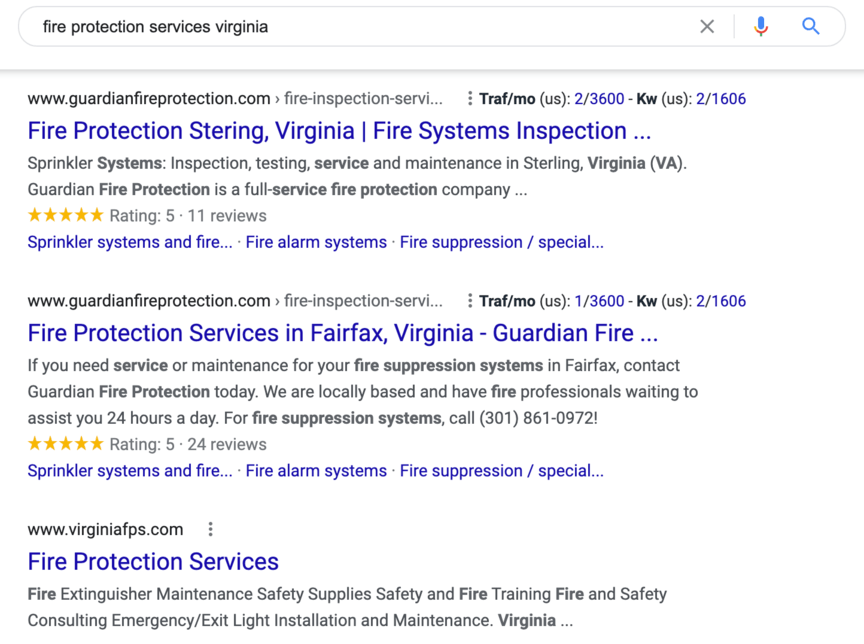 To get your content to rank, you must satisfy the various Google ranking algorithms that determine how things appear in the search results. While Google doesn't release the details of their algorithm, there are several known ways to optimize your content for them.
When your content appears near the top of fire protection-related searches, users will be introduced to your business in a positive and helpful way. And if they're specifically looking for products you sell, they may end up converting as a result.
A whopping 93% of all online experiences begin with a search engine, so you don't want to neglect your SEO. If you do, you're missing out on a massive audience of potential customers.
Find the fire protection SEO package your business needs
With WebFX, you'll find everything you need to do — and driven revenue from — SEO for fire protection companies. Browse our plans below (and view prices) to find the perfect fire protection SEO package for your business:
Unsure about which SEO services your fire protection company needs? Contact us online to speak with a strategist!
What do fire protection SEO services from WebFX include?
SEO is a simple concept to grasp, but once you get into the details of the optimization process, it can prove fairly complex. If you're new to fire protection SEO, it's a great step to partner with an agency like WebFX, so you have experience and expertise on your side.
Not to mention, as a full-service company, we provide do-it-for-me solutions — which means you can relax while our team of SEOs, developers, and copywriters does the heavy lifting. Learn about some of the deliverables included with our fire protection SEO services now:
Keyword research and integration
First and foremost, amongst Google's ranking factors, is keyword integration. When you include specific keywords — that is, search terms — in your content, it tells Google which searches your content should rank.
To find the keywords that will bring you the most success, you have to spend time researching the best keywords to target in your content. That's why when you partner with WebFX, you'll receive help researching and integrating your keywords.
We'll start by finding the keywords that will attract the most relevant audience and bring in the most traffic. Then we'll set to work integrating those keywords across your website, so your pages can rank for those searches.
Copywriting
Optimizing your site for fire protection company SEO won't do much good if you don't have any content for Google to rank. Your website should include written content to insert your keywords and provide users with a reason to visit your site.
Fortunately, WebFX can help you create that content. From service pages to blog posts, our team of professional copywriters can craft text that will draw users in and satisfy Google's algorithms in the process.
When we write content for your site, we'll ensure that every bit of it satisfies user search intent — that is, the reason users search for your target keywords. When users click on a search result, they expect to find an answer to their query, and we'll make sure your content provides that.
Link-building
When Google ranks your content, it doesn't just look at how relevant that content is. It's also looking at how reputable it is. To rank highly, your business must be authoritative, so you'll need to earn backlinks.
Backlinks are links to your content from third-party fire protection websites. When a reputable site in your industry links to your content, that tells Google that you must be reputable as well, and it ranks you higher as a result. For that reason, WebFX will help you earn backlinks.
To start with, we'll find a few authoritative fire protection websites and scan them for any broken links. When we find some, we'll help you contact the site and recommend that they replace the broken links with new ones to your content, as that will benefit both of you!
Page speed optimization
When users visit a website, they expect it to load quickly. 83% of users expect pages to load in three seconds or less — and if a page takes longer than that, most people will hit the "back" button and choose a different search result. When Google sees that, it will rank the page lower.
That's why WebFX's fire protection SEO services include helping you optimize your page load speeds. To make your pages load faster, we'll perform tasks such as:
Caching web pages
Minifying code
Compressing images
When we're through, your site will load much more quickly and smoothly, making both users and Google happy and improving its rankings.
Responsive design
Did you know that over 50% of all Internet traffic comes from mobile devices?
That means over half the people that visit your website see its mobile format. So, if your website isn't mobile-friendly, over half your visitors will have a bad experience on your site.
When users have a bad experience on your website, Google takes note and ranks you lower. Furthermore, Google ranks sites based on their mobile formats (it's called a mobile-first index), so without a mobile-friendly site, you won't rank at all!
That's why WebFX will take the time to implement responsive design in your fire protection company SEO. Responsive design is simply a structure where your website is optimized for both desktop and mobile devices, ensuring that everyone who visits your site has a positive experience.
Image optimization
SEO for fire protection services relies on Google to crawl your site and evaluate the content it finds there. But Google's algorithms focus primarily on reading text. If you have an image on your site, Google won't be able to read it, so that it won't contribute positively to your SEO.
That can change when you properly optimize your images, though, which is precisely what WebFX will help you do. We'll help you add alt tags — short, descriptive text blurbs — to all your images so Google can read them and factor them into your ranking.
We'll also be sure to compress your images, so they won't hinder your page load speeds.
WebFX knows SEO for fire protection companies
Want to get your fire protection company SEO up and running, so you can bring in more leads and conversions? We'd love to give you a hand! With over 25 years of experience, we know SEO for fire protection services, and we can't wait to show you firsthand.
With our SEO services, you'll get help optimizing for all the features listed above and more. You'll also receive a dedicated account representative to keep you closely informed on everything we do for your marketing.
Just give us a call at 888-601-5359 or contact us online today to get started!
Earn a 20% greater ROI with WebFX