Resource Library for Ecommerce Web Design
Your business is ready to drive online sales, but ecommerce is one of the toughest marketplaces. That's why companies must master ecommerce web design, which influences whether shoppers will buy from your brand or your biggest competitor. Keep reading to learn more about ecommerce website design and how to use it to grow your company's online sales!

Ecommerce
Home Ecommerce Website Examples to Inspire You in 2021 Are you looking for inspiration for your ecommerce site? On this page, we've put together 27 hand-picked ecommerce website examples to inspire your design! Plus, we'll share five common characteristics of […]
Ecommerce
Home 9 Best Ecommerce Website Design Practices Whatever your business sells, there's a good chance you could benefit from selling it through your website. Maybe you already have an online store, or maybe you're looking to create one. But an […]
Ecommerce
Home Best WordPress Themes for Ecommerce — Our 6 Favorite Free Themes If you own an online store, there is at least one thing that you know to be true. User experience is key if you want site visitors to […]
Looking to excel at website design for ecommerce? Then, you'll want to become a pro at:
User experience
Page speed
Conversion rate optimization
Search engine optimization (SEO)
Mobile or responsive design
Luckily, we feature a growing library of resources that will help your business earn more sales from its online store.
Just check out some of our reader's favorite articles, which include:
For more resources related to your business, explore these related libraries:
You can also sign-up for Revenue Weekly to receive the latest updates, tips, and tricks for building and maintaining a revenue-driving ecommerce store!
Want to learn more about ecommerce web design? Keep reading to learn the basics you need to know to get started.
We don't want to tell you about the work we do, we want to SHOW you.
View Our Portfolio

We've built over
Websites
in a variety of industries.
4 features of the best ecommerce web designs
1. Visual appeal
For many people, the first thing that comes to mind when they think of web design is how visually appealing a page is. While looks aren't everything, they are still important. The design of your site has a massive impact on the first impression your business makes.
When designing an ecommerce website, it is crucial for the pages to be aesthetically pleasing. This means choosing the right colors and fonts. The theme you choose will have a substantial impact on the feel of your site, so make sure it matches your target audience and the emotions you want to elicit.
Images are another vital element of page design, especially for ecommerce websites. In addition to breaking up text and making your site more appealing, photos convey essential information about your products. Over 90% of online shoppers said image quality was the most important factor in their purchase decision. Consider including pictures of your products from multiple sides and showing the product both in use and on a plain white background. If you can, have videos of your products. Videos improve user engagement and conversion rates.
Content also plays a vital role in the visual appeal of your site. An effective ecommerce page is easily skimmable so users can quickly find the information they deem most important. Avoid large blocks of text, which can be off-putting for customers. Finding the appropriate balance of text, images, and blank space will keep users engaged on your site longer.
2. Easy navigation
While the first impression of a page will be based on how it looks, users will also quickly notice if your site is difficult to navigate. Two major draws of ecommerce are the breadth of selection and convenience. If users have a hard time finding what they are looking for on your site, they will likely abandon your site and look elsewhere.
To make your site easy to navigate, make sure it has a straightforward and easy-to-follow structure. Some features that aid in navigation are product category pages, navigation bars, sitemaps, breadcrumb links, and filter tools.
Effective navigation takes more than making it easy for users to find your products. It needs to be easy for users to navigate to their cart and complete their purchases. Nearly 30% of online shoppers in the US abandon their carts because of a complicated checkout process. You want users to be able to complete their purchases as quickly and efficiently as possible.
3. Trust signals
Establishing trust is perhaps the most critical factor for any business transaction. Trust can be difficult to establish online without a physical storefront where customers can view the products and talk to a live salesperson. That said, there are plenty of steps even small brands can take to gain user trust.
Establishing trust is about having the right information readily available for users. Contact information is one of the most important details to include. More than 50% of consumers say they trust online businesses that make it easy to contact them.
Just being able to contact you isn't enough for most consumers. In addition to having a contact page, you need to put special consideration into your return policy. More than three-quarters of users will only purchase from sites with a hassle-free return policy.
While highly visible contact information and return policies are the bare minimum to establish an online business as legitimate, there are other ways to gain trust. Reviews are a fantastic way to communicate the quality of your products. Over 90% of users say they trust recommendations from others over brands.
4. Mobile-friendliness
Mobile-friendliness is more important than ever. Over 56% of web traffic comes from mobile devices, and Google has been using mobile-first indexing for over a year.
To optimize for mobile, you need to use responsive design. This web design method enables elements on the page to resize to fit the user's screen.
When optimizing for mobile, make sure that images aren't cut off, the text is easy to read, and clickable elements are appropriately spaced. This way, users have a great experience no matter what device they are using.
3 ecommerce website design examples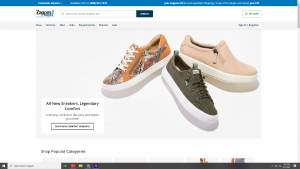 Zappos has a simple but effective design theme. They use images and videos to show off their products from every angle. In addition to their site's visual appeal, their catalog is easy to navigate thanks to category pages, breadcrumb links, and product filters.
Zappos stands out from other online shoe retailers because of their customer trust signals and reputation for outstanding customer service. In addition to dedicated contact us and FAQs pages, Zappos has free 365-day returns. It is clear to users that Zappos will be available to help if they aren't satisfied with their purchase.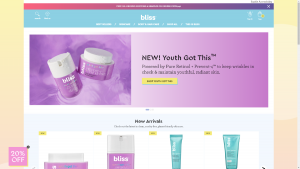 Bliss is a health and beauty company and an excellent example of using web design to add personality to a brand. Their colorful pastel design complements their products and resonates with their target audience.
Bliss also goes above and beyond in establishing user trust. Their site features an ingredient glossary for users who are conscious of what's in the products they use and a sustainability page that shows how the company lives its proclaimed values.
Additionally, they do excellent work in leveraging user-generated content to establish trust. In addition to traditional reviews, their product pages feature "Why I Chose This Product Section." Their review form has an optional about me section that can include information like skin type to help users see what reviews and products are most relevant to them. They even show responsiveness and concern for customers by responding to negative reviews on their site.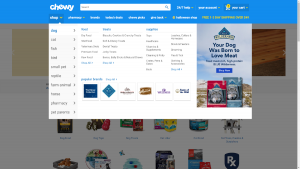 There are many things to point out about what Chewy does well with their site. They have a visually appealing site with pictures and videos for their products. They build trust with customer resources like FAQs, product ratings and reviews, and a 24/7 help number.
Where Chewy truly excels is site structure and navigation. Chewy has a massive product catalog with over 2,000 brands in stock. While they are best known for dog food, they sell treats, toys, and accessories for cats, birds, horses, rodents, and reptiles too. Thanks to Chewy's outstanding navigation, users can quickly find exactly what they need even with their broad selection of products. They have categories and subcategories for every type of pet and product. Furthermore, their category pages feature comprehensive filters. For example, their dog food page lets users filter by brand, breed size, life stage, flavor, dietary needs, and more.
Most sites won't need the level of granularity that Chewy uses, but their site provides an excellent example for businesses looking for ideas on how to organize their ecommerce site.
We'll help you create a website that stands out.
"WebFX has been instrumental in helping us develop a new website, allowing us to be a leader in our industry."
Learn More About Our Web Design Services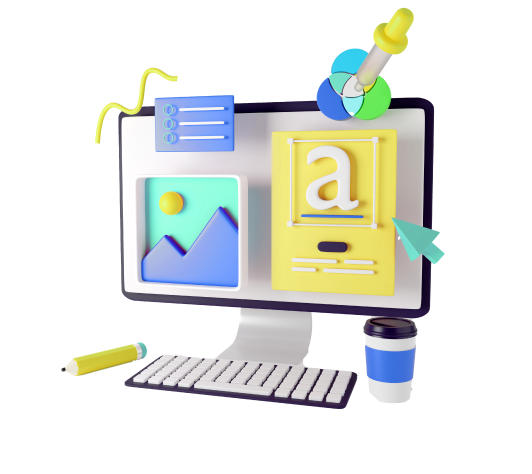 How to create an ecommerce web design fast: Work with WebFX
An effectively designed and well-maintained website is essential for running a successful online business. There are many nuances to building a great ecommerce site. WebFX provides comprehensive digital marketing services and will design and optimize your ecommerce website. We will help grow your online presence and increase sales.
If you feel overwhelmed by the thought of designing an ecommerce website or want better business performance from your existing site, contact WebFX today for a free ecommerce management services quote.