9 Professional Web Design Tips
Your website is the heart of your online presence. It's the first impression a new customer has of your business, so your website's design plays an important part in influencing that impression.
If your website is poorly designed, you will drive leads away. They will seek out another business, causing you to lose business to your competitors.
To attract leads, you need a professionally designed website that entices and engages them. This will help you keep your leads on your page so that you earn more conversions for your business.
On this page, we'll provide you with nine professional web design tips to help you create a great design. If you need help creating your design, call us today at 888-601-5359 to speak with a strategist.
We don't want to tell you about the work we do, we want to SHOW you.
View Our Portfolio

We've built over
Websites
in a variety of industries.
1. Make your design reflect your business
Your website is an extension of your brand, so its design should reflect your business. It is important that you pick a design that fits your brand because it is how people will remember you.
Your type of business determines your design. If you are a graphic design company, you may have a web design that is more elaborate. On the other hand, a doctor's office has a design that is simple and reflective of their business.
Overall, you want to choose colors and designs that make your target audience think of your brand. This will help you build your brand recognition and create a sense of association with your businesses.
By selecting a clean and modern design that reflects your company, you will keep leads on your page longer.
2. Create a simple homepage
Whether you use search engine optimization (SEO) or pay-per-click (PPC) ads, you typically direct people to your homepage to learn about your business. Once they're there, they can navigate your website to learn more in-depth information. However, the homepage is an initial representation of your brand, so it's a useful resource to inform leads about your company.
It is important that you design a homepage that is simple but effective. You don't want to overwhelm your visitors with an abundance of information. If your website is too busy, you'll deter leads.
Your homepage should include elements that interest your audience. You'll want to focus more on visual elements rather than a block of text. Visual elements keep your visitors engaged and encourage them to learn more.

Instead of blocks of text, you can create visual elements that link to pages with more information. This helps readers see different aspects of your business and enables them to decide what to look at next.
To create an effective homepage, only include important information on it. This will keep your website from becoming too cluttered and allow leads to navigate your pages effectively.
By creating a simple homepage, you will keep leads engaged with your page longer.
3. Create a functional navigation
Your navigation is one of the most important parts of your website. When people want to find information on your site, they use your navigation. You want people to find the right pages without struggle.
When you design your navigation, you need to ensure that it is simple and easy to use. You want to create broad headings that can include specific subheadings. This will help you keep your website organized as well as help your visitors find information.
If you have poor navigation, users won't find information. They will struggle to find the right pages. This will cause them to leave your site and pick a competitor's site.
To keep leads engaged on your website longer, create a functional navigation that helps them find the right information.
4. Responsive design
One of the most significant things you need for your website is a responsive design. Responsive design is extremely important because it affects how users experience your site.
When your website has a responsive design, it adapts to the device a user uses. Whether it's a mobile phone or a desktop, both users see your site in a way that fits their device. This is critical to keeping users engaging on your site.
If your website appears like the desktop version on every device, users will struggle to use your site. The words and links are too small, and users would need to zoom in to see everything. They can't view your page on a mobile phone, in its entirety, if it is designed like your desktop design.
This kind of design is essential to your website because it enables mobile and tablet users to view your website properly. They have a seamless experience that enables them to enjoy their time on your website. This keeps leads on your website longer, regardless of the device they use.
By implementing a responsive design, you will capture more leads and keep them engaged with your business' website.
5. Make your site easy to skim
Many leads will skim your site to find information. They are looking for a particular piece of information, so they will look through your site quickly to find it. This is especially true of mobile users.
You need to create a design that makes it easy for the user to skim your pages. It is important that they find the right information quickly. You can design your website to make it easy for your audience to skim your site.
To provide them with a positive experience, you need to make your website easy to read.
Here are some best practices you can follow as you design your website:
Write in small paragraphs. Users can scroll through and pick out information easier when the paragraphs are small.
Use graphics to help important information stand out. This will catch their eye and enable them to see the information quickly.
Choose a font that is easy to read. If you decide on an intricate font, your readers will struggle to read the information on your site.
These are just a few ways you can help your website be easier to skim. By making a website that is easy to skim, you will be able to provide your leads with the most important information that can help them convert.
6. Include visual elements
Visual elements are an influential part of your design. You don't want your site to be bogged down by text. This can deter away leads.
By including visual elements like photos, videos, and infographics, you catch your visitor's interest because they take the time to look at visual elements. It is a great way to break up text and keep them interested in your page.
One of the best elements to include on your page is a video, which can have a huge impact on your audience. In fact, consumers are 10 times more likely to interact with a video than text.
This interaction with the videos means you keep leads engaged. When you keep leads engaged, you earn more conversions for your business. Utilizing visual elements to earn more leads and conversions for your business.
7. Incorporate social media buttons
Social media is a great way to help your leads connect with your business.
When you create your design, you want to include social media buttons. If your leads are on social media, it is a quick way to connect them directly to your page. They can choose to follow your page if they are interested.
Social media helps you build a direct connection with leads, so it is important that you incorporate these buttons on your site. Use social media buttons, to help your business connect with better leads that can earn you conversions.
8. Include calls to action (CTA)
Many businesses make the mistake of omitting calls to action (CTA) on their pages. This is one of the most vital pieces of your site because it prompts your leads to take action.
In addition, when users come to your site and like the information they see, they may not know what steps to take next. By integrating CTA buttons, you can guide them to the next step in order to move them towards conversion.
By including CTA buttons in your design that stand out, you will earn more conversions for your business.
9. Test your pages
When you have all the elements you need for your professional web design, it is important to test your pages.
This is a great way to create a site that works for your target market. You can see where users struggle to use your site so that it's easier to adjust based on these issues.
By testing your pages, you will create a site that helps you earn more leads and conversions.
Time to Level Up Your Sales
Our long list of services helps you grow every aspect of your business with marketing strategies that are proven to increase bottom-line metrics like revenue and conversions.
In the past 5 years, we've managed more than 12.9 MILLION transactions across our client base.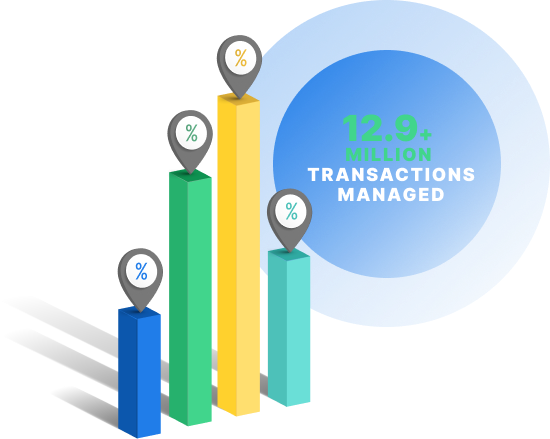 WebFX is a professional web design company
Your design is an important part of your business. At WebFX, we know what it takes to create a professional website that drives in leads. We're a full-service digital marketing company that will help you create a custom design for your website that will bring your business results.
We have a team of 500+ experts that will bring their knowledge and expertise to your campaign. Our award-winning team has years of experience creating customized designs that fit your business.
If you're looking for results, we know how to drive them. To date, we've driven over $3 billion in sales and over 7.8 million leads for our clients. We focus on putting our clients' success first.
Our clients love the work we do for them. We have over 1020 client testimonials from a variety of industries. Check them out to see what it's like to partner with a top professional web design company like WebFX!
Get started with web design today
If you're ready to start creating your professionally designed website, contact us online or call us today at 888-601-5359 to speak with a strategist!
We look forward to hearing from you!