It doesn't take flipping over to a new calendar year for us to need an excuse to work hard, play hard, but at WebFX we'll take any excuse we can get. Our team really hit the ground running in January to set ourselves up for a successful year ahead. From ringing in the start of the new year with our HolidayFX party to celebrating another company-wide goal completion, you could say we started off 2020 on the right foot.
If January was any indication of the year we have ahead of us, we're ready to tackle it WebFX style (*Insert happy dance gif*). Fire & Ice HolidayFX Party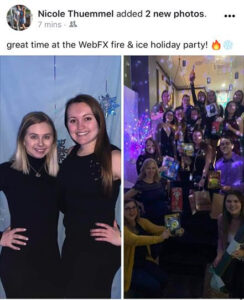 An annual WebFX tradition, we celebrated the end of a decade and the start of a new year in absolute style. Our elevated and classy fire & ice themed HolidayFX party featured an icy winter wonderland of glittery trees, wintery food vendors, a champagne wall, a game truck, and more.
Team members could take this opportunity to celebrate all of their hard work from the year before – which meant we had a lot of celebrating to do! We love seeing our team members show up to any of our parties with their family and friends to celebrate a job well done and maybe show off their workplace a little 😉 Happy Hour Heroes Meetup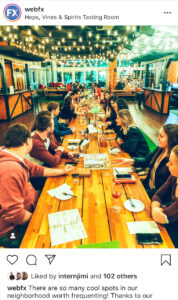 Every month varying FXCommunities groups get together over shared commonalities to hang out and bond over their similar interests. In January, our Happy Hour Heroes group took to a newer spot downtown where they could chill and drink local beer, wine, or spirits, while munching on food, conversing, and playing tabletop games.
These events provide an awesome opportunity for coworkers to meet and hang out with people of similar interests that they might not work as closely with during the average workday. Plus, all of our newer hires had a chance to connect with new friendly faces in a relaxed environment! Company-Wide Game Night We hosted game night, a company favorite, which included some goodies like Scattegories and What Do You Meme.
We love seeing our Mansion Kitchen full of laughter and new and familiar faces as our team chows down on pizza, drinks beer, and plays a game together. This game night even included wine slushies and a bonus WebFX Scattegories round, because why not?! Book Club: "Little Fires Everywhere" Another one of our FXCommunities groups, Book Club, rallied this month to discuss their most recent read "Little Fires Everywhere," written by Celeste Ng.
This New York Times bestseller was a popular hit among our team, and since it's soon coming to Hulu as a mini-series, it was perfect timing to get our read on. Anyone is able to join in on our FXCommunities groups, which makes it fun to dabble in different interests throughout the year! Milestone Lunch Celebration In true WebFX fashion, we already hit a big company milestone before the year's hardly begun.
And every time we hit a client milestone as a company, we celebrate with a big lunch! These lunches are a true testament to the hard work our team continues to put in day in and out. Plus, who doesn't enjoy a break time lunch to split up a day's work?!
This lunch was Southeastern United States themed so it included regional foods like Cuban sandwiches, chicken and waffles, key lime pie, and peach cobbler from our favorite Southeastern states! We Can't Wait to See What the Rest of 2020 Holds As a company, we really used January to set the stage for what's to come in 2020. With our heads to the grindstone and our spirits high, there's no telling what all we can accomplish! Here's to continual improvement and a drive for success in the year ahead! Oh, and a little time for fun snuck in there too 😉