What is the ROI of Content Marketing?
Return on investment, or ROI, is a key part of any marketing campaign. In the simplest terms, ROI is the benefits you get in return for your investment.
For marketing, this means measuring what type of leads, conversions, or sales you make based on the effort, time, and expense you put in. In every marketing campaign, a strong ROI is key. Otherwise, you may be wasting your time and money.
Content is the hot thing in Internet marketing right now, so many people are wondering what the return on investment is for content marketing. This page will help you find the answer to that question. We will examine content marketing ROI, how to measure it, and whether it can be improved.
First, let's take a look at content marketing, and what makes it so important for businesses.
What is content marketing?
Content marketing is using content to market and advertise your business. The idea is to make and share high-quality content, which will help you connect with new customers and keep existing customers returning to your website to consume more.
Content can mean almost anything that is posted online. A few examples of content marketing include:
Blog posts
Articles (like the one you're reading right now!)
Email marketing
Social media content
Videos
Slideshows and presentations
Content marketing can also help with search engine optimization, or SEO. The goal of SEO is to get your website noticed by search engines. You want search engines to like your site so much they bump it to the top of the search rankings, where people are more likely to see it when doing a search related to your industry.
A key part of SEO is targeting keywords that come up in searches and getting links to your content from other high-quality sites. Content marketing provides a terrific vehicle to do both of those things—and the best part is that the keyword inclusion is usually done very naturally.
Now that you know a little more about what content marketing is, let's move on to its ROI.
How to measure your content marketing ROI
One thing you must understand about content marketing is that the ROI will not be immediate. It will take months for the results of your content marketing strategy to become apparent—and they may not even be plainly visible at that point.
This is in part because your marketing simply cannot make waves overnight. Google may take months to respond to the changes you have made, and your visitors may not notice your content marketing until you have built up a large stock of articles or other content pieces. So try to be patient when weighing the return on investment for your content marketing.
That said, there are four common ways to measure the ROI for content marketing. They are:
Consumption metrics
Sales
Lead generation
Sharing
Let's examine each one of these in-depth to help you find your own content marketing ROI.
Consumption metrics
How many people saw your content marketing campaigns? That's the first question you should be asking for each and every piece you produce and distribute. You can find out the answer through Google Analytics, a tool offered by Google that gives you in-depth information about your website and its traffic.
Key performance indicators (KPIs) for content marketing consumption include:
Unique visits
Bounce rate, or the percentage of people who leave your site after looking at just one page
Time spent on site
Downloads of your email-gated content or ebooks
Sales
This metric is pretty obvious. It's the number of sales your company has made since introducing the content marketing campaign. You will want to look at your conversion rates, or the number of people who actually close on a sale after giving it careful consideration.
For example, if someone puts an item from your site in their shopping cart and then actually buys it, that's a conversion. But if you're a B2B business, you might consider completing a contact or lead form a conversion instead.
Lead generation
Content marketing campaigns can help funnel potential customers to lead generators, which ask for people's contact information. You can then follow up on this information later and push a possible sale. You should track both your total number of leads and those generated directly by content marketing pieces.
Sharing
Sharing on social media is not difficult to track, but it can be hard to put a dollar value on it, which can make ROI from sharing a bit subjective. Still, social media is an important part of content marketing because it exposes your company to a new audience.
WebFX is a partner businesses trust.
Hear from HydroWorx, who saw a 236% increase in organic sessions with WebFX services.
Watch the Video Testimonial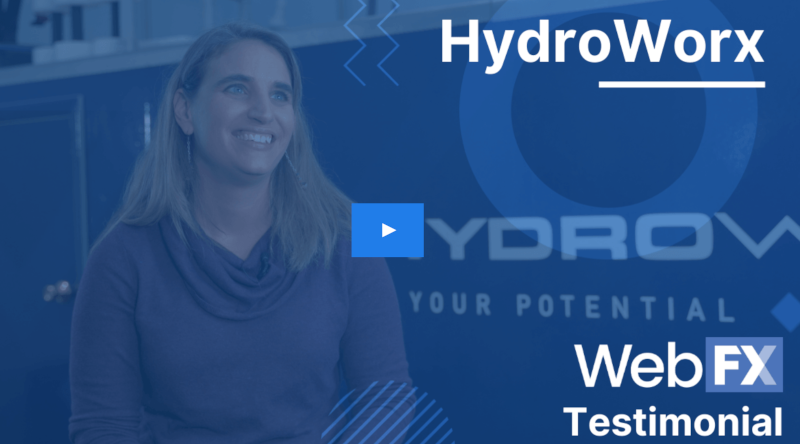 How to calculate your company's return on investment
Once you have gathered all the metrics you will use to measure ROI, it's time to make your calculations. You also need to know how much you have spent on your content marketing campaign, including creation of the content and promotion.
To find your ROI, simply divide the benefit value by the cost of the investment. The result is your return on investment.
While a percentage value for ROI is important to know, that's not the full story. You can calculate ROI in other ways as well:
How much has your lead generation increased since starting your content marketing campaign?
How much has traffic to your website gone up?
How many shares did you get this month compared to last?
How many links has your content acquired?
How many keywords are you now ranking for, thanks to the presence of your content?
What kind of ROI should you anticipate?
What percentage return on investment you are looking for may vary depending on your company and your past history. If you have done offline marketing before that resulted in minimal gains, you may be thrilled with a 15 percent ROI. But if you have done multiple content marketing campaigns and seen good results, you may be disappointed if your sales go up "only" 33 percent.
The key to getting a good ROI for content marketing is adjusting your campaign and your goals as you go along. Don't expect the same results for every content marketing initiative. Be patient and be flexible, and monitor your analytics closely to see what works the best for your company.
Finally, keep in mind that content marketing isn't always directly linked to immediate actions. Because content marketing aims to increase the overall exposure and trustworthiness of your company, you may find it incredibly difficult to say that your content production has resulted in a ROI. However, the content may lead to other actions that do have a ROI, so it still plays a very important part.
Need more content marketing advice?
If you're thinking about starting a content marketing campaign of your own, and came here because you were looking for the ROI of this type of program, check out our Beginner's Guide to Content Marketing. This free, online guide will teach you much more about marketing with content, including the costs and time involved, as well as how you can start your own program.
Earn a 20% greater ROI with WebFX