Does Content Marketing Increase Sales?
When it comes to marketing, today's business owners have more options than ever before. There are hundreds of different tactics, strategies, and channels to try, and many of them have proven to be wildly successful. But of all of these options, one of the most popular is content marketing.
Creating and publishing content has now become an integral part of many companies' marketing strategies. But a lot of businesses owners and marketers might be on the fence about content marketing because they aren't sure if it'll improve their sales.
This is a perfectly reasonable concern. After all, why would you invest in a strategy that doesn't produce results? But the truth is, inbound marketing generates 54% more leads than traditional outbound methods.
If you're interested in learning how WebFX can help you increase sales with content marketing, call 888-601-5359 to speak with a strategist, or keep reading for 3 ways content can help your business grow.
WebFX is a partner businesses trust.
Hear from HydroWorx, who saw a 236% increase in organic sessions with WebFX services.
Watch the Video Testimonial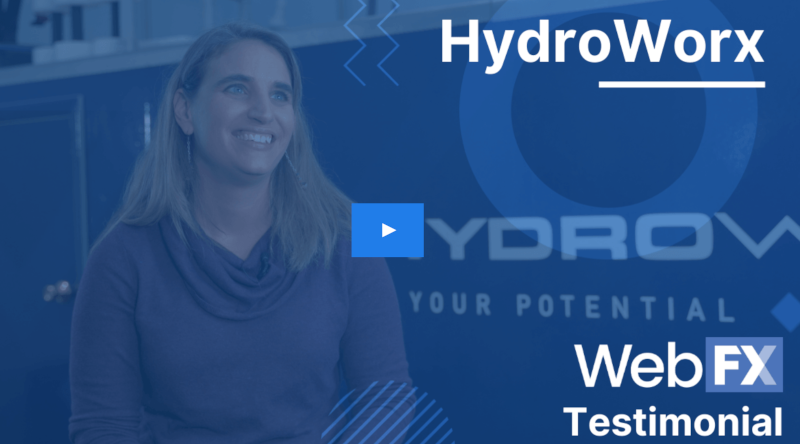 1. It attracts site traffic
The first step to increasing sales with content is simply making potential customers aware that your business exists. In the past, companies used billboards, flyers, and other ads to do this. And although those methods were effective, many of today's consumers have grown accustomed to tuning out traditional, sales-oriented marketing messages completely.
Instead of waiting for companies to reach them with advertisements, people actively look for businesses to fulfill their needs. In most cases, they start with search engines like Google. And although some users search for specific brands and products, many look for more general information, like "how to choose an insurance plan" or "how much does car insurance cost."
Following that example, if you're an insurance agency, a person searching for these phrases is certainly a potential customer. But unless your site has pages that are optimized for these searches, potential customers won't find your site.
On the other hand, when you create content for your audience and optimize it for the keywords they're using in search engines, you improve your chances of appearing in the results.
This will not only lead to an increase in traffic, but an increase in qualified traffic—meaning visitors who are highly likely to become paying customers.
2. It answers potential customers' questions
Once your content attracts visitors to your site, it needs to answer their questions. This provides them with the information they want and positions your business as a helpful resource. As a result, you'll begin to build a sense of trust with potential customers so that even if they aren't ready to make a purchase quite yet, they'll know where to look when they are.
Considering 80% of business decision-makers prefer to get company information from articles rather than advertisements, and 60% say that company content helps them make better product decisions, you can be sure your audience is looking for answers. And even though your site may currently be designed with the goal of getting potential customers to call you, answering their questions online can help you start building a relationship before they even speak to someone on your sales team.
Providing general information isn't just beneficial to your customers, though. Publishing answers to commonly asked questions or frequently voiced concerns means that by the time a potential customer is ready to fill out a form or schedule a meeting with your team, they'll already be well-versed in your industry and how your business operates.
The more informed a potential client is, the more confident you can be that they're genuinely interested in purchasing from or working with your company—and the less you have to worry about spending valuable time answering basic questions.
3. It helps them convert
As you come up with topic ideas for your site, you should aim to create a mix of top-of-funnel, middle-of-funnel, and bottom-of funnel content. Providing information that is tailored to different stages of the sales funnel means that you'll be able to attract a wide variety of potential customers and engage them with your business, regardless of how much research they've already done.
Top-of-funnel content is typically more general and answers information-based questions. Going back to the example of an insurance agency, a page titled "How to Choose an Insurance Plan" would be perfect for an audience that is just beginning their search for insurance.
A page called, "How Much Does Car Insurance Cost?" would be a logical next step in the funnel. It's narrowed down to one specific type of insurance, and it shows an intent to purchase. In order to make this a solid middle-of-funnel page, an agency could list general market estimates and then explain the different factors that play a role in cost. They could even make the page interactive with a calculator, like the ones we include on our web design pages.
From there, bottom-of-funnel pages include overt calls-to-action and encourage visitors to take essential steps towards becoming customers, like filling out a contact form or making an online purchase.
If your site has pages that fill all the stages in your sales funnel, your content could essentially serve as an extension of your sales team, moving leads all the way from their first introduction to your brand to paying customers.
Our digital marketing campaigns impact the metrics that improve your bottom line.
See More Results

WebFX has driven the following results for clients:

$3 billion
In client revenue

7.8 million
Leads for our clients

5.2 million
Client phone calls
Want to increase your sales with content marketing?
With the right strategy, content marketing can be a great way to attract traffic, answer questions, and convert leads. Contact us today to speak to a strategist about how your business can achieve these goals and start generating more revenue with content!
Earn a 20% greater ROI with WebFX