How to Measure Content Marketing Effectiveness
Content marketing is one of the newest forms of promotion, and it's fundamentally different from traditional marketing disciplines. It's a form of advertising and outreach that builds trust with your audience, but it's also intended to support your brand. Plus, it can be difficult to gauge the exact profit or revenue that a new piece of content earns, so measuring your return on investment right away is practically impossible.
So how do you know if it's working?
Content marketing is effective for driving sales, but only when it's implemented properly. Good content attracts consumers with unique, thought-provoking ideas that are organized well. It also entices them to engage in a conversion on your website through a final and brief call to action, whether you encourage them to buy a product, sign up for a newsletter, download a piece of software, or fulfill another goal.
Since there are a lot of steps between publishing content and seeing returns on your creations, how can you measure content marketing effectiveness? The key is to look at the right metrics.
Clicks, views, and time on page
If content can't attract the attention of your audience, it can't help your business. Before content can become useful to your marketing strategy, you have to quantify clicks and views. These raw numbers will provide you with the basis for gauging the effectiveness of your content marketing, and they're readily available through programs like Google Analytics.
Clicks are helpful, but you want to make sure people stay on the page, too. That's why it's important to check the average time on a page. If most of your views are for a couple seconds, viewers might have liked your headline, but the article didn't answer their question or solve their problem.
On the other hand, if they stuck around for a few minutes, you can safely assume that they read what you have to say.
Comments
What are people doing once they've viewed your content? Are they moving on to other pages (hopefully on your site), or are they talking in the comments?
Some metrics — like the number of clicks — help measure quantity, but looking at engagement can show you quality. Comments are positive signs that you've created something useful, helpful, or informative.
When a person comments on any piece of content from a blog to a video, that user is expressing their interest in what you have to say. Something you said or displayed resonated with them on a personal level, and — if their comment is positive — you can use it as a guide for future content, especially if they say that they want to become a customer.
Shares
Social media makes it easy for users to share content with friends and colleagues. Whether they're using Facebook, Twitter, Pinterest, or another platform, a share is not only a sign of your content's quality — it's also a sign of the user's trust in the information.
If someone is taking the time to share your content with their social media followers or email contacts, it clearly made enough of an impression that he or she wanted others to know about it. Plus, after it's shared, someone else can see it and take the same course of action. When users take your content to social media, you can be sure that you've created a quality piece of content — not to mention, your outreach drastically increases with every share.
Downloads
Sometimes, large pieces of content can be so valuable that customers may want them for future reference. If you offer a download of something you've made, you can track how many people have used it as a gauge for its quality and popularity.
Whenever someone downloads a white paper, video, or infographic, you can be sure you're reaching potential customers through your content marketing strategy. You can use downloads to your advantage even more by placing them behind a "gate," requiring users to enter their names and email addresses before downloading.
With their contact info, you've just generated a sales lead. Now you can follow up with them on the topic of their interest via email and work to turn them into paying customers.
Inbound Links
You're not the only person making content in your industry. Other people are implementing the same strategies you are, and they're likely also experts on the topics they choose. So when you create content that appeals to them, and then they link to it in their own content, you can be sure your content marketing strategy is working well.
Inbound links not only drive traffic to you from other websites — they're also a valuable part of an overall search engine optimization (SEO) strategy. If another content creator in your industry shows that they trust you on a certain issue, you can be sure you'll attract more users than before.
Conversions
A "conversion" is the name of the end-goal of your content. They can also be one of the best indications of your content marketing effectiveness. All of your exposure and credibility is great for your business, but it doesn't do much for your bottom line. At some point, you have to get users to convert.
The best part about quality content is that it can continue to gain conversions throughout its entire life, which is basically the life of your business. If you keep content up to date and easily accessible, you can continue to bring in conversions and earn qualified sales leads indefinitely.
That's the true effectiveness of content marketing. The older it gets, the more chances it has of attracting sales leads and encouraging conversions, if you maintain it. You just have to make sure it's high quality.
Content marketing may take a while to produce bottom-line results, but it pays dividends as it ages. With that in mind, content marketing is an effective addition to any digital marketing strategy. The best plan for your company is to create a system specifically for your needs to measure the results relevant to your strategy, so you can tell how well it's working.
However, implementing a strategy from scratch can be time-consuming, especially if it's your first time. WebFX is one of the leading content marketing agencies in the industry, and we know how to appeal to a business's audience to help it grow and profit. Our talented team of Internet marketers is experienced and fully prepared to deliver the results you want for your business. Contact us today, and we'll start working on a strategy specifically tailored to your business right away.
Ready to speak with a strategist now? We're happy to chat! Give us a ring at:
888-601-5359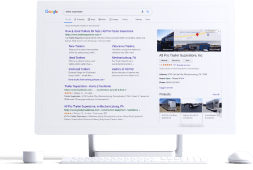 Earn a 20% greater ROI with WebFX