Does Content Marketing Generate High ROI?
Content marketing is one of the most popular forms of modern marketing, and for a few good reasons. It's affordable, reliable, and it lasts a long, long time.
But what about its ROI? Does content generate enough of a return to justify the time and money you spend on it?
In a word — absolutely.
If you're interested in learning how WebFX can help you create a content marketing strategy that gets a high ROI, call 888-601-5359 to speak with a strategist, or keep reading to learn how you can accurately measure the results your content marketing strategy earns for your business.
Why content marketing has an outstanding ROI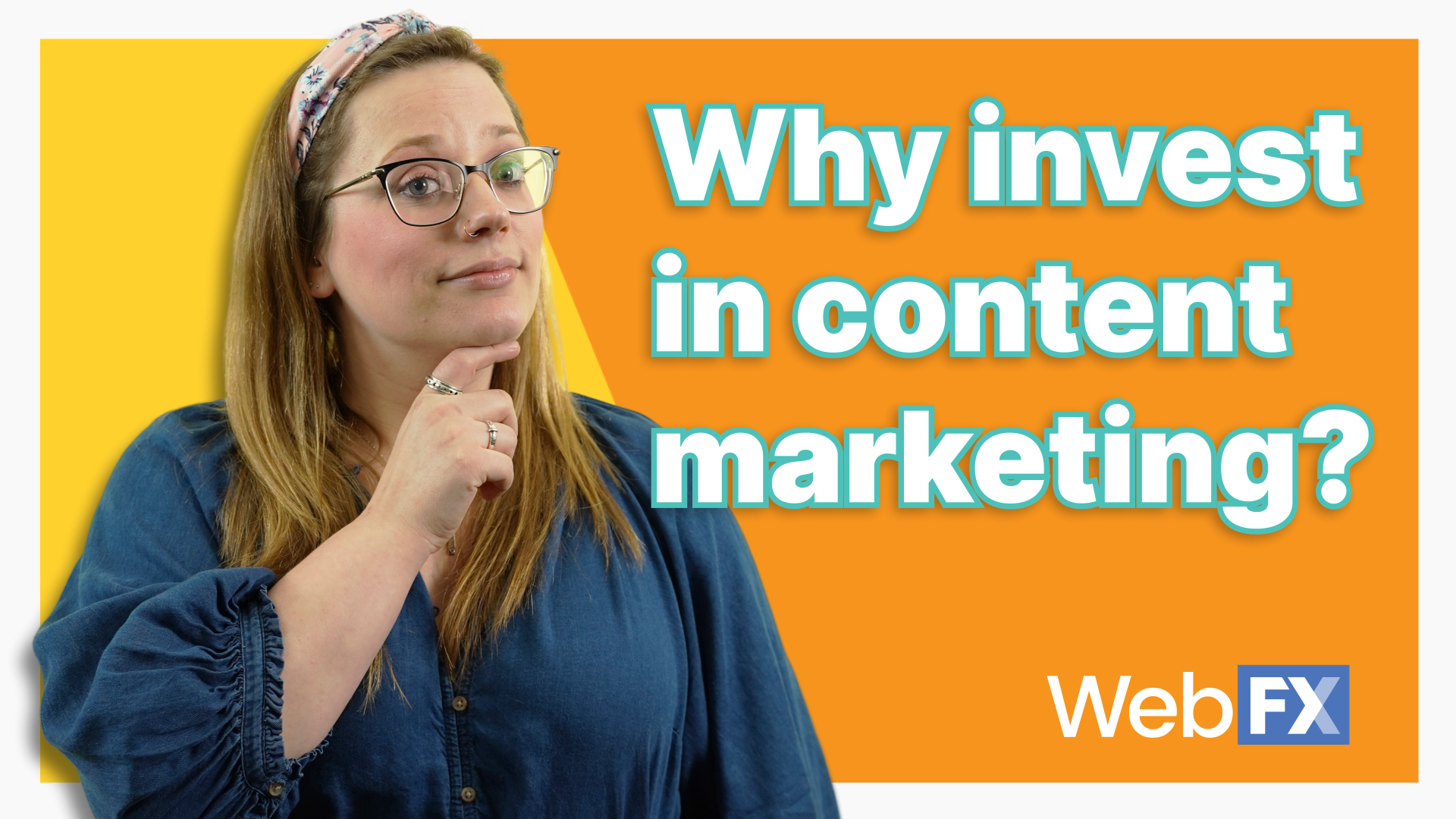 The explanation behind content marketing's effectiveness is fairly simple — it doesn't cost much (if anything) to create, it lives on your site for as long as you let it, and you can constantly update it to meet the needs of your niche.
That's a lot of adaptability and flexibility for a single form of marketing, and it doesn't stop there.
Content marketing can include a wide range of different formats, including blog posts, articles, case studies, infographics, videos, and more. All of these are viable options when you're looking to market your brand or increase conversions, and they all fit into your sales funnel perfectly as top- or middle-of-funnel tools.
However, content marketing requires a long-term investment to become fully effective. Basically, the longer your content lives on your site, the more chances it has to get links from other sites, social shares from readers, and other valuable metrics that can help grow brand awareness and conversions. In other words, the longer you use it, the better it becomes.
Measuring your content marketing ROI
When you're using a content marketing strategy, you can measure your ROI based on a handful of valuable metrics.
Metrics to use
First, there are consumption metrics. These metrics show how people are engaging with your content. They include pageviews, unique visitors, downloads, time on site, bounce rate, cost per visitor, and more. The better these metrics, the better your ROI.
Next, you can look at sharing metrics. These metrics examine the number of times your content has been shared or linked on social media networks like Facebook and Twitter. As a result, the metrics to consider are Facebook shares, Facebook likes, Twitter retweets, Twitter favorites, LinkedIn shares, Pinterest pins, and more. Each social network has its own ways to show user interaction, and when you look at how your content measures up, you can get an even better idea of your ROI.
Third, you have lead-generating metrics. These metrics compare the number of times your content has led to an action that you consider a conversion. That can include users filling out forms, submitting email addresses for newsletters, downloading guides, and opting into email marketing campaigns. When a lot of people are converting on your site, you can bet your content marketing is paying dividends.
Last, you can look at good, old-fashioned sales metrics. These are the numbers related to how many deals you close, and how many of them are attributable to the content on your site. You can determine this by asking new clients how they heard about your business, looking at the reports in your CRM system, and more. When people say they first found you through content, your content marketing is getting results.
If this sounds like too many metrics to track — which it can be for a lot of companies — it's best to focus on a few key performance indicators (KPI).
Web traffic
Conversions
Revenue
If you're getting more visitors and conversions on your site compared to when you didn't have a content marketing strategy, your ROI is positive. Likewise, if you're seeing an increase in revenue with other marketing strategies showing steady returns, you can also be sure you're getting a positive ROI.
Your ROI
Your exact experience will vary, but the overall goal of content marketing is to show long-term results. That's the important fact to keep in your mind, especially if you've made the decision to move ahead with content marketing on your own, as opposed to contracting with an agency.
The other thing to remember is that content is a somewhat subjective form of marketing. If you're not seeing the numbers that you want, you can try to shake things up a little to get improvements.
For example, you can reword your calls to action. This usually includes A/B testing your original page against your revised pages to see which ones convert more customers. And don't be afraid to test everything — even changing one word can give you huge results in terms of conversions.
It's also possible that you can see a low ROI for content marketing if you're checking on it too soon after it's been published. Content needs a lot of time to grow and mature, and you'll see the best results several months (or even years) after you publish.
But if you'd like to get some early traction for your content, you can promote it on social media and use pay-per-click advertising (PPC) to get immediate results.
WebFX is a content marketing specialist
At WebFX, we're a full-service Internet marketing agency with an entire team dedicated to content marketing.
Our team of experienced, knowledgeable marketers knows how to get the best possible ROI from every piece of content that they create, and that means bigger and better results for you. With content on your side, you can attract new visitors to your site, turn them into customers, and grow your bottom line with the same strategy!
Do you want your business to grow online?
Contact us today to start working on a unique content marketing strategy for your company!
Earn a 20% greater ROI with WebFX