What is the ROI of Content Marketing?
Return on investment (ROI) is the benefit you get from any marketing campaign investment. Measuring ROI involves establishing the type of leads, conversions, or sales you make based on your effort, time, and expense. 
In every marketing campaign, a strong ROI is key. Otherwise, you may be wasting your time and money. For content marketing, you want to ensure that the time you put into your content is earning you money.
We will examine content marketing ROI through the following sections:
What is content marketing ROI?

Why should I calculate the ROI of content marketing?

How to measure content marketing ROI

How to calculate the ROI of content marketing

What kind of ROI should you anticipate?
Keep reading to learn more! Or, call 888-601-5359 if you want to speak to a strategist about how WebFX can help you track your content marketing ROI!
Our digital marketing campaigns impact the metrics that improve your bottom line.
See More Results

WebFX has driven the following results for clients:

$3 billion
In client revenue

7.8 million
Leads for our clients

5.2 million
Client phone calls
What is content marketing ROI?
Content marketing ROI represents the amount you earn compared to your spending on content marketing. This number is a percentage to reflect how much you earn back on your content.
Content can cover almost anything you post online. A few examples of content types include:
Blog posts

Articles

Email marketing

Social media content

Videos

Slideshows and presentations
Why should I calculate the ROI of content marketing?
Understanding your content marketing ROI can help your business in the following ways:
Improve

search engine optimization

(SEO):

SEO aims to get your website noticed by search engines, so they bump it to the top of the search engine results pages. Understanding your investment in content marketing can help you see what pages work for SEO.

Convince decision-makers:

Whether you have an in-house marketing team or work with an agency, showing those outside the industry how marketing helps companies can be challenging. ROI gives you data to encourage more investment in strategies that drive growth.

Allocate spending:

As a business, your goal is to invest in tactics that drive revenue for your company. If you want to make a difference, you must have data supporting your investments.
How to measure content marketing ROI
Now that you know more about content marketing ROI, let's move on to how you can measure it.
One thing you must understand about content marketing is that the ROI will not be immediate. It will take months for the results of your content marketing strategy to become apparent — and they may not even be visible at that point.
Your marketing takes time to make waves. Google may take months to respond to your changes, and visitors may overlook your content marketing until you have built up a large stock of articles or other pieces.
Be patient when weighing the return on investment for your content marketing. That said, there are several ways to measure the ROI for content marketing. They are:
Consumption metrics

Sales

Lead quality

Social media metrics

SEO metrics
Let's examine each of these in-depth to help you find your content marketing ROI.
Consumption metrics
How many people saw your content marketing campaigns? That's the first question you should ask for each piece you produce and distribute. You can find out the answer through sites like Google Analytics, which automatically gathers information and creates reports based on specific criteria.
Key performance indicators (KPIs) for content marketing consumption include:
Unique visits

Bounce rate

, or the percentage of people who leave your site after looking at one page

Time spent on site

Downloads of your

email-gated content

or ebooks
Sales
This metric is the number of sales your company has made since introducing the content marketing campaign. You will want to look at your conversion rates, or the number of people who close on a sale after carefully considering it.
In GA4, go to Reports > Monetization > Overview for a breakdown of total purchases, types of purchase, and total number of sales: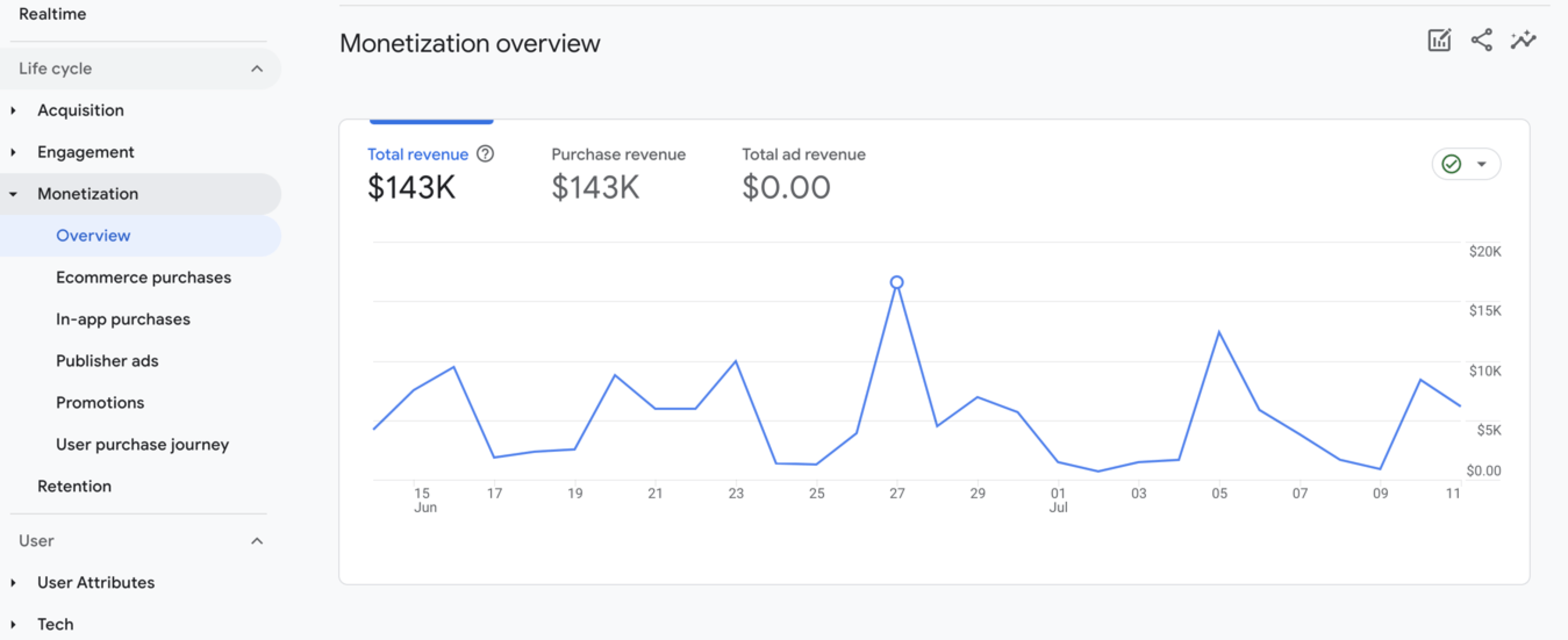 For example, if someone puts an item from your site in their shopping cart and buys it, that's a conversion. But if you're a B2B business, you might consider completing a contact or lead form conversion instead.
Lead quality
A lead is someone who has expressed interest in your business. The more likely they are to convert, the higher quality of a lead they are.
Creating content helps you generate leads more likely to purchase from you. As users read your content, they will learn more about your business — those less likely to buy won't stick around.
To see the number of leads you have, you must create an event in GA4 to track your lead tracking and purchases. Go to Admin > Events to create goals for each of your on-site conversions: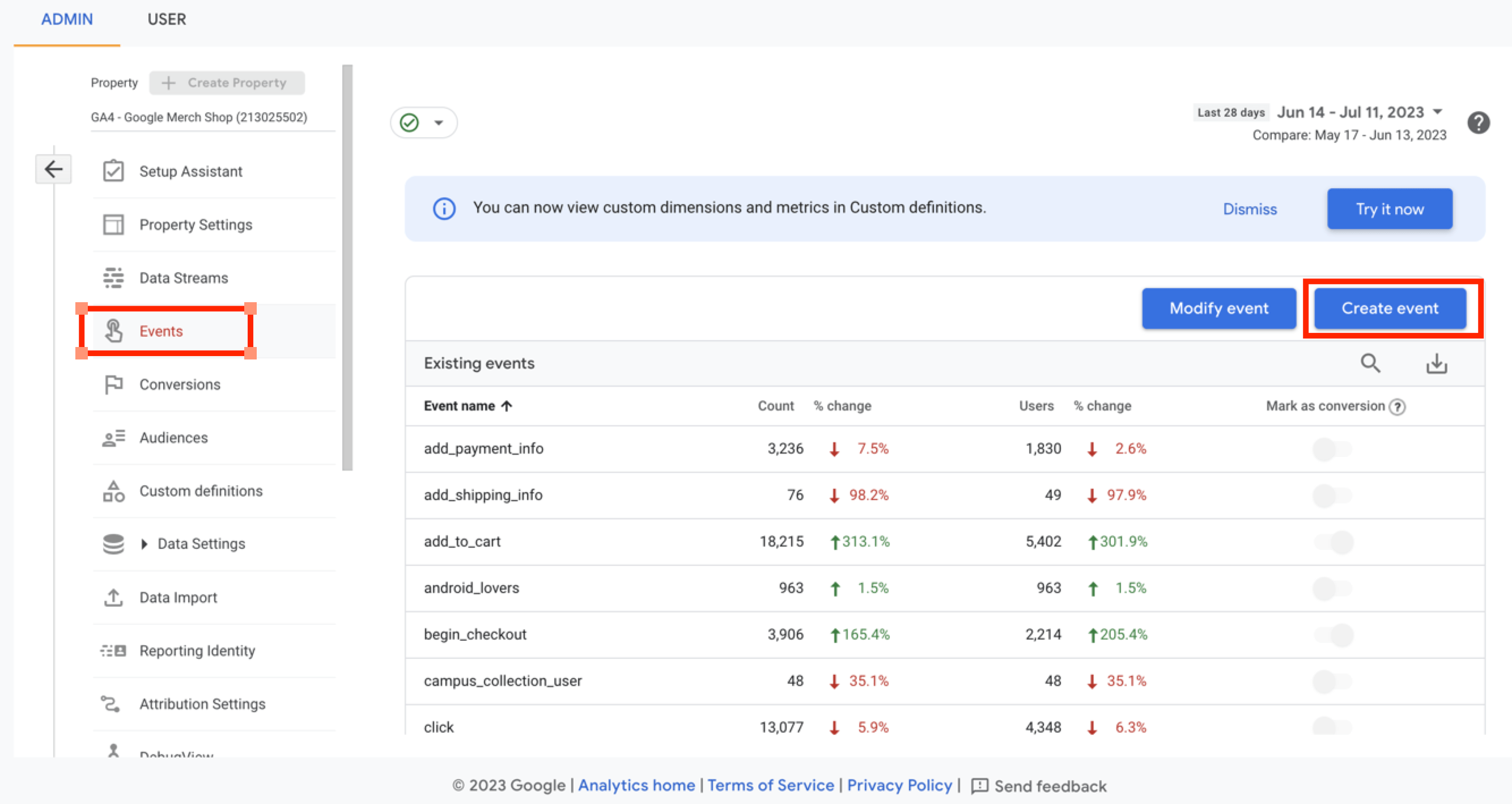 Name your event and add a "Parameter," "Operator," and "Value." Then, once you add the event, you can mark it as a conversion.
Content marketing campaigns can help funnel potential customers to lead generators, which ask for people's contact information. You can follow up on this information later and push a possible sale. You should track both your total number of leads and those generated directly by content marketing pieces.
Social media metrics
Social media involves its own set of metrics for your content. For example, shares, clicks, likes, and comments can all be trackable metrics that point to your company's ROI.
You can see social engagement and traffic acquisition in GA4: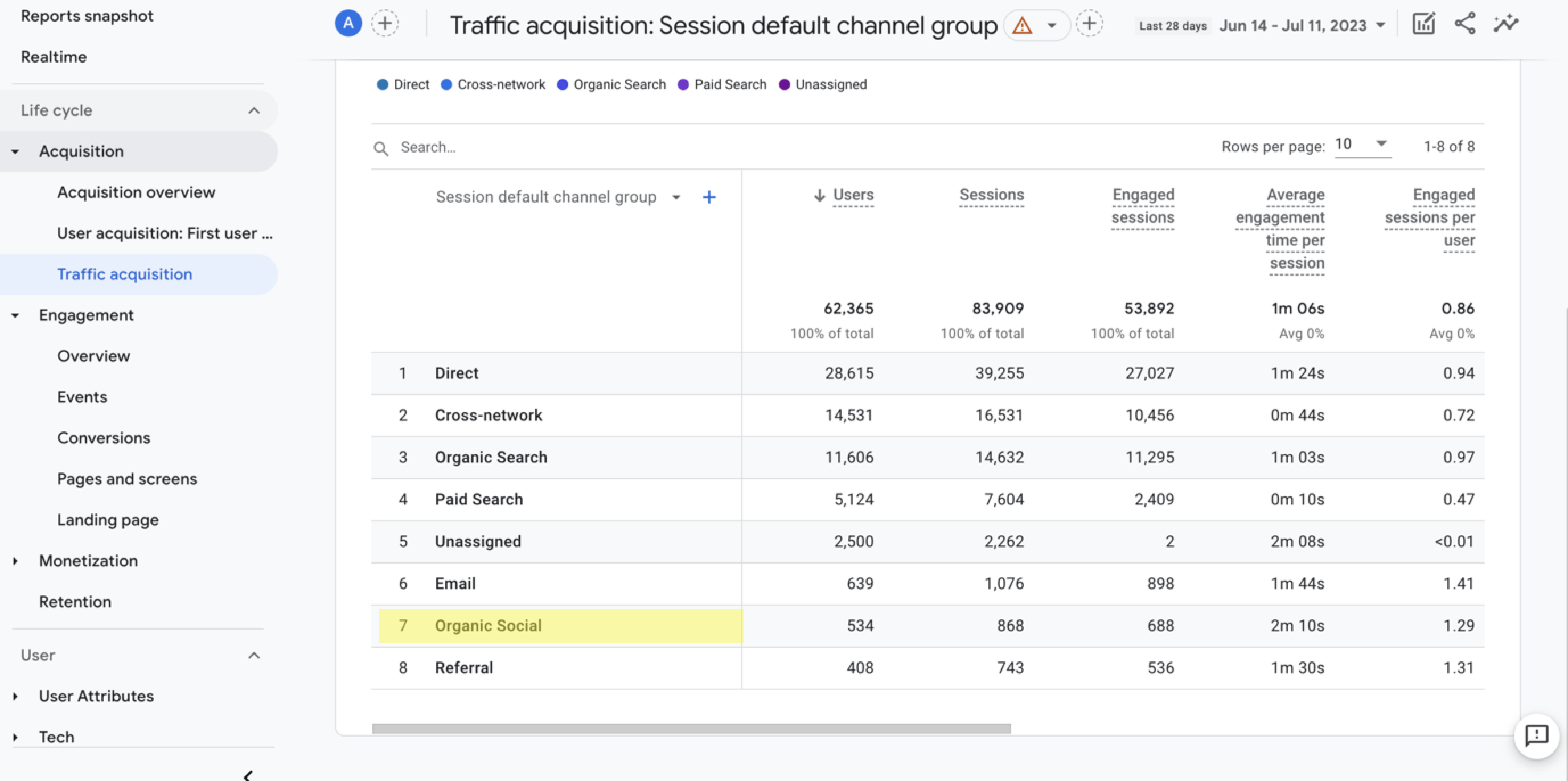 Sharing on social media is relatively easy to track, but putting a dollar value on it can be hard, making ROI from sharing a bit subjective. Still, social media is an important part of content marketing because it exposes your company to a new audience.
SEO metrics
You can also use SEO metrics to see how well your content is doing. Some factors to look for include:
How high your content ranks in search results

If you appear in featured snippets for question searches

Your domain authority increases

You get more inbound links
Understanding your SEO success can help you see how content brings in more traffic, sales, and revenue to your business.
Meet MarketingCloudFX:
One platform tracking countless metrics and driving stellar results.
Learn More About Our Proprietary Software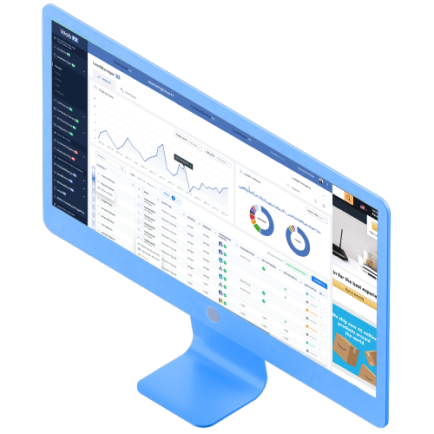 How to calculate the ROI of content marketing
Once you have gathered all the metrics you will use to measure ROI, it's time to calculate. You also need to know how much you have spent on your content marketing campaign, including creating and promoting the content.
The content marketing ROI formula is:
Content marketing ROI = ((Return – Investment)/ Investment) x 100
So, let's say that you spend $200 to create a piece of content and generate $1000 from it:
$1000 (

Return

) – $200 (

Investment

) = $800

$800 / $200 = 4

4 x 100% = 400% (

ROI

)
Your ROI would be 400%!
While a percentage value for ROI is indispensable, that's not the full story. You can calculate ROI by asking yourself the following questions:
How much has your lead generation increased since starting your content marketing campaign?

How much has traffic to your website gone up?

How many shares did you get this month compared to last?

How many links have your content acquired?

How many keywords are you now ranking for, thanks to the presence of your content?
What kind of ROI should you anticipate?
What percentage return on investment you are looking for may vary depending on your company and your history.
If you have done offline marketing before that resulted in minimal gains, you may be thrilled with a 15 percent ROI. But if you have done multiple content marketing campaigns and seen good results, you may be disappointed if your sales go up "only" 33 percent.
The key to getting a good ROI for content marketing is adjusting your campaign and goals as you go along. Don't expect the same results for every content marketing initiative. Be patient and flexible, and monitor your analytics closely to see what works best for your company.
Finally, remember that content marketing isn't always linked to immediate actions. Because content marketing aims to increase your company's overall exposure and trustworthiness, you may find it incredibly difficult to say that your content production has resulted in a ROI. However, the content may lead to other actions that do have a ROI, so it still plays a very important part.
Measuring the metrics that affect your bottom line.
Are you interested in custom reporting that is specific to your unique business needs? Powered by MarketingCloudFX, WebFX creates custom reports based on the metrics that matter most to your company.
Leads
Transactions
Calls
Revenue
Learn More

Track your content marketing ROI with WebFX
If you want an easier way to track your content marketing ROI, look no further than one of the best content marketing companies, WebFX. With our house software — MarketingCloudFX — you can automate the process and spend more time on your business.
MarketingCloudFX makes it possible to track content marketing's ROI automatically — down to the page URL. You can see which pages earn the most revenue for your company and which could use a refresh.
Ready to learn more? Contact us online and see how we can optimize your content marketing today!