One of the biggest challenges for loan officers is generating a steady stream of potential new clients or leads.
While traditional methods like referrals often work well, it takes a long time to build these relationships. Thanks to the Internet and modern Internet-based technologies, loan officers also have plenty of new opportunities for efficiently and consistently generating qualified leads.
In this guide, we'll go over how online mortgage lead generation works and discuss some top strategies for online lead generation for loan officers.
37% of marketers say that generating high-quality leads was one of their biggest challenges.
We want to decrease that percentage.
WebFX can help you generate high-quality leads with a customized marketing strategy.
Learn More About Lead Generation Services
What are leads for loan officers?
For loan officers, leads are people who are looking for a loan and have a high probability of paying back their loan. They are potential clients who are looking for a loan officer's services and match the loan officer's description of an ideal client. To gain a new lead, you collect the contact information of an interested potential client.

Hear What It's Like to Work With WebFX!

"WebFX is lightyears above any other digital marketing agency we have worked with. I can't say enough about how easy they have made this process and how accommodating WebFX has been to my entire team. I will never stop recommending WebFX!"
Credit Union
5 strategies for online lead generation for loan officers
Digital inbound marketing provides many opportunities for lead generation for mortgage loan officers.
Digital marketing refers to marketing using Internet-based technologies and channels such as social media, search engines, and online advertisements.
Inbound marketing refers to strategies that bring leads to you rather than requiring you to reach out to them first. For example, if someone finds one of your blog posts through a Google search and then clicks through to your website, they arrived there via inbound marketing methods.
Digital inbound marketing encompasses many channels, all of which can play a valuable role in getting more leads for loan officers. Let's look at some top online marketing channels for lead generation for loan officers.
1. Content marketing
As a loan officer, it's crucial that you build trust with potential clients and demonstrate your expertise. Content marketing can help you accomplish that. It also provides new ways for leads to discover you and your website.
Content marketing involves creating content that appeals to your target audience. While your eventual goal is to gain new clients, your content shouldn't be strictly promotional. It should also provide education, entertainment, or something else of value, in addition to introducing users to your brand.
The content you use in your content marketing plan can come in many forms, such as:
Of course, you're not limited to these content types. Feel free to get creative! Whichever formats you choose, make sure your content is professional-quality, matches your brand personality, and provides value to users.
To gather leads through your content, you can include calls to action (CTAs) within your content to sign up for your email newsletter, request more information, or another action that requires contact information.
You can also require users to enter their names and contact information before accessing certain high-value pieces of content.
2. Conversion rate optimization (CRO)
CRO refers to making changes to your website to maximize the number of visitors who become leads or sign up to become clients. Since many of your digital marketing efforts will direct people to your website, CRO is essential for lead generation for loan officers.
CRO involves analyzing how users interact with your website and which factors increase or decrease your conversion rate. At WebFX, as part of our CRO services, we analyze your site's usability, copy, aesthetics, and conversion paths. We can then implement updates and run tests to increase your conversions.
For example, reducing the amount of information you request from potential leads could increase your conversion rate since it decreases the effort required from them. Through CRO, you could test this change and, if it increases conversions, implement it permanently.
3. Local search engine optimization (SEO)
When you open up your Internet browser, how often do you start in a search engine like Google or Bing? More than 90 percent of online sessions begin with a search engine, so it's crucial that your website is visible in search.
SEO involves optimizing your website content so that it appears in search results for relevant keywords. It encompasses numerous tactics such as:
For loan officers, it's helpful to focus on local SEO, which involves targeting location-specific keywords, such as "loan officers in Maryland," for example.
Google Business Profile (GBP), which enables businesses to manage their presence on Google, also plays a vital role in local SEO.
Claiming, completing, and optimizing your GBP profile helps your business show up in local search results and on Google Maps and gives potential clients information such as your hours and services.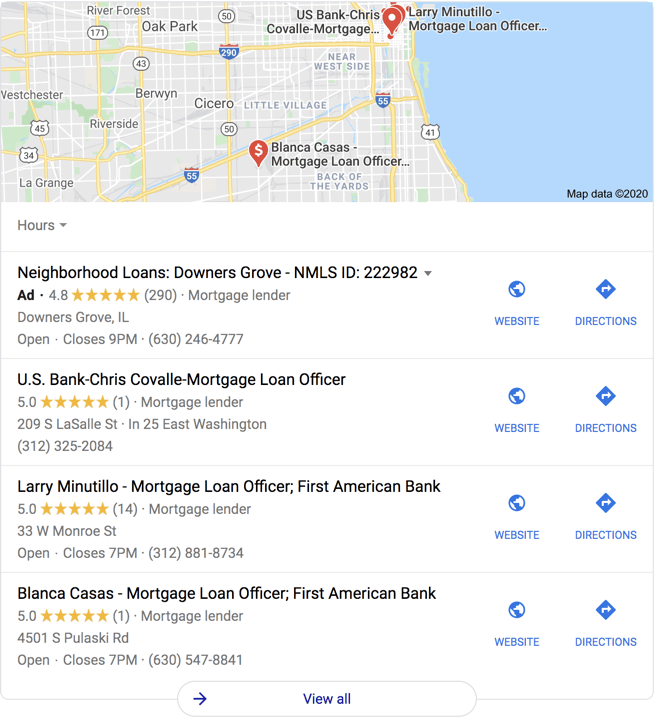 SEO is valuable for lead generation for mortgage loan officers because it increases your visibility online and brings more users to your website. Potential leads will find your website by searching terms relevant to your services, which means they're likely good candidates for becoming clients.
Once these users are on your website, you can aim to convert them into leads through your content and CRO efforts.
4. Social media marketing
Social media is another excellent mortgage lead generation channel. Using social media can help people find you online, introduce them to your brand, and encourage them to become leads.
Consider using sites such as:
In addition to finding new clients, social media sites, especially professional-focused ones like LinkedIn, can help you find new partners who may refer clients to you.
Post regularly on social media to build your audience, and publish a variety of content types, while keeping your posts in line with your brand. You can share news articles, your own content such as blog posts and graphics, helpful advice, and more.
To gather leads through social media, share content that contains relevant calls to action or requires an email address to view. You can also hold contests on social media that ask people to provide their contact information to receive their prize if they win.
5. Pay-per-click (PPC) ads
PPC ads are another excellent tactic for lead generation for loan officers. They're especially beneficial for users who are almost ready to convert into leads, but haven't taken the final step yet of providing their contact information.
PPC ads appear on search engines, social media sites, and other websites and let advertisers pay each time someone clicks on their ad rather than paying for the ad space itself.
Search ads are the most popular type of PPC ad. To place a PPC search ad, you bid on relevant keywords. When someone searches that keyword, your ad may appear at the top of the search results page.
If they click on your ad, they'll go to a page on your website where they can provide their contact information and become a lead.
For example, you could bid on the keyword "how to get a mortgage loan." Here's what the ads for that keyword look like on Google.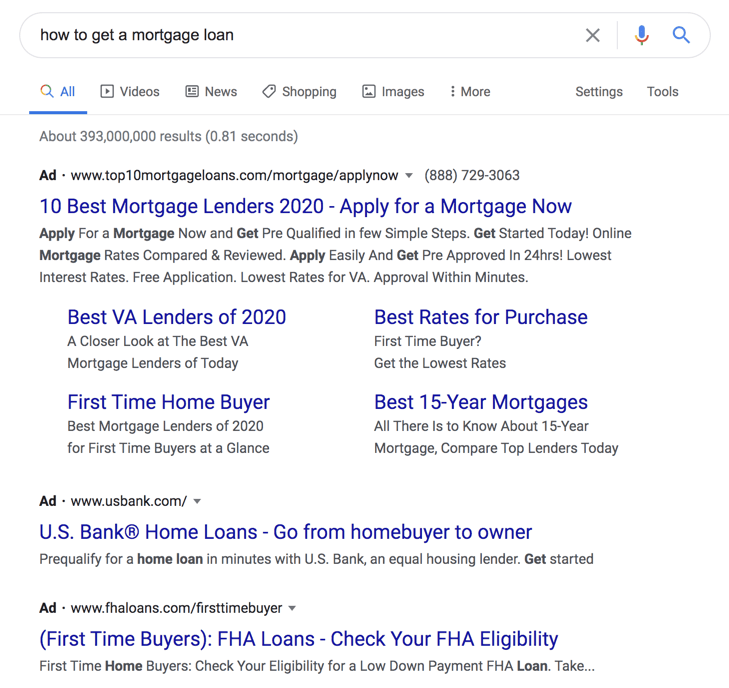 Generate more qualified leads with WebFX
If you want to significantly increase the number of leads you get online, consider working with WebFX. Over the last five years, we've helped our clients generate more than 7.8 million leads.
We're a full-service digital marketing agency, so we can help you with all the lead generation strategies we just discussed. Our services include:
Ready to get started with your custom lead generation strategy? Call us at 888-601-5359 or request your free quote today.
Earn a 20% greater ROI with WebFX