Whether you provide accounting services to individuals or multinational corporations, your potential clients use the Internet to research their options. If you want to reach them as they conduct that research (and convince them to choose you over your competitors), you need digital marketing for accountants.
Unlike traditional marketing for accountants, which often involves interrupting consumers' day-to-day lives with one-way messages, online accountants marketing develops relationships between you and your clients. It requires fewer sales pitches and a more educational approach, which can help establish yourself as authoritative and knowledgeable.
If you're able to accomplish that, you won't have to spend as much time actively seeking out clients—they'll come to you.
If you're new to Internet marketing for accountants, establishing yourself as a valuable source of information may seem like a difficult task. While it will certainly involve investments of time and energy, the payoff can be huge if you do it well.
Start building your knowledge of online marketing for accountants with this article! Learn what digital marketing is, plus which marketing strategies for accounting firms and accountants work best. If you want professional help, call us at 888-601-5359 or contact us online today!
Our digital marketing campaigns impact the metrics that improve your bottom line.
See More Results

WebFX has driven the following results for clients:

$3 billion
In client revenue

7.8 million
Leads for our clients

5.2 million
Client phone calls
What is digital marketing for accountants?
Digital marketing for accountants is a cost-effective and proven way for your business to promote itself to users in your target market. When you use online marketing, you use a range of digital marketing strategies and channels, like paid, social, and search, to connect with your target audience.

Hear What It's Like to Work With WebFX!

"WebFX has made SEO, website improvements, and just the overall process of improving the quality of the leads we have look and feel easy! With the amount of time I used to spend on this I could not imagine taking it back and getting even close to the amount of leads that they've gotten us!"
Public Accountant
What is an online marketing strategy for accountants?
An online marketing strategy for accountants is a blueprint for how your accounting firm will market and advertise itself to your target audience. Your plan will outline who you want to reach, how you will reach them, and how much you will invest to reach them.
While you can get started with marketing for accountants without a plan, creating a strategy beforehand will help maximize your success. You will have a map for what you want to achieve and how you plan to accomplish it, which will help when managing your campaign day-to-day.
It'll also help you gain support from those in your company.
5 digital marketing strategies for accountants
Learn about five proven strategies for accountant digital marketing:
1. Create an informative website
Individuals and businesses both want to know as much as possible about an accountant before trusting him or her with their finances, and many of them turn to the Internet for that information. A well-organized, attractive website will tell them what they need to know about your firm.
Your website should include details about your education, certifications, experience and areas of expertise. It should also include interactive tools that allow current and potential clients to get in touch with you via email or social media. Most of all, it should include content that demonstrates your ability to assist them with taxes and other accounting issues.
What have you done for previous clients? How do you approach tax season and other situations? How would you answer the most common questions people ask accountants? Include sections on your site that contain this information.
2. Write useful blog posts and articles
As mentioned above, potential accounting clients want to know that the professionals they hire know what they're doing. They can get a sense of this based on your credentials, but providing useful information is even more effective.
If you write blog posts and articles on your site as a part of your accountants marketing strategy, you not only have a chance to help potential clients, but you also have a chance to show off your expertise.
Write about the topics that you know are relevant to prospective clients and also reflect your areas of expertise. If you host your own blog, update it frequently enough to keep people coming back. If you decide to write guest blogs instead, choose sites that you know attract the kinds of prospects you want to reach. Corporate prospects, for instance, don't visit the same sites as small businesses or high net worth individuals.
3. Host webinars
Individuals and businesses need accounting services, but they often turn to the Internet for information on what they can do on their own. While blogs and articles can go a long way towards answering their questions, webinars add another dimension to their relationships with potential service providers.
An hour-long webinar presents a great opportunity to engage with potential clients, establish your firm's credibility, and generate more accountant leads. However, they only work if you choose your topic and target audience carefully.
Timing matters, too—a webinar on taxes, for example, would perform great between January and the middle of April, whereas an estate planning webinar could generate interest year-round.
Unlike in-person seminars, which happen only once, webinars can be replayed over and over again, continuing to generate leads long after they've finished.
Because of this, you may want to make your webinar available for replay for a short period. Just because someone didn't attend the live webinar doesn't mean they aren't interested in the content—or your firm.
Besides, allowing for replays lets you maximize the value and impact of this accountant's marketing strategy.
4. Offer premium content
In a survey of CPA firms last year, content marketing was ranked as the third most effective lead generation tool for accountants, surpassed only by industry organizations and networking. This means that you should definitely be doing it—but it also means that your competitors likely already are.
While we certainly recommend that you maintain a blog and post useful articles on your site, you may also want to start offering premium content. This should have a long shelf life and cater specifically to the market you're trying to reach.
For example, you may consider writing an ebook on one of your areas of expertise, or offer a downloadable workbook that will help clients with their accounting as one of your accounting firm's marketing strategies.
This content will take longer to produce, but it can also present you with the opportunity to ask for something in return. On our site, for example, we offer free marketing guides—but a few of our best ones are only accessible after visitors provide their email address.
One email address might not seem like much in exchange for a resource that takes days to put together, but look at it this way: Once you've written the resource and published it, it can stay on your site for as long as you want. And if it becomes popular enough, it can continue to attract downloads (and build your list of email subscribers) without any additional work.
5. Be active on social media
Many "serious" businesses mistakenly think that social media is only for companies who want to seem lighthearted and fun to their customers. And while it's certainly possible to do that, platforms like Facebook and Twitter can be used for a variety of purposes. Accounting firms in particular can use them to:
Raise awareness among potential customers
Generate new leads and revenues
Increase customer loyalty
Reinforce their brand positions
Boost the reach of other marketing tactics
Your accounting practice can do the same.
WebFX is a partner businesses trust.
Hear from HydroWorx, who saw a 236% increase in organic sessions with WebFX services.
Watch the Video Testimonial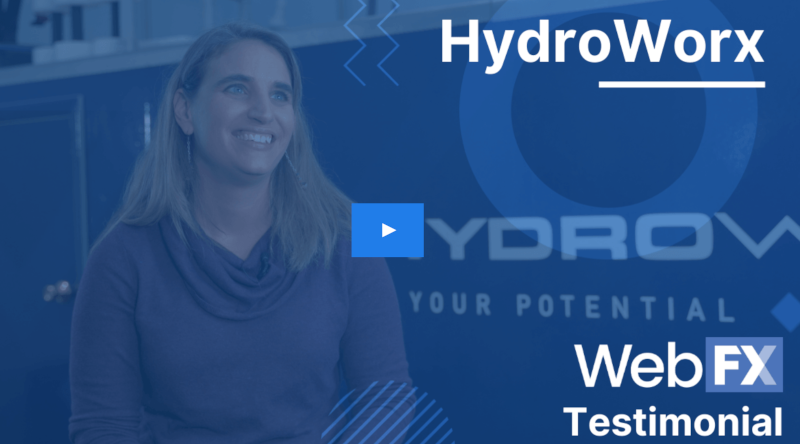 Digital marketing services for accountants
Digital marketing for accountants comes with many strategies and to-dos. You must manage multiple channels, tasks, and team members, which is impossible if you're playing all the parts in marketing your accounting firm.
An online marketing agency, however, can make taking advantage of these marketing strategies for accounting firms and accountants.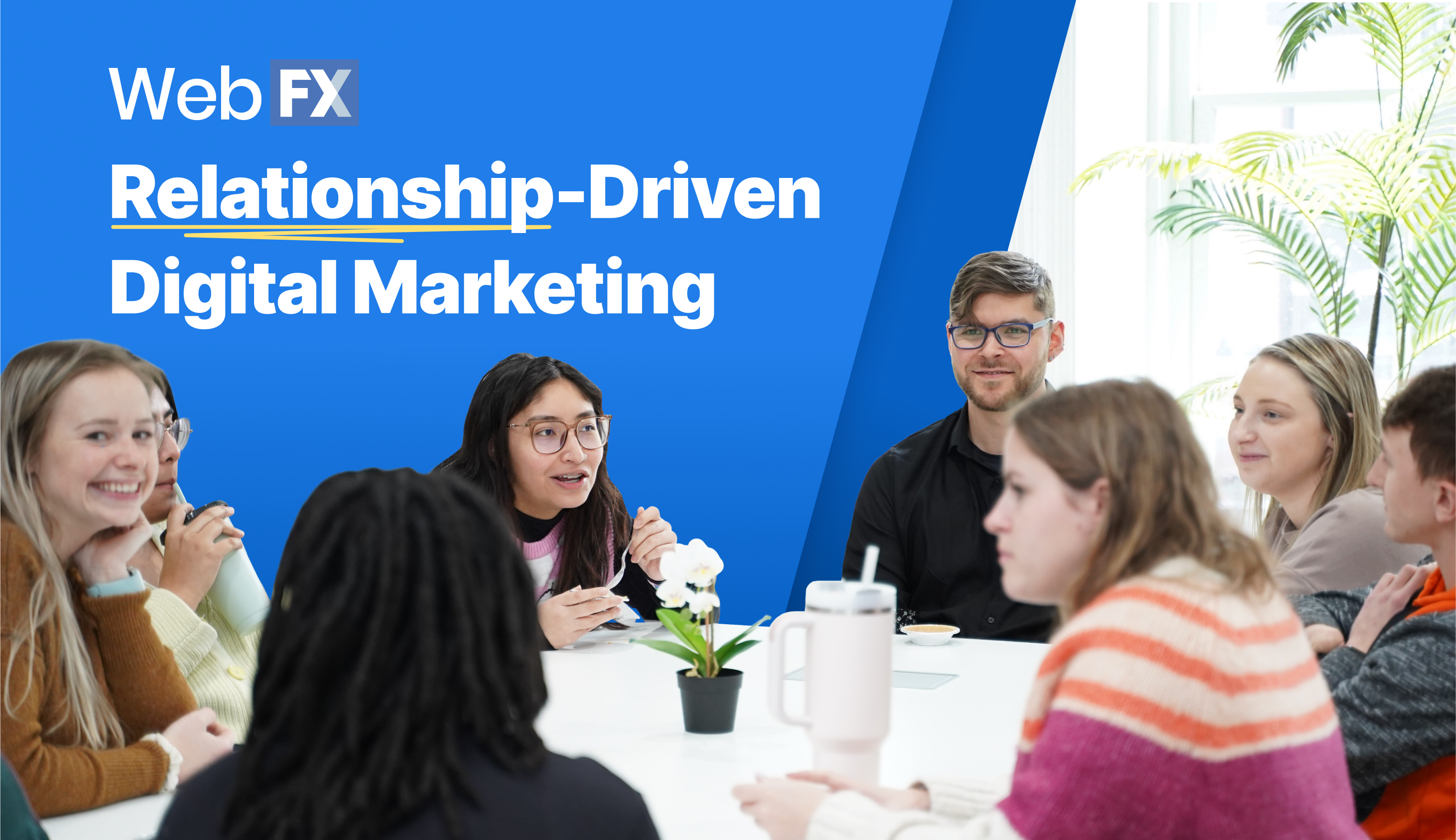 With WebFX, for example, your business receives an entire marketing team that consists of SEOs, developers, designers, social media specialists, and advertisers, which makes it easy for your business to market yourself online.
If you're curious, our digital marketing services include:
All our services feature upfront pricing, which makes it easy for your accounting firm to compare your options. We also have more than 1020 testimonials (and a client retention rate over 90%), so you can get a preview of what it's like to work with our team.
Attract new clients with digital marketing for accountants
The marketing strategies for accounting firms listed above can help you establish your firm online and attract the attention of potential clients. If you need help getting started (or would like additional information), feel free to contact us! Our talented team of Internet marketers is more than happy to help you start growing your accounting firm with digital marketing!
Earn a 20% greater ROI with WebFX