Digital Marketing for Wealth Management Companies [4 Tactics]
Money management is a hot topic for Americans looking to retire, whether it's soon or 40 years from now. Many of these retirement-hopefuls seek the help of a financial advisor and turn to the Internet to assist them in finding the right advisor to manage their finances.
If you are a wealth management company that isn't investing in digital marketing though, these clients won't be able to find your business online.
By opting for digital marketing for wealth management, you can help your clients discover your company and learn more about the services you offer.
But what strategies should you use to help clients find you online?
On this page, we'll cover four strategies for doing digital marketing for wealth management companies. Keep reading to learn more about these strategies and how you can get started with them!
If you're looking to partner with a team of over 450 marketing experts for your digital marketing needs, contact us online or call us today at 888-601-5359 to speak with a strategist about our digital marketing services!
Our experience in more than
154 industries
ensures cutting-edge, niche marketing strategies that drive real results for your business.
See What Industries We've Worked In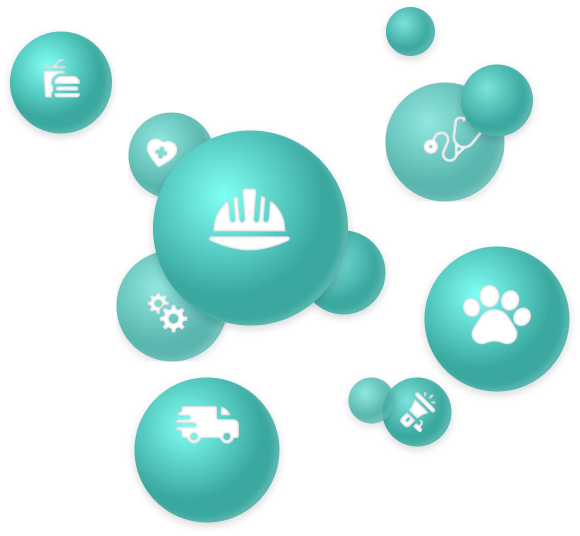 1. Use search engine optimization (SEO) to help more clients find your company
When you do online marketing for financial advisors, you must ensure you include search engine optimization (SEO) as part of your marketing plan.
SEO is a strategy that involves optimizing your site's listing in search results to help you rank better, thereby driving more traffic to your site.
When you rank better for more relevant searches, you drive more qualified traffic to your site. As a result, you obtain more clients for your company.
So, how can you get started with SEO?
Here are a few things you can do to help your site rank better in search results:
Find and integrate relevant key terms
Keywords play an integral role in helping you rank in search results. When users conduct searches, they use keywords to generate search results that provide answers to their queries. That said, finding relevant terms to integrate into your site copy will help you drive qualified traffic.
To find relevant terms, you'll need to conduct keyword research. You can use any number of keyword research tools, like KeywordsFX, to help you find applicable terms for your site.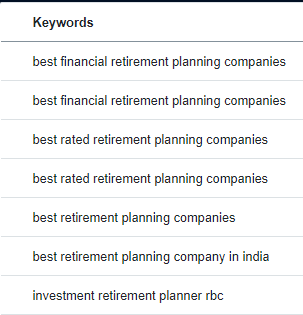 When you conduct keyword research, focus on keywords that contain three or more words — also known as long-tail keywords. Long-tail keywords are best for your site because they are more specific, so you know people searching for them are most likely to need your services.
Once you find your keywords, you'll want to integrate them into your site so you can rank for them. Be careful you don't overuse them, as it can lead to keyword stuffing and negatively impact your site's performance in search results.
Optimize your title tag and meta description
If you include SEO as part of your digital marketing plan for financial advisors, you want to ensure that you optimize your title tag and meta description. These are two core elements of your listing in search results.

Optimizing these elements can help your listing rank better in search results by showing both Google and users that your listing is relevant to their search query.
To optimize your title tag, create a title that's engaging, descriptive, and includes your core keyword towards the beginning. You'll also want to keep your title tag within the 60-character limit, so it doesn't get cut off and look visually unbalanced.
To optimize your meta description, provide a quick summary of what users can expect on your page. Stay within the 155-character limit, and make sure you use your core keyword within your description.
Ensure your site loads quickly
Users don't want to wait for your site to load — 83% of users expect your website to load in three seconds or less. A slow loading site is out of the question if you want to rank in search results.
You can see how quickly your site currently loads by using Google PageSpeed Insights. This tool enables you to see your site's current load time on mobile and desktop, plus provides you with suggestions for optimization.

You can improve site load time by:
Reducing redirects
Minimize HTTP requests
Minifying and combining files
Optimize image file sizes
Use browser caching
If you aren't sure how to optimize your site's backend, you can invest in page speed services to have a team of professionals optimize your site.
2. Use pay-per-click (PPC) advertising to help obtain more leads that turn into clients
If you want to do online marketing for wealth management companies, you need to add pay-per-click (PPC) advertising to your list of strategies.
PPC ads appear at the top of search results for relevant queries — you can identify them by the "ad" tag attached to them.

Running financial advisor ads is an excellent way for your wealth management company to appear first in search results so that clients can find you before your competition.
Check out these tips for getting started:
Identify long-tail keywords for your ad
To get started with PPC, you need to find relevant keywords for your ad. Like SEO, keywords trigger your ad to appear in relevant search results — you want to focus on long-tail keywords that will help you attract qualified clients.
Long-tail keywords are great for PPC because not only do they attract more qualified leads, they also keep your cost-per-click (CPC) low because they have less competition due to specificity.
Use ad extensions
Ad extensions are a great way to include more information in your ads that can entice people to click.

There are multiple extensions you can use, including:
Sitelink extensions
Structured snippet extensions
Call extensions
Location extensions
You can use any combination of ad extensions to help you create a more click-worthy financial advisor ad.
Create a custom landing page
Another critical component of your PPC ad is your landing page. Once leads click on your ad, they're taken to your landing page to find more information regarding the content in your ad.
Landing pages include information like:
If you want to make the biggest impact with your PPC ads, you need to create a custom landing page.
A custom landing page ensures that your audience finds the information they need and stay focused on your ad's content.
For example, suppose you run an ad for your income planning services. In that case, you don't want to drive people to a page that talks about your asset protection or portfolio management services in addition to income planning services.
People clicked on your ad solely to learn about your income planning services, so your landing page should only focus on that information.
By creating a custom landing page, you keep your audience focused on why they clicked on your ad. You can provide them with all the information they need to decide about choosing a financial advisor.
3. Use content marketing to establish yourself as a financial authority
Digital marketing for financial advisors contains dozens of great online growth strategies — one of those great strategies being content marketing. Content marketing lets you share your knowledge with your audience to establish yourself as an authority in your industry.
Whether people rely on you to manage their retirement plan or their assets, they need to feel confident that you know what you're doing and that you'll help them make the best choices. You need to build trust with these potential clients — creating content is one of the best ways to do that.
Content creation enables you to share information on topics that matter to your audience. You can deliver your content in multiple formats, including:

You can use a variety of these formats to deliver helpful information to your audience.
If you want to add content marketing as a strategy for digital marketing for financial advisors, here are a few tips for succeeding:
Match the search intent for your keyword
When people search keywords, they're looking for specific information and answers. When you create content, keep in mind that you want it to match the search intent. You can identify the intent by looking at what type of content already ranks.
Post content often
If you want to stay relevant with your audience and rank in search results, you must create content regularly. Creating content regularly enables you to reach people through the different relevant searches they conduct. It also shows you're current and active in your industry.
Use a content calendar
When you're posting a lot of content, a content calendar is a helpful tool to help you see what content you're posting and when you're posting it. It can help you put out content at the right time and capitalize on specific times of the year (i.e., National Financial Planning Month in October).
4. Use social media marketing to build relationships with potential clients
Last on our list of strategies included in Internet marketing for financial advisors is social media marketing.
Social media platforms are an excellent place for you to connect with people looking for the right financial advisor. You can build relationships with your prospects and earn their trust with the content you share to turn them into loyal clients.
Again, as we mentioned prior, you must build trust with potential clients — social media is a great place to share helpful information, answer your audience's questions, and have conversations with them. It's a great platform to nurture confidence in your company.
You can use multiple social media platforms to reach people looking for wealth advisors, including: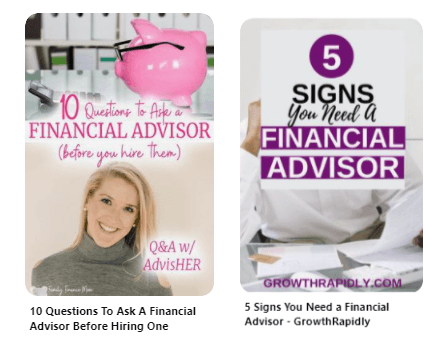 You'll want to focus on platforms where your audience spends their time.
Once you identify your platforms, you can start posting content. Here's how you can get the most from your social media marketing strategy:
Post content often
Social media marketing is another digital marketing strategy that requires consistent posting. Since your audience follows dozens of family, friends, and businesses, you need to post often to ensure they see your content. A social media calendar can help ensure you post frequently.
Engage with your audience
When people comment on your content or send you a private message, reply to them. Engagement is critical for building relationships with your audience, so you want to focus on answering their questions or providing additional commentary to their comments.
Use a social scheduling tool
If you want to save time, using a social scheduling tool can enable you to post your content in one shot instead of posting it each day. You can use a tool like Hootsuite or Buffer to help you schedule your posts a month in advance and save you time.
Our digital marketing campaigns impact the metrics that improve your bottom line.
See More Results

WebFX has driven the following results for clients:

$3 billion
In client revenue

7.8 million
Leads for our clients

5.2 million
Client phone calls
Get started with digital marketing for financial advisors today
Now that you know the strategies you can use to do online marketing for wealth management companies, it's time to launch your strategy! If you find that you don't have the time to dedicate to building your plan, you can rely on the experts at WebFX to handle your marketing for you.
We have a team of over 450 marketing pros that know the ins and outs of digital marketing for financial advisors. As a full-service digital marketing company, we offer everything you need to grow your company online, including:
…and much more!
When you partner with us, you can trust us to drive results. We've driven over $3 billion in sales and over 7.8 million leads for our clients in the past five years alone.
Want to obtain more clients for your wealth management company? Contact us online or call us today at 888-601-5359 to speak with a strategist about our digital marketing services!