When homebuyers are looking to obtain a loan to buy their dream home, they turn to your business to help them settle their finances. And where do these people turn to find the best loan officers? Search engines, of course!
If you're not doing search engine optimization (SEO) to help your site rank in search results, you're missing an excellent opportunity to drive interested leads to your business.
Luckily, we've got a list of five tips for mortgage broker SEO that can help you start. Keep reading to learn more!
P.S. If you find yourself feeling overwhelmed by everything you need to do for SEO, you can rely on our 25+ years of experience to help you manage your SEO. Contact us online or call us today at 888-601-5359 to speak with a strategist about our SEO services!
Independent research from Clutch has named WebFX the
top SEO company

in the United States.

Clutch has personally interviewed more than 250 WebFX clients to discuss their experience partnering with us.

Read More Clutch Reviews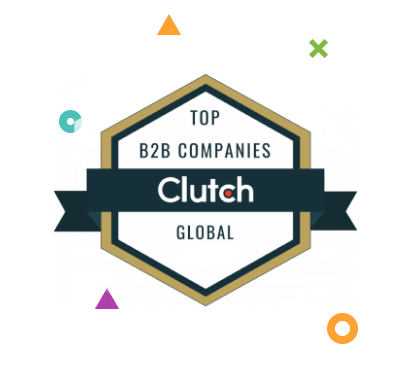 1. Integrate relevant keywords into your site to rank in the right results
The first step of SEO for loan officers is to integrate relevant terms on to your site.
If you don't actively and consistently optimize pages on your site, Google won't be able to crawl and index them to appear in search results. Either that, or Google will find them, but they won't rank in search results because you didn't optimize those pages.
One of the best ways to help your pages appear in search results is to integrate keywords onto your site.
Keywords trigger your site to appear in search results, so you need to select relevant terms to help you appear in front of qualified leads. You can discover keywords by conducting keyword research and using a keyword research tool like KeywordsFX.
Let's say you're trying to rank for a local search like "loan officer Los Angeles." When you plug that keyword into a tool like KeywordsFX, you will receive dozens of suggestions that you can integrate onto your site.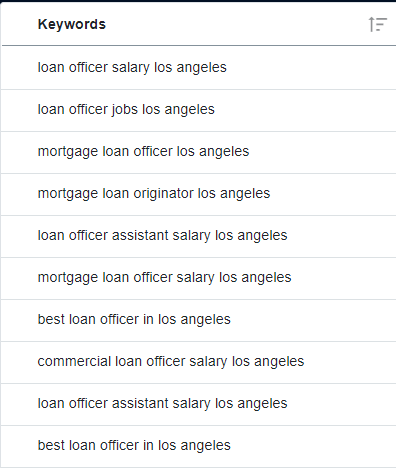 When you look at your keyword options, stick to long-tail keywords, which contain three or more words. Since these keywords have a specific search intent, they drive more qualified traffic to your site.
You can select the terms that fit your page best and integrate them into your site to help it rank in search results. Be careful you don't overuse your keywords, an action known as keyword stuffing, as it can hurt your rankings!

Hear What It's Like to Work With WebFX!

"WebFX is lightyears above any other digital marketing agency we have worked with. I can't say enough about how easy they have made this process and how accommodating WebFX has been to my entire team. I will never stop recommending WebFX!"
Credit Union
2. Optimize your title tag and headers to rank in the right results
Title tags and header tags are two critical components of your page. Your title tag is the title users see in search results, while your header tag is what people see on the top of your page.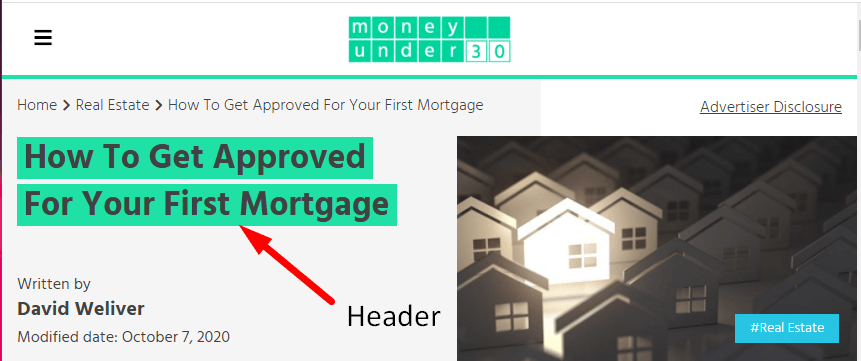 Your title tag is the first thing your audience sees when they come across your listing in search results. Your audience and search engines use this tag to determine relevancy. If you want to do SEO for loan officers right, you need to optimize this tag.
The best way to optimize your title tag is to:
Keep it within 60 characters, so Google doesn't cut it off
Use your core keyword towards the beginning to determine immediate relevancy
Make it creative to catch your audience's attention
Use power words (stellar, terrifying, fantastic, etc.) to make your titles compelling
Once you've optimized your title tag, you can look at your header tag. While you can use the same title tag for your header tag, you'll want to consider creating something different. You don't have a character limit, so you have more wiggle room to embrace creativity.
The best way to write impactful header tags is to:
Make sure your header tags include your core keyword
Create a header that provides a little more information than your title tag
Have your header tag match the user's search intent
3. Ensure your pages function properly to keep leads engaged
Aside from keyword integration and optimizing tags, you'll also want to ensure your page runs properly. If your page doesn't load properly or quickly, you won't rank well in search results.
To ensure your pages load correctly, you'll want to:
Check your site's load time using Google PageSpeed Insights to ensure it loads quickly
Ensure your site is mobile-friendly using responsive design
Check that your navigation is functional and effortless to use
Make sure your call to action (CTA) buttons work and drive users to the right pages
By checking your pages to ensure they function correctly, you'll provide a better user experience and drive more traffic to your site.
4. Create content to drive more qualified traffic to your site
Content and SEO for mortgage brokers work together to help you drive more traffic to your site. When you create content, you appear in more search results, drive more traffic, and, therefore, rank better.
To start with content marketing, you need to come up with content topic ideas. Think about common questions your loaners ask you, or look at what people search about loan officers. Some questions might include:
How do I get a home loan?
How much does it cost to work with a mortgage broker?
How do I know which loan is right for me?
You can take these common questions and turn them into content pieces for your business. Not only does it help you answer your customers' questions more efficiently, but it also enables you to establish yourself as a knowledgeable authority in your field.
If you need more content ideas, you can look at your competition and see what topics they're covering with their content to inspire you.
Once you have your content topic, you'll choose your content format.
You can choose from a variety of formats, including:
You can use a different combination of these formats to keep your strategy fresh and exciting. Not to mention, some topics may lend themselves better to one format than another, so you can use the format that helps you deliver the information best.
To have an effective content marketing strategy, you need to publish content often. Use a content calendar to help you plan when you'll create, edit, and publish content to your site. It will help ensure that you're posting content frequently enough to keep your audience engaged.
When you create your content, don't forget to optimize it for search engines! You'll want to integrate relevant key terms throughout your page, compress your multimedia files to ensure your page loads quickly, and ensure that your page matches the user search intent.
5. Do local SEO to attract loaners in your area
When local home buyers need a loan, they will turn to your company. If you're not optimizing your business for local SEO, though, they may not find you and will find another mortgage broker instead.
To help local loan lenders find your business, you need to optimize for local SEO.
Here are a few ways you can appear in more local search results:
Optimize for local keywords: Local keywords include a location to help people find businesses in their area. Some keywords include "Loan officers in Los Angeles" or "Los Angeles mortgage brokers." Optimizing for these keywords will help local leads discover your business.
Claim your Google My Business listing: Your Google My Business (GMB) listing appears when people search for businesses in their area. Claim your GMB listing and fill out all the information. It will increase your chances of appearing in the local 3-pack and driving more leads.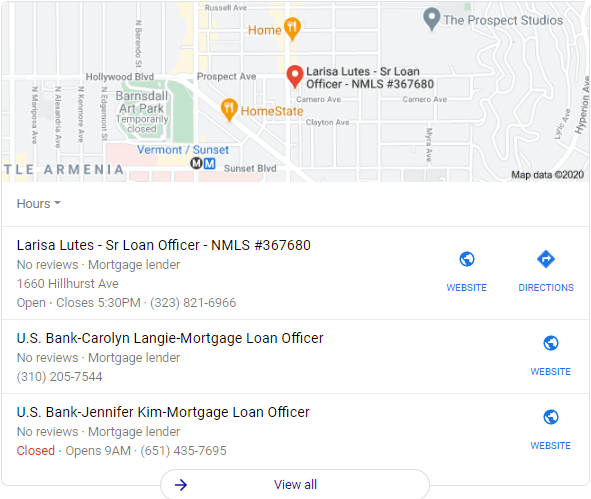 Ensure your name, address, and phone number (NAP) and accurate across the web: Ensure your NAP is consistent to deliver the same information no matter how people find you on the web. You can use a tool like LocalFX to make this job easy!
Our digital marketing campaigns impact the metrics that improve your bottom line.
See More Results

WebFX has driven the following results for clients:

$3 billion
In client revenue

7.8 million
Leads for our clients

5.2 million
Client phone calls
Get started with SEO for loan officers
SEO for mortgage brokers is an excellent way for you to help more loan seekers find your company. You can help your site rank in relevant search results and boost traffic for your business. SEO isn't a once-and-done task, though, so if you're feeling overwhelmed, you can rely on the experts at WebFX to help!
We know how to create SEO plans that drive results. We've driven over $3 billion in sales and over 7.8 million leads for our clients in the past five years. You can feel confident that we'll create a custom SEO campaign that drives results for your business.
Ready to dive into SEO for mortgage brokers? Contact us online or call us today at 888-601-5359 to speak with a strategist about our SEO services!
Earn a 20% greater ROI with WebFX