8 Tips for Using Influencer Marketing as a B2B Company
Want to attract more customers and earn more revenue for your B2B business?
Influencer marketing can help you connect with your target audience and develop relationships that compel them to buy.
Even if you know your products and services are great, you need to show potential customers. One of the best ways to do this is through influencers.
Influencers tend to be social figures or experts in your field. They share their opinions of products and services with their followers, influencing them to purchase. And they have the ability to reach businesses in your target market that you may struggle to reach on your own.
People value influencers because of their knowledge and honesty. They trust influencers. You can use influencers to help people learn more about your company and build a positive reputation in your industry.
If you want to learn how influencer marketing can help your B2B business, give us a call at 888-601-5359 to speak with a strategist, or keep reading to learn how you can effectively use influencer marketing!
Good agencies have more than 50 testimonials.
Great agencies have more than 100 testimonials.
WebFX has over 1000+ glowing client testimonials.
See What Makes Us Stand out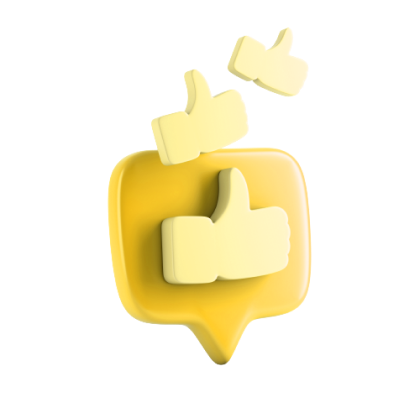 1. Define your target market
Before you identify influencers to work with, you need to have a solid understanding of your target market, the people you are trying to influence.
Take a look at the content your target customers engage with and share online. Who do they follow? What types of content do they like?
This will help you gain a better understanding of their interests and needs, and you can begin to identify key influencers on those platforms.
It's important to get to know your target market, so you can select the channels and influencers that allow you to best reach them.
2. Select influencers in your industry
Next, you'll need to select influencers to work with your business, and it's significant to pick influencers that are well-known in your industry.
If you want to reach businesses in your target market, look for influencers with a connection to your particular niche.
For B2B companies, it's important to connect with businesses in your target market. It is best to choose influencers who can help you reach your ideal audience, rather than influencers that have an array of followers that may or may not be in your market.
So, how do you find influencers?
There are numerous methods you can use to find the best influencers for your business.
Social media
Many influencers have large followings on social media platforms. This is a great place to start looking for those influencers. You'll want to choose influencers that have a strong presence on your preferred platform of social media.
On Twitter, you can search directly for influencers through the search bar. One way to find these influencers is by searching hashtags. If you search hashtags with terms related to your business, you may be able to find influencers that are using those hashtags.
If Facebook is your preferred platform, you can use their search function to find influencers. It requires some creativity and thinking outside the box to find the right people. You can also check out industry specific Facebook groups or pages to find influencers.
LinkedIn is one of the best options for finding influencers. You can search your industry to find influencers directly. There is also an option to join groups and watch for influencers to join them.
Social Metrics
Social metrics tools are a great way to find influencers. These sites crawl through social media sites and analyze the interactions between people. Once it collects the data, these people are ranked by their social influence.
There are numerous types of tools you can use to find these metrics. These tools include Klout, Brandwatch Audiences, Kred, and tons more.
3. Search on Google
You can always turn to Google to help you find influencers in your field. You can find people who are blogging and writing about topics in your industry. Depending upon your industry, you can also search for specific blogs that fit your industry.
3. Engage with the influencers first
Once you determine the influencers you want to partner with your business, you can start engaging with them online. By engaging with them, they will start to notice your company.
For example, if they post things on their social profiles that you find interesting, you can re-post them on your own pages. This will show the influencer that you are interested in the stuff they post. Your followers may even follow their pages after you post their content.
Engaging with the influencer is a great way to help them get familiar with your business and brand.
4. Understand your influencers' platforms
The biggest mistake companies make is working with influencers whose platforms don't align with their goals. Influencers are often approached by companies that don't do their research.
In order to create the best relationship, you want your company's goals to be aligned with an influencer's platform. You need to be on the same page in order to promote your business effectively.
For example, if an influencer focuses on social media services, but your company only focuses on email marketing, you're probably not a good fit to work together.
You want your influencers posts to be authentic. The best way to do that is to pick influencers that are already sharing topics related to your business and industry. If you're a social media company, you would want to choose an influencer that is a key figure in the social media realm.
5. Work with influencers to create content
Once you secure a partnership with influencers, you need to figure out what you want them to share. The best way to do this is to work with your influencers to create and share content.
Your influencers want to share content that aligns with their image. By creating tailored content, influencers can promote your business naturally, while staying true to their platform.
Your influencer marketing campaigns need to be authentic, and creating influencer-specific content can help you accomplish that goal.
6. Focus on the elevator pitch
When you work with an influencer, you want them to easily grasp your message and promote your business in a way that resonates with your target audience.
This is where the elevator pitch comes in. You should work with your influencer to get them to pitch your content in the amount of time it takes to go up an elevator. The goal is to aim for 2-3 sentences.
If your influencer uses video platforms like YouTube, you have a little more wiggle room. Videos that are up to two minutes long get the most engagement.
There is room to get creative here too. Your influencers can use catchy sayings or emojis, depending on your market, to get people's attention. It's all about getting the information out in a way that helps you connect with more customers.
7. Develop schedules with your influencers
If you want to get the most out of your influencer marketing campaigns, you should work with them to develop schedules for promoting your content.
As you produce content, you can create reasonable timelines for influencers to check it out and share their opinion on it.
This means you'll need to be consistent on your end, too. If you are supposed to produce content every Monday and the influencer needs to check it out by Wednesday, you need to stick to that schedule.
8. Increase connection with your brand
The most important part of influencer marketing is making people feel connected to your brand. If people don't feel connected, they don't feel they need to buy.
Influencers help people connect with your brand. They share information with their followers and highlight all the great aspects of the product. It is essential that buyers can relate to your brand.
When buyers relate to your brand, they feel more connected. They don't see you as a big business. Instead, it creates more of a personal connection with your company.
B2B buyers are 60% more likely to consider a B2B company that has a higher brand connection than one with a low brand connection. Buyers want to feel connected to your brand to understand your business better.
Influencer marketing helps connect people to your brand with unbiased opinions. And they can help you give potential customers an inside look at your business, products, and services.
Time to Level Up Your Sales
Our long list of services helps you grow every aspect of your business with marketing strategies that are proven to increase bottom-line metrics like revenue and conversions.
In the past 5 years, we've managed more than 12.9 MILLION transactions across our client base.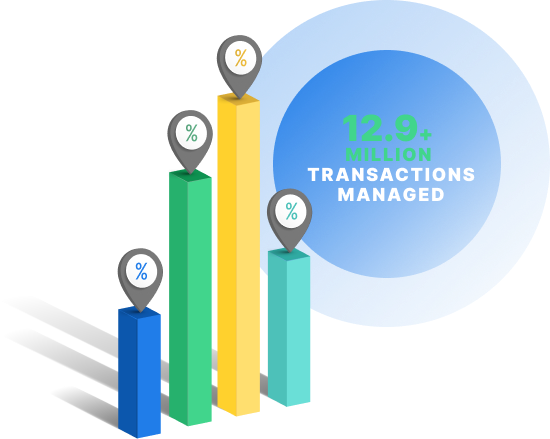 WebFX is a top influencer marketing company
If you're looking for a B2B influencer marketing company, look no further than WebFX. We are a full-service digital marketing company with a team of 500+ experienced team members that are dedicated to your campaign.
We have years of experience helping B2B businesses market to their customers. Our team creates a unique plan to fit your business. We know that no two B2B companies are alike, so we work with you to create a customized influencer marketing plan.
In addition, our pricing is transparent. We know your budget is important to you. That's why we provide you with all the information you need to make the best decision for your business.
Learn more
If you want to learn more about how WebFX can help your B2B company take advantage of influencer marketing, contact us today to speak with a strategist.
We look forward to working with you!