ADA Compliance Testing: How to Test Your Site's Accessibility
ADA compliance refers to the Americans with Disabilities Act Standards for Accessible Web Design. These standards require companies to offer and maintain accessible websites for people with disabilities.
ADA compliance testing helps you ensure that your site is accessible for everyone. If you're not sure how to get started with testing your website for ADA compliance, this page is for you!
Here's a quick overview of some of the topics we'll cover:
So, keep reading to learn more!
Bonus: Do you want even more web design and development top tips from award-winning experts? Then sign up for our newsletter, Revenue Weekly! Our subscribers get the latest web design and development advice sent straight to their inboxes for free!
What is ADA compliance testing?
ADA compliance testing is the action of performing tests on your website to ensure that it meets the guidelines set out in the Americas with Disability Act Standards for Accessible Web Design.
Testing helps you identify whether your website is ADA compliant and if there are any website improvements or changes you need to make to meet the standards.
Do you need ADA compliance testing?
ADA compliance affects almost every business and website. Companies and organizations that need to meet ADA standards include:
Private employers with 15 or more employees
State and local government agencies
Businesses that operate for the public's benefit
Not being ADA compliant when you need to be can result in lawsuits and heavy fines, which can result in financial difficulties for your company. So, it's always better to be compliant and not risk any financial setbacks.
Even if your business doesn't need to be ADA compliant, it's still essential to ensure that everyone can access and use your website. As a result, you can help more consumers discover and purchase the products and services they need while increasing your sales and revenue in the process.
How to test your website for ADA compliance
Now that you know the answer to the question "what is ADA compliance testing" and whether it applies to your website, let's go over how to ensure your site is compliant.
Here's how to test your website for ADA compliance:
1. Use free ADA compliance testing tools
If you want to test your site's ADA compliance quickly and easily, there are many free tools that can help.
Check out some of our favorite ADA compliance testing tools below:
Lighthouse
Offered by Google, Lighthouse is an automated tool that can help you improve the accessibility of your web pages and
more. Simply enter the URL of your website or specific web pages, and Lighthouse will conduct a thorough audit and provide you with a detailed report of how your site performed.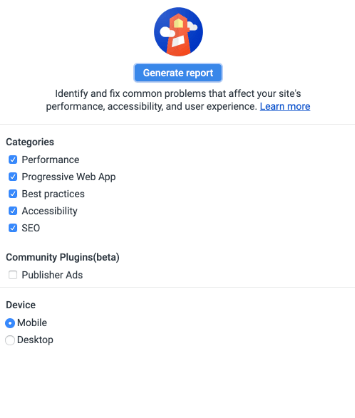 Lighthouse can give you detailed reports on your site's:
Performance
Accessibility
And more
Plus, Lighthouse will offer your recommendations for improvements you can make to your site and let you know why each improvement is essential for your website.
Wave
Next on our list of ADA compliance testing tools is Wave. With Wave, you can enter the URL of your website to evaluate whether your site's content is accessible for individuals with disabilities.

Wave will audit a variety of ADA guidelines for websites, including your site's:
Once you've entered your URL in the tool, Wave will provide you with a report of any accessibility errors so you can improve your site to become ADA compliant.
WordPress ADA compliance plugin
If you have a WordPress website, you can add an ADA compliance plugin to help ensure that your website is accessible for all users, like WP Accessibility Helper.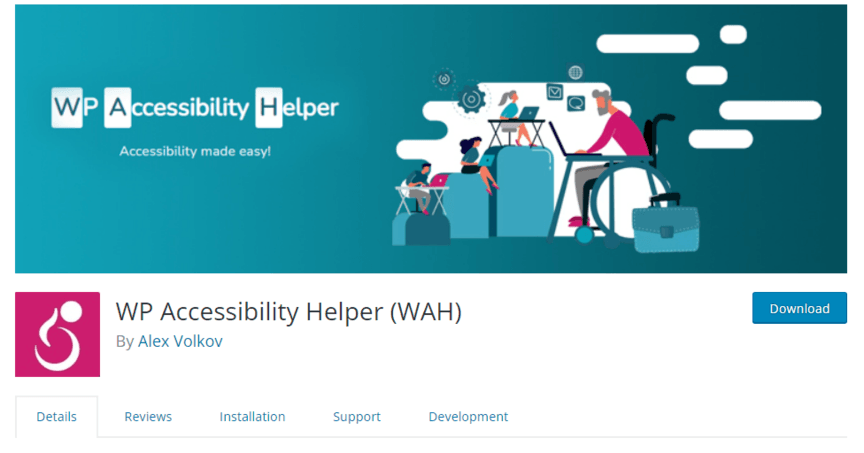 WP Accessibility Helper comes equipped with various tools to help you check if your site meets ADA guidelines. You can use these handy tools to make accessibility improvements across your site, like modifying your font sizes or changing your contrast ratios.
If you want to ensure that your WordPress website is ADA compliant, using a WordPress plugin, like WP Accessibility Helper, is a must.
2. Conduct a manual audit of your website
If you don't want to use any tools, you can also conduct a manual audit of your website to test for ADA compliance. When you conduct a manual audit, you'll assess the accessibility of your website using the Web Content Accessibility Guidelines (WCAG).
WCAG focus on four core elements of your website:
Perceivable: Your website should be easy for every user to perceive all of its information. In other words, each person that visits your site should easily understand the text, images, videos, and other content on your website to get the information they need.
Operable: Each user should have the ability to navigate your website and use its features with ease. If your site lacks a functional navigational system, you'll need to optimize your design to ensure that users can find the information they need.
Understandable: Your website and content should also be easy for all users to understand. If users find your information or features too confusing, your site might not meet ADA standards. Adding easy-to-follow instructions or implementing a seamless navigation system can help ensure that all users can understand your site and its content.
Robust: If you want your site to be ADA compliant, your website will need to be robust. This means that your website will need to be compatible with assistive programs, like screen readers, and all website browsers.
By following these guidelines and auditing each page of your website, you can ensure that your website is ADA compliant and accessible for every user.
3. Hire an experienced ADA compliant agency
Conducting a manual audit of your site's many pages or trusting a free tool to alert you to each accessibility issue can sometimes be time-consuming and risky. That's where an experienced agency, like WebFX, can help.
Your agency will conduct an audit of your website and outline a plan to help you make your site ADA compliant. An experienced agency can also implement an action plan for you so that you can focus on your business tasks.
If you're finding it challenging to wrap your head around all of the ADA guidelines or don't have the time to audit your website, hiring a dedicated agency could be the perfect option for you.
We foster and form long-term partnerships so that your business has long-term results.
Over 90% of WebFX clients continue partnering with us into year 2 of their campaign.
Hear from Our Happy Customers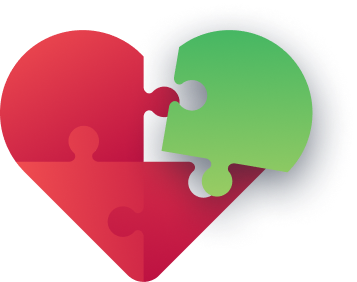 Need help with ADA compliant testing?
ADA compliance is a crucial requirement that you can't afford to ignore. If you need assistance making your website ADA compliant, WebFX can help!
Our team of professional web designers and developers has more than 25 years of experience helping businesses just like yours create and maintain websites that everyone can access.
Contact us online today or speak directly with one of our strategists by calling 888-601-5359 to learn more about our ADA compliance services!