Web Design Pricing: How Much Does Web Design Cost in 2022?
Whether you're looking to launch or revamp your company's website, you're probably wondering this all-too-common question — how much does web design cost in 2022? With professional web design prices ranging from $1000 to more than $100,000, there are a variety of factors that influence the cost of web design. Ready to learn what they are in this web design pricing guide, plus what you should pay for web design in 2022?



Website Design Cost Calculator
Get accurate website design pricing for your business with our free website design cost calculator. Just select what your company needs and click "See Pricing" to get an estimate instantly. It's fast, it's easy, and it saves you the hassle of contacting agencies for their web design prices.
Get an Instant Quote With Our Web Design Calculator
Use the sliders below to indicate your needs, then click the "See Pricing" button for a free, instant quote. We'll show you both low and high end estimates for each service category, so you'll end up with an overall range describing how much it might cost to get such a website built out.
How much should you spend on professional web design?
With web design prices ranging from $1000 to more than $100,000, it helps to know what's too much or too little to spend on professional web design.
That way, you can provide your company with an accurate cost estimate.
Need to know how much a website should cost fast? Learn about the cost of web design and website maintenance in this quick video (it's less than three minutes!) with Jazmin De Jesus of WebFX.
The best way to look at professional website design costs is as three separate tiers:

1. Basic web design ($1000 to $10,000)
A basic web design costs between $1000 to $10,000. It provides your business with a simple, yet effective website. Like intermediate and advanced web design, basic web design creates a website specific to your brand and goals.
If you're a small business or startup, basic web design offers a cost-effective option. It provides your company with a credible, user-friendly site that can start driving purchases, quote requests, phone calls, and more.
2. Intermediate web design ($10,000 to $50,000)
An intermediate web design costs between $10,000 to $50,000. It provides your business with a well-designed, performance-driven website. It often includes additional features, like a Content Management System (CMS) or copywriting, to meet your company's unique needs.
If you're a small-to-midsize business (SMB) or enterprise, an intermediate web design offers an ideal solution. It also gives your company the means to advance its other digital marketing strategies. A CMS, for instance, helps you publish content that supports your content marketing strategy.
3. Advanced web design ($50,000 to $100,000)
An advanced web design costs between $50,000 to $100,000. It provides your business with a custom, cutting-edge website. This web design tier can feature several add-on services, like database integration, ecommerce functionality, and more.
If you're an enterprise or corporation, advanced web design offers a solution that matches your company's size. It also maximizes your conversion rate and return on investment (ROI), which is critical in your competitive market.
As you can tell, the size of your company often determines your web design costs.
Just because you purchase a basic web design package, however, doesn't mean you're receiving a lower-performing website. Instead, you're buying a site that correlates to your size, needs, and goals, versus paying for features that you don't need.
What determines web design pricing in 2022?
With the broad price range for web design — $1000 to more than $100,000 — it's natural to wonder what determines the cost of web design in 2022. By understanding the numbers behind web design, you can create an accurate budget for your company and site.
The seven most influential factors on web design costs include: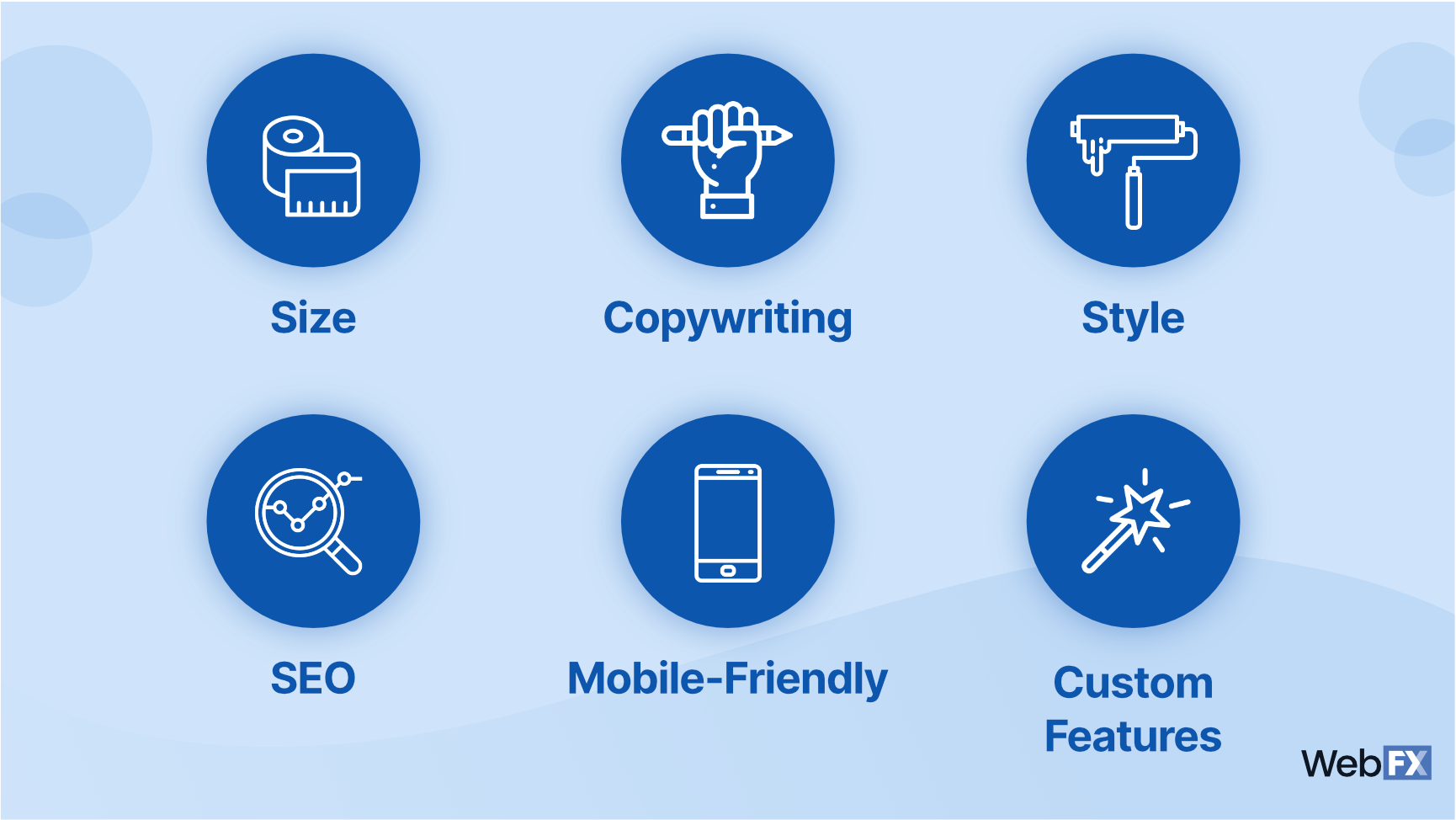 1. Size ($1000 to $10,000)
The size of your website plays a significant role in web design pricing.
If you're looking to create a larger site, you can expect to pay more for web design services. It requires more time and work to develop, build, and launch a big website with advanced capabilities like those needed for ecommerce stores.
In most cases, agencies define the size of your website by the number of pages. For instance, at WebFX, we have five different page ranges. You can experiment with these using our web design price calculator.
How much impact does a website's size have on prices, though?
It varies.

In most cases, the cost scales off the number of pages:
1 to 10 pages costs between $1000 to $2000
10 to 50 pages costs between $2000 to $3000
50 to 150 pages costs between $3000 to $6500
150 to 250 pages costs between $6500 to $10,000
If you require more than 250 pages, we can provide you with a custom quote.
2. Copywriting ($60 to $300 per page)
Another factor that affects your web design costs? Copywriting.
Depending on your digital marketing strategy, as well as budget, your company may use your agency's copywriting services for your webpages. If you do, it's wise to partner with a full-service digital marketing agency like WebFX that offers more than just web design services.
A full-service agency can provide optimized copy that captures your brand, product features, and unique selling points. What is optimized copy, though? It's content that targets keywords relevant to your business and target audience.
For example, if someone wants to purchase slippers, they may search for, "women's slippers." This search example features the keyword, "women's slippers," which you can target on your product page for Women's Slippers.
If you're unfamiliar with optimizing content for search engine optimization (SEO) — like in the previous example — then it's worth paying for site copywriting. With this service, you can maximize the performance of your website, as well as your ROI.
How does copywriting impact your web design pricing, though?
While the cost of copywriting varies, you can expect to pay around $300 per webpage. If you're an ecommerce store, product pages generally cost around $60 per page — ecommerce product pages have a lower price due to their shorter word count.

3. Style ($2000 to $15,000)
The style of websites varies a lot, which is why your preferred site style impacts your web design pricing.
For example, if you're a luxury jewelry company, you're probably looking to create a high-end website that conveys not only your brand but also your product or service quality. In comparison, a roofing contractor's web design may feature a more laidback, yet professional design with a focus on trust.
In most cases, that tends to cost more due to the amount of design and labor required.
No matter what sort of style you're looking for, from simple to high-end, it's critical that your agency creates a website that captures your brand, as well as provides an intuitive and seamless experience for shoppers.
How much does web design cost when it comes to style, though?
It depends on the agency.

For example, our prices for a specific web design style range from a few thousand dollars to several thousand dollars — we also allow you to select zero styling for an attractive, yet simple design. While WebFX encourages you to customize your pricing, other agencies include the cost of styling your site in their base prices.
In some cases, that can result in higher web design costs.
That's why it's worthwhile for your team to request quotes from several different agencies. By taking this proactive step, you can partner with the best agency for your company without exceeding your budget.
4. SEO ($2000 to $10,000)
If you're partnering with a full-service digital marketing agency for your web design, they probably offer SEO services, which you can bundle with web design. Some, like WebFX, include not only SEO but also a placement guarantee.
What is a placement guarantee?
It guarantees that your website will rank on the first page of search results for a designated keyword. For example, if your site appeared on the first page of search results for the keyword, "wool slippers," that would meet your placement guarantee.
In most cases, agencies offer a placement guarantee for a select number of keywords. They also limit the placement guarantee to keywords with a certain amount of search results. For instance, the placement guarantee may only apply to keywords that generate one million search results.
That doesn't mean these keywords aren't as valuable — they are and can make a tremendous difference in your company's weekly sales and leads. Plus, they're easier to rank for in search results. That can help your web design budget do more for your business in both the short- and long-term.
What does SEO placement guarantee cost, though?
Bundling web design with SEO placement guarantee can increase your web design costs by $2000 to $10,000. The price for this service generally scales off the number of keywords targeted. For example, it costs more to optimize and rank for 150 keywords than for 30 keywords.

If you want to make the most of your web design investment, then it's a smart choice to add SEO placement guarantee services. Rank on the first page of search results, and you can increase your conversions and revenue.
Why? You rank for keywords relevant to your target audience and business. Plus, 75 percent of users stick to the first page of search results. They don't bother clicking on page two, three, or four, which means your business needs to appear on page one to succeed.
5. Responsive design ($3000 to $25,000)
With more than 50 percent of the world's Internet traffic coming from mobile devices, it's essential that your website features a mobile-friendly or responsive design. If not, your company risks losing valuable customers and credibility.
Why? A mobile-friendly site improves the opinion of more than 60 percent of users. It also makes almost 70 percent of users more likely to become your customer. Those are users you don't want to lose to a competitor — so invest in a mobile-friendly design.
If you think about your clients, you may also find that many of them turn to their mobile devices when searching for your business. When someone's central air breaks, for example, they may turn to their phone (rather than booting up their computer) to find and call an HVAC company.
In this scenario, it's high-priority for an HVAC web design to be responsive.
How much does a mobile-friendly design cost, though?
If you want to create a mobile-friendly website that's separate from your desktop version, it can cost between $5000 to $25,000. There is a cost-effective alternative to this option, however — responsive design.

With responsive or dynamic design, you're developing one website. It adapts to every device, which makes viewing your site on phones, tablets, and desktops seamless. As a result, responsive design costs $3000, on average.
6. Additional site features ($2000 to $25,000 per feature)
Agencies offer a variety of add-ons with their web design services, including:

Ecommerce functionality: For ecommerce stores, it's essential to launch a site that can accept and process orders securely. Prices for ecommerce functionality range from $2000 to $25,000. Like CMS integration, the cost of this service depends on your company size and needs.
Database integration: Ecommerce stores also add-on database integration services to their web design project. This service provides your site access to a database for pulling critical product information, shipping data, and more. It costs between $2000 to $25,000.
If you're unsure which additional services your company may need, ask for the opinion of each agency you're considering. The agency should, however, back up its recommendations with evidence and explanations for why your company would benefit from a specific service, like ecommerce functionality.
7. Money-back guarantee (Priceless)
Research a few web design agencies, and you'll discover that many offer money-back guarantees. With a money-back guarantee, your company receives a refund if you're not satisfied with your newly designed website.
In most cases, money-back guarantees expire after a set period.
A money-back guarantee doesn't cost your company a thing. For web design agencies, a money-back guarantee provides them with a unique selling point. It's also a statement on their client satisfaction rate.
If an agency consistently refunded their clients, they wouldn't stay in business.
For the best experience, choose an agency that offers a money-back guarantee. It ensures your company's happy with your website, as well as prevents your business from wasting money on a site you don't like.
Web design pricing FAQS
What is web design?
If you're trying to convince your company to invest in web design, it's critical that they understand the focus of web design. This service consists of the development, build, and launch of a website. That includes a variety of tasks, like the following:
Choosing a color scheme
Writing website copy
Creating a site hierarchy
And more
Due to the number of tasks, several specialists work in website design. They include graphic designers, web developers, project managers, and more. That's why many companies partner with a web design agency, like WebFX, for comprehensive services.
Why does web design matter?
Whether your company operates offline or online, it's critical to have an online presence. A website allows you to connect with more than 55 percent of the world's population — which means the Internet provides your business convenient access to your target audience.
What are some other reasons for web design, though? Discover its three biggest benefits:
1. Web design improves customer satisfaction
With almost 90 percent of consumers shopping with a competitor after a poor user experience (UX), it's a tremendous advantage if your company invests in web design. With professional web design, you can ensure your website provides the best UX possible.
What is UX, though?

UX design refers to a few concepts, including the architecture or arrangement of your site. It's overall goal, however, is to provide a user-centric experience. Meaning, it's easy and intuitive for people to use your website — they don't run into issues, become confused, or get lost on your site.
The best part is that more than 85 percent of shoppers are happy to pay for better UX. It's a fact that emphasizes how much value consumers put on web design. They want a seamless and hassle-free experience when shopping, and they're willing to pay for it.
2. Web design increases conversion rates
With professional web design, your company can give your conversion rates a permanent boost. Why? A website conveys your credibility to users, as well as makes it simple for users to engage with your company, like by completing a quote request form.
According to consumers, 75 percent of your credibility also comes from your site's design. Another fact that demonstrates your website's influence on conversion rates? When it comes to first impressions, almost 95 percent of them relate to web design.

If your website doesn't convey credibility or features poor usability, that pushes users away from your site. When that happens, your conversion rates — and your profits — drop. That's why web design is so critical. It can help your company maintain your conversion rates, as well as increase them.
For instance, Cleveland Brothers, a Caterpillar® equipment provider, boosted their conversion rates by more than 35 percent with our web design and web development services. That's created a tremendous impact for the company, allowing them to expand their team, increase their sales, and more.
3. Web design delivers impressive ROI
With web design's massive ROI, it's easy for company decision-makers to recognize its potential value. For perspective, the average ROI of UX is $100 for every $1 invested — that's a significant return.
It's essential, however, to partner with a web design agency that prioritizes your ROI. What that means is your agency focuses on the appearance and functionality of your website so that it delivers the best return and UX possible.

WebFX, for example, accomplishes that by investing the time to learn your business, industry, and products. We also partner you with a dedicated account and project manager, which ensures you receive a site that satisfies you and your target audience.
Ready to Grow? Get your FREE Quote Today!
We measure our success by how much we WOW our clients.
Web design pricing from WebFX
At WebFX, we offer several web design services, including:
Website design
Our website design services provide your business with a website customized to your business and goals. We also ensure your site offers the best user experience possible, helping your company maximize its conversions and revenue.
Website redesign
Our website redesign services provide your business with a revamped, modern website tailored to your company. We conduct an in-depth audit of your site before developing a redesign project plan that not only modernizes your site but also improves your UX.
Landing page design
Our landing page design services provide your business with a performance-driven landing page. We research your market, learn your business, and test your new landing pages. Our drive results in a landing page that encourages users to stay and connect with your company.
508 compliance design
Our 508 compliance design services provide your business with confidence. We audit your website for 508 compliance and develop a series of recommendations, which we can also implement. That gives your company a site that complies with federal regulations.
Rapid 30-day web design
Our rapid web design services provide your business with a new website in 30 days. We create your website by choosing from one of three site templates, which we customize to your company. This service offers your business everything you need to start dominating search results.
All our services feature our award-winning design team, plus a dedicated account and project manager.
If you decide to take advantage of our SEO copywriting services, you also receive access to our proprietary and industry-leading platform, MarketingCloudFX.
IBM Watson powers MarketingCloudFX. An advanced and sophisticated machine learning and artificial intelligence software, IBM Watson allows MarketingCloudFX to provide data-driven recommendations for your SEO strategy. For your business, that means increased sales and market dominance.
Improve your website with WebFX