Web Design Pricing: How Much Does Web Design Cost in 2024?
Whether you're looking to launch or revamp your company's website, you're probably wondering this all-too-common question — how much does web design cost in 2024? With professional web design prices ranging from $1000 to more than $100,000, there are a variety of factors that influence the cost of web design. Ready to learn what they are in this web design pricing guide, plus what you should pay for web design in 2024?
Website Design Cost Calculator
Get accurate website design pricing for your business with our free website design cost calculator. Just select what your company needs and click "See Pricing" to get an estimate instantly. It's fast, it's easy, and it saves you the hassle of contacting agencies for their web design prices.
Project Quote Calculator
Use the sliders below to indicate your needs, then click the "See Pricing" button for a free, instant quote.
Project Quote Calculator
We estimate your project will cost between and . Please complete the web form below for an exact project quote from a WebFX website design strategist.
"*" indicates required fields
How much does website design cost?
The average cost for designing a website ranges from $1000 to more than $100,000. Several factors impact the price of web design, including the website's style, size, and functionality features. What should your company spend on web design, though, and what does web design even include?
Find out in this website design pricing guide!
Already want a custom web design quote? Give our award-winning team a ring at 888-601-5359, or contact us online to discover what our talented team of web designers can do for you.
If you want to learn more before requesting a quote, just keep reading!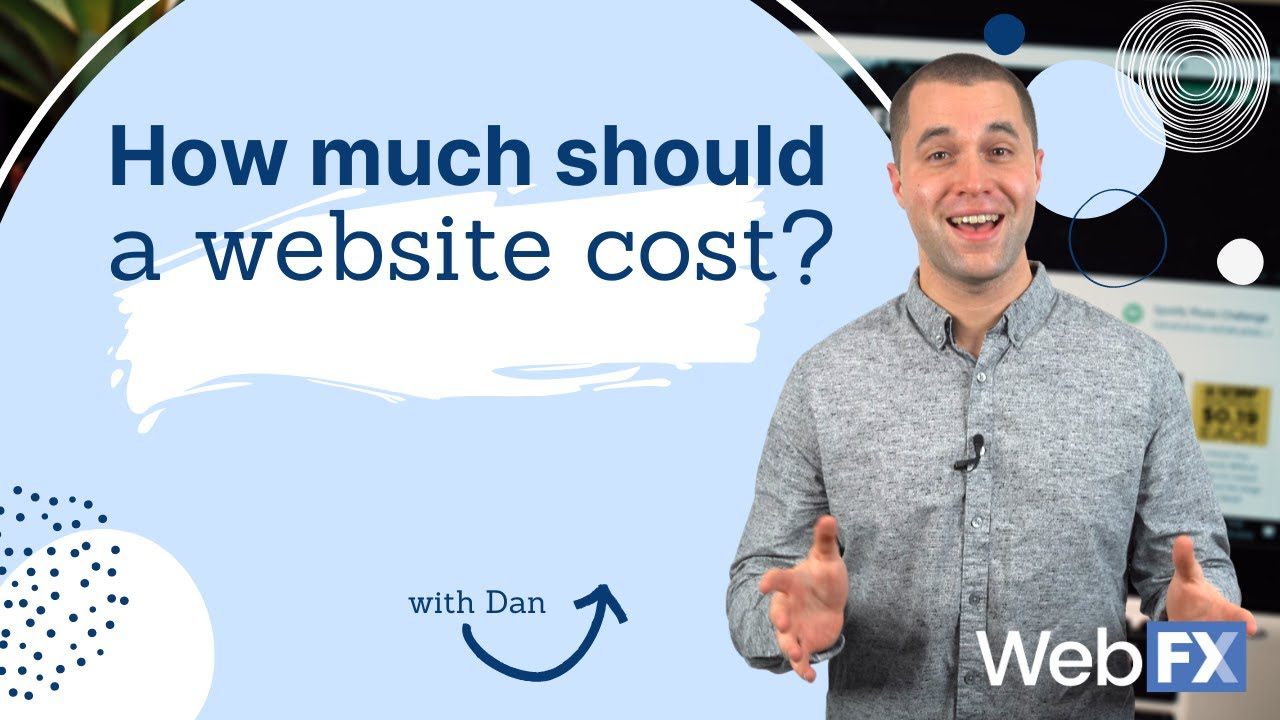 What determines web design pricing in 2024?
With the broad price range for web design — $1000 to more than $100,000 — it's natural to wonder what determines the cost of web design in 2024. By understanding the numbers behind web design, you can create an accurate budget for your company and site.
| Feature | Web Design Cost |
| --- | --- |
| Site Size | $1000 to $10,000 (for 1 to 250 pages) |
| Site Copywriting | $60 to $300 per page |
| Site Style | $2000 to $15,000 |
| Site Optimization (SEO) | $2000 to $10,000 |
| Responsive Design | $3000 to $25,000 |
| CMS Integration | $2000 to $25,000 |
| Ecommerce Functionality | $2000 to $25,000 |
| Database Integration | $2000 to $25,000 |
| Domain Name | $0.95 to $12 |
| SSL Certificate | $0 to $1500 |
| Site Hosting Service | $24 to $24,000 |
The seven most influential factors on web design costs include: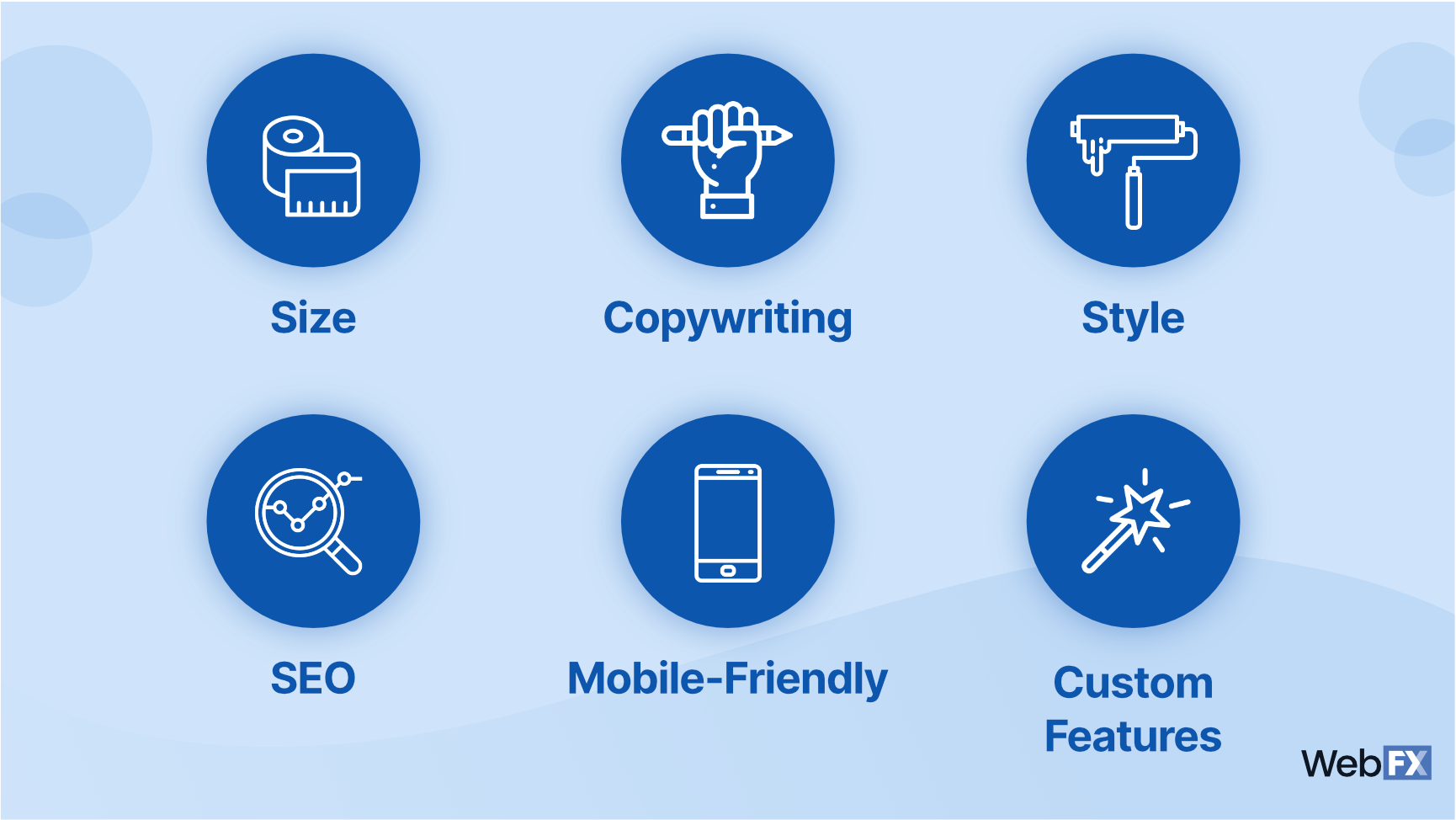 1. Size ($1000 to $10,000)
The size of your website plays a significant role in web design pricing.
If you're looking to create a larger site, you can expect to pay more for web design services. It requires more time and work to develop, build, and launch a big website with advanced capabilities like those needed for ecommerce stores.
In most cases, agencies define the size of your website by the number of pages. For instance, at WebFX, we have five different page ranges. You can experiment with these using our web design price calculator.
How much impact does a website's size have on prices, though?
It varies.

In most cases, the cost scales off the number of pages:
1 to 10 pages costs between $1000 to $2000
10 to 50 pages costs between $2000 to $3000
50 to 150 pages costs between $3000 to $6500
150 to 250 pages costs between $6500 to $10,000
If you require more than 250 pages, we can provide you with a custom quote.
2. Copywriting ($60 to $300 per page)
Another factor that affects your web design costs? Copywriting.
Depending on your digital marketing strategy, as well as budget, your company may use your agency's copywriting services for your webpages. If you do, it's wise to partner with a full-service digital marketing agency like WebFX that offers more than just web design services.
A full-service agency can provide optimized copy that captures your brand, product features, and unique selling points. What is optimized copy, though? It's content that targets keywords relevant to your business and target audience.
For example, if someone wants to purchase slippers, they may search for, "women's slippers." This search example features the keyword, "women's slippers," which you can target on your product page for Women's Slippers.
If you're unfamiliar with optimizing content for search engine optimization (SEO) — like in the previous example — then it's worth paying for SEO copywriting services. With this service, you can maximize the performance of your website, as well as your ROI.
How does copywriting impact your web design pricing, though?
While the cost of copywriting varies, you can expect to pay around $300 per webpage. If you're an ecommerce store, product pages generally cost around $60 per page — ecommerce product pages have a lower price due to their shorter word count.

3. Style ($2000 to $15,000)
The style of websites varies a lot, which is why your preferred site style impacts your web design pricing.
For example, if you're a luxury jewelry company, you're probably looking to create a high-end website that conveys not only your brand but also your product or service quality. In comparison, a roofing contractor's web design may feature a more laidback, yet professional design with a focus on trust.
In most cases, that tends to cost more due to the amount of design and labor required.
No matter what sort of style you're looking for, from simple to high-end, it's critical that your agency creates a website that captures your brand, as well as provides an intuitive and seamless experience for shoppers.
How much does web design cost when it comes to style, though?
It depends on the agency.

For example, our prices for a specific web design style range from a few thousand dollars to several thousand dollars — we also allow you to select zero styling for an attractive, yet simple design. While WebFX encourages you to customize your pricing, other agencies include the cost of styling your site in their base prices.
In some cases, that can result in higher web design costs.
That's why it's worthwhile for your team to request quotes from several different agencies. By taking this proactive step, you can partner with the best agency for your company without exceeding your budget.
4. SEO ($2000 to $10,000)
If you're partnering with a full-service digital marketing agency for your web design, they probably offer SEO services, which you can bundle with web design.
If you want to make the most of your web design investment, then it's a smart choice to add SEO services. Rank on the first page of search results, and you can increase your conversions and revenue.
Why? You rank for keywords relevant to your target audience and business. Plus, 75 percent of users stick to the first page of search results. They don't bother clicking on page two, three, or four, which means your business needs to appear on page one to succeed.
What does SEO cost, though?
Bundling web design with SEO can increase your web design costs by $2000 to $10,000. The price for this service generally scales off the number of keywords targeted. For example, it costs more to optimize and rank for 150 keywords than for 30 keywords.
5. Responsive design ($3000 to $25,000)
With more than 50 percent of the world's Internet traffic coming from mobile devices, it's essential that your website features a mobile-friendly or responsive design. If not, your company risks losing valuable customers and credibility.
Why? A mobile-friendly site improves the opinion of more than 60 percent of users. It also makes almost 70 percent of users more likely to become your customer. Those are users you don't want to lose to a competitor — so invest in a mobile-friendly design.
If you think about your clients, you may also find that many of them turn to their mobile devices when searching for your business. When someone's central air breaks, for example, they may turn to their phone (rather than booting up their computer) to find and call an HVAC company.
In this scenario, it's high-priority for an HVAC web design to be responsive.
How much does a mobile-friendly design cost, though?
If you want to create a mobile-friendly website that's separate from your desktop version, it can cost between $5000 to $25,000. There is a cost-effective alternative to this option, however — responsive design.

With responsive or dynamic design, you're developing one website. It adapts to every device, which makes viewing your site on phones, tablets, and desktops seamless. As a result, responsive design costs $3000, on average.
6. Additional site features ($2000 to $25,000 per feature)
Agencies offer a variety of add-ons with their web design services, including:

Ecommerce functionality: For ecommerce stores, it's essential to launch a site that can accept and process orders securely. Prices for ecommerce functionality range from $2000 to $25,000. Like CMS integration, the cost of this service depends on your company size and needs.
Database integration: Ecommerce stores also add-on database integration services to their web design project. This service provides your site access to a database for pulling critical product information, shipping data, and more. It costs between $2000 to $25,000.
If you're unsure which additional services your company may need, ask for the opinion of each agency you're considering. The agency should, however, back up its recommendations with evidence and explanations for why your company would benefit from a specific service, like ecommerce functionality.
7. Money-back guarantee (Priceless)
Research a few web design agencies, and you'll discover that many offer money-back guarantees. With a money-back guarantee, your company receives a refund if you're not satisfied with your newly designed website.
In most cases, money-back guarantees expire after a set period.
A money-back guarantee doesn't cost your company a thing. For web design agencies, a money-back guarantee provides them with a unique selling point. It's also a statement on their client satisfaction rate.
If an agency consistently refunded their clients, they wouldn't stay in business.
For the best experience, choose an agency that offers a money-back guarantee. It ensures your company's happy with your website, as well as prevents your business from wasting money on a site you don't like.
Ready to Grow? Get your FREE Quote Today!
"We measure our success by how much we WOW our clients."

Bill Craig
WebFX President
Improve your website with WebFX