The Beginner's Guide to Effective Email Marketing: Email Design 101
Keep reading to learn how to design a fantastic email for your campaigns!
Table of Contents:
The Beginner's Guide to Effective Email Marketing
Once you know what kinds of content and messages you plan on sending to your subscribers, you can start on the design of the email template that will contain everything.
Can you work on your email's design before you work on its content? Yes – but it's not always a good idea. It's far easier to design an email around content than it is to do the reverse. If you inadvertently omit a section that you later realize is needed, or don't take necessities like your contact information or unsubscribe link into consideration, you may find that you have to go back and redesign your template!
What's an Email Template?
Most of the time, when you receive email messages from a specific business or organization, their emails will look fairly similar. They may all have the same colors, links, headers, footers, or structure. This is usually because the emails are composed in a pre-created "shell" that allows content to be placed inside — otherwise known as an email template.
A template allows you to design the basic look and feel of your emails once, and then drop your unique content (like images, links, copywriting, and so on) into that same shell each time you want to send an email. It both saves time and makes your branding consistent, so that anyone who opens your emails or email blast regularly recognizes that they're from you right away.
Most (although not all) companies rely on email templates to make the process of designing their emails simple. So in this section, we'll be walking you through a few email template examples to inspire you as you think about what you want your own emails to look like.
Focus on Copy
If you're planning to send informational or educational emails, the copywriting included in these messages is probably going to need to be the star. It's for this reason that many email templates sent by those in the B2B industry have a strong focus on copywriting — that is, they're largely text-based.
While we don't recommend sending emails that are all text — remember to break things up with images to avoid boring your subscribers — using a copy-focused template can keep distractions to a minimum and ensure that your readers are able to absorb each and every important word.
Content Marketing Institute's weekly emails are very copy-focused, probably because each one includes a letter from the founder, Joe Pulizzi.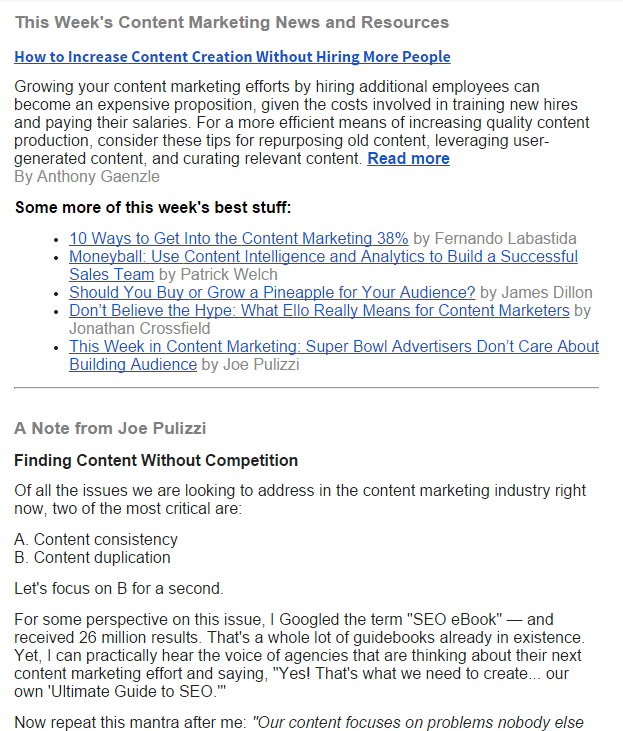 Focus on Images
On the other hand, if you run an ecommerce business or retail store, chances are pretty good that the emails you send out will be filled with product photography. It's for this reason that image-focused templates are also very popular.
The Crate & Barrel email we showed you earlier is a perfect example: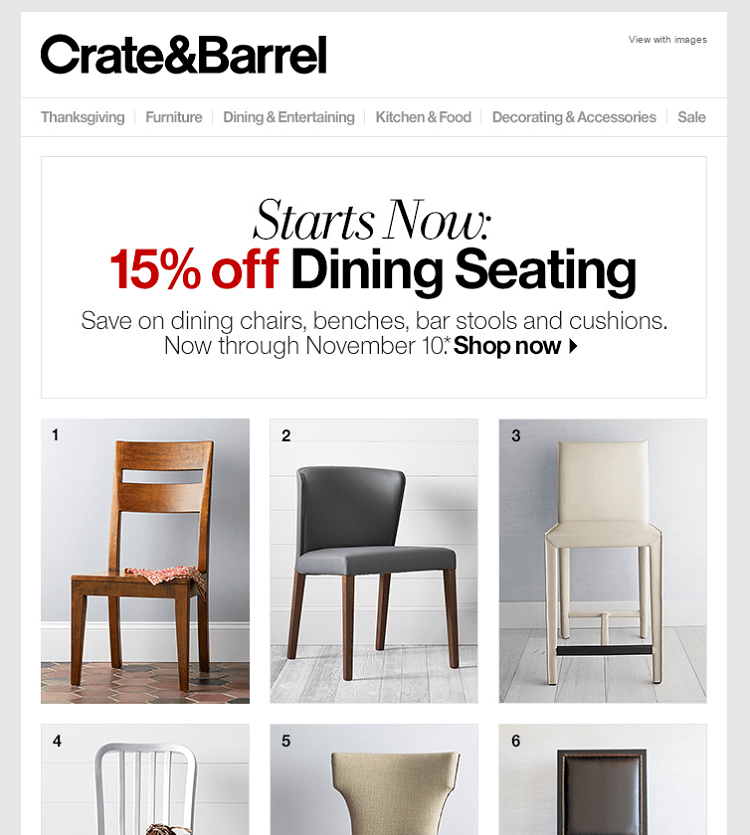 One thing to keep in mind for those of you considering an image-heavy email template: no matter what you put in an HTML email, you're going to need to create a plain text equivalent. Check out the plain text section below to learn a little more about this.
Blended Copy and Images
Get the best of both worlds by creating an email template that blends both large, engaging graphics with blocks of copy. This is great for companies that want to make a visual impact at the start of their emails, then use copy to explain their concept in further detail… or vice-versa!
Again, the IKEA email we showed you earlier is a great example of this: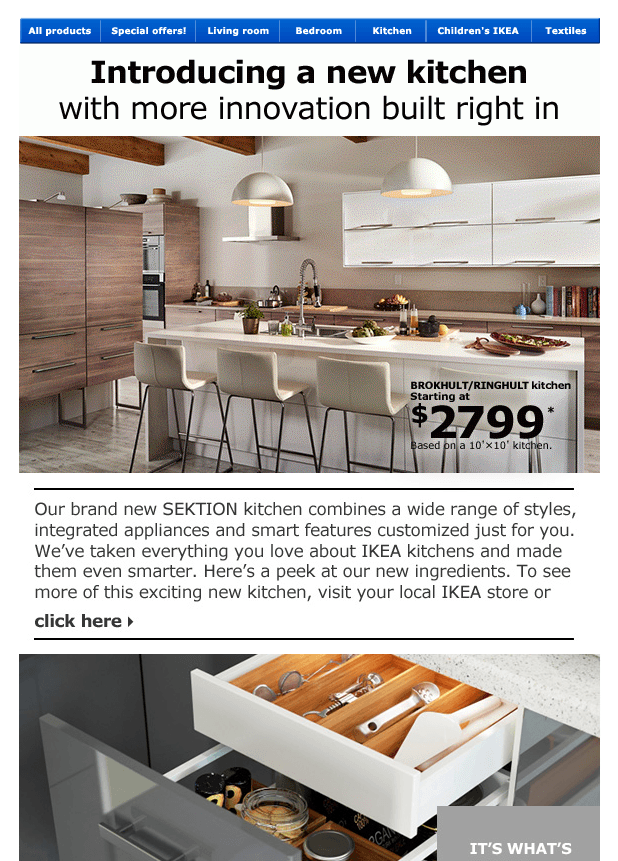 Blended content like this is probably one of the most popular ways to set up an email, especially since you run the risk of your images not always loading properly in some clients or older devices.
Single Column
Along with the elements included in emails, you should also consider the format in which you present your information. This may mean including your content in a single, long column, or breaking it up into two or more.
Single column emails are the most likely to be responsive — that is, designed to be compatible with devices of every screen size. With just a single column to size up or down, the template doesn't need to be restyled too much to be compatible with mobile phones.
The biggest disadvantage of single column email templates is that they have the potential to look bland unless you spend time adding visual elements. But they are easy to read, which is definitely a plus.
Motorola uses graphics to give their single column format a punch: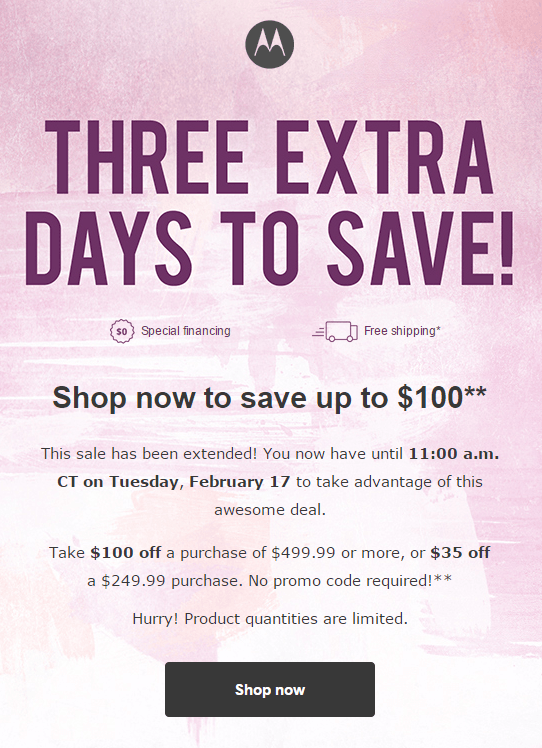 Multi-Column
Multi-column emails allow you to present a larger amount of information in a smaller space. They may also be slightly more visually interesting than single column emails, and give subscribers multiple viewing or clicking options without needing to scroll down a page.
However, much like multi-column websites, these email templates don't convert into a responsive layout without a little bit of special design work. One or more columns may have to be shifted lower down the email (making it a single column email on mobile anyway), or even disregarded.
Chevrolet finished a recent email with two small side-by-side columns at the bottom: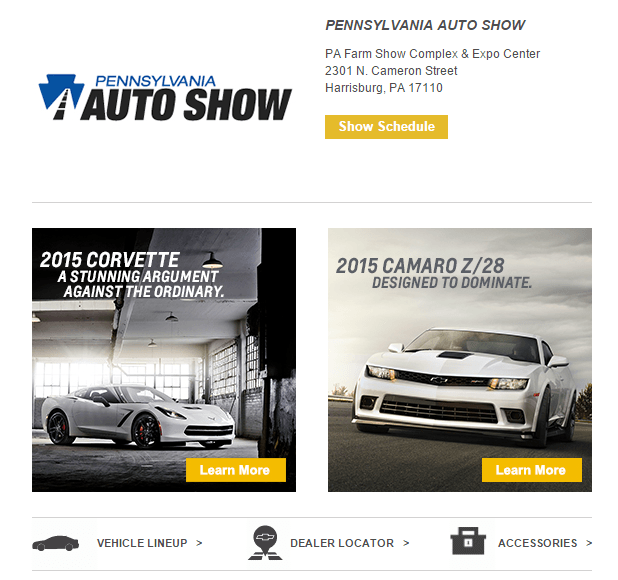 Do I Have to Have an Email Template?
Yes and no. Some companies, like CB2, send emails that do not follow a set layout. These emails are custom coded to place features, products, or images in different places each time a message is sent.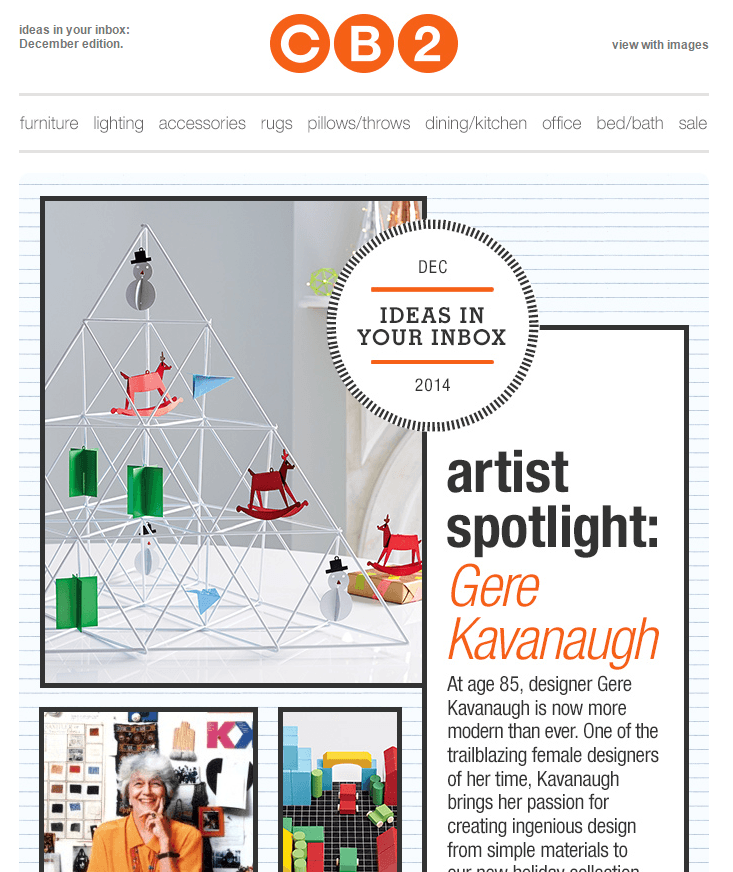 However, CB2 (and other companies that create similar email messages) do still have a template that they use. It consists of the email's header (containing a logo and links) and footer (containing important information and more links). Though this may not seem like a template, every email still contains these consistent visual elements:

You don't have to use or follow the same kind of template or static layout each and every time you create an email marketing message. However, layouts like these require extensive custom designing and HTML coding, which may prove too time-consuming or demanding for an email novice.
Plain Text Emails
One important thing you should know when creating your email template is that you should also plan to create a plain text version of every email you send. Plain text emails are exactly what they sound like: unformatted text containing no images, HTML, or special effects.
Why do you need plain text emails? Well, there are a few reasons:
Some devices can't render HTML emails. For example, Apple and Android smartwatches can only display emails in plain text format.
Spam filters look for plain text versions. If your email is sent without one, it may be flagged as potential spam.
Some of your subscribers just would rather look at plain text. If your emails take a long time to load due to lots of images or content, a subscriber who's impatient or currently using a slow Internet connection might opt to switch to plain text to understand your message more quickly.
Not sure how you're going to go about making these emails? Not to worry: most modern day email clients will create a plain text version of your emails for you automatically. You'll first create a version of the email in your template, and then the client will automatically generate one for you in plain text. You'll always have the option to adjust it if you find anything that is incorrect or improperly formatted.
What Email Design is Best for Me?
One of the biggest factors that will determine the look of your email is the look of your website. If your email template is designed to match the layout of your site, it can make your branding more consistent.
A few other things to consider:
Is your website simple and responsive? If so, your template should match: your visitors have come to expect mobile-friendliness, so your emails should also follow suit.
Do you plan to send mostly text information, visual elements, or a mixture of both?
How much time do you think you'll have to adjust your template for special sales, deals, or announcements?
Will you have access to a designer who can create non-templated emails for you?
By considering all these factors, as well as email design best practices, you'll be able to make a smart decision about what your emails should look like, and what kind of template you should design.
Of course, you can't design an email template without knowing what platform you'll be designing it on! So let's move onto the next section, where we'll discuss how you can pick the right email platform or marketing provider for your business.