Email Marketing for Small Business
So you've finally established a small business. Maybe you created a website and set up profiles on all the popular social media platforms. Naturally, you want to grow your company as much as possible using the proper tools.
SMB
SMB Email Marketing Agency: Nurture Leads into Revenue Email marketing boasts a return on investment (ROI) of $44 for every $1 spent, making it one of the most valuable strategies for driving revenue for your small-to-midsized business (SMB). With the […]
SMB
Home How to Open an Amazon Storefront (And Start Selling) With more than one million small-to-midsized businesses selling on Amazon, your company needs to stand out from the competition. Opening an Amazon storefront, also called an Amazon Store, can set […]
But have you considered email marketing?
Email marketing for small businesses involves sending blasts of company-relevant information to a list of subscribers who are interested in your company. But the best part is that it pays.
Email marketing yields a 4300 percent return on investment, one of the highest in marketing today. It also has an order value 17 percent higher and a conversion rate three times greater than social media. So, how can you incorporate these fantastic numbers into your digital marketing strategy?
Keep reading to find out! Or, get WebFX's award-winning team on your side with our email management and lead nurturing services, which include playbooks for just about every email type, from welcome emails to abandoned shopping cart emails. Browse our plans or contact us online to learn more!
Time to Level Up Your Sales
Our long list of services helps you grow every aspect of your business with marketing strategies that are proven to increase bottom-line metrics like revenue and conversions.
In the past 5 years, we've managed more than 12.9 MILLION transactions across our client base.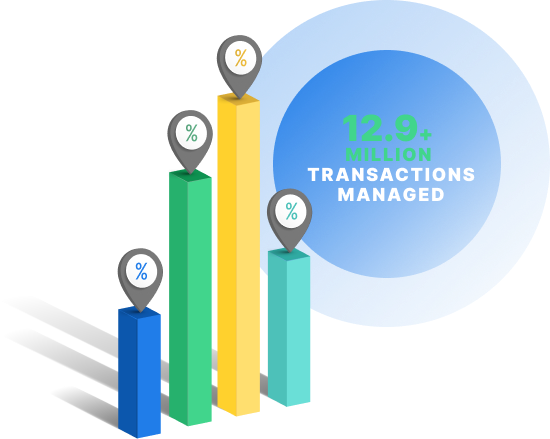 What is email marketing?
Using an automated system, email marketing targets groups of people by emailing them or series of emails. You can send the email manually, or you can trigger them to send when the user completes a certain act, such as subscribing to your email list.
How can email marketing benefit small business?
Email marketing for small business is beneficial in many ways. Besides giving you the ability to easily target the right people, email marketing for small business has multiple benefits, including:
Low cost, high ROI. Emails cost almost nothing except for the time you put into making them — for SMBs, email marketing services typically cost $300 to $500 per month. Plus, you can find some automated services that will send small-scale email blasts for you, like MailChimp.
Huge audience. There's no limit to your reach when it comes to email marketing. Subscribers can receive your emails from around the world, setting you up to conduct business with a diverse audience.
Impulse purchases. What other forms of marketing can take a consumer from seeing an offer to making a purchase in a matter of seconds? If you're in ecommerce, email marketing can send customers deals and discounts straight to their inboxes.
Easy tracking. You can easily discover who is opening your emails and who is trashing them right away. This lets you tweak your subject lines, email content, and more to obtain the widest possible readership.
Fast results. In nearly every case, email marketing for small businesses achieves faster results than traditional marketing media.
How to start email marketing for small business
Before anything else, you have to decide what tools you're going to use to create emails for your audience. You can begin with two simple steps:
Create a welcome email that people will receive after they sign up.
Add a subscription form to your website, so users can opt into your list.
After you've set up the welcome email and subscription form, it's time to focus on what you'll share with your recipients.
WebFX is a partner businesses trust.
Hear from HydroWorx, who saw a 236% increase in organic sessions with WebFX services.
Watch the Video Testimonial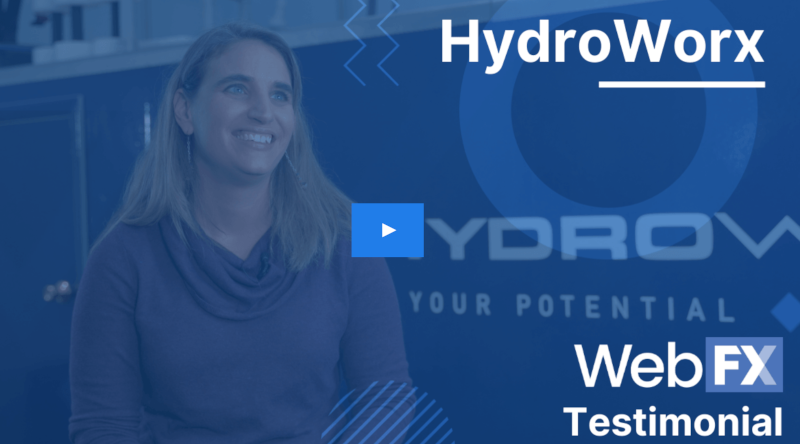 Email marketing ideas for small businesses
Email marketing campaigns will vary depending on your small business. Fortunately, there are a number of different kinds of emails you can send to your subscribers, including:
Communication
Communicating with your audience is the main reason behind any campaign. You want to engage with them to show them that you remember them while also promoting your business. Purely informational communication can include automated birthday messages, congratulations emails, and other content that just show you remember your customers.
Promotion
The big money-maker in email marketing for small businesses is promotion. You can use this opportunity to send your customers' information about deals that you have, upcoming sales, and other enticing offers that will tempt them to buy.
Quality content
Helpful lists, how-to guides, interesting videos, and educational infographics are all excellent forms of content that show your customers you run a high-quality business. Topics for this content can cover virtually anything. Can you help them solve a problem? Can you keep them up-to-date on your industry? Creating appropriate content for those questions can keep an audience engaged long after they've used your services.
Upcoming events
Community events, hosted get-togethers, job fairs, and other high-profile occurrences are all important for customers to know. Keep your audience informed and send it a little in advance, so recipients can add it to their schedules.
Unsubscribing
Remember that one of the big benefits of email marketing is that you're targeting a very specific group of people, including people who have worked, are working, or want to work with you. If someone decides they don't want to see your emails anymore, then they're no longer a good sales lead. It's best to let them go.
Hire a professional
Email marketing for small business can be time-consuming, especially for fresh upstarts. If you understand the value of email marketing, but you don't have the time or resources to launch a successful campaign on your own, consider hiring a trusted professional to handle it for you.
WebFX is here to help your small business with email marketing. Our expert team of designers, SEO specialists, copywriters, and more includes award-winning individuals who use proven techniques to deliver premium results. Enjoy a superior ROI and the growth that accompanies a small business with our team.
Drive revenue with email marketing for SMBs
Looking to drive revenue from email marketing for SMBs, but don't have the time? No worries.
With WebFX's email management and lead nurturing services, your business can get a do-it-for-me solution to email marketing and lead nurturing. With our custom plans, you can access the following services (and more):
| Service | Uses |
| --- | --- |
| Welcome or onboarding | Greet first-time subscribers, website visitors, leads, and more. |
| Recruiting | Attract new and qualified employees. |
| Seasonal | Highlight holidays like Mother's Day or promote holiday sales, like Black Friday. |
| Re-engagement | Connect with subscribers who haven't visited your website in a specific timeframe. |
| Event | Promote an upcoming event, like a webinar, in-store sale, or product launch. |
| Abandoned cart | Alert subscribers or website visitors that left your website without completing their purchase. |
| Post-purchase | Build brand fans with post-purchase emails that share helpful guides, encourage feedback, and more. |
Browse our plans now or contact us online to learn more today!