Social Media for Audiologists: 5 Tips for Your Practice
rnIf you want to earn new patients for your practice, you must start by connecting with them online and building relationships. Social media is a great place to connect with prospects who need your services. But if you aren't familiar with building a social media presence for a business, it can feel like a daunting task.
rnLuckily, we've got a list of five tips to help your get started with social media for audiologists. Keep reading to learn more!
And if you find yourself feeling overwhelmed with building a social media presence for your audiology practice, WebFX is here to help. With a team of over 450 marketing experts, we'll help you create a social presence that enables you to gain new patients for your practice.
Contact us online or call us today at 888-601-5359 to learn more about our social media services!
Clients can't get enough of our social media services.
"We have had so much success with WebFX, we have partnered with them on an additional website and project. We could not be happier or luckier to partner and work with WebFX."
— S.Clyde Weaver
See Case Study
136%
Increase In Gross Ecommerce Sales YOY
+10,000
Social Media Followers
Social media for audiologists: 5 tips to help you start
Social media marketing is a great strategy to help you connect with potential patients interested in your practice. Here are five tips to help you launch a successful strategy:
1. Figure out the right platform for your audiology practice to reach your target audience
Before you can launch your audiology social media strategy, you must decide where to connect with potential patients. To see the most success with social, you should focus on platforms where your audience spends their time.
You can choose from numerous social media platforms, including:
You'll want to consider the demographics for each platform to determine where your target audience is likely to spend their time. You'll also want to check out what platforms your competition uses, too, so you can compete with them. Once you know which platforms they and your competition use the most, you can start building a presence on those platforms.
2. Post content often to continually engage your audience
Next on our list of social media ideas for audiologists is to post content frequently. You must post content often to ensure your followers see it.
Your prospective patients see posts from dozens of people in their feed — from family and friends to businesses. If your practice doesn't post often, your target audience may never see it.
You can use a social media calendar to help ensure you're creating content constantly to share on your profile. This calendar can help you plan when to post content and identify gaps where you may need content.
You can also use a tool like Buffer to help you manage your frequent posting. Using Buffer enables you to schedule posts in advance and monitor their performance, so you can see if your social media strategy is successful.
3. Interact with your audience to build a positive relationship
If you want to do social media for audiologists effectively, you need to interact with your followers. One of the biggest perks of social media is that you can connect with prospects directly.
When you post content, followers can comment on it, and when they do, you should take time to comment back. Even if they say something like "That's interesting," you can say something like, "We think so too!"
By engaging with your audience, you show them you're listening. It's a great way to build a positive relationship with future patients.
Additionally, if people message your practice through something like Facebook Messenger, you'll want to respond to them as quickly as possible. To ensure fast reply times, you can also set up chatbots to help you manage the messages you receive.
4. Run social media ads to reach people who haven't discovered your audiology practice yet
If you want to know how to do social media for audiology, consider running social media ads. Social media advertising enables you to promote your audiology practice to patients who need your services, whether hearing aids or ear wax cleaning. These ads appear in users' newsfeed and look like other content posts, except for the "sponsored" tag.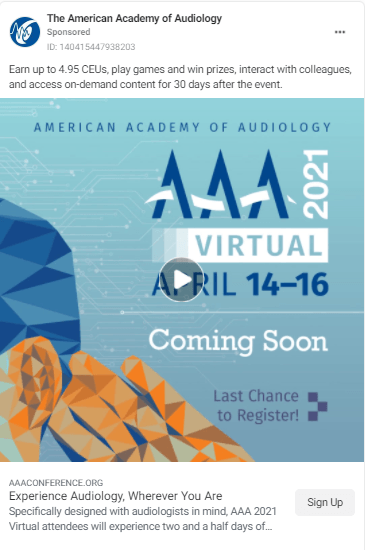 Social media ads enable you to target people most interested in your audiology practice. You can refine your targeting parameters to only show your ads to people who are likely to become patients.
When you craft your social media ad, make sure you have:
A high-quality visual that showcases your service or practice
Ad text that provides helpful information for your audience
A relevant call to action (CTA) to entice people to click
Once you launch your social media ads, make sure you keep track of their performance. By tracking your ads, you can see if they're driving results — If not, you can optimize your ads to improve them.
5. Post a variety of content to keep your profile fresh and interesting
One of the most important things to remember when you do social media for audiologists is to keep your content fresh and exciting for your audience. If your content is always the same, your audience can quickly lose interest in your practice.
The type of content you can post will depend upon your platform, but here are a few to consider:
Photos
Practice status updates
Links to content
Polls
Questions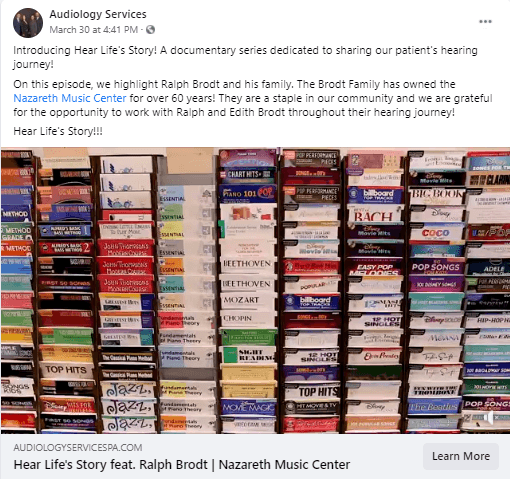 Even if you stick to posting the same two kinds of content (like photos and videos), you can keep your content fresh by making the subjects different. For example, you may post a photo of a new hearing aid brand one time and then a photo of your team the next time.
With a diverse set of content for your social profiles, you'll keep your followers more engaged and interested in your audiology practice.
Our services are unmatched.
Net Promoter Score (NPS) is the leading metric for customer satisfaction.
WebFX clients score 394% higher than the industry average.
Get help with social media for audiologists from experts
Audiology social media is a great way to connect with prospective patients interested in your services. But if you're too busy running your practice to manage your social media, WebFX can help.
We have a team of over 450 marketing experts that can help you manage your social media campaigns. We know how to craft social media campaigns that drive results — we've driven over $3 billion in revenue and over 7.8 million leads for our clients in the past five years alone.
Want to get more patients to your practice? Contact us online or call us today at 888-601-5359 to speak with a strategist about our social media services!