Did you know that people are ten times more likely to engage with video than text? If you're not using dental video marketing, you're missing a prime opportunity to engage potential patients.
On this page, we'll explain why you need dental video marketing and show why WebFX is the best dental video production company for your practice.
–
Keep reading to learn more and call us today at 888-601-5359 (or contact us online) to learn more about our video marketing services.
We post videos every Monday. Yup. Every Monday.
Join the 5,000 marketers who get their marketing knowledge from WebFX videos.
Subscribe Now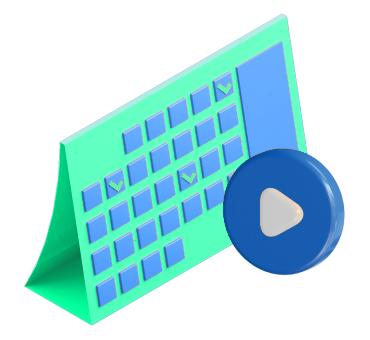 Why do I need dental video marketing?
Video marketing is one of the most powerful tools in your practice's marketing toolkit. The average U.S. adult spends five hours each day watching videos. If you're not using videos to market your dental practice, you're missing a prime opportunity to reach more people in your area.
Here are three reasons you need to invest in dental video production:
1. People enjoy videos
If you needed one reason to invest in video marketing for dentists, it's this: People enjoy videos. Not only do people spend hours each day watching videos, but they use this medium to learn about brands and make purchasing decisions.
Just look at some of these stats that show the power of video marketing:
Video marketing has a significant impact on how people view and interact with brands. It also shapes their purchasing decisions.
When you put together the massive impact of videos and the idea that people enjoy watching them, it's a win-win situation! You'll deliver content in a medium that's interesting to your audience, and they'll learn more about your dental practice.
2. Video provides information fast
In today's fast-paced world, people don't always have time to read an entire page filled with text. They want information fast, and video is a medium that can deliver information quickly. A one-minute video is the equivalent of eight million words!
By investing in video marketing, you can deliver information to your audience quickly. You'll get your information out to your audience faster, which will help you build brand recognition with potential dental patients.
3. Video creates a more personal experience
Choosing a dentist is a big decision. People want to choose a dentist that they can trust and use for the long-term. If you're going to create that trust and immediate connection, you need to get personal with your marketing.
Video creates a way for you to personalize the experience for your audience. Potential patients can get to know you, your staff, and your practice. It allows you to establish a personal connection with future dental patients and give them insight into your practice.
Dental video marketing services from WebFX
If you're ready to invest in video marketing for dentists, WebFX is here to help.
We offer video marketing services that will create engaging and impactful videos for your practice.
We provide three types of video marketing services:
Social media videos
Social media is a popular place for dental offices to create and share video content.
At WebFX, we'll help you create social media videos on platforms like:
Facebook
Twitter
Instagram
Pinterest
LinkedIn
With our social media video services, your dental practice will get everything you need to create impactful social media videos.
You can choose between three packages:
Basic social media video (30 seconds)
Premium social media video (60 seconds)
10x social media video (90 seconds)
With each package, you'll get:
Video revisions
Commercially licensed music
Formatting and conversion for social media
Transcript
Source file
And more
If you want to start using dental video marketing, our social media video services will help you create impactful videos for your social media profiles.
VIEW SOCIAL MEDIA VIDEO PRICING
Whiteboard videos
Aside from social media videos, we also offer whiteboard videos. These videos explain and help people visualize how a process works or how your services work.
As a dental practice, you'll want to consider whiteboard videos. Since dentistry can be complicated to understand for people who aren't in the field, these videos can help explain and visualize processes and procedures.
Think of a process like root canals.
People have to get them, but most people don't know how they work. A whiteboard video explaining the process can make someone feel confident that you're knowledgeable and trustworthy enough to perform the procedure.
When you invest in whiteboard videos from WebFX, you'll get:
Brand logo intro and outro
Commercially licensed music
Video script
Design revisions
Whiteboard design layout
And more
Additionally, all our whiteboard video packages include formatting and converting for social media platforms. So, if you want to share these videos on social networks, we make it simple and easy for you to do just that.
VIEW WHITEBOARD VIDEO PRICING
User engagement videos
Lastly, we offer user engagement videos. If you invest in dental video marketing from WebFX, you'll get engaging videos that enhance the content on your site.
Our user engagement videos can cover numerous topics, including:
Your services
How your services work
In-depth dental topics
And more
Like social media videos, we break down these packages into three categories:
Basic engagement video
Premium engagement video
10x engagement video
With each package, you'll get the following features:
Commercially licensed music
Keyword research
Video mapping
Featured snippet optimization
Transcription
Source file
And more
We'll help you create engaging videos that catch your audience's attention and help them get to know your dental practice better.
VIEW ENGAGEMENT VIDEO PRICING
Why choose WebFX as your dental video marketing company
If you're busy running your dental practice, you're going to have to outsource your dental video production. If you want a reliable video marketing company that can take care of every step, from writing to filming to publishing, look no further than WebFX.
So, why partner with us?
We offer transparency: If you're going to invest money into video marketing services, you want to work with a company you can trust. At WebFX, we share all our pricing and packages online, so you'll never be in the dark about how much dental video production costs.
We have experience: When it comes to video marketing for dentists, you want to work with experts that know how to create compelling videos. At WebFX, we have years of experience creating videos for our clients. Just check out our portfolio to see the work we've done!
We 'wow' our clients: We have over 500 client testimonials that highlight the excellent work we do for our clients. As your dental video marketing partner, you can feel confident that we'll produce videos you love. Check out our testimonials to find out why we have a client recommendation score that's 488% higher than the nationwide average!
By partnering with a dental video production expert like WebFX, you'll be on the fast track to creating impactful videos that engage and delight your audience!
Our digital marketing campaigns impact the metrics that improve your bottom line.
See More Results

WebFX has driven the following results for clients:

$3 billion
In client revenue

7.8 million
Leads for our clients

5.2 million
Client phone calls
Get started with dental video marketing today
If you're ready to get started with dental video production, don't hesitate any longer! Start reaching potential patients and booking more appointments by partnering with our team of over 500 experts to take your video marketing to the next level.
Give us a call today at 888-601-5359 or contact us online to speak with a strategist about our dental video marketing services!