Discover the Best Video Marketing Companies
Video marketing can impact all your digital efforts, from search engine optimization (SEO) to your website traffic. However, many companies don't have the in-house tools to record, edit, and produce professional videos on their own. That's where creative video agencies can help.
We've compiled a list of the best video marketing companies to help you find the ideal match. Read on for a breakdown below!
Top Video Marketing Companies
In 2023, there are numerous video marketing agencies out there. How can you choose the best one on the market? Below you'll find a quick overview of each video marketing agency, from the U.S. to India.
WebFX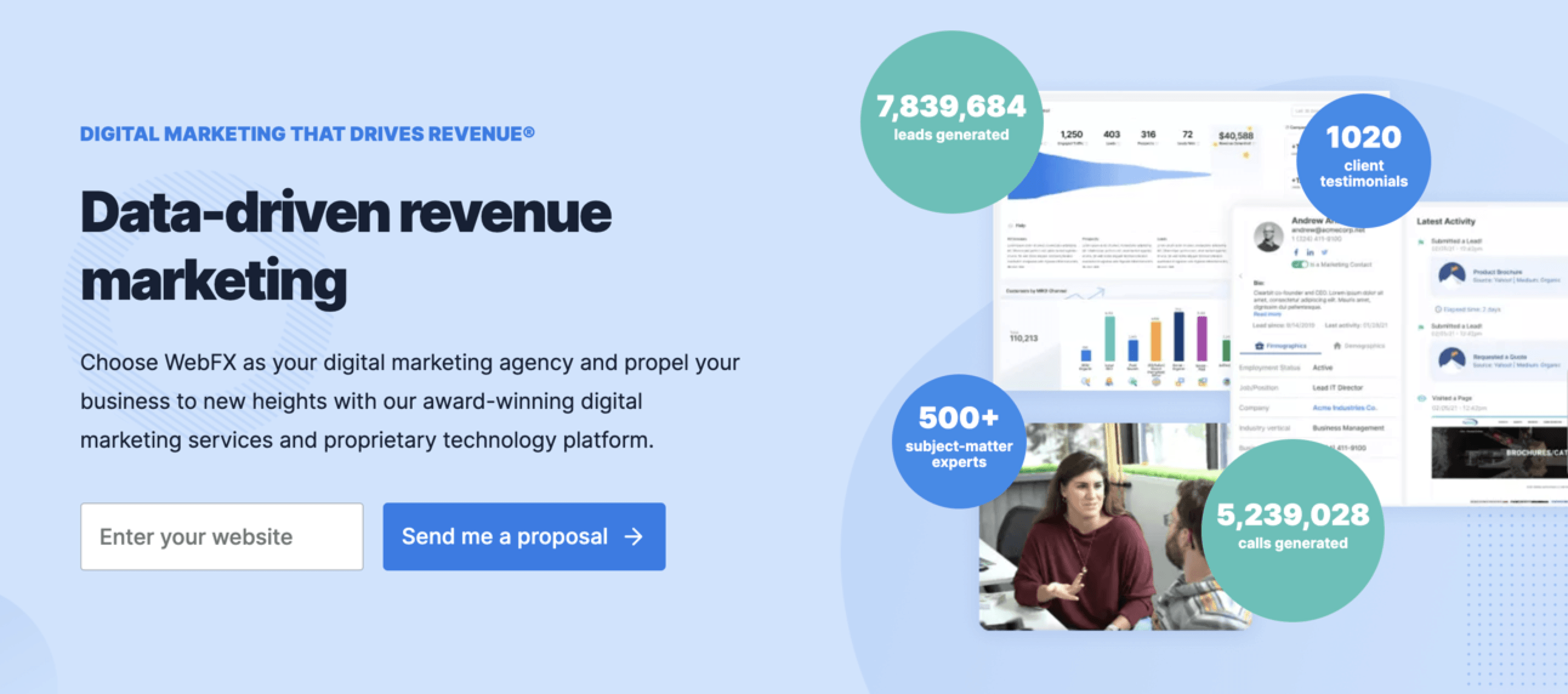 WebFX comes up first as the leading video marketing agency in the U.S. Our office in Harrisburg, Pennsylvania — as well as our global locations — includes premium video services and tools.
We offer comprehensive video marketing services, including video marketing analytics and more. We can handle everything from social media videos to in-depth product reviews and demonstrations.
Our services include different custom packages, which can include the following:
Voice-over services
Branded colors and logos
Reporting and insights
Revisions upon request
Commercially licensed music
We make it easy to develop, shoot, and edit an appealing, professional video for your brand. We do more than create the video, too — our digital marketing services help it reach peak performance.
When you want video services that elevate your site, you can find a partner in WebFX's video products.
Signature Video Group

Up next on our list is Signature Video Group. This Toronto-based video production and content agency helps companies bring their vision to life through videos. Their client base includes companies throughout Canada and the rest of the world.
Signature Video Group offers video production services for:
Broadcast commercials
Branded content
Product demos
Training videos
And more
Their project minimum is $10,000, and they work best with medium-sized businesses who want to produce one or multiple videos for their marketing team and internal operations.
RemesMedia

RemesMedia is a video production company with an emphasis on creative audiovisual materials. They help brands create innovative videos that showcase their story and appeal to all audiences.
Based out of Mexico City, RemesMedia has been helping brands tell their story since 2014. They have a team of professionals that will work with you to understand your brand and develop videos that represent you.
They work with companies who are either starting out or wanting to grow their brand. If you want a creative group of individuals local to South America, RemesMedia could be a good fit.
Dot Films

Dot Films prides itself on being a video production company "run by filmmakers, not advertisers." This India-based company is relatively new — they started creating brand videos in 2021.
With Dot Films, you can invest in moving videos about your brand or simple product videos. Whatever you want your style to be, Dot Films can work with you. Their portfolio includes a range of branded and experimental content for you to browse.
Casual

Casual Films is a London-based film production company with 15,000 productions under their belt. If you want to create flexible, creative video content for your brand, they can help.
Their proprietary Smart Casual™ production platform helps them manage projects while keeping clients up to date with changes and progress. They create everything from social media promos to in-house marketing content.
Their team includes 1500 production specialists, meaning you get complete access to a team of video producers that can help you grow your business.
Pigeon Studio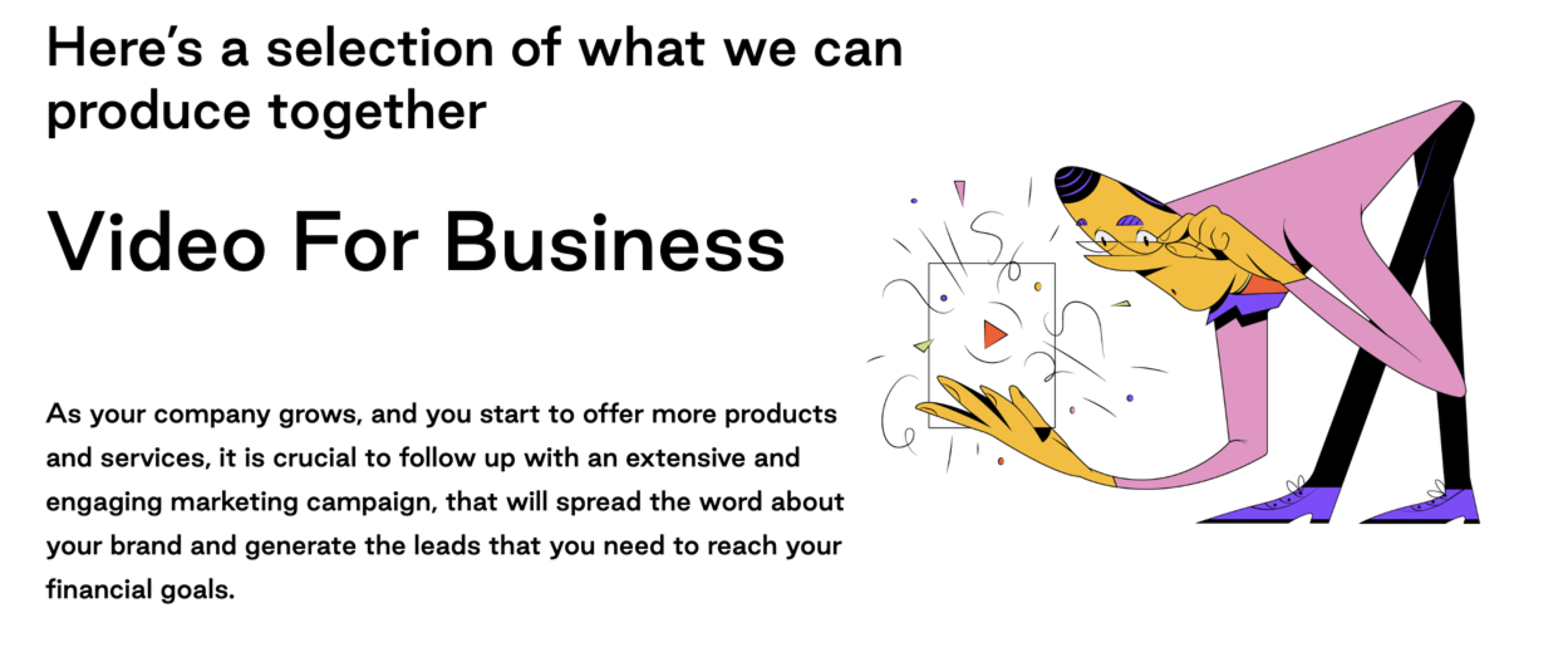 If you think animations better suit your brand video goals, Pigeon Studio can help. This Polish animation studio creates videos in any animated style you like to tell stories and capture your audience.
They can handle the following video types:
Corporate
Explainer
Training
Commercial
Marketing
And more!
Animation is part of video marketing, and you can work with Pigeon Studio to create stunning animated videos.
Chase A Cloud
Chase a Cloud is a leading video production agency based out of Bulgaria. In their 14 years, they have created over 500 projects and worked with brands like LEGO, Mattel, and Volvo, to name a few.
This company can create video for a variety of industries, such as:
Tech
Children and family
Games
Education
They also offer content strategy to help you optimize your approach to video marketing.
The Jasper Picture Company

Last up on our list is The Jasper Picture Company, an Australian video marketing and production company based out of Burwood. They can boost classic marketing materials with stunning videos that represent your brand messaging.
As well as filming and producing videos, they also include livestreaming services for events and conferences. They also offer streaming for pre-recorded videos. With their help, you can better reach your audience and streamline your video production needs.
Ready to Grow? Get your FREE Quote Today!
"We measure our success by how much we WOW our clients."

Bill Craig
WebFX President
Video marketing overview + FAQ
Need more information about video marketing? Read on for an overview of the service and tips for finding the best video marketing agency!
What does video marketing entail?
Video marketing is the process of planning, filming, editing, and publishing videos for marketing campaigns. You can use videos for everything from product demonstrations to company culture videos.
Adding visual content to your website is crucial for establishing your brand. In fact, brand association increases by 139% after watching a video. Adding professional videos to your marketing campaign can help:
Emphasize blog posts, product descriptions, and other content
Add visual appeal to your website
Demonstrate product benefits and features to customers
Regardless of the videos you make, they can positively impact your site and give you a better chance at attracting prospects.
What does a video marketing agency do?
A video marketing agency can handle every step of your video marketing campaign, from creating video ideas to publishing them on your site. Some tasks they perform include:
Developing video ideas, scripts, and sets

Filming and editing the video

Adding videos to your website or social channels

Tracking video performance and engagement
Depending on your agency and needs, they might have varied involvement with your campaign. Say that you handle digital marketing in-house, but you lack the technology to create professional videos. A video marketing agency could handle video creation on your behalf.
Depending on your budget, needs, and goals, you will have different relationships with your video marketing agency.
How do I choose a video marketing agency?
Every agency is different, but there are a few factors you can look for to make sure you have a quality experience regardless. Your video marketing agency should:
Scale with your business:

As your business grows, so will your budget and demand. Be sure that your video marketing agency can handle different video demands and styles.

Have an experienced team:

Filming, designing, and editing video takes experience and skill. You want a team of videographers and editors that can bring your vision to life.

Work with your branding:

Part of video marketing is creating a seamless brand experience. Your video marketing agency should learn about and reflect your brand in every video.

Match your budget:

Each company will have different

pricing

for their services. Find one that works with your budget and gives you a quality video in return.
Above all, your video marketing company should be a good fit for your needs, whether short- or long-term. If you only want a few product videos, you don't want a company that forces you into more. You need an agency that wants to enhance your content with professional videos.
Our digital marketing campaigns impact the metrics that improve your bottom line.
See More Results

WebFX has driven the following results for clients:

$3 billion
In client revenue

7.8 million
Leads for our clients

5.2 million
Client phone calls
Work with a leading creative video agency
When you are ready to begin your video marketing campaign, you want a video marketing agency with experience. WebFX is here to ensure that every step runs as smoothly as possible.
With 25+ years of experience and 1.6 million hours of expertise, we know how to streamline your video marketing campaign while giving you professional-quality videos.
Ready to get started? Request a free quote to see the impact of our video marketing services!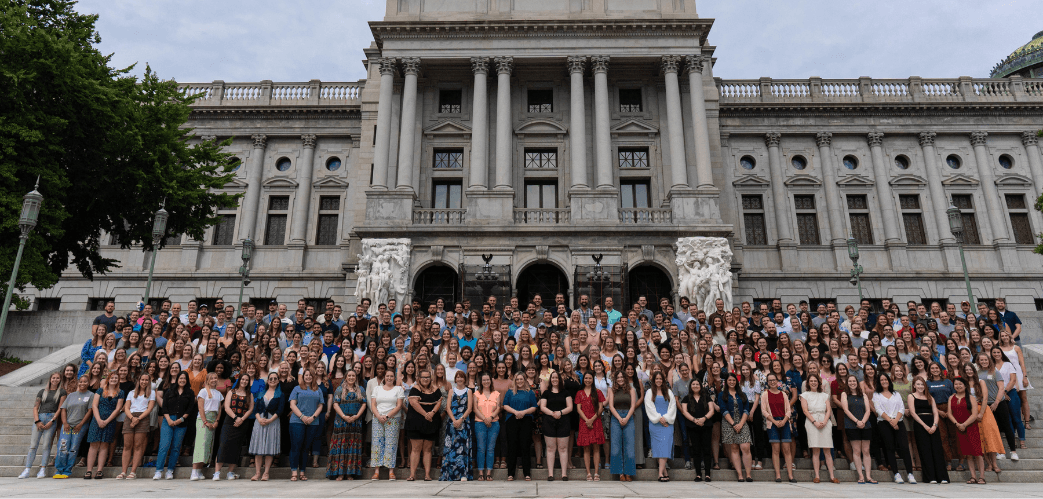 Learn even more about video marketing agencies, services, and practices!