For many people, movie theaters symbolize an escape — a comforting, relaxing space where they can experience art on the big screen. You know your theater is the best place for people in the area to catch the next movie, so how do you make sure other people know, too?
Lead generation is your answer. Lead generation for movie theaters involves targeted advertising to the people most likely to appreciate your cinema. You discover who they are, their interests, and what kind of content they react well to, then do everything you can to appeal to them.
Generating new leads is how you continue to grow your business and bring in new patrons. WebFX is here to show you some of the best tools cinemas can use to advertise to new audiences. For more tips, subscribe to Revenue Weekly, your email newsletter for all things marketing!
Don't miss our Marketing Manager Insider emails!
Join 200,000 smart marketers and get the month's hottest marketing news and insights delivered straight to your inbox!
Enter your email below:
Inline Subscription Form – CTA 72
"*" indicates required fields
(Don't worry, we'll never share your information!)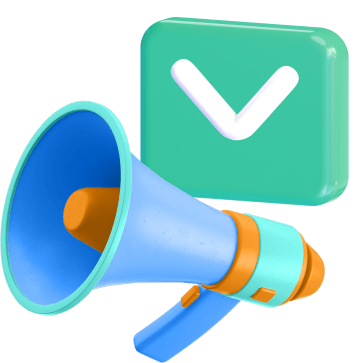 1. Social media marketing
Social media is the most powerful tool any brand can use. Once you've determined your target audience, you can learn which social media sites they're most likely to frequent and start focusing your efforts. Try to include a variety of media and content types while still maintaining your brand's voice — you'll establish a recognizable personality while appealing to a wider range of people.
A major draw of social media is its capacity for interaction and connection. People get excited when a popular brand interacts with them, because they develop a personal relationship with the business. Emotional connection is one of the strongest tools in marketing — it can make people commit to a brand.
Use your platform to engage with prospects through:
Community discussions of films.

Polls about which movies people are excited to see next.

Invitations to unique events.
2. SEO and content marketing
When it comes to your theater's website, search engine optimization (SEO) and content marketing are key. These aspects go hand in hand, but they serve distinct purposes.
SEO is about infusing search words and phrases in your site. You can use it in meta descriptions, pages, and informational content. Content marketing is creating new pages, articles, and blog posts that add value and authority to your site.
If you want new customers to find your movie theater, you must ensure it ranks well in search engine results pages (SERPs). One method involves employing effective SEO strategies, like using location-based keywords and enhancing site responsiveness.
Once you get someone on your site, you must keep them there long enough to convert, which you can do by creating helpful content. Consider what visitors might find useful while browsing. A classic marketing tool for movie theaters is film reviews. They can get viewers excited about seeing a new flick or give them some questions to ponder once they've finished watching.
Depending on your audience, you might also consider making posts about:
Special upcoming events

Cinema history and trivia

Interviews and Q&As with actors, directors, or cinematographers

New or updated concession options
3. Email campaigns
Practically everyone with an online presence has an email address, providing you with yet another major source for lead generation. When someone is interested in your movie theater, they can sign up for your email list and stay up to date with everything you do.
Sending regular emails keeps your name in mind the next time they have a craving for delicious, buttery popcorn and a new film. Update them on what's playing, encourage them to come to events, and let them know when you make changes to your theater or schedule.
Remember these email marketing tips:
Focus on the subject line:

The subject line is the first thing your lead will see, and it determines if they'll open the email at all. Make it catchy and intriguing so they have to see what you have to say.

Keep it short:

Say everything you need to in as few words as possible. Many people get hundreds of emails every day and are only willing to dedicate a short time to each of them.

Use images and other media:

Pictures and video are easier to digest and break up big chunks of text. Adding an image of a movie poster or an infographic can give people a break before the rest of your message.
4. Offer special events and unique promotions
Once you have the means of disseminating information to prospects, you can start planning events to draw them in! Of course, having excellent movies to show is the largest motivator for cinema attendance, but there are other ways to put yourself ahead of the competition.
Movie theaters large and small have found major benefits to offering more than first-run films. The COVID-19 pandemic forced theaters to get creative with their advertising and events, especially since many film productions came to a halt for months. Some of these new features were so successful that they stuck around even after the worst of quarantines and stay-at-home orders passed.
Large theater chains like AMC took to streaming events like concerts and sports events to keep people coming. Smaller cinemas began streaming older, classic films and hosting online discussions about them. Finding ways to offer unique attributes, like a beer with your film, also can bring in new faces who don't want to miss the promotion of a lifetime.
37% of marketers say that generating high-quality leads was one of their biggest challenges.
We want to decrease that percentage.
WebFX can help you generate high-quality leads with a customized marketing strategy.
Learn More About Lead Generation Services
Let WebFX help fill your theaters
Running a movie theater can be fun and rewarding, but it has its challenges. Scheduling new films, maintaining projectors, and restocking can leave little time for generating new leads. Still, more people are returning to cinemas, and if your brand isn't out there, they'll take their business elsewhere.
You need a team dedicated to getting you results — WebFX is here to do that. Our award-winning team uses all these strategies to bring new viewership to your screens and secure an exceptional return on investment (ROI).
We offer access to our industry-leading lead generation software and incredible writers and designers who will take your online presence to the next level. We'll listen to your goals and create a personalized marketing plan to fit your needs.
Connect with our strategists today if you're ready to start selling out seats!
Increase your leads, sales, and revenue with digital marketing
Find Us Driving Revenue Nationwide