Your digital presence is one of the most important parts of your business. With the growth of the Internet, it is more important than ever to have a strong digital marketing plan.
There are many opportunities to reach your target audience through your digital marketing plan. From email marketing to content marketing, there are numerous methods you can use to entice leads to check out your products.
With so many methods, it is hard to know which ones are best for your business. Which methods will bring the best results for your business?
On this page, we'll discuss the top three methods for marketing your country club. When you're ready to construct your ideal digital marketing plan, WebFX can help! Call us today at 888-601-5359 to speak with a strategist about creating your ideal plan!
37% of marketers say that generating high-quality leads was one of their biggest challenges.
We want to decrease that percentage.
WebFX can help you generate high-quality leads with a customized marketing strategy.
Learn More About Lead Generation Services
1. Search engine optimization (SEO)
A great method for reaching new leads is search engine optimization (SEO). This method focuses on boosting your website's ranking in the search results.
Did you know that 93% of all online experiences start with a search engine? That means that people are constantly conducting searches to begin their online experience. It is important that you boost your website's ranking so that the people can find your country club.
There are numerous ways you can improve your SEO ranking.
Keyword integration
SEO operates on keywords. These keywords trigger your website to appear in the search results. You want to choose keywords that your audience will use to find your business.
This requires you to conduct keyword research. As you conduct research, you'll want to focus on long tail keywords. These are keywords that are three or more words.
The other option is short tail keywords, which are only one or two words. Long tail keywords are a better option for your country club because they generate more qualified traffic. Short tail keywords are generic and don't tell you what the user is trying to seek.
Once you have your keywords selected, you'll want to integrate them on to your page. Google crawls through your page to understand the context. You want to use these keywords on your page to ensure you are ranking for the right keywords.
There are numerous places you can integrate keywords. You can use them in the heading, title, body text, and meta description.
As you integrate keywords, be careful that you don't overuse them. This can lead to keyword stuffing, which negatively impacts your ranking. It is best to only use keywords where they fit and flow naturally.
Link building
An important part of SEO is link building. You earn backlinks when an authority site links back to your site in their own site.
These backlinks are important because they build the trust of your site. When Google sees an authority site linking to your page, it sends a positive signal. It tells Google that your site contains valuable information, so they will rank your site higher, so more people can find your site.
The best way to earn links is through content creation. When you create content, you can invite other sites to check out your content. If they like your content, they may use it in their own content.
This is a great way to build a relationship with authority sites. When you build this relationship, you can earn more backlinks from these sites. By earning backlinks, you will be able to improve your site's SEO ranking.
These are two of the most important factors for improving your site's ranking. By improving your SEO ranking, you will reach more leads for your country club.

Hear What It's Like to Work With WebFX!

"WebFX did amazing work creating a new website for us on a tight schedule. They have taken the time to learn about our business and give us ideas of how to make our digital marketing better. We still have work to do with WebFX but overall very pleased."
Professional Service
2. Pay-per-click (PPC) advertising
A great method for obtaining more qualified leads is pay-per-click (PPC) advertising. PPC advertisements appear at the top of the search results. These are paid ads that appear before the organic listings.
Like SEO, you'll want to use long tail keywords for PPC. Long tail keywords have less competition, which means a lower cost-per-click (CPC). These keywords also draw in more qualified leads for your country club.
Once you select your keywords, you'll bid for your placement. You'll set your maximum bid, which is the amount you are willing to pay each time someone clicks on your advertisement. This bid is flexible and can be changed at any time.
Your maximum bid and quality score will determine your placement.
PPC is a great opportunity for your country club because you have complete control over your campaign. You determine when it runs and what time of day your advertisements appear. This method also gives you complete control over your budget.
If you only want to spend $2,000 on a PPC campaign, you can stick to that amount without incurring additional costs. In addition, you only pay when people click on your advertisement. That means you are paying for people who are very interested in your country club.
By using PPC, you will be able to draw in more leads and earn more conversions for your country club.
3. Social media marketing
Social media marketing is a great opportunity for your business to connect directly with your target market. You can market your country club to your prospective leads through these platforms.
There are many platforms you can use. These platforms include Facebook, Twitter, Instagram, Pinterest, and LinkedIn. You'll need to research your target market to figure out which platforms they frequent. You can focus on those platforms to make the most out of your social media campaign.
Social media is a great opportunity for you to share content with your audience. You can post blogs, videos, and photos. These are great mediums for marketing your country club.
It is an opportunity for your business to get creative. You can post photos of your country club or videos of people golfing on the grounds. There are many avenues you can take to entice people to come to your country club.
These platforms enable you to build a relationship with your leads. You can answer questions and address concerns. This is a great opportunity to showcase your country club in a positive light.
By using social media, you will be able to build better relationships with your target audience. This will enable you to nurture these leads towards conversion.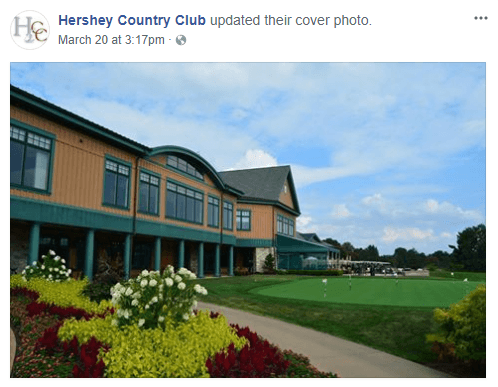 Reach new members with a digital marketing plan from WebFX
As a country club, it is important that you reach new members. With a digital marketing plan from WebFX, you can reach those leads and help them convert. We're a full service digital marketing company with experience creating customized digital marketing plans.
We have a team of 500+ experts that will bring their knowledge and expertise to your campaign. Our team will help you create a customized digital marketing for your country club.
We're dedicated to bringing your business results. To date, we've driven over $3,021,182,299+ in sales and 7,839,684 leads for our clients because we put our clients' success first.
Our clients love the work we do, too. We have client testimonials. Check them out to see what it's like to work with a top digital marketing company like WebFX!
Our digital marketing campaigns impact the metrics that improve your bottom line.
See More Results

WebFX has driven the following results for clients:

$3 billion
In client revenue

7.8 million
Leads for our clients

5.2 million
Client phone calls
Get started today with country club digital marketing
Are you ready to start earning more leads and conversions for your country club? If you're ready to start seeing results with your digital marketing campaign, contact us online or call us today at 888-601-5359 to speak with a strategist.
We look forward to hearing from you!
Earn a 20% greater ROI with WebFX