There are over 15,000 golf courses in America, and many of them are competing for the same group of potential customers. This means that if you want your golf course to attract new golfers and continue to grow, you need an effective marketing strategy.
However, that can be easier said than done.
With the many marketing channels available, it can be difficult to choose the ones that will yield the biggest return on investment, or ROI for your golf course marketing strategy.
But as people continue to rely on the Internet for an increasing amount of information, online marketing is one of the best ways to reach new customers.
So how can you start making the most of the Internet as a marketing channel? These nine golf course marketing ideas will help you start creating a web presence that will attract new customers. Keep reading if you want to learn more, and contact us online or give us a call at 888-601-5359.
Our digital marketing campaigns impact the metrics that improve your bottom line.
See More Results

WebFX has driven the following results for clients:

$3 billion
In client revenue

7.8 million
Leads for our clients

5.2 million
Client phone calls
Golf course marketing ideas that work
It shouldn't come as a surprise that today's consumers look to the Internet for information on almost all of their purchasing decisions—what to buy, where to shop, and how to spend their free time, just to name a few. So how can you attract these consumers as they browse the web?
There are many possibilities with Internet marketing, but here are a few of the best methods:
1. Implement SEO strategies
Search engine optimization (SEO) refers to a number of strategies designed to boost your website's rankings in search engine results pages (SERPs).
If your website doesn't appear on the first page of search results, you are likely missing out on qualified leads.
As a golf club marketing strategy, SEO helps your golf course stay in front of your best prospects and reach them where they are already searching online. This also means that SEO yields some of the most targeted leads, since they are already searching for golf courses in their areas.
2. Create a responsive site
As mobile devices become increasingly popular, it's important to make sure that your site is accessible to all devices. You don't want a potential customer to change their mind just because they get frustrated with your website, and the best way to prevent that is with responsive design.
Responsive design means creating a site that adapts to all devices, so that it is usable and displays well whether your visitors are on smartphones, tablets, or desktop computers. As an added bonus, sites that are mobile-friendly rank better in search engines like Google. For more information on site design, check out our page on web design for golf courses.
3. Offer interesting content
Think about why people come to your site. In most cases, it's to learn about your course and what you have to offer. Provide this information with easily-skimmable pages and interesting images as a part of your golf course marketing plan.
In addition, you should also offer content that will attract Internet users who aren't searching specifically for your course. For example, if you create a page about tips for improving your short game, golfers who search the web for that information might come to your site. If they like your content and spend the time to click around your site, they may even become customers.
4. Offer easy online registration for tee times
Does your golf course make it simple for golfers to arrange for a tee time? Or do you have a clunky, cumbersome method? With today's technology and software, there is no reason not to accept online reservations for tee times. This will streamline the reservation process, and enable you to attract people who want to try their skills at your golf course.
5. Consider using paid advertising options
Although a strong site is the core of your digital presence, there are many paid options that can help attract more visitors and support your overall golf course marketing strategy. Consider using pay-per-click, or PPC, to get the attention of golfers who use the Internet to look for courses.
Although there are many options, Google Ads is one of the best. By showing ads to people who are actively searching for what you offer, you can increase the amount of site visitors that are actually interested in becoming customers. This is much more proactive than simply hoping that they find your site on your own.
6. Encourage testimonials on Golf Advisor and other sites
Did you overhear a recent golfer raving about your course? Make sure you encourage him or her to rate your golf course online. Many golfers take great stock in what other golfers say about a course, because they offer expert, unbiased opinions.
If your course has no reviews, potential customers might be unsure of whether it's worth their time and money. And if another golf course down the street has dozens, who is more likely to attract the golfer and get the business? Them.
7. Have a social media presence
You don't have to be on all social media to be noticed, but your golf course should be on at least one of the top sites, such as Facebook or Twitter. Why? Think about the way people use social media. They love to post pictures and tag their friends, as well as their location.
If golfers on your course take photos, they can upload them directly to social media and tag your course. This is great free advertising, and takes minimal effort to set up. In addition, your social profiles are great places to make announcements, connect with customers, and host reviews.
You can also consider creating and posting videos to YouTube that demonstrate golf techniques or equipment that you sell. This can give viewers an inside look at your course and encourage them to check it out in person.
8. Advertise on social media
If you already have social media profiles, you may want to consider using some paid options in your golf course marketing plan. Platforms like Facebook and Twitter offer easy, targeted advertising, and have huge potential reaches.
Although simply having accounts may be enough at first, paid ads are worth experimenting with. Run a few as a test, monitor their performance, and see whether social media advertisements are an effective method for your golf course.
9. Offer course-specific tips in video format
Although videos take more time to put together than text and images, they can be much more interesting to site visitors. There are many ways you can use video to your advantage, but one of the easiest is by creating videos with course-specific tips.
These don't need to be in-depth, but they should show potential visitors how to overcome obstacles on your course. If they look interesting or challenging enough, that could be enough reason for a viewer to come try it on their own.
Of course, this is not an exhaustive list of golf course marketing ideas. There are many other options out there, but these should be enough to get you thinking about how to market your golf course.
How much should you spend on marketing?
Learn how to plan a marketing budget that fits you and your business needs.
Read the Blog Post & Watch the Video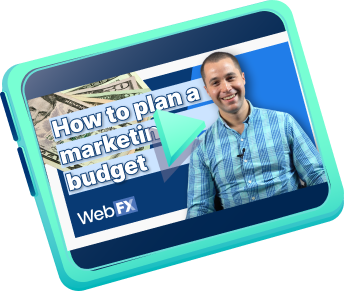 Hear What It's Like to Work With WebFX!

"WebFX is a great partner in our companies success. They take the time to understand our business and put campaigns in place to meet those business needs. They also bring fresh new ideas to the table on a regular basis. Excellent company to work with."
Outdoor Recreation
Learn more about how to market a golf course
Interested in learning more about how to market a golf course in a way that reaches and attracts more customers?
WebFX is a leader in the Internet marketing industry, and our team of specialists will work with you to create and implement a custom plan designed to help you reach your business goals.
What are you waiting for? Contact WebFX today to speak to a strategist and learn more about how Internet marketing can take your golf course to the next level.
Earn a 20% greater ROI with WebFX