Marketing has made a huge shift online over the past few years, and every industry has been affected — even RV dealers. You may have the biggest selection of quality RVs at the best prices in town, but that might not be enough to achieve the growth goals you have for your dealership. To make sure you're at the top of your game day after day, you need to use search engine optimization (SEO).
More RV drivers are using the Internet to find great deals than ever before, and most of them start on search engines like Google. If your site isn't optimized to show up in search engines, you're losing potential customers by the day! And in the RV business, every sale is a big sale!
To make sure you catch as many of those big sales as possible, you need an SEO strategy that works for your business, specifically. Keep reading to learn more, and contact us online at 888-601-5359!
Our digital marketing campaigns impact the metrics that improve your bottom line.
See More Results

WebFX has driven the following results for clients:

$3 billion
In client revenue

7.8 million
Leads for our clients

5.2 million
Client phone calls
What does SEO do for an RV dealer?
When someone's looking to buy an RV, they have thousands of options at their fingertips when they're online. No one has time to visit them all, so search engine users focus on the first page. The first result gets the most attention, and the second and third results get some, too. But after that, very few search engine users bother to click to other sites.
SEO is focused on improving your company's online presence, and that includes your website. That includes your homepage, contact page, blog, and anything else you add to your domain. With every update you make, you're showing Google that your website is active and maintained, and when you incorporate SEO, you're telling Google exactly what it needs to know to rank your website well. And when you do that, you start getting results.
Hear What It's Like to Work With WebFX!

"WebFX really provides a total solution team that will progressively guide you thru impactful changes to your site, helping you stand apart from your competition."
Automotive Distributor
What are the benefits of SEO?
There are a lot of benefits to SEO, all of which help your company earn more customers and grow. These are some of the biggest benefits that you'll see.
1. Ranking
When you use SEO, you'll start ranking on search engine results pages (SERPs) much better than before. That means you'll get closer and closer to that #1 spot until you finally achieve it, and after that you can maintain what you've earned. And all the while, you're bringing customers right to your door.
2. Visibility
When you're at the top of the rankings list, everyone sees your company name. That not only helps your traffic, it also does wonders for your brand recognition. More people will recognize your dealership, and even if they don't buy from you right away, they may come back again.
3. Authority
Search engine algorithms weigh sites according to their overall quality, which is reflected in SEO. On top of that, Google in particular is dedicated to providing a positive experience to its users, and that means listing pages that it knows have quality information. When Google recommends you, it's clear to users that you're an authority in the industry — you can be trusted, and that means customers will feel more comfortable buying from you.
4. Conversions
Because you're getting more traffic, you have an opportunity to convert more customers than you did before. With the right use of SEO, most of the visitors to your site should be qualified business leads, meaning they're people who actually want an RV, and they're not just browsing. Using calls to action or inviting potential customers to call you or meet in person are great ways to seal the deal after you have someone on your site.
Time to Level Up Your Sales
Our long list of services helps you grow every aspect of your business with marketing strategies that are proven to increase bottom-line metrics like revenue and conversions.
In the past 5 years, we've managed more than 12.9 MILLION transactions across our client base.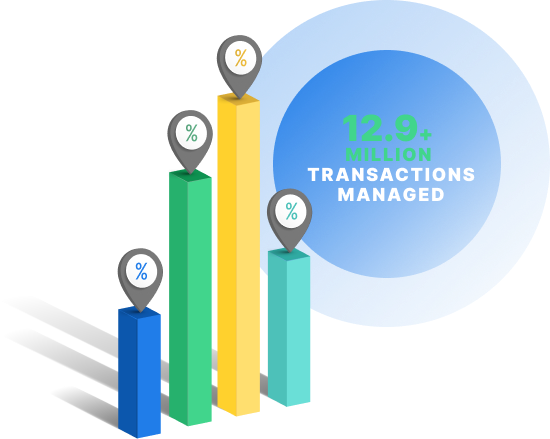 What are the best SEO strategies for RV dealers?
Even if you're selling RVs at face to face meetings, customers decide whether to meet with you online. That's why your SEO strategy should focus on reaching potential buyers when they're considering a purchase. You can do that with a few simple strategies.
Research and use the right keywords
Keywords are the terms and phrases that customers use to research RVs. That includes sizing, fuel economy, features, and more. You can even throw in brand names like Winnebago, Thor, Airstream, and more, if you sell them.
Once you have an idea about the keywords you want to use, you can use them on your site wherever is appropriate. So if you have a whole page dedicated to Winnebago RVs, you can write all about the ones you carry to tell your potential customers as much as you possibly can. The more they know, the more comfortable they'll feel when they finally go to make a purchase!
You can place keywords in a page's title tags, headings, and body text to get the best results. When you do, your customers will be able to find you, and Google will know more about your page so that it can recommend you in search results.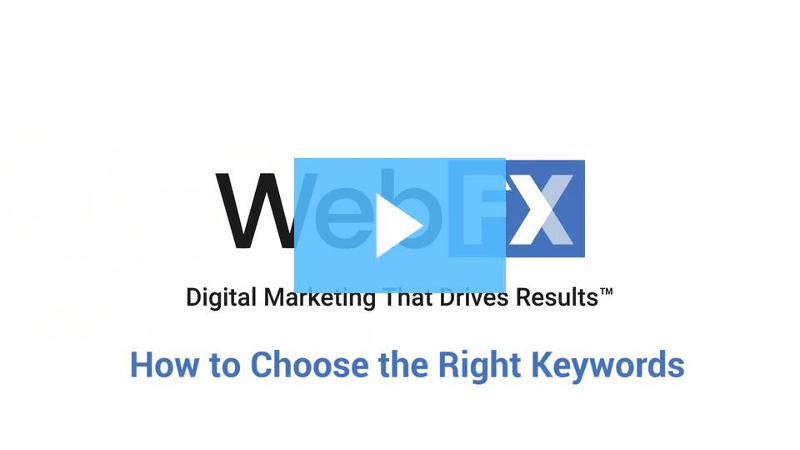 Use and optimize multimedia
Photos and videos are great ways to complement the text content on your site. They're also essential sales tools when you're selling RVs, particularly if they've been used. With those two benefits, every RV dealer should use photos when they're attracting new business!
Unfortunately, search engines like Google can't actually see photos or videos. Instead, they just see the filename and the "alt" attribute. To make the most of your multimedia, you should add a short description to every photo or video that's different from the title, with a maximum of four words. That way, search engines know exactly what's on your page.

WebFX knows RVs and SEO
If you're running an RV dealership, then you're a busy person, and you may not have the time to work out an SEO strategy on your own. That's where WebFX can help! Our team of experienced and knowledgeable SEO specialists is happy to get you the results that you want to grow your dealership to new levels. We've achieved success with our clients before, and we want to do the same for you!
Do you want your RV dealership to make more money? Contact us today to figure out an SEO strategy that can help!