As the middleman between manufacturers and consumers, RV dealers pay upfront expenses to fill the inventory of vehicles at their establishment. RV dealerships can offset those initial costs and earn revenue by improving their digital marketing.
Following proven strategies for promotion attracts customers and increases sales for hot ticket items, new or used RVs, supplies, gear, repairs, and maintenance services. The three tips below work well for mom-and-pop locations and multisite corporations.
Keep reading to learn more about digital marketing for RV dealers, and subscribe to Revenue Weekly for the latest digital tips and strategies delivered to your inbox for free!
Don't miss our Marketing Manager Insider emails!
Join 200,000 smart marketers and get the month's hottest marketing news and insights delivered straight to your inbox!
Enter your email below:
Inline Subscription Form – CTA 72
"*" indicates required fields
(Don't worry, we'll never share your information!)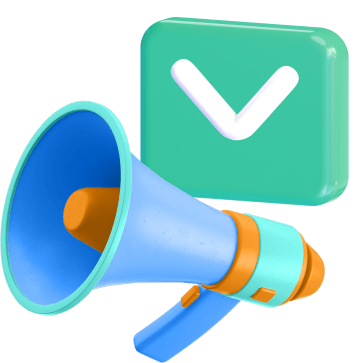 1. Prioritize search engine optimization and keywords
In 2022, 80% of shoppers are researching products online before finalizing a purchase. Creating an optimized digital presence for your RV dealership can drive traffic to your website and help you build brand awareness.
What is search engine optimization?
Search engine optimization (SEO) is the process of increasing your chances of appearing in search results.
Many shoppers research companies nearby, so optimizing for local searches can help you reach a relevant audience for your dealership. You should create a business profile on Google with your company name, address, and phone number so searchers can discover your RV products and services if they live in your area.
Whether local or general, rankings for relevant keywords change frequently based on how Internet users look for terms, so you should perform SEO maintenance to update your content every three to six months. When publishing new content, ensure you research to check the latest phrases instead of reusing an older list.
How do I find keywords?
You can find impactful phrases to use with the help of a free keyword tool, which suggests the best SEO terms you should use based on research about targeted audiences.
For example, if you look up "RV dealership," some relevant terms may include "RV dealer invoice price" and "RV dealer near me," among other results. Incorporate relevant phrases throughout your website's content in headings, tags, titles, meta tags, and meta descriptions.
If you'd like to have professionals take care of keywords, consider hiring SEO management services for your RV dealership. Expert analysis suits your company's needs with optimization and tracking to drive more revenue.
2. Invest in pay-per-click advertising
Targeting prospects at the top of Google search results with pay-per-click advertising (PPC) offers a cost-effective strategy. When launching a campaign for your RV dealership, you only pay for the displays when people click on them.
How to launch PPC ads
To launch a PPC campaign, you need to use a paid advertising platform such as Google Ads, Bing Ads, Facebook Ads, or other options. Research which keywords you want to use, so you can tell Google where you want your ad to appear.
Most of the time, you compete with other RV dealerships, so Google sets up bidding and assesses your ad with a quality score for your campaign's relevancy. To stand out from the competition, you should use words relating to your brand. Target your audience with a description tailored to age, gender, location, and occupation factors.
Set your ads apart
Some of the most effective ways to optimize PPC for dealerships involve targeting people who previously showed an interest in your company by visiting your site. Once your campaign is up and running, you should monitor your results.
Monitoring metrics for your campaigns with PPC tracking involves seeing how well your ad performs —with impressions, shares, clicks, conversions, cost, and more. After data collection and assessment, you can strategize ways to rework your ad for better performance.
If you'd like to focus on other aspects of your dealership business, consider PPC management services to take care of keyword research and advertising. Different plans can provide campaign development, copywriting, and testing for you.
3. Use email marketing
Sending messages to current and potential customers allows your RV dealership to spread awareness about your company and increase website traffic. With email marketing strategies, you can promote new inventory, sales, services, and tips.
As an effective medium, emails reach shoppers at every stage of the buying funnel —whether they're in the awareness, interest, decision, or action phase. To get started, you should get an email marketing platform capable of sending up to thousands of messages simultaneously.
How to set up your email campaign
Ideally, your provider should supply services for email composition, some testing services, and automation options. When preparing to write and send your first email, brainstorm the promotion you want to convey and incorporate design and images so that your content looks engaging.
After uploading contact information for your subscribers, consider personalizing your messages so they stand out amongst other promotions. Including a name for the recipient encourages people to open the email and read your message.
Practice strategies for email marketing by sending emails regularly, incorporating consistent branding, including calls to action (CTAs), and testing each message's performance.
If you'd like digital strategists to handle message marketing for you, hire email management services for your RV dealership. Different packages include campaign and target strategies, testing, and reporting to show how well the promotions perform.
Our digital marketing campaigns impact the metrics that improve your bottom line.
See More Results

WebFX has driven the following results for clients:

$3 billion
In client revenue

7.8 million
Leads for our clients

5.2 million
Client phone calls
Want help with digital marketing for your RV business?
Running an RV dealership requires a lot of time, and working a marketing strategy into your schedule can take away from your other essential tasks. Let experienced, knowledgeable experts at WebFX help you get desired results and take your business to the next level.
We've driven over 255,000 page-one rankings on Google for our clients. Our award-winning services and proprietary tech platforms generate more site visitors, prospects, and conversions for increased revenue.
We will customize a plan to fit your company and your needs. To get started, call 888-601-5359 or request a free quote today for your RV dealership!
Earn a 20% greater ROI with WebFX